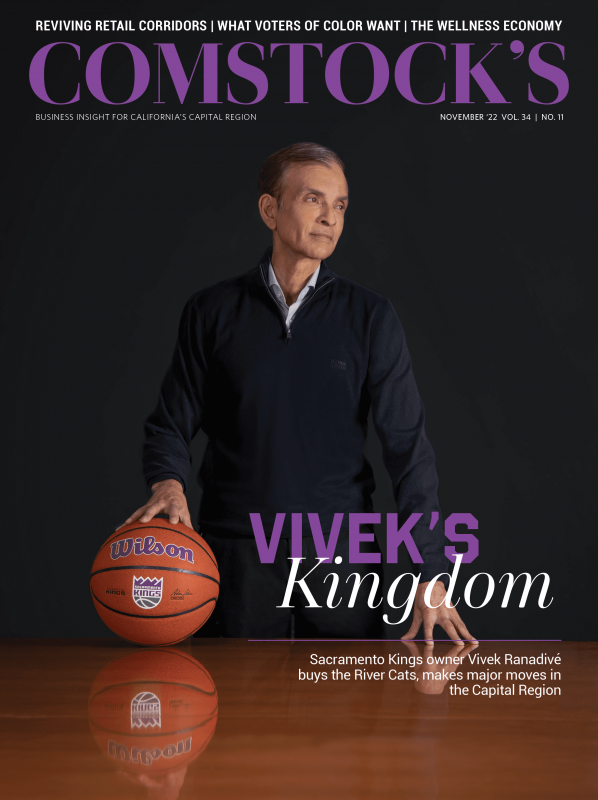 This story is part of our November 2022 print issue. To subscribe, click here.
Vivek Ranadivé has a vision that society is entering into what he refers to as Civilization 3.0.
Civilization 1.0 was the agricultural revolution, as the Sacramento Kings owner explains during an interview in his executive suite at team offices within the Kimpton Sawyer Hotel building. Then came the Industrial Revolution. And now, Ranadivé says, society is entering the digital era "where the raw materials are data and imagination" and "cities become a place for people to work, to play, to enjoy art and culture, to have opportunity."
He references perhaps the crowning achievement of his nine-year tenure as Kings owner, the development of Golden 1 Center, now visible from his office. "We don't build cathedrals anymore," Ranadivé says. "This is kind of the 21st century cathedral, and it's the fire that we lit. In my vision, this becomes one of the premier cities and we become a showcase for what that city looks like."
"We don't build cathedrals anymore. This is kind of the 21st century cathedral, and it's the fire that we lit. In my vision, this becomes one of the premier cities and we become a showcase for what that city looks like."

Vivek Ranadivé, owner, Sacramento Kings, on the Golden 1 Center
Ranadivé sometimes draws the ire of fans and media criticism for perceived meddling in his team, which hasn't made the playoffs in 16 years (an NBA record) or posted a winning season in this time. But there's another side to Ranadivé's story, his work as a leader of one of the highest-valued businesses in the area and the potential impact he continues to have on Sacramento.
Love him or hate him, it's hard to dispute Ranadivé is making moves that can help determine life in the region.
Buying the River Cats
The backstory for Ranadivé, who turned 65 on Oct. 7, is likely well-known to many. Born in India, he emigrated at 17 to attend the Massachusetts Institute of Technology, and later Harvard University, where he earned an MBA. From there, he developed financial software that helped digitize Wall Street with Teknekron Software Systems and later TIBCO Software.
"In the four years that we've been in existence, we've grown faster than Microsoft in their first four years," Ranadivé told Palo Alto Weekly about TIBCO for a 2001 profile.
He has remained active in the tech sector in recent years with Bow Capital, a venture capital firm based in Menlo Park where Ranadivé lives.
How Ranadivé became interested in basketball is, like so much about the man, a bit unorthodox and contrarian. A father of three, Ranadivé coached the inexperienced youth basketball team that his daughter Anjali, now assistant general manager of the Stockton Kings, played on in the mid-2000s.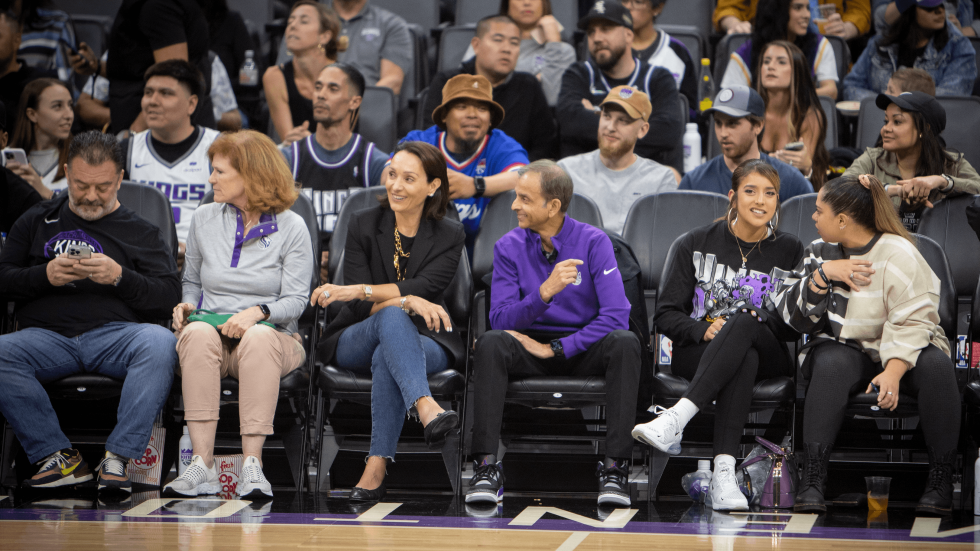 Malcolm Gladwell wrote in his 2013 book "David & Goliath" about how Ranadivé took the team to a national championship game by using a full-court press for every possession and by coaching the same way he conducted his software business. "He would speak calmly and softly, and he would persuade the girls of the wisdom of his approach with appeals to reason and common sense," Gladwell wrote.
Ranadivé cuts an unimposing figure, standing just 5'6" and remaining somewhat soft-spoken in his public interactions, though he can quickly expound on topics that strike his interest.
He got into the sports business when he purchased a stake in the Golden State Warriors in 2010. "At the time, people said that $450 (million) was a crazy price and I said, 'No, it's not,' because I don't look at it as a team," Ranadivé says. "I look at it as a social network. And if you can find ways to expand and engage that network, you can monetize it. And I said, 'No, these teams are worth a lot more.'"
Ranadivé left TIBCO in 2014, a year after buying the Kings at a then-record $534 million valuation and helping prevent the team's relocation to Seattle. The team now has a valuation of around $2 billion, with Ranadivé's net worth in the vicinity of $700 million, according to Forbes. Lately, he's been looking to other franchises beyond the Kings.
A couple of weeks before Ranadivé sat down for an interview for this story, he and other top brass within the Kings organization, including President of Business Operations John Rinehart and Chief Operating Officer Matina Kolokotronis, visited Sutter Health Park in West Sacramento. They were there to acknowledge an ownership group led by Ranadivé purchasing the Triple-A Sacramento River Cats baseball team in late August, for a reported $90 million.
How the Kings' $2 billion valuation compares to the other most valuable companies headquartered in the Sacramento region
-PowerSchool Holdings Inc., $4.01 billion
-Raley's Supermarkets, $600 million*
-Five Star Bancorp, $499.79 million
-Origin Material, $378.99 million
-River City Bank, $342.71 million
-Golden Pacific Bank, $323.37 million
-Alto Ingredients, $298.38 million
-Bank of Commerce Holdings, $256.26 million
-Marrone Bio Innovations, Inc., $171.65 million
* estimated based on previous market deals
–Data provided by the Greater Sacramento Economic Council in September 2022 based on Sacramento Business Journal Book of Lists, Pitchbook, Forbes, River City Bank, & Five Star Bancorp
The purchase was made with the help of Arctos Sports Partners, a Dallas-based private equity firm that bought a stake in the Kings in 2021 when minority owners Mark Friedman, Brad Jenkins, Mark Mastrov, and Andy Miller sold their shares and Kevin Nagle sold some of his. (Nagle still has a stake in the Kings through the Play to Win investment group, according to a source who spoke on background.)
"I'm a big believer in this area," Ranadivé told Comstock's during a brief interview at the River Cats event Sept. 28. "I love sports. I think sports is eating the world. This is right in our backyard. It's really the best franchise, so we just thought that this was something that we had to have." The purchase could have big implications for development along the West Sacramento waterfront that tie in with a longstanding goal of the Kings and local leaders.
A few years ago, Ranadivé and others, including Mike Testa, president and CEO of Visit Sacramento, journeyed to Chicago to appeal an NBA decision not to award an All Star game to Sacramento despite the construction of Golden 1 Center, which opened in 2016 and replaced the aging Sleep Train Arena. The concern, relayed to Ranadivé, Testa and others by an NBA deputy commissioner: Too few hotel rooms within walking distance of Golden 1 Center.
"You essentially need about 6,000 hotel rooms in your downtown core," Testa says. "We've got 15,000 (hotel rooms) across the region, but they don't want you to have to get an Uber or take a taxi or drive your entire downtown."
Testa estimates that the Golden 1 Center vicinity is about 3,000 hotel rooms short. So the team and others are now working to boost hotel stock on both sides of the Sacramento River.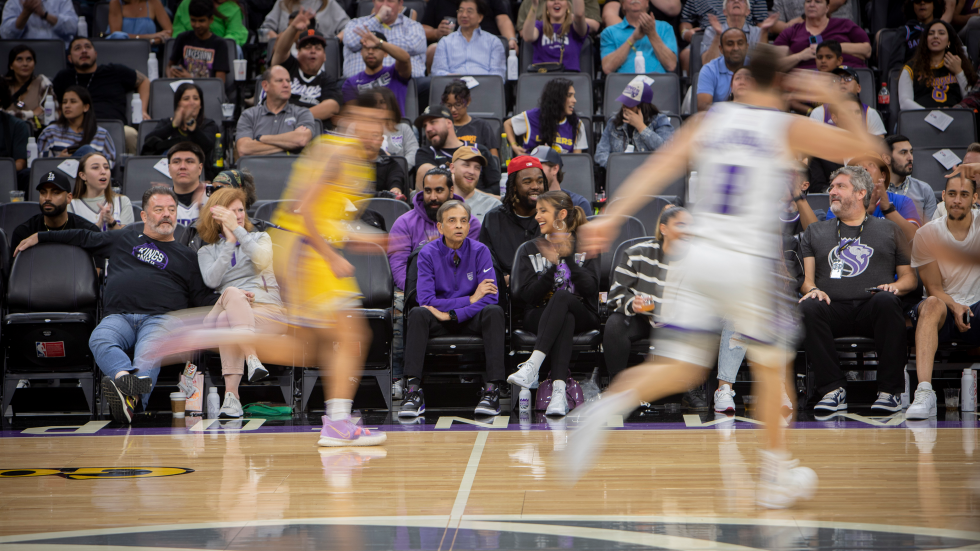 Howard Chan, city manager for Sacramento, says the city's $384 million renovation of the convention center, community center theater and Memorial Auditorium was done partly with an eye toward increasing hotel stock to help land an All Star game.
Testa says he expects another 1,000 hotel rooms to be created in downtown Sacramento in the next decade. West Sacramento hotel rooms could be built by developers like Friedman, who has a hotel project near Sutter Health Park. "We currently have plans to add another 200 rooms," says Friedman, who's also developing apartments nearby. "But I think that the marketplace can support, you know, quite a few more."
Some additional hotel rooms might come courtesy of Ranadivé and company. West Sacramento City Manager Aaron Laurel estimates land holdings connected to Ranadivé's group at more than 20 acres (although Sutter Health Park is at least 10 acres of that.) "Their development capacity in terms of the infrastructure that's in place is there, you can really go big there and not worry about that it really exceeds what the market can support," Laurel says.
West Sacramento Mayor Martha Guerrero sees the potential for mixed-use development along the waterfront, telling Comstock's, "We could do quite a bit up in the riverfront area."
Asked during his sitdown if he sees the West Sacramento waterfront as a place to increase hotel capacity, Ranadivé answers affirmatively. "I think part of being a world-class city is having enough four and five-star hotels and I think there's a huge appetite for that," he says. "So when there's opportunities, even on our own land, it's something we need to look at closely."
The River Cats also aren't the only franchise aside from the Kings that Ranadivé has looked at investing in.
Resurrecting MLS dreams and more
In October 2019, a who's-who of local luminaries gathered downtown for an announcement by Major League Soccer that Sacramento had been awarded an expansion franchise. That effort has since collapsed with major investor Ron Burkle pulling out of the deal. (Nagle, who is president and chairman of Sac Republic FC, declined to be interviewed.)
That said, at least one person with the means to bring this deal back from the dead is looking at doing so.
Asked if he's interested in resurrecting Sacramento's MLS effort, Ranadivé replies, "Yeah, so I didn't want to step on any toes so I haven't really done anything. But my dream would be to really double down on Sacramento and have multiple other sports teams over here."
This could also include Sacramento's long-defunct WNBA franchise, the Monarchs. "They're both early-stage but we're thinking hard about how to expand the platform," Ranadivé says.
Gerardo Prado is a principal for HNTB, which has done extensive design work for Sacramento's prospective MLS stadium in the historic railyards — touted by city leaders as the largest infill development project west of the Mississippi River. Prado says he's yet to meet with Ranadivé, but that he's interested to do so. "Certainly, it's a worthy city, without hesitation," Prado says.
Ranadivé could make sports investments beyond Sacramento as well. While he was publicly reported earlier this year to have been mulling a bid for Chelsea FC, he tells Comstock's he's currently looking at "other European soccer teams" as well as evaluating opportunity in the Indian Premier League for cricket.
"I think our thing is, look, we under-promise and over-deliver," Ranadivé says. "And so we never really talked about the River Cats until we announced it, right? So I think our approach is going to be very systematic. … And if we say that we're going to do something, then we're not going to say it until we know that it's almost done or it's done. So at this point, we're kind of in the analysis phase."
Clearly, Ranadivé presents himself as much more than just someone who owns a basketball team. In recent weeks, he spoke to a fintech group organized by the Greater Sacramento Economic Council. "One of the things that Vivek does is he gives credibility to new ideas," GSEC President and CEO Barry Broome says.
Right before the start of his interview with Comstock's, upon hearing the former Land Park home of late artist Wayne Thiebaud was finally hitting the market, Ranadivé asked if any paintings still in the basement could be brought to Golden 1 Center for display. While the remark sounded like a joke, Ranadivé's been known to have an unusual gambit or two.
"He often has some really grand ideas where your initial reaction would be like, 'That's kind of crazy,'" says a team source, who spoke on background. "And then an hour later, you figure out, you know, that's actually a really good idea, we should try to figure that out."
Running the Kings
From the time he bought the team, Ranadivé has been an enthusiastic and active owner, keeping a condo at The Residences at The Sawyer so he can attend every home game, sitting courtside.
It hearkens to the early days of his predecessors, the Maloof family, who experienced the only sustained period of on-court success in the franchise's 37-year Sacramento history before getting hit hard by the 2008 financial crisis and sending the team into a tailspin it has never recovered from.
"We see this as a platform and as an opportunity to really fulfill our mission, which is to build a winning franchise that enhances the lives of those it touches and it makes the world a better place," Ranadivé says.
When Ranadivé purchased the Kings, the NBA mandated the team complete Golden 1 Center within three years, according to Mastrov, who aside from formerly owning a stake in the Kings is the founder of 24 Hour Fitness.
Mastrov credited Friedman as being the driving force behind the arena's construction, saying, "It would not have got done without him." Friedman says he was the team's representative for the project and led the effort, putting in an estimated 3,000 to 4,000 hours over a four-year period without drawing a salary for his work.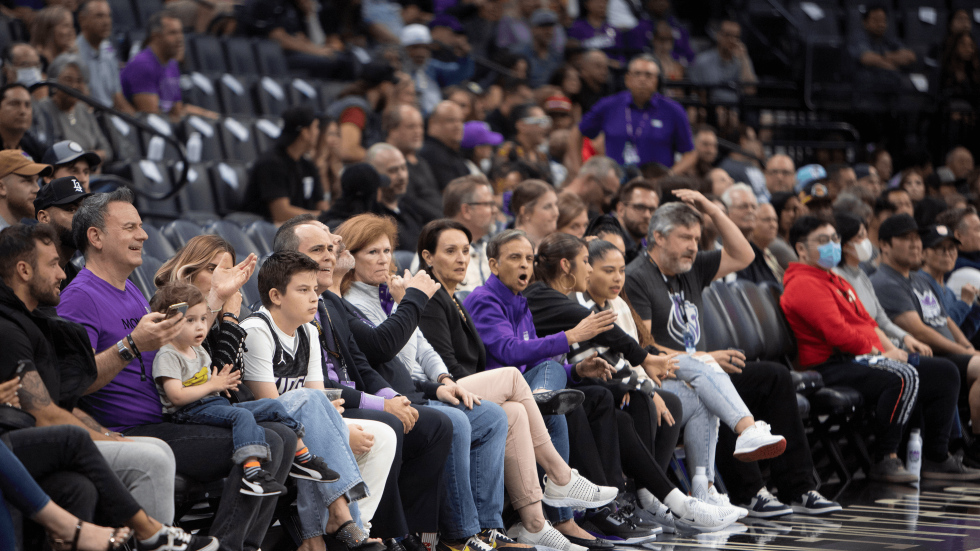 "This is my hometown," Friedman says. "And, you know, I felt that the project could be transformational for the downtown."
Opinions differ in studies about the economic impact of new stadiums, which often come with heavy public subsidies. The city issued $273 million in bonds in 2015 toward the $559 million cost to build Golden 1 Center, according to a city auditor's report two years later. The Kings are repaying about 60 percent of the city's commitment through lease and property tax payments over 35 years, as Comstock's noted in 2018.
All the same, local leaders and people close to the Kings tout the impacts of Golden 1 Center on surrounding development, with a team spokesperson saying via email that 25 new projects are under construction and another 81 are planned. The surrounding Downtown Commons area or DOCO, a lively mix of restaurants and bars frequented before and after games and concerts, also helps boost Sacramento's economy.
Beyond this, the team transformed Golden 1 Center into a voting location in the fall of 2020. Ranadivé speaks of using the arena, a technological hub with LEED Platinum certification and a 4K video board, to incubate new technology. (Building the arena also allowed the team to donate part of the former Sleep Train Arena site in 2021 to California Northstate University, which is building a teaching hospital there.)
As a business operation, aside from the COVID-19 pandemic, which greatly impacted athletic and artistic operations across the country, the Kings have thrived economically in recent years. Buoyed by a general rise in sports franchise valuations, the team has averaged about a 17 percent annualized rise in valuation during Ranadivé's tenure.
"I think from an investment perspective, this is as safe as a T-bill, but it's got the upside of a growth stock, exceeding the S&P 500," Ranadivé says.
Chad Hutchinson, a retired MLB and NFL player and partner in Arctos Sports Partners who works closely with Ranadivé sees the upside, too. "The tech market sells off this year, and the S&P 500 sells off and the Dow sells off," Hutchinson says. "But sports teams continue to go up."
Where the Kings have fallen short has been on court, with a rotating cast of players and coaches that's combined to go 280-438 on Ranadivé's watch entering the 2022-2023 season.
That's about par for the course for a Sacramento Kings owner, with Ranadivé's .390 winning percentage worse than the Maloofs, who finished .490, but comparable to their predecessor Jim Thomas, who was .404. It's also better than the team's first principal ownership group in Sacramento, led by Gregg Lukenbill and Joe Benvenuti, which had a .335 winning percentage.
All the same, how much blame Ranadivé deserves for the team's on-court struggles is an open discussion, even among past team insiders. Mastrov says he sold his shares after disagreeing with the direction the franchise was going. He could see the Kings getting competitive if other minority owners on the team, such as the Jacobs or Patel families, became more involved. Mastrov sounds skeptical, though, so long as Ranadivé is in control.
"That one guy is just one voice in the room and he's not listening to others that have good opinions," says Mastrov, who criticized Ranadivé's tendency to want to be involved in every decision.
Others have had markedly different experiences with Ranadivé, such as Sacramento Metropolitan Chamber of Commerce President and CEO Amanda Blackwood who says, "He's very personally interested in you and what your ideas are and your perspective and what you share."
During a Sept. 29 talk to an Indian and American startup, Scaler, Ranadivé was asked about his costliest mistake. He wouldn't elaborate beyond replying, "I learn along the way and I adjust."
Asked during his sit down with Comstock's if he's being laissez-faire these days with Kings General Manager Monte McNair, who arrived highly touted when he replaced Vlade Divac, Ranadivé says he's actually been more involved over the past few months than at any point of his ownership.
"He's very thorough," Ranadivé says of McNair. "He gets input from everyone. He looks at the roster spots we have. He looks at who else might be available, how the fit is with the team, and he talks to me all the time and shares what the coach (Mike Brown) might think or what (Vice President of Basketball Engagement) Al Gentry might think or what (Assistant General Manager) Wes (Wilcox) might think. So it's a great relationship."
Ranadivé downplays any impact the criticisms might have on him, saying, "It's fine, I'm a big boy. I mean, look, we're not winning and I own it, so it's my fault, you know? I accept that."
He's hopeful, though, about the current Kings team, led by De'Aaron Fox and Domantas Sabonis.
Ranadivé stays busy at the league level as well, serving on four committees for the NBA Board of Governors including its competition committee. He's struck by his involvement with this last group.
"I was an immigrant who never played basketball," Ranadivé says, as his interview wraps up. "That's America, it's amazing."
–
Stay up to date on business in the Capital Region: Subscribe to the Comstock's newsletter today.