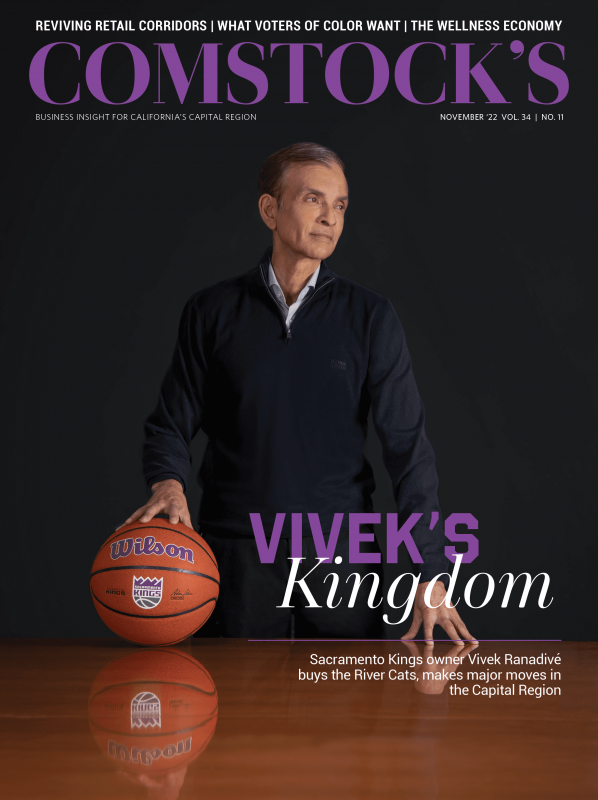 This story is part of our November 2022 print issue. To subscribe, click here.
I have among my stack of photos I hope to catalog someday a snapshot of my preteen daughter Alana and her friends. They are sitting on my couch in front of the TV, wearing Sacramento Kings jerseys with their faces colored with purple and black war paint and waving their arms in a "Let's go!" motion. That picture is 20 years old and taken when the Kings with that dream team of Vlade Divac, Chris Webber, Doug Christie, Peja Stojakovic and Jason Williams were making a splashy run in the NBA playoffs against the dreaded Los Angeles Lakers led by Shaquille O'Neal and Kobe Bryant.
Longtime Sacramento residents recall that time fondly, remembering the sheer excitement and electricity in the Capital Region. Everywhere you went, all people could talk about was the Kings. The national media took notice. Sports Illustrated put that talented starting five on its cover with the title "The Greatest Show on Court." ARCO Arena was packed to the rafters — and for those watching on TV, there was a one-hour wait for takeout pizza at Round Table, and stores big and small enjoyed soaring beer sales each time it was game night. Not only was the team exciting to watch, a winning season boosted the region's economy as well.
Nine years later, the Kings dominated the news again, but for a much more different and somber reason. A Seattle millionaire was threatening to move the team to that city and steal Sacramento's only major sports team. A three-year fight to save the team ensued, punctuated by a season-ending game at old ARCO with fans tearfully remaining on the court, believing it was possibly the last time they saw their team. Our city leaders and fans proved to be fierce fighters and convinced the NBA to keep the team in Sacramento.
One man was hailed as the savior and hero of that moment — Vivek Ranadive, a tech millionaire who had part ownership in the Golden State Warriors. He set in motion a master plan to build a new arena, the Golden 1 Center, and transform the downtown area around it to a vibrant gathering spot.
But here's the thing. These landmark events occurred a decade or two ago. There's tens of thousands of new residents now living in the Capital Region who don't know the Kings' history. All they see is a team that hasn't made the playoffs in 16 years — an NBA record. Some blame Ranadive for all the losing seasons. How can they blame the man who saved the team in the first place?
Ranadive is an interesting, complex, smart and savvy man, and right now, he's making major moves that can further transform Sacramento into the future. His recent purchase of the River Cats from the Savage family, reportedly a $90 million deal, including property surrounding the ballpark, shows Vivek's intention to remain in the region and build the community. He sees Sacramento as more than a capital town, and is taking steps to continue its growth. Comstock's writer Graham Womack was granted an interview with Ranadive for this issue.
He's not the only one changing the city's reputation. October saw several blockbuster events that proved Sacramento can not only put on but succeed at big events. The Aftershock music festival at Discovery Park attracted more than 165,000 people to our city, followed the next weekend by the new GoldenSky Country Music Festival at the same park, which brought an estimated 25,000 people. That was followed by the Iron Man competition, which brought in nearly 4,000 athletes from all over the country and globe. Visit Sacramento estimates that all three events pumped more than $50 million into the local economy.
Cities around the Capital Region are also sprucing up their commercial corridors to not only freshen their urban core, but attract new residents and businesses. Meanwhile, this month will undoubtedly see new political changes on the landscape as the midterm elections take place. We take a look at voters of color to try and gauge their concerns in the current political climate. And if you're too exhausted from the current frenzied political cycle, we'll show you how some local innovative companies are embracing the wellness movement, offering everything from stress-relieving urban baths to cryotherapy to restore your body.
As Sacramento keeps growing on its upward trajectory, we may no longer hear that stereotypical phrase: "Sacramento, we're 90 minutes from Lake Tahoe and 90 minutes from the Bay Area." Very soon, we'll hopefully hear "Sacramento, home of great concerts, farm-to-fork food and world-class sports."
Judy Farah
Editor
–
Stay up to date on business in the Capital Region: Subscribe to the Comstock's newsletter today.