Join some of Sacramento's top executives on Tuesday, May 17th for one of our most anticipated events of the year. Executive Insight gives you and fellow young professionals direct access to facetime with a group of inspiring regional leaders.
Beer tasting. Live music. Food trucks. Corn hole. Tours. Enjoy this unique evening at the Historic Folsom Powerhouse State Park to raise funds for community activities at the Park June 11th from 4pm-8pm!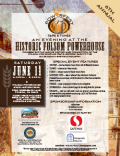 JOIN US FOR THE FIRST SCREENING OF THE MOTV SERIES!
FRIDAY, MAY 20th Sonoma-Marin Fairgrounds
GENERAL ADMISSION IS FREE!!
Join us Saturday May 21st from 4pm – 8pm for a special 3rd Saturday Reception for our current exhibitions, Craft Nouveau and SAQA: Forever Changed. Come to Blue Line Arts and enjoy live music, refreshments, and free art activities in the alley for all ages!
The goal of Creativity Speaks Live is to encourage non-traditional creatives to have an open and honest dialogue and encourage traditional creatives to be exposed to a different perspective.
More than 40 artists in Benicia's Historic Arsenal Arts District will open their studios to visitors, Saturday and Sunday, June 11-12,10 am – 5 pm each day.
Enjoy great beer for a great cause! RedRover, a local animal welfare nonprofit, is celebrating its 35th anniversary of helping animals and people in crisis with a special benefit at SacYard.
Don your capes for a Superhero Soundtrack Spectacular! On Saturday, June 4, hear your Sacramento Philharmonic & Opera perform mesmerizing music from Marvel, Superman, Spiderman, and all your favorite Superhero classics.
Join the Old Sacramento Waterfront every last Wednesday of the month the new Sip n' Shop event. The event is free and open to the public, so come enjoy the district while you sip on local wines, shop at your favorite local boutiques, and enter to win in the monthly giveaway.