There's a word that comes to mind for Sacramento Mayor Darrell Steinberg regarding the largest infill project in his city, The Railyards. "The one word I would use to describe the state of where we're at is 'breakthrough,'" Steinberg says.
Anyone who has lived or worked in or near downtown Sacramento more than a few years knows the maddeningly elusive promise The Railyards has long offered. Once a base of operations for Union Pacific Railroad, the 244 acres have sat largely undisturbed for decades, separating the western end of downtown from the Richards Boulevard area bounded by the American River.
Recently, however, several projects have been proposed or approved there, including a Kaiser Permanente medical center, a new Sacramento courthouse and two housing projects. Perhaps the most tantalizing proposal could be the catalyst to kick-start a development that eventually will nearly double the size of downtown Sacramento.
As the August print edition of Comstock's was going to press, city leaders and Sacramento Republic FC officials were eagerly awaiting the announcement of a Major League Soccer expansion franchise that seemed perfunctory. Earlier this year, MLS announced it would expand by three teams to 30 teams and enter exclusive negotiations with Sacramento and St. Louis. A vote by the league's board of governors was expected during the all-star break in Orlando, Florida, in late July, with an official announcement expected this month.
"Nobody's willing to (say) that it's in the bag," says Sacramento City Councilman Jeff Harris, whose District 3 includes The Railyards. "But it's as close as you can get without saying that."
The announcement — during a public event, if history is a guide — will trigger construction of a $250 million-plus stadium on 14 acres in the northeast corner of The Railyards that already has cleared its design, entitlements and planning documents and would open in time for the 2022 MLS season.
It's all part of broader efforts by Larry Kelley and his son Denton, who purchased the once-forlorn property through their company Downtown Railyard Venture after the Great Recession knocked out a previous owner. The Kelley family, who has developed other major projects in the greater Sacramento region such as 4,000-acre Stanford Ranch in Rocklin and 3,500-acre McClellan Park, and other key
Railyards stakeholders are banking that a soccer stadium can help spur new opportunity at the largest infill site west of the Mississippi River.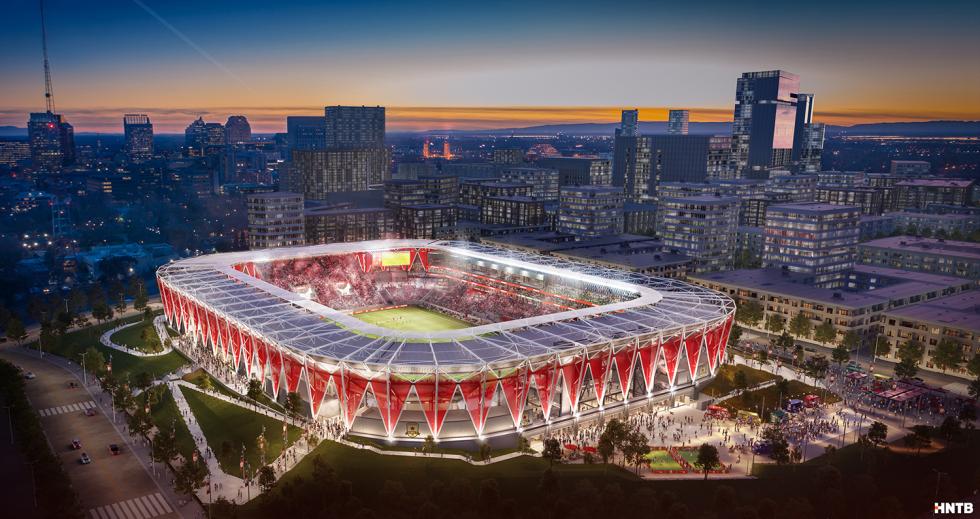 Another Downtown Sports Venue
This isn't the first time a sports facility has been discussed for The Railyards. At one time, the site was touted for a new building for the Sacramento Kings, who desperately wanted to leave aging Sleep Train Arena in Natomas and move to an urban setting. But that was before Stan Thomas defaulted on the property in 2010. "The Kings arena thing happened close to the end of the time when Thomas was foreclosed upon," Sacramento Assistant City Manager Fran Halbakken says. "But there was a whole plan for all these things that were going to happen that weren't the Kings arena."
Not long after those plans stalled, focus shifted to another part of the central city in need of a facelift. Despite its charm and storied history, Sacramento west of 16th Street suffered due to a mid-20th century push by planners to clear out tens of thousands of residential units and replace them primarily with office towers and parking garages, turning the area into a commuter desert on evenings and weekends. City officials wanted to bring vibrancy back to downtown. The catalyst for that change: a new arena for the Kings.
"You see so many successful (Major League Soccer) franchises, especially new ones that have developed amazing stadiums, developed them in downtown cores, had amazing support, driven a lot of business around it for the city, and raised the profile of their city." Ben Gumpert, president and COO, Republic FC
After the Maloof family, previous owners of the Kings, reached a deal to sell the team to a group that planned to move it to Seattle, former Mayor Kevin Johnson led a successful, though divisive, fight to keep the team. This included directly lobbying the NBA, recruiting deep-pocketed Golden State Warriors minority owner Vivek Ranadivé to buy a controlling interest in the team, and pushing through an effort that led to the opening of Golden 1 Center in 2016.
Some critics decried the city's obligations tied to its general fund if parking revenues fall short, and some also worried the arena's construction and related redevelopment would displace low-income residents downtown, with one group unsuccessfully suing the city, requesting that tens of millions of dollars be set aside for affordable housing.
Though there are rumblings about sharply increased rents and the reduction of free parking in the central city, the arena has led to many other projects in and around the rebranded Downtown Commons (DOCO) area, including the Kimpton Sawyer Hotel, the renovated Century movie theater, numerous restaurants and the continued revitalization of K Street. "(Golden 1 Center) has been an incredible economic spark for the surrounding urban core," says Kings Chief Operating Officer Matina Kolokotronis in a written statement provided by a team spokesperson.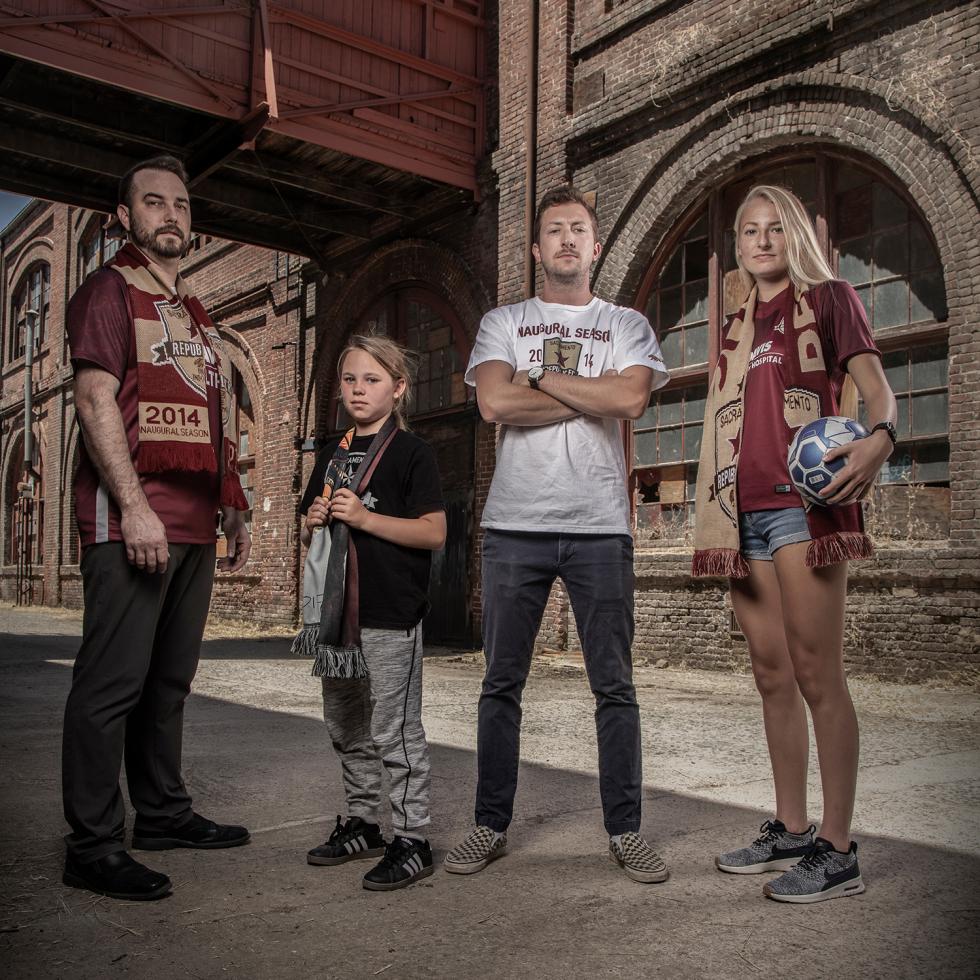 The arena has become so much more than basketball too, hosting top entertainment acts such as Paul McCartney, Lady Gaga, Elton John, Maroon 5 and Andrea Bocelli, and it was ranked eighth in the United States in concert ticket sales for the first quarter of 2019 by Pollstar. "I think we're moving toward what could be a very different urban center than we have been," says Downtown Sacramento Partnership Executive Director Michael Ault. "It wasn't long ago we were saying 'Monday through Friday, 8 to 5.'"
That approach in downtown is providing a blueprint for Republic FC, which is looking to develop a space as much for events and activities as for the 17 regular-season home MLS games each season. "We've seen it work very well at the Golden 1 Center," Ault says.
It wasn't a hard decision for the city to pursue a soccer stadium at The Railyards, particularly since Sacramento is contributing no public funds to the project. The term sheet, including the city's commitment to provide $33 million in fee waivers, tax rebates, advertising rights and infrastructure financing, was unanimously approved April 9 by the city council. That's in stark contrast to Sacramento contributing $32 million in land and $223 million cash toward the Golden 1 Center's $477 million construction cost, according to a 2017 city auditor's report.
"What was interesting to me was that there was little to no opposition," Steinberg says of the soccer stadium. "I think the people saw that cost benefit in the same way."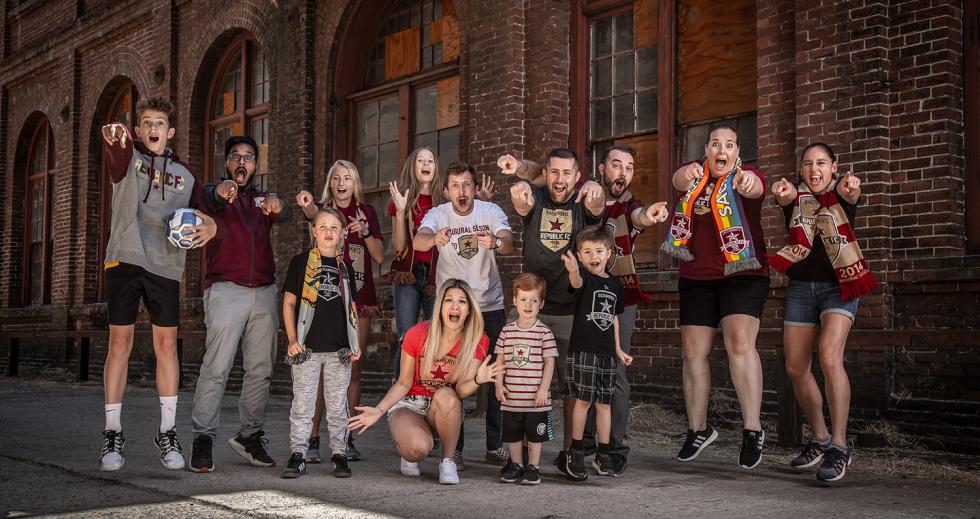 'We Want It to Be Active All the Time'
Republic FC worked with architectural design firm HNTB to make the 20,000-plus seat stadium unique to Sacramento, including references to the city's tree cover — the top deck will be known as The Canopy — and the site's history.
"You see a lot of the brick that's carried through," says Ben Gumpert, president and COO of Republic FC. "You see a lot of, sort of the brawn of, the (original) railyards architecture and the great history that railyards have played in this city."
Plans for the 31 acres owned by the team go far beyond the 14 acres for the stadium, Ault points out. "For us, the interesting thing is the stadium is only a piece of that development," he says. "They've also purchased the acres surrounding it so they will create kind of an entertainment hub, which I think really is similar to what's being done in our district here with the Golden 1 Center."
The project is moving forward in large part because billionaire Ron Burkle joined Republic FC's MLS bid in January as lead investor and majority team owner. Like Ranadivé for the Kings, Burkle's deep pockets have made all the difference for Republic FC, after MLS officials told the team it was underfunded. Team cofounder Warren Smith brought Republic FC to Sacramento in 2014 as a minor-league team in the United Soccer League. Needing more funding to impress MLS, Smith brought in investor Kevin Nagle as team chairman and CEO. But even Nagle's pockets weren't deep enough to impress MLS in 2018, when the league awarded a franchise to Cincinnati instead.
"There's always been talk about the Central Shops and what it could be, and there's great visions. There was vision under Thomas and there's vision under DRV, and it's very complementary to the soccer stadium in terms of like an entertainment place for people, a very lively place for people to go." Fran Halbakken, assistant city manager, Sacramento
Landing Burkle, who didn't respond to an interview request for this story and rarely talks publicly, was a major coup for Republic FC, which must cover roughly 90 percent of the stadium's expected $250 million-plus construction cost and also pay a $200 million expansion fee to MLS. Burkle, worth an estimated $1.5 billion, according to Forbes magazine, founded and is managing partner of The Yucaipa Companies, a private equity and venture capital firm, and has been a successful Hollywood producer ("Three Days to Kill" and "The Giver" are among his 17 credits on IMDb). More important to Sacramento, perhaps, is his success as co-owner of the Pittsburgh Penguins of the National Hockey League, which has won three Stanley Cups in his 20 years with the team.
Web Extra: Read more about Ron Burkle, the man backing Sacramento's Major League Soccer project
Nagle, who also has a minority stake in the Kings, had a connection to Burkle from when Burkle almost bought the Kings before bowing out due to a conflict of interest, opening the way for Ranadivé to step forward. Burkle had no such conflict with Republic FC.
"It sort of became natural that when you looked for somebody who understood sports, understands the value of sports, understands the value of a sports team beyond just what it stands for, Ron became a perfect person to (consider)," Nagle says. "We were really delighted to have him come onboard because it's so meaningful and he's so well-connected across the country. It's been a great enhancement to us."
Nagle and Burkle have developed a rapport. "I've come to know Ron better and better," Nagle says. "He's a great guy. He's fun to talk to, and he's interesting."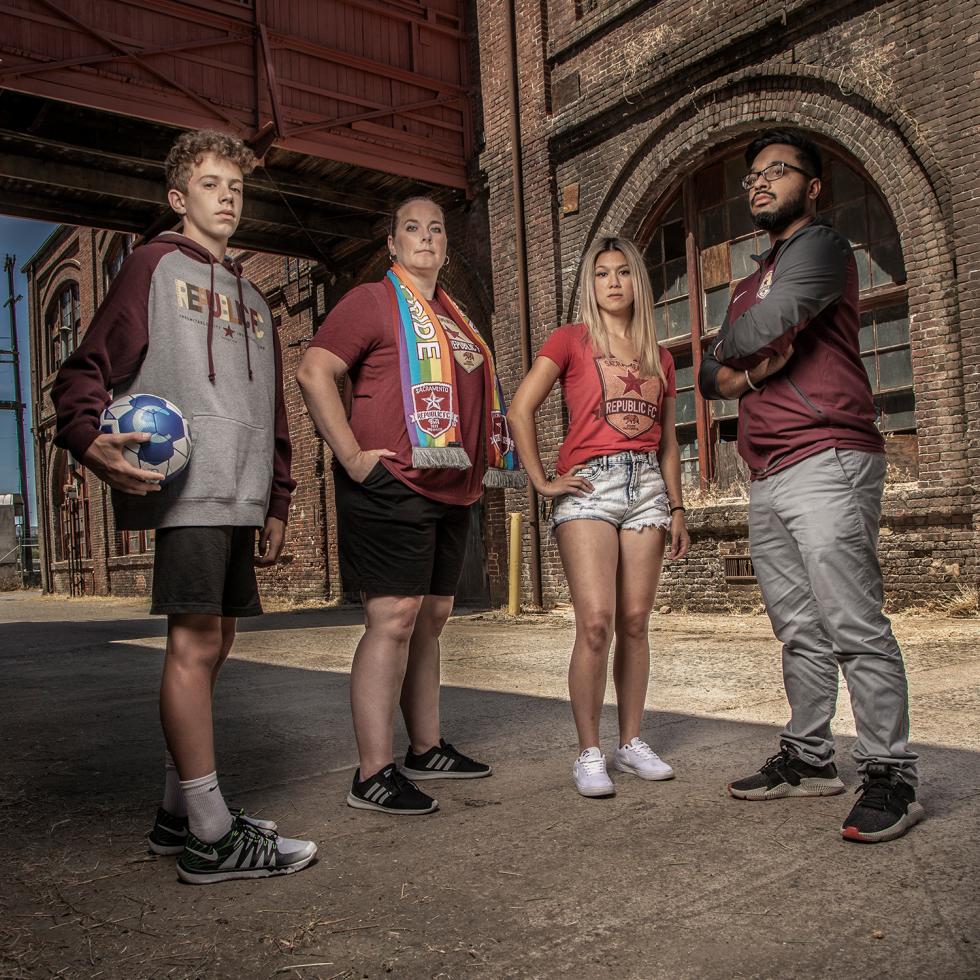 Other names in the ownership group could soon emerge. Nagle says former professional baseball player Derrek Lee is involved, leading an investor group of baseball players. Lee, who was born in Sacramento and played at El Camino Fundamental High School before being drafted by the San Diego Padres in the first round of the 1993 Major League Draft, played for six teams in his 14 seasons.
Nagle and Republic FC officials still are in the early stages of developing the 17 acres adjacent to the stadium. Nagle envisions a mixed-use development, including entertainment, hotels, restaurants and nightlife activities. "It kind of closes the loop from where you are at Golden 1," Nagle says. "As you move down to the Railyards, you're now capturing an area … that's really going to double the size of the downtown area." Adds Gumpert: "We want it to be active all the time."
Nagle and Gumpert also point out the stadium will give the Sacramento region another outdoor concert venue. This is no small consideration because, aside from Raley Field in West Sacramento, the nearest proper outdoor venue, Toyota Amphitheatre, is in Wheatland, a 40-minute drive from downtown.
And Halbakken is hopeful about the use of the Central Shops, eight brick buildings from the 1860s that were listed by the city council as a historic district in 2016. While there's still work to be done on figuring out if and how all of these buildings can be repurposed, MLS might help drive other entertainment options to them.
"There's always been talk about the Central Shops and what it could be, and there's great visions," Halbakken says. "There was vision under Thomas, and there's vision under DRV, and it's very complementary to the soccer stadium in terms of … an entertainment place for people, a very lively place for people to go."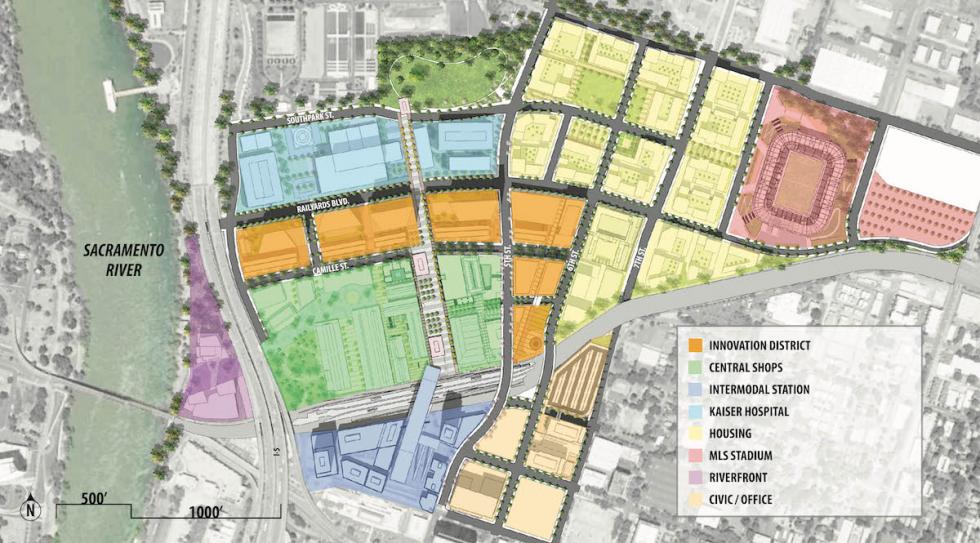 Plans Include More Than Soccer
The soccer stadium and the team's surrounding development are just part of what is planned for The Railyards, which also could become a hub for medicine, employment, housing and more. "There are not very many opportunities in the country to be able to create an urban district out of whole cloth, and we have the opportunity here in Sacramento," says Richard Rich, the city's Railyards and Riverfront project manager.
Sacramento officials seem just as or more excited about Kaiser Permanente purchasing approximately 18 acres west of 7th Street in January to build a medical center. "The Railyards itself, I would say, is kick-started by the Kaiser development," Rich says. A Kaiser official declined to be interviewed, saying the project was in too early of stages to discuss, though Councilman Harris is encouraged by what he has seen.
"There's been a lot of work on entitlements so far," Harris says. "I would say that to get shovels in the ground, I'm anticipating 2021. There've been many concept sketches. There've been many discussions with city planners about parking and locations of buildings and overall looks and the freeway, functions of the buildings, helipads, all kinds of stuff. It's much farther along than you might imagine."
The Kaiser project could be sprawling, Rich says. "They're working on their plan, so we don't know the specifics of it," he says. "But it's a major medical center, and with a major medical center comes a hospital, medical offices of all sorts, and you know they tend to be magnets for other medical uses nearby."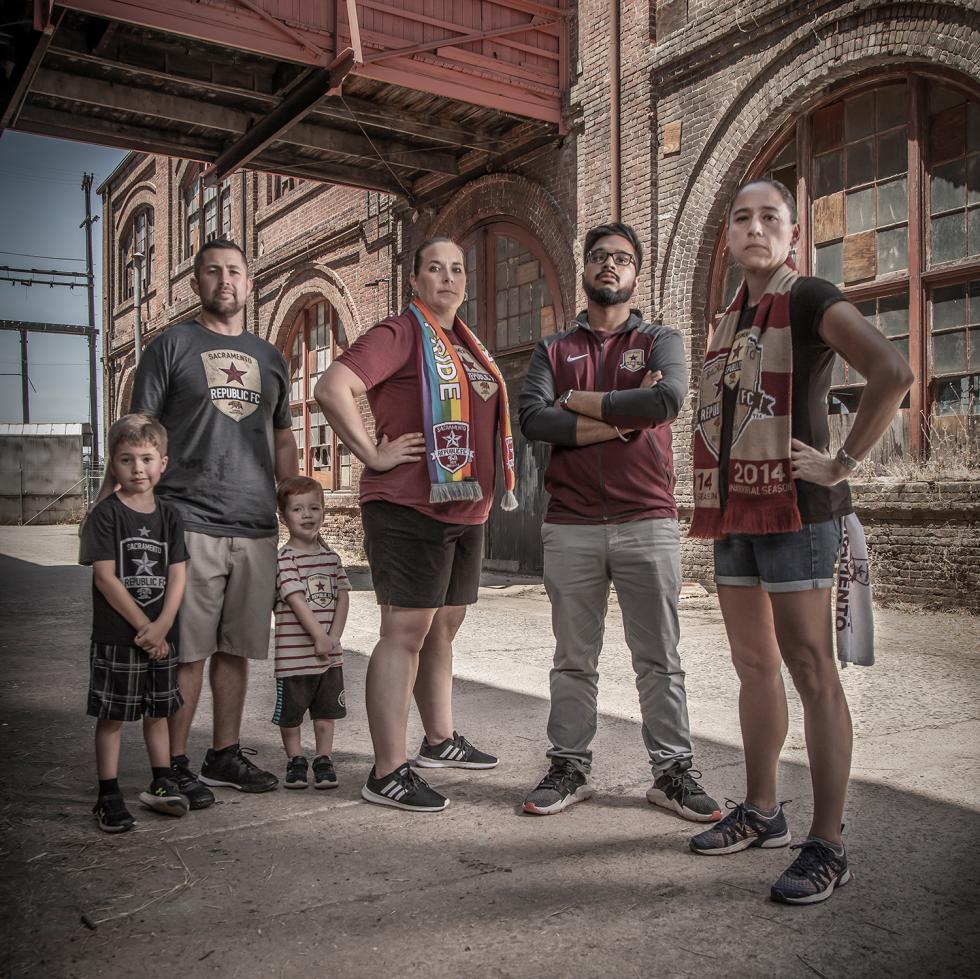 A number of other projects are also in the works in various parts of the Railyards. Denton Kelley says DRV is working on 300,000 square feet of creative office space as well as infrastructure and a parking garage. Another Kelley-related effort, a six-story, 309-unit apartment project on 2.52 acres at the corner of 6th Street and Railyards Boulevard, received design approval from the city in May, and plans for it include roughly 20-25 percent affordable units. And, last month, Roseville-based USA Properties filed an application for a four-story, 150-unit affordable-housing project on 2.35 acres on the northwest corner of 7th and F streets, according to city planners.
Denton Kelley says The Railyards are entitled for up to 10,000 residential units, with 5,000-6,000 realistically at full buildout. Ault welcomes the thought that The Railyards could bring more housing downtown. "We can't build enough housing down here, and when you look at successful downtown centers, getting people to call this home as opposed to just a place (where) people work is a priority," Ault says. "The Railyards offers us that opportunity."
Another big project is a state-funded, 17-story Sacramento Superior Court building at 6th and H streets that might be the first structure to rise in The Railyards, city officials say. Plans also include the I Street Bridge replacement, estimated by the city to cost between $150 million and $250 million, that will connect Railyards Boulevard to C Street in West Sacramento's Washington neighborhood. Last month, nine design options were narrowed to four, and two finalists are expected later this year with a possible completion by 2022.
The Railyards could help unite the Old Sacramento waterfront and the River District too. "It's a catalyst," Steinberg says. "Its success begets success. And as we build out The Railyards, it's going to create more opportunity and incentives to make the waterfront the destination that we all want it to be."
Eventually, the central city could extend as one contiguous unit to the American River. "As more projects go in, I think that division which has kind of separated The Railyards for, what, the last 150 years will begin to become less apparent and become the northern downtown," the city's Rich says.
Audio: Comstock's contributor Graham Womack and executive editor Tom Couzens discuss this month's cover story with News 93.1 KFBK's Sam Shane and Cristina Mendonsa. Listen below:
The Long — and Bumpy? — Road Ahead
No one expects The Railyards to be a bustling neighborhood anytime soon. "My best guess would be two decades, and that's like fully baked, everybody's moved, all the businesses are open and it's a fully integrated part of the city," Harris says.
City planners and developers still have a lot of work to do, with the soccer stadium likely an area of focus in the months ahead. Gumpert says the announcement of an MLS franchise will trigger a flurry of work, including finalization of construction documents and hiring subcontractors. "We can have a shovel in the ground within three months after that," says Gumpert, who envisions a 20-21 month construction cycle with the stadium completed in 2021.
Though full buildout of The Railyards could take 20 years, Steinberg says in 5-10 years "it will be visually different in a way that will make people very happy."
Much work already has been done, with substantial environmental remediation under Stan Thomas' ownership of The Railyards to rehabilitate it from its former status as a superfund site. The city and DRV also have invested in infrastructure, though some work remains on that front. "Major League Soccer will be a huge jumpstart for The Railyards," Harris says. "Of course, a precursor to that is getting sewers in place so that we can build things and have them be functional."
"For us, the interesting thing is the stadium is only a piece of that development. (Sacramento Republic FC has) also purchased the acres surrounding it so they will create kind of an entertainment hub, which I think really is similar to what's being done in our district here with the Golden 1 Center." Michael Ault, executive director, Downtown Sacramento Partnership
Economic questions also remain. Nationally, analysts talk of a recession in the next 12-18 months. Locally, there might be some question of how much entertainment-related development is too much downtown, or if there will be enough spendable dollars to go around. Halbakken isn't worried, though, saying Sacramento's long been underserved. "Between sporting, art, cultural assets, we're just underserved all across the board," Halbakken says. "I don't know that we're going to hit a level of investment where (residents) say, 'That's enough.'"
Then there's the ongoing debate about how much economic impact stadiums really have. While Republic FC is helping limit the city's financial risk by covering most of the stadium's cost, how much the stadium ultimately will help spur development at The Railyards remains to be seen.
Gerardo Prado, a principal for stadium designer HNTB, expressed pessimism about what the stadium can do for development at The Railyards. "We do a lot of sports stadiums, and you see a lot of arenas, kind of this focus over the years to revitalize downtown areas with sports facilities as anchors for development," Prado says. "There's been places … like (the) New York Red Bulls' stadium … that was kind of the vision for them to develop adjacent land and it's taken forever."
Gumpert is hopeful, though. "You see so many successful MLS franchises, especially new ones that have developed amazing stadiums, developed them in downtown cores, had amazing support, driven a lot of business around it for the city, and raised the profile of their city," Gumpert says. "And still, even with that, I would stack up Sacramento as strong as any of 'em, given the opportunity we have, the passion for soccer that's already been shown."
—
Discuss this story and others on our Facebook page; "like" Comstock's on Facebook by clicking or tapping here.
Five things to know about Ron Burkle, who joined Sacramento Republic FC as lead investor in its bid to join Major League Soccer.
Warren Smith's dream is about to come true — without him. It's all but certain Republic FC will become an MLS team and play in a new stadium in The Railyards, likely in 2022. "I'm really happy for Sacramento," Smith says.