When Oleg Kaganovich was growing up in Michigan in the 1980s and early '90s, his city of Grand Rapids was suffering the doughnut effect then typical of downtowns everywhere: Shoppers and residents were fleeing for the suburbs. By 1990, fewer than one in 10 residents shopped regularly downtown, a drop from about one in three in the early 1960s, according to a local newspaper.
But city leaders pulled together on a big idea — building a new arena downtown that would house the city's pro hockey team and be used for other events during the state's cold, blue winters.
Funded largely by public bonds, the lights came on at Van Andel Arena in October 1996. The city's crown jewel, it has completely changed Grand Rapids' character, says Kaganovich, founder and CEO of Sacramento tech startup Wyndow. In addition to hockey games, it hosts concerts and family shows, and has created a vibrant urban core. New restaurants and night spots have opened their doors and buzz with downtown workers hanging around after clocking out. And young people started moving downtown for the first time in decades.
Real numbers on local economic growth back that up. According to a report by an economics consulting group, in 2011 the arena generated about $12 million in net new spending in the larger county, brought in 255,000 visitors from outside the region and created 252 jobs. And that's just one year.
The opening of the Golden 1 Center in downtown Sacramento is the latest test of whether sports stadiums funded in part with public money can return that investment in higher sales, more jobs and a pulsing nightlife. A few stadium projects have boosted their local economies to the next level, and there's reason to think the Kings' new home could be among them.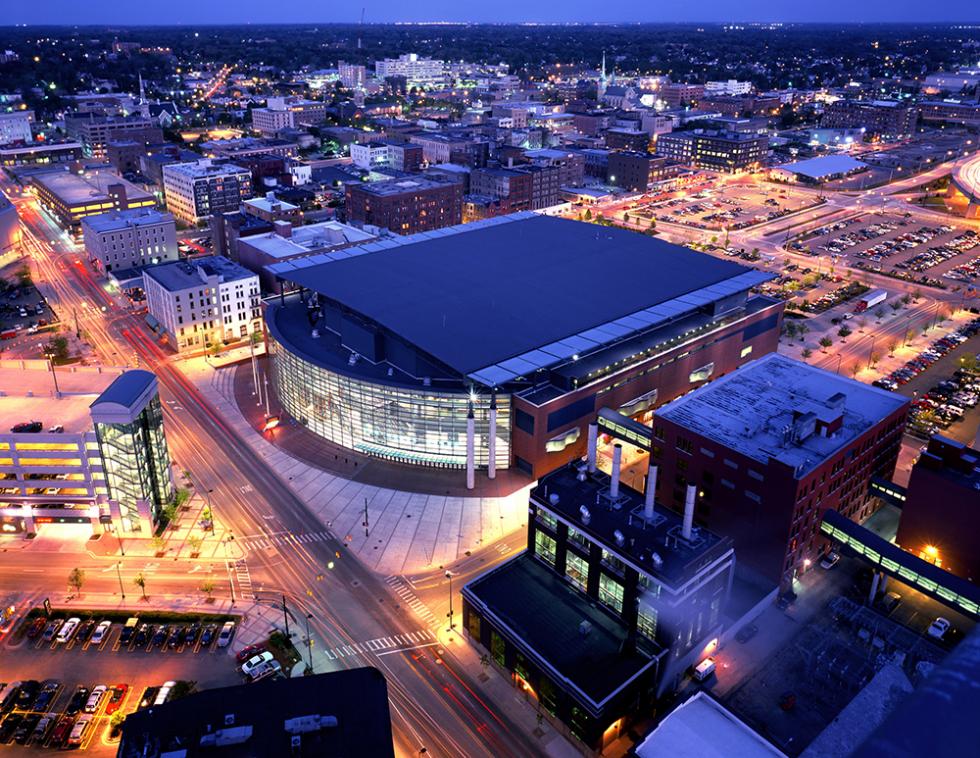 Can Stadium Economic Projections Be Trusted?
When arena supporters discuss the Golden 1 Center's promise, they often refer to the numbers from a 2013 report by consulting firm Capitol PFG. Prepared for the pro-arena coalition The4000, that study projected that the project will create more than 3,700 new, permanent jobs — a result of higher spending on restaurants, hotels and other shopping around the stadium — and bring in about 1.6 million new visitors annually.
Figures like those elicit a weary response from sports finance economists. That's because most promotional stadium studies don't reveal that new stadium-related spending largely substitutes for what would be spent on other types of entertainment. Research says that, as people spend more on game tickets, they spend less on movies, eating out, bowling and the like.
"While we're excited about the footprint of the arena, we're spending as much time on the corridor surrounding it … in working to activate those retail locations." Michael Ault, executive director,Downtown Sacramento Partnership
In that respect, the 2013 report may be better than most — the consultants subtracted the entertainment spending that otherwise would occur to come up with a figure for net new spending. So while the report projects that the arena will generate gross new spending of $231 million annually in the Sacramento region, net new spending is a bit more than one-tenth of that — about $25 million annually. Some fraction of that $25 million will return to the city in higher tax revenues, though almost certainly not enough to finance the City of Sacramento's annual debt service of $18 million on its $255 million in arena bonds.
Sports economist Stefan Szymanski of the University of Michigan says that $25 million in net new spending sounds believable. But he points out that the report ignores that net figure in its executive summary, instead using the gross figure to extrapolate $11.5 billion in new economic spending over 35 years — which shows up in the summary in bold type. The Kings themselves, in a 2015 fact sheet, also ignore the net spending number and highlight instead the $11.5 billion in regional economic impact. That's much like advertising a business to potential buyers using the projected gross sales and ignoring the operating costs. (Capitol PFG didn't return multiple requests for comment, and a Kings spokesperson didn't respond to questions about the figures in the team's factsheet.)
Dennis Coates of the University of Maryland, is an economics professor who studies the economic impact of sports. He says that because the Kings already play in Sacramento, the new arena isn't likely to produce many extra economic benefits for the region as a whole. So while 3,700 new jobs well may be created downtown near the new arena, jobs also could be lost in Natomas with the closure of the Sleep Train Arena. But the report's authors didn't share their math on whether more jobs will be gained than lost.
What About Natomas?
One feature of the Golden 1 Center deal makes it possible the city will avoid the "substitution effect," or the spike in economic activity near the new stadium and a corresponding drop in business in other parts of the city, that makes sports economists so skeptical. In approving the deal, the city council required the Kings to commit to replacing the old Sleep Train Arena with a development that brings at least as much economic activity to Natomas as it had with the Kings.

That's why business and community leaders in Natomas seem to feel they have everything to gain with the Kings' move. Through several community meetings and town halls, neighbors identified the type of anchor tenant they want in that development — an educational, medical or high-tech company or organization, any of which would bring in high-wage jobs, says Councilwoman Angelique Ashby, who represents North Natomas. Kings' President Chris Granger told the council last December that the team had already received a number of offers for the site, but had turned them all down because the proposed uses didn't meet the community's requirements. "We're going to say 'no' 10 times before we say 'yes' to something," Granger said.
In fact, North Natomas restaurants that benefited from proximity to Sleep Train are working together on a plan to keep at least some of their game-night customers coming back, Ashby says. North Natomas is just a few exits up the freeway from the Golden 1 Center, so a group of them are putting together a plan that would allow people to park and eat in Natomas and then take a shuttle downtown, she says. She hopes other parts of the city can do something similar to ensure that the economic impacts of the Golden 1 Center are felt beyond downtown.
As yet, there's no indication that any Natomas businesses will close because of the arena's move, says Natomas Chamber of Commerce President Dan Trescott. He views the Golden 1 Center's launch as a net positive, including for his neighborhood: "Natomas is a resilient and resourceful bunch of people," he says.
A Tale of Two Stadiums
Even sports economists recognize that not all new stadiums are created equal. NBA arenas, for example, have lower construction and maintenance costs and can host more year-round events than either pro baseball or football stadiums, because they're indoors. NBA teams also have five times as many home games as do NFL teams. All of that may make them more attractive investments, notes a 2012 paper in the Journal of Urban Affairs. Indeed, arenas built in basketball-only cities from 1995–2009 had modest positive impacts on real per-capita income for their metro areas, increasing it by about $600 per year annually.
The success of a stadium also depends on the city where it's built. In a 2012 paper in the Journal of Urbanism, researchers compared two pro stadiums completed within three years of each other in cities with similar demographics. Coors Field in Denver, home of Major League Baseball's Colorado Rockies, went up in 1995 in the heart of downtown. It almost immediately revitalized the neighborhood and created an economic boom for the city. A year after it opened, the number of restaurants around Coors Field had jumped from 35 to 60, and more than $200 million worth of additional retail outlets were later opened. By the late '90s, its annual economic impact was estimated at about $195 million, more than twice the projected estimates, the researchers found.
A second baseball stadium, Chase Field in Phoenix, was explicitly designed to replicate Denver's success. Finished in 1998, it hasn't lived up to its hype. In the four years after the stadium opened, the number of housing units downtown grew slightly. But most of that growth would have happened without it, according to the analysis by the study's authors — the expansion of a state university accounted for most of that. The neighborhoods around the stadium haven't changed much.
The difference? Unlike Phoenix, Denver has no big cities in its county that compete for attention. Also, population density matters, and Denver has a lot of people living in a relatively tight footprint. That means shorter commute times to its stadium and some fans walking there. People stop in bars before the game and stay after to eat, drink and party. Maybe most important, Coors Field was built as part of a downtown economic development plan. Chase Field wasn't.
Is Sacramento More Like Denver or Phoenix?
The Denver-Phoenix comparison should give some comfort to the Golden 1 Center's fans. Like Denver, Sacramento has no competing big cities in the county it occupies, and it dwarfs its neighbors in the larger metro area like Roseville and Yuba City. And population density works in Sacramento's favor. Phoenix has about 288 people per square mile and Denver about 305; Sacramento tops both at 422.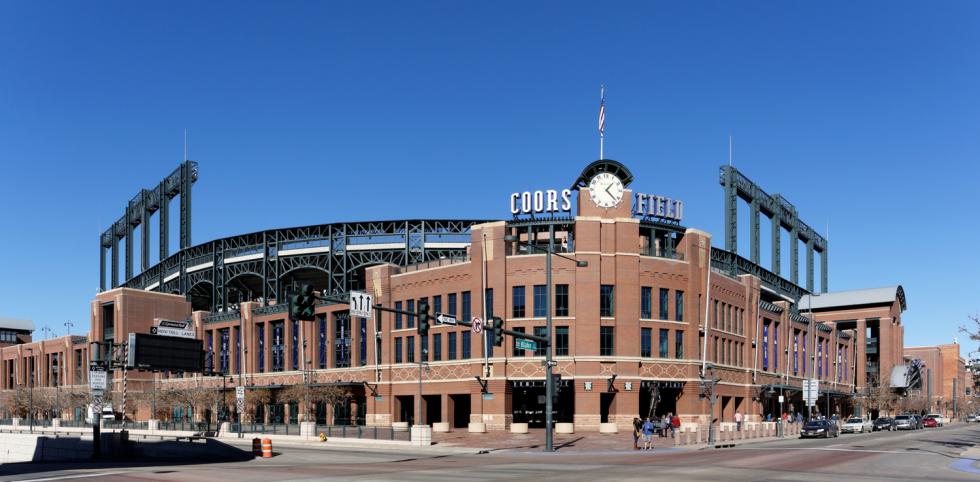 And as in Denver, the Golden 1 Center is just part of a broader economic development plan for downtown. "While we're excited about the footprint of the arena, we're spending as much time on the corridor surrounding it … in working to activate those retail locations," says Michael Ault, executive director of the Downtown Sacramento Partnership.
The money cascading into downtown would seem to prove that even when new stadiums don't significantly boost a metro area's economy as a whole, they can change the game for specific neighborhoods. Sixty-one new businesses have opened in the 66-block downtown core since 2014. In the five quarters spanning 2015 and first quarter 2016, 15 key downtown properties have sold. In the past, "it took a team of people and more than a year to sell one of those buildings," says DSP's Valerie Mamone-Werder. She and Ault have a meeting a day with an investor, developer, new retailer or interested office tenant; in previous years they'd have one every few weeks, she says. The assessed value of property in the blocks immediately around the arena has increased by $100 million since the arena started going up, a representative of the city manager's office told the Sacramento City Council last December.
That quickening pace is spilling over to the tech industry too. Brian Collins, chief marketing officer at AngelHack, the firm that pioneered global hackathons, has seen an uptick since spring 2014 in tech talent wanting to work at the company's Sacramento office near downtown. Some of that is due to the company's growth, he says. But the depth and breadth of technology going into the Golden 1 Center has become a talking point for him when he's showing around potential recruits. And in February, Tyler Smith, founder of real estate tech firm SkySlope, posted a LinkedIn essay on why he started his business in Sacramento. The biggest draw? The arena. "The Golden 1 Center will go down in history as a major milestone for the City of Sacramento," he wrote.
Those aren't just anecdotes — there's good evidence that the city is about to draw big numbers from the Bay Area. Last May, real estate search firm Redfin reported that of Bay Area residents searching for homes to buy on its site, the city they were most interested in was Sacramento. That also means a lot of young people could be headed this way. A study by the Urban Land Institute last fall found that three-quarters of millennials living in the Bay Area are considering moving somewhere else in the next five years.
"My office is in Midtown because of the energy here," says Kaganovich, who's seeing the same uptick in interest from tech talent as is Collins. "The arena is a big business that brings in people … you start to get this magnetic pull," he says.