We at Comstock's don't do this very often, but in honor of the New Year holiday: We've made a top 10 list, to ring in 2019.
Here's our list of most-read feature stories that appeared in our print magazine, based on online views — unsurprisingly, they're also among the stories that received the most reader feedback. Many of these stories took a solution-oriented approach — whether that be our reporting on how McClatchy is investing in digital media to save newspapers, how a West Sacramento company is making a new type of bioplastic, how a tiny Delta city is revitalizing or how one developer's vision for small homes could make living downtown affordable again.
We also saw our inaugural "Entrepreneur Showcase" feature rise to the top, and once again readers appreciated learning about local women in leadership. When it came to our top web-only stories, the overriding interest among readers was in our food and beer coverage. Cheers!
1. Breaking News: Another round of layoffs hit the Sacramento Bee this past April, shrinking the newsroom staff to 105, which marked a 63-percent reduction since 2006. The downsizing was collateral damage in parent company McClatchy's doubling down on its vision for a digital media future. As part of that vision, the company opened a second virtual and augmented reality office in Sacramento called New Ventures Lab. Reporter Allen Young chronicles the McClatchy empire's decline, and its current attempts to right the ship. ~ appeared in June '18
2. Big Shake-Up in the Delta's 'Little Paris:' Once a bustling hub in the Sacramento-San Joaquin River Delta, the tiny city of Isleton has seen better days — starting in the late 1800s and up until the 1960s when the area's last cannery closed. Then decades of natural disasters, economic hardship, municipal mismanagement, and the departure of residents and businesses followed. Reporter Sena Christian examines how this "Little Paris of the Delta" might thrive again as new businesses move in and revitalization plans begin. ~ appeared in September '18
3. Wonder Women: In our fourth-annual issue, Editor in Chief Allison Joy and reporter Jennifer Berry highlight six of the Capital Region's most influential women, which included Studio Martial Arts & Fitness owner Amitis Pourarian; San Joaquin Regional Transit CEO Donna DeMartino; First Northern Bank CEO Louise Walker; California Primary Care Association CEO Carmela Castellano-Garcia; Sacramento Probation Department Chief Deputy Kristina Thompson; and The Urban Hive COO Molly Weber. ~ appeared in March '18
4. Get Spent: What if you're a city like Roseville that grew up around sales tax revenue generated by thriving brick-and-mortar retail only to now see that threatened by consumers' shifting to online shopping? Reporter Sena Christian follows efforts by the City of Roseville to seek input from a group of community stakeholders on how to prioritize city services — and identify what might need to be cut in the near future. ~ appeared in February '18
5. Plastic of the Future: Plastic production worldwide is projected to double over the next 20 years, and regulation, recycling and a reliance on changing consumer behavior have proven ineffective at curbing the environmental impacts of this material. Reporter Sena Christian covers how West Sacramento-based Origin Materials may offer one solution to this predicament in the form of plastic made from biomass rather than fossil fuels. ~ appeared in April '18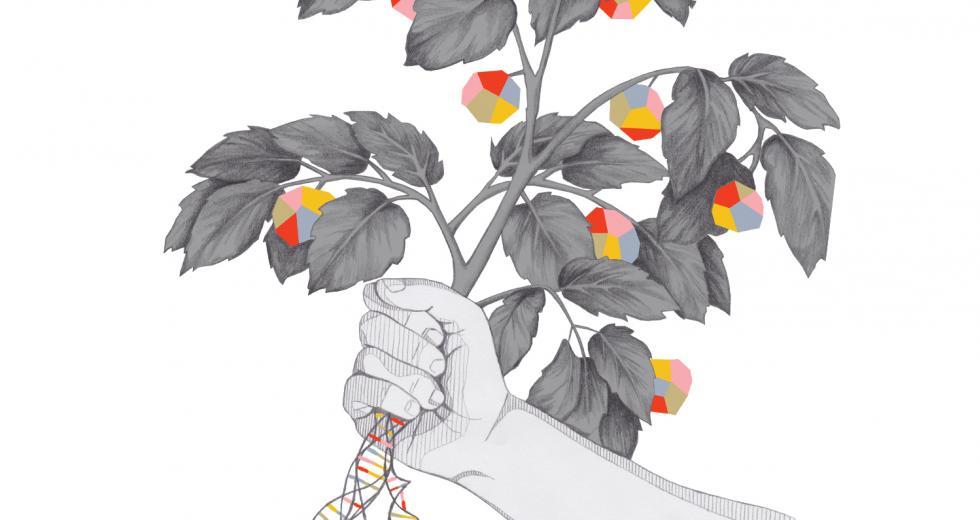 6. Seeds of Innovation: As a world leader in plant science and agricultural research, the advancements happening with plant breeding at UC Davis have global significance — especially as food production needs to increase an estimated 70 percent by 2050 to feed a growing population. Reporter Jennifer Berry examines the critical work happening at UC Davis as it transforms the future of vegetables. ~ appeared in January '18
7. The Way We Work: Six Sacramento executives gave us a glimpse into a day in their busy lives, by keeping a detailed log and breaking each hour into buckets such as "meetings" or "family time," and then sharing their work hacks and productively tips. Then reporter Jeff Wilser asked a local productivity expert to chime in with her perspective on why these tips work and what the rest of us can learn from them. ~ appeared in September '18
8. Small Wonders: Do people actually want to live in 350-square-foot apartments? Yes, turns out many do, according to Sacramento developer Nikky Mohanna, especially if these micro-apartments include sleek designs, upgraded amenities and can make the dream of living in vibrant urban centers affordable. Reporter Steven Yoder writes about Mohanna's 19J micro-apartment development, and how it's being closely watched by both other developers and city planners to see how small living pencils out. ~ appeared in May '18
9. Entrepreneur Showcase: We vetted almost 100 nominations from readers to select 16 of the Capital Region's top entrepreneurs — selected for their innovative businesses, interesting backstories, unique products and services, or displaying the "it" factor. Among a long list of questions, reporters Eva Roethler and Sena Christian asked each honoree to describe the most difficult time they'd faced in their businesses so far and what they attributed their success to. But the question that brought the most interesting and divergent responses: "How do you define entrepreneur?" ~ appeared in July '18
10. The 5G Promise: As the City of Sacramento and organizations such as the Greater Sacramento Economic Council court tech companies to launch or relocate here, efforts are underway to close the digital equity gap, which will help make Sacramento a selling point. Verizon has chosen Sacramento to deploy its high-speed 5G network in a roll-out that will happen over time. Reporter Russell Nichols reports on whether Verizon's 5G wireless network has the power to boost entrepreneurship in the Sacramento region. ~ appeared in June '18
Now, for our top 10 web-only pieces: