Lucy, a once-feral cat, scampers over as the front door of the Isleton Chamber of Commerce (her new home) squeaks open on Main Street. A middle-aged man and woman enter — out-of-towners who have come to patronize an antique shop only to find it closed yet again.
"She's only open on weekends," explains Jean Yokotobi, who serves on the chamber board and owns the historic building where it operates.
"There's something I was interested in," says the man. "It's still there. I can see it in the window."
He trails off as his eyes drift to an old photo of the town's early residents. Yokotobi fills the couple in on some local history.
"We were here last Wednesday, too," says the man.
"You know, none of the shops are open on Wednesday," Yokotobi tells him.
"It doesn't seem like most of them are open ever," he replies, listing off other attempts he's made to patronize downtown businesses. The visitors say thank you and head back outside, the door clanging shut behind them.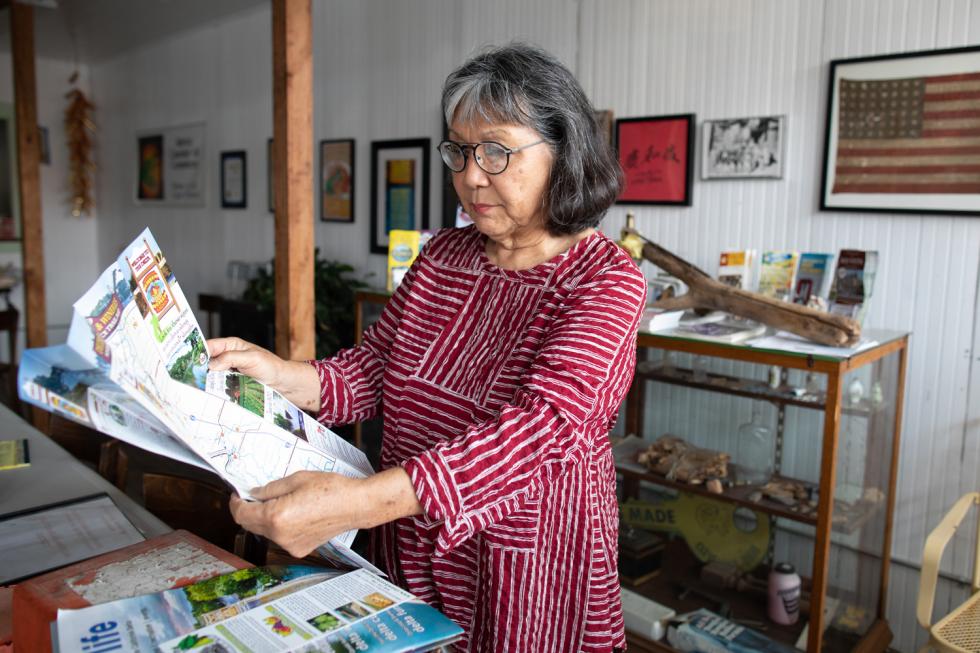 On this hot Monday in June, Isleton's historic downtown is largely empty. "Closed" signs hang inside storefronts — even the few with "open" signs switched on or flipped outward are locked. With so many shuttered properties in muted, faded hues along Main Street, it's hard to distinguish a public business from a private residence, making casual window shopping an uncomfortable proposition. A woman walks with her young daughter in tow, and a few men sit together on a park bench — not even a Delta breeze to stir the silence.
Many of Isleton's roughly 850 residents like the quiet of living in this tiny city in the Sacramento-San Joaquin River Delta. But within the solitude of this sleepy town comes a hint of something more. It was once a bustling hub, settled by Chinese and Japanese immigrant workers who turned Main Street into a vibrant commercial and residential district. But that was before a series of natural disasters, economic hardship and years of municipal dysfunction saw residents and businesses leave and investment pull out. A 2008 Sacramento County Grand Jury report — one of many involving Isleton — described the city as "in a state of perpetual crisis." There's even been talk of disincorporation, absorbing Isleton into Sacramento County's oversight.
However, there is a whiff of change in the air: New businesses are moving in, the town is home to a burgeoning creative enclave, and a new revitalization plan is aimed at helping this former "Little Paris of the Delta" thrive again.
"I always tell people, not one community will stay the same forever," says Yokotobi, a Japanese-American born in the Tule Lake internment camp and raised in Gridley in Butte County. She began visiting the then-bustling Isleton in 1963 and dreamed of living there one day. Four decades later, after it had slowed down, she moved into the second floor of an old building on Main Street — one of two she now owns.
"Obviously, we're not going to have the same Isleton we had 50 years ago," Yokotobi says. Those days may be gone for good. And change, according to many residents, is long overdo.
TRIALS AND TRIBULATIONS
Unlike other towns along Highway 160, Isleton isn't a place people necessarily happen upon, because Main Street isn't visible from the highway. On a typical summer weekend, the steady stream of cars don't seem to stop here in Isleton, instead opting for nearby Locke or Walnut Grove — two other historic towns on the 10-mile Delta Loop that have managed to better capitalize on their eclectic character.
Isleton lost its popular annual Crawdad Festival in 2008, which used to bring in thousands of visitors over the course of a weekend, when it was jointly sponsored — and mismanaged — by the Isleton Chamber of Commerce and the City of Isleton. Ultimately, it left the chamber in debt, and the organization sold the festival name to a horse ranch before disbanding that same year. (Yokotobi restarted the local chamber in 2009 and served as its first president.) A comparable festival has yet to take its place.
But Isleton's troubles pre-date the crawdad-fan exodus, starting in the late 1960s when the last of the area's canneries closed. The troubles kept coming for the poorly run city government. Staff and city council members came and went. The council repeatedly failed to adopt budgets in a timely manner. The City was unresponsive to residents. After a mayor was recalled in 2004, the turmoil grew, and so did Isleton's debt. Things got so bad that in February 2008, the Sacramento County Grand Jury even took the unusual step of issuing its report early specifically "to call attention to serious issues surrounding the level of governance and the quality of delivered civic services in the City of Isleton."
Then the Great Recession hit, and a much-anticipated housing development called Village on the Delta stalled. Several businesses on Main Street failed. In 2012, the city manager dismissed the police department and Isleton has relied on the Sacramento County Sheriff's Department ever since.
Nowadays, Asian-Americans have largely left Isleton. About half the population is Hispanic or Latino, 45 percent white and 3 percent Asian. The largest age group constitutes people between 45 and 64 years old, at about one-third of the population. The median household income is about $35,000, compared to $56,000 countywide, and one-third of residents live below the federal poverty line.
In 2011, Pamela Bulahan was elected to the Isleton City Council in a special election following the resignation of a councilman with over a year left in his term. Bulahan, who had moved to Isleton in 1969 at 6 years old, ran against two ex-mayors in a vote-by-mail contest. "The Sacramento Bee reported that I won with a total of 50 votes," she says. She served through 2016.`
Having lived in Isleton for so long, Bulahan has seen the area's economic spurts and downturns. She's also come to deeply respect the city — despite its flaws. She worked at McClellan Air Force Base for 19 years before it closed, an experience that led her to "appreciate Isleton not being nearly as chaotic and noisy as opposed to metro-suburban areas." She now works part-time at Turtle Island Art Treasures on Main Street, which she usually staffs for Second Saturday, a monthly arts and culture event recently launched by the chamber.
"It's quiet," Bulahan says to explain why she likes living in Isleton. "The only noise is if someone turns up the stereo loud or people are arguing."
Although her official civic duty is over, Bulahan remains concerned about Isleton's long-term economic prospects. "Financial sustainability, in my opinion, has long been the biggest issue, starting with maintaining City infrastructure and restoring services that were cut from previous budgets," she says. "More businesses need to be infilling vacancies [to] add to the sales tax increment."
Financial stability is top of mind for City Manager Charles Bergson, a civil engineer and Sacramento resident who started the position in February 2017 — making him the fourth city manager since 2010. He's been catching up on overdue audits and has clamped down on spending. Bergson has created payment plans for the several agencies to which the City owes money (including the Sacramento County Sheriff's Department, California Employment Development Department and the Reclamation District) and is collecting untouched revenue, like that from a landscape district with an annual assessment that hasn't been collected in a decade.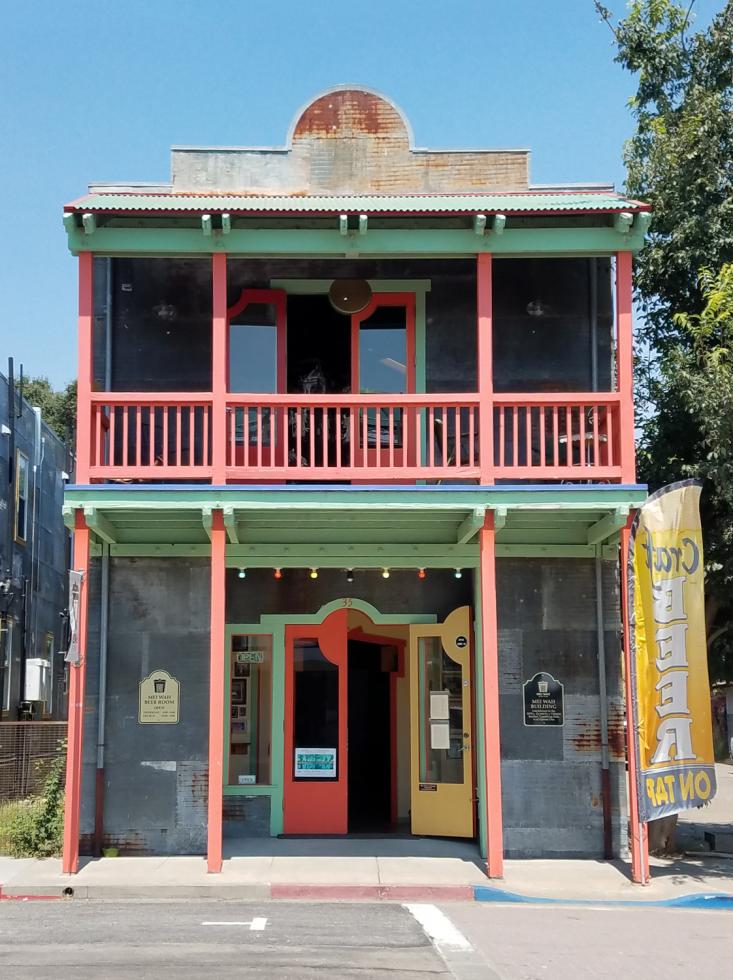 Bergson has also been overseeing the adoption of an ordinance that allows for commercial cannabis cultivation, manufacturing and retail — making Isleton one of the only jurisdictions in the greater Sacramento region to do so. Bergson says City Hall regularly gets calls from cannabis entrepreneurs priced out of the Bay Area who need a new base of operations. "When business comes knocking, you let them in … I'm not pro marijuana, I'm not against marijuana," he says. "I'm just doing my job."
He's also looking to stabilize staff and operations. Before Bergson started, the local government didn't really have a professional staff, and instead relied heavily on consultants. Now there are five full-time employees and four part-time ones. He's working on a plan to improve the salary schedule and benefits so Isleton can competitively hire and retain employees.
Although the general fund is balanced, Bergson says a bad bond taken out in 2012 to provide an influx of $2 million "presents a huge fiscal burden" because of its high interest rate resulting in an annual payment of about $175,000. "The City has commenced proceedings to refund this bond," he says.
Residents say Isleton has a drug element, but crime is minimal. A typical month during the first half of 2018 averaged around 43 calls for service — most were minor noise disturbances, reports of suspicious vehicles or calls for welfare checks — and generated about three reports. Bergson points out that a bag of human remains found by a fisherman in April was located just outside city limits. "The sheriff's [department], when they're here, do a good job, but there's no presence here," he says. He's working to contract police services from nearby Rio Vista.
What would also help Isleton is capturing more tourists. During a community workshop in July 2017, over 20 community members suggested what new businesses they'd like to see in order to improve Isleton for residents and attract visitors. Responses included a coffee shop, wine-tasting room, small grocery store with fresh produce and a boat repair shop. Out of 60 commercially-designated buildings downtown, only about 20 currently have an active storefront — so there's plenty of opportunity for these ideas to happen.
Rogelio Garcia and his wife, Mew Ha (who goes by Diane), run one of the oldest businesses still operating in downtown Isleton. The couple opened Rogelio's Dine and Sleep Inn on Main Street in 1981. Garcia says the 1980s were a heyday for the area and his business, largely due to all the boaters and fishermen on the Sacramento River. "Business in the '80s was the best," Garcia says. "We just had so much business. We'd have a one-hour waiting list. We closed at 10 o'clock at night, but we were sometimes serving until 11 at night. As long as people came in, we kept serving."
But Garcia says recreationists left the river for lakes in the early '90s, and business began to drop, and never rebounded. He's tried new things to bump up revenue. They have a cardroom for poker tournaments on Friday and Saturday nights, and recently started hosting karaoke in the cocktail lounge on Sundays. He says the hotel has its ups and downs.
Overall, business is slow, he says. But he's noticed signs of a turnaround emerging, with new storefronts opening on Main Street and more foot traffic. "Little by little, I think things are going to improve quite a bit. I think there are more people coming into town," Garcia says, attributing the activity to unaffordable Bay Area property prices. "It's ridiculous. People are starting to move this way."
Even if Garcia is right, he may not be around to experience the shift. He's 74 years old. "I don't think I'm going to be working too much longer," he says. "I hope someone is going to take over my business. We need some fresh blood."
NEW ENERGY
The number of business licenses issued in Isleton since 2015 has steadily increased, with 67 issued that year, over 100 the following two years and 120 already issued during the first half of 2018. And there is reason to believe that with those licenses will come some of the new energy Garcia is hoping for.
"The old-timers are all gone," Yokotobi says. "The generation you see now are really the third generation people, or they're transplants from another area. People coming in from the bigger cities will probably be a lot more progressive in their thinking than people who have lived here forever."
Iva Walton is one of those former urbanites. Walton had been visiting Isleton since the 1980s, stopping in during motorcycle rides along the Sacramento River. She had long wanted to open a craft beer business in Oakland, where she was living, but the market was saturated and the real estate cost-prohibitive. One day, she learned of a historic building on Main Street for sale in Isleton. "I said, 'Oh my god, I've always loved that building.'"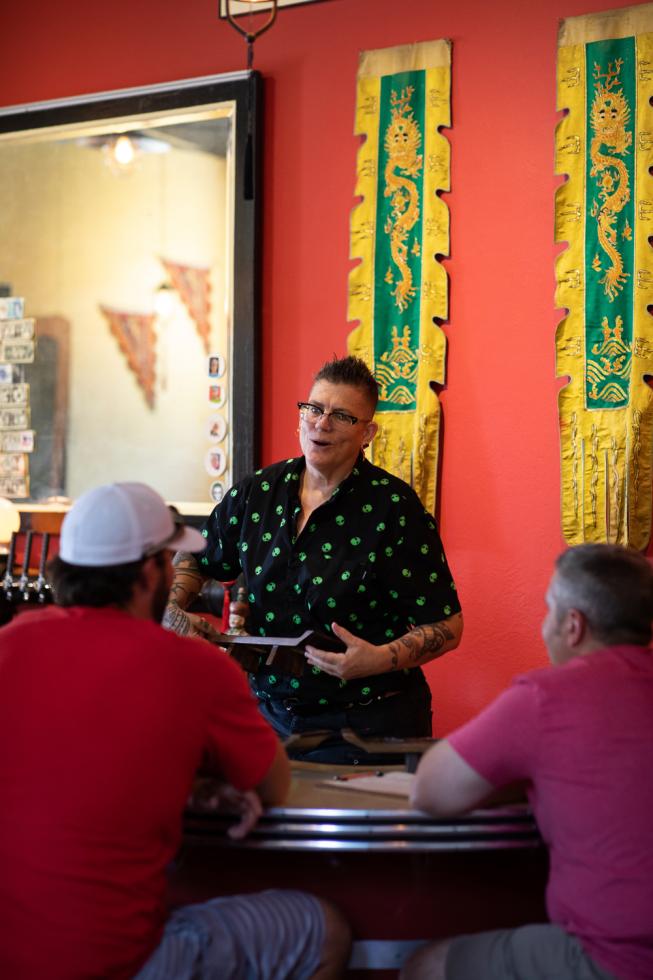 Walton moved to Isleton in January 2016 and opened Mei Wah Beer Room in July 2017. The interior reflects the building's original use as a Chinese brothel, gambling hall and opium den. There's a 1920s opium bed she found on eBay, tables she made using repurposed vintage Chinese posters and a Chinese altar table from the 1870s. (Her front bar counter is from the movie Basic Instinct; she knew the woman who built it.) Walton says Isleton's long-time residents have welcomed the beer room: "As long as you love the town and treat it right, they got your back 100 percent."
Garcia says Mei Wah has been "good for the town," and even though he knows he's lost a few customers to the beer room, overall he credits the new business with bringing customers in to Isleton that might not visit otherwise.
But Yokotobi says she sometimes picks up on animosity between transplants and old-timers who don't want new businesses to threaten their operations. "That's real small-town thinking," she says, "because people don't realize that competition is what drives business. … You have several places to choose from, then you get a whole bunch of people there."
The beer room has been a great addition to downtown, Yokotobi says. She also knows of other new businesses coming soon to the area: a pharmaceutical company, a builder of tiny homes and a wine-tasting venue.
Down the block on Main Street, Marvin and Chandra Epting opened Yes My Sweet BBQ & Catering in December 2016 to be near the Old Sugar Mill in Clarksburg, where they cater a lot of events, says Chandra. Their previous spot in Sacramento was too far, and when they moved the couple decided to add a restaurant component to their business. Nowadays, Marvin sets up his barbecue in a parking spot out front with the smell of meat smoking all day long.
"It's a nice, cool town. My sister calls it 'Gunsmoke,'" Chandra says. As for Isleton's sketchy past, she says she and her husband don't know a whole lot, and don't care to. "I don't pay attention to the negatives."
Clay and Lilian Bodenhamer ran a popular Main Street deli, River's Edge Cafe, from 2002 to 2009. They initially spent two years renovating the old building that had formerly housed a Chinese market. But the couple closed the restaurant in the wake of the Great Recession and moved East, with Lilian periodically returning to Isleton to check on their property. On these trips back, she noted worsening traffic on Highway 160, maybe Bay Area travelers opting for the levee road to avoid the interstate. "She was right," Clay Bodenhamer says.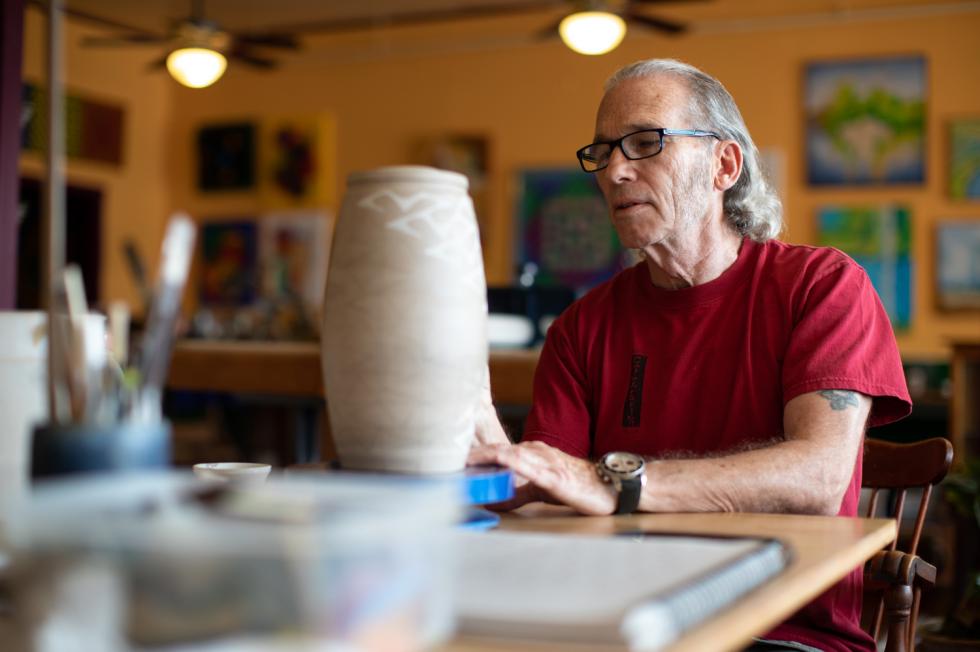 The couple returned to the West Coast in 2015 to retire. Clay had since taken up pottery, and so the couple set up a ceramics studio, River's Edge Studio, in their former cafe space. They sell bowls, pots, decorative sculptures and original paintings. They don't have an online presence, so the business depends on word of mouth from people passing through the Delta, usually from the Bay Area, who tell friends they've found a "cool place," Bodenhamer says.
Word of mouth is how River's Edge Studio has managed to build up the business over time. "It's a real slow process," Bodenhamer says, "and that's fine for us."
PLAN FOR GROWTH
Last October, Bodenhamer attended a workshop for Plan Isleton, a five-phase development strategy spearheaded by a collaboration among the City of Isleton, Delta Protection Commission, and two urban planning and development firms. Efforts will include improvements to utilities, transportation, historic preservation, downtown streetscape and the creation of an economic development strategy. The project is primarily funded by grants from the Sacramento Area Council of Governments. An October 2017 report that resulted from the project will be used as a basis for updating the city's general plan. That day's workshop was to launch an ongoing discussion on economic improvement in downtown.
Michele Reeves, an urban strategist with Portland-based Civilis Consultants, presented that day on toolkits that business owners, property owners and the public sector can use to turn around Main Street. She told the 30 attendees that the town needs to give visitors a reason to exit Highway 160, but that ultimately their distance from the levee road is also a strength: It makes the downtown conducive to pedestrians, who can easily cross the street from one business to the next. Main Street's buildings line up next to one another without parking lots in between, which can facilitate cross-pollination among businesses.
That day, she offered some advice: Public-facing businesses need to better showcase what happens behind their doors through improved lighting, windows, sidewalk signs, paint colors and other visual cues, she says: "Part of the job of a commercial district is to be a 24-hour advertisement of what's there."
Bodenhamer says he took her advice to heart: He fixed up his lights and window displays. Additionally, large open windows facing the street mean passersby can watch as he works.
Reeves cites the Epting's Yes My Sweet as another example of a winning strategy: Businesses that do commerce "out the back" — for example, catering — and also maintain an active storefront "can be successful in a district with lower foot traffic in the beginning." But Isleton needs more of these types of businesses, she says.
Instead, many property owners rent the back spaces of their buildings as private residences, and the storefronts remain empty. Additionally, many residents park their cars along Main Street — despite zoning that prohibits this practice — which limits parking for customers.
Reeves says the City can encourage active storefronts by establishing a funding mechanism to help property owners divide up spaces; most of these historic buildings are 5,000-10,000 square feet, although the commercial uses in a small town should be closer to 1,000 square feet, she says.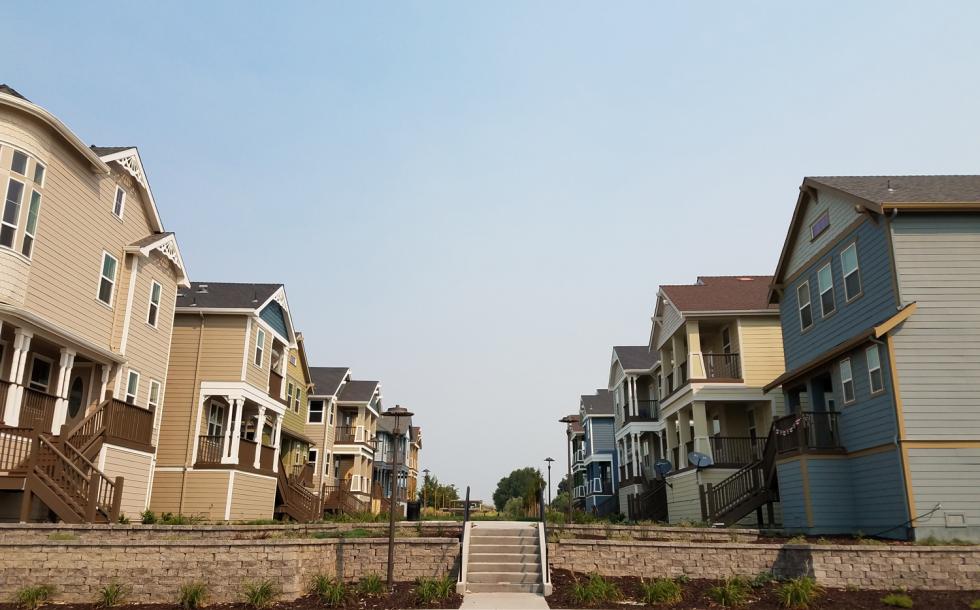 The 2017 Plan Isleton report suggests the city take advantage of the Delta's strong tourism industry of wine tasting, boating and fishing, and historical tours. The nearby Sacramento River provides access to boating, fishing, kayaking, canoeing, jet skiing and other outdoor activities. Isleton is located on the 10-mile Delta Loop, a road that includes the historic towns of Walnut Grove and Locke, and roughly 20 waterside resorts with lodging, boat docking, kayaking, camping and dining.
Additionally, the report states, Isleton's offbeat history could be capitalized on, especially its "stories of opium dens and brothels, destructive floods, gambling parlors, alcohol and prohibition, and raucous festivities."
About 11 million residents live in a two-hour driving radius of Isleton, which isn't too far a stretch for a day trip. Business owners and city officials hope perhaps some of those residents visiting from the Bay Area could be tempted to relocate, motivated by a median home price of $300,000 versus $1.25 million in San Francisco. Isleton still has significant areas ripe for development, including about 30 acres zoned for residential, 30 acres zoned for mixed-use and 11 acres zoned for a mobile home park.
The Village on the Delta housing development on the edge of town had stalled for several years, but recently changed developers' hands and construction has resumed; 18 units are completed, and the development will add a total of 331 new units. If that finally comes to fruition, the population of this tiny city could grow dramatically, accompanied by more tax revenue for the local government and more customers for businesses — but there would also be more people, vehicle traffic and noise tarnishing the peace and quiet that so many of today's residents love about life in the Delta.
Ultimately, Reeves says, Isleton must move forward in a way that integrates existing business and infrastructure, using these as assets to attract like-minded enterprises and outside investors, while encouraging the participation of current residents. "There's always a tension in economic development," she says, "because you end up with displacement if you're not careful."
THE ROAD AHEAD
On the July Second Saturday event in downtown Isleton, Main Street no longer resembles a ghost town — although it's still a far stretch from lively. Just about every shop is open, with customers milling around inside most of them.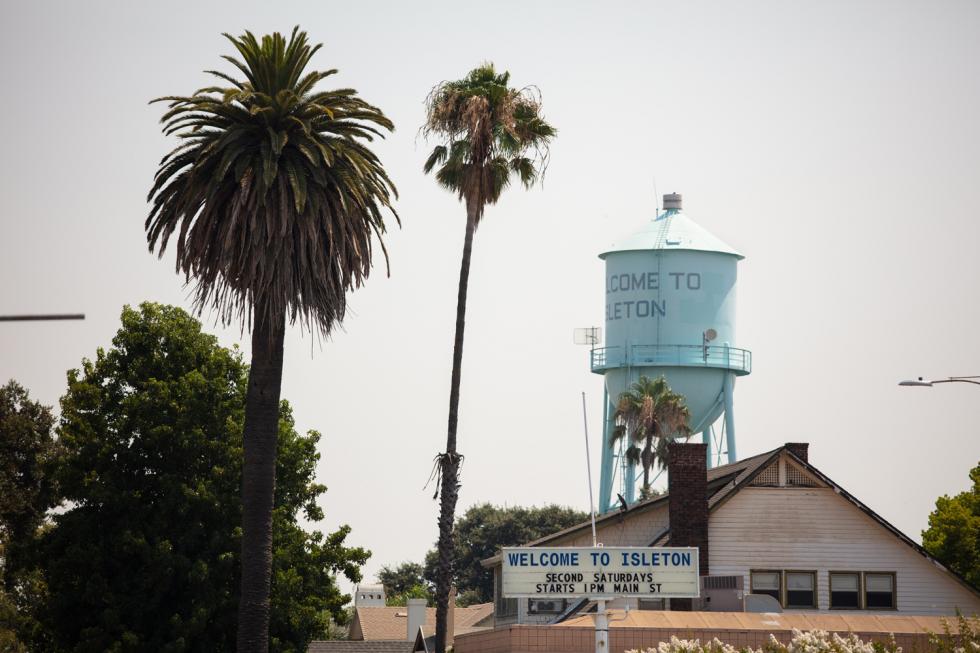 Inside his barbecue restaurant, Marvin Epting is busy preparing food to take over to Walton's Mei Wah Beer Room, where customers can place their orders. Bodenhamer has just returned to River's Edge Studio from hanging out at the beer room. Zahna Smith, who owns an original art and loose-leaf tea shop on Main Street, stops by to give Bodenhamer a handmade copper wire wrap necklace as a gift — a thank you for a tea cup he made her. Smith and Walton are what Bodenhamer refers to as the town's "new energy."
But the old energy stays with him, too — the Delta's history is one of the main reasons he appreciates the area. "It's a unique part of California, historically, geographically, it's just a really cool place," he says.
Down the block, Smith and her husband, Harley, opened Wandering Gypsy Artistry this past April, shortly after moving from a small mountain town in Colorado with their young daughter; both originally hail from California. They plan to expand their art and tea business into a tattoo parlor and retail shop.
"My wife and I have always loved small-town living … It allows you more of a connection with the community and the business owners," Harley says. "I don't feel like being in Sacramento or Stockton or Oakland, any of those places would have allowed for that kind of interaction with the community that I was looking for as a business owner."
The Smiths have joined the chamber, and Harley says they're excited for Isleton's future. Harley says he and his family "love everything Isleton has to offer" — the parks, historic architecture, affordability, his prospects as a first-time homebuyer and knowing his 3-year-old daughter will get more personalized attention in school because the class sizes are small.
Isleton, residents agree, needs more business and industry, jobs and tourist attractions — along with a functioning government. As for Walton, she feels hopeful for Isleton's future, and she plans to play a role in crafting it; she serves on the chamber board and is running for city council. "There's definitely a lot of things shaking in this little town," she says. "I really feel that Isleton is waking up again. In a year and a half, it's going to be a different city."