For the last year, Julio Peix has been suffering from a case of unfortunate timing.
The Dad's Kitchen owner signed a lease on a 1,000-square-foot property on 24th and K streets in Midtown Sacramento in August 2017. He planned to convert the former dental office into Cider House — the city's first cider bar — for an early 2018 debut, but construction delays stretched on for over a year. Then a few months after signing the lease, a location in East Sacramento that Peix had been eyeing for a third Dad's Kitchen went on the market.
"My Cider House should have been open six months ago, and now Murphy's law, the place I've been wanting for years became available," Peix says. "Now both places are going to be happening at the same time."
While juggling those two undertakings may be a headache for Peix, he thinks the timing remains perfect for Cider House, which is tentatively scheduled to open in November. "How many IPAs can you have?" asks Peix. "Beer is sort of running that course, and people are looking for something different, and cider is the way to go, I think."
The market research seems to support Peix's assumptions about hard cider's potential. While craft beer growth has started to stagnate, a recent report by Allied Market Research projected rapid growth in the global cider market over the next five years, with the fastest growth occurring in North America. That developing consumer taste for fermented, alcoholic fruit juice is driven by customers who want a gluten-free alternative to beer, as well as a growing preference for lower-alcohol beverages, an increasing brand awareness of big cider labels and a locally focused craft cider movement.
"This is not a fad, it's really taking over," says Peix, who plans to carry about 15 different ciders, a few types of beers and kombucha at Cider House, as well as offer a menu that continues the theme by serving paninis on gluten-free bread. Cider House will have outdoor seating in front, and a mural of old cider labels on the walls.
Most bars and pubs devote dozens of taps to beer but only one or two taps to ciders, leaving little room for the unique and experimental wares of craft cideries. "You have an incredible choice of varieties and styles, anywhere from your original apple cider to a hopped cider to a bourbon barrel-aged cider to regional ciders from different parts of the world," says Two Rivers Cider founder Vincent Sterne, who bottles and distributes a few core ciders and sells the rest of his small-batch and seasonal offerings from the Two Rivers taproom in Sacramento's Hollywood Park neighborhood. "The varieties of cider are as diverse as the varieties of beers."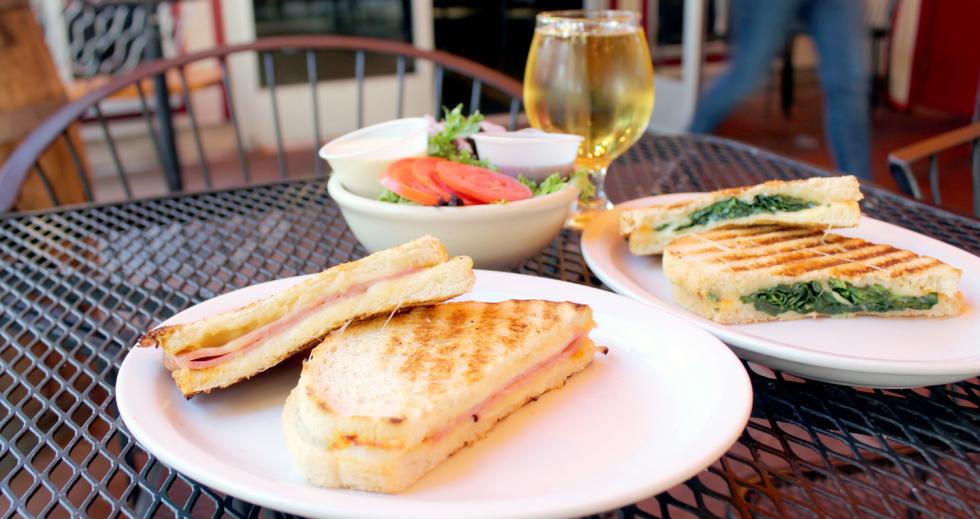 Always more of a "cider guy" than a "beer guy," Bay Area native Peix was first introduced to Sacramento through his friendship with Sterne. "I used to come here and work all the time," he says. "I could have stayed at hotels, but I started staying at [Vince's] house because he knew everybody in Sacramento." Peix fell in love with the city, and he was looking to move on from a job as a national sales representative for Anchor Brewing when the Dad's Kitchen location on Freeport Boulevard became available.
When Peix and his business partner Christine Collins took over Dad's Kitchen in 2010, they streamlined the existing menu and tied the restaurant's identity to craft beer, greatly expanding their tap selection at a time when fewer than 10 breweries operated in the Sacramento area (today, there are over 70). Three months later, Food Network called.
Peix appeared on the Guy Fieri-hosted Diners, Drive-Ins and Dives. When the episode aired in 2011, the Dad's Burger became a worldwide sensation, with people coming from as far away as New Zealand to try the bacon and blue cheese-encrusted hamburger patty made with grass-fed meat from Five Dot Ranch in Napa. "That's when I sat down with the staff and said that we cannot make mistakes," Peix says. "This burger can't disappoint, because they've been thinking about it on the drive here." The burger was also profiled an episode of The Best Thing Ever Ate that aired in early October.
Dad's East Sacramento, located in the old Cabana Winery location on Elvas Avenue, will have a soft opening in late 2018 while a new kitchen is being constructed.
Peix's ability to stay ahead of the curve and put out a quality product that captures the public's palate is unquestionable, and from all indications, Cider House and Dad's East Sac will become two more jewels in the Sacramento bar and restaurant scene. The only question now is whether the public's thirst for cider and beer will be strong enough to support both establishments.
"There's diversification in restaurants and bars, pubs, breweries in Sacramento, so I think there's room for a cider pub in Sacramento," says Sterne of Two Rivers. "I'm going to do everything I can to support him because his success is my success."