Cru Chocolate's packaging means its candy bars are well-suited for artistic display — their labels designed to evoke the Surrealist tradition of Central America, featuring motifs symbolizing their cacao's country of origin: Guatemalan macaws, Haitian butterflies, Nicaraguan jaguars. They stand out even in the packed west wall of Andy's Candy Apothecary, where craft chocolate bars are showcased, labels out, like paintings in a gallery.
Among all that detail customers might miss a single line on the back of a Cru Chocolate bar label: "Made in a home kitchen."
Cru Chocolate is a cottage food business, and the disclaimer is required by the Cottage Food Law, a set of regulations that allows crafty cooks to sell food they make in home. The law defines a short list of products that can be labeled this way, mostly shelf-stable goods such as spice mixes, dried fruit, and candy that pose a low risk of bacterial contamination.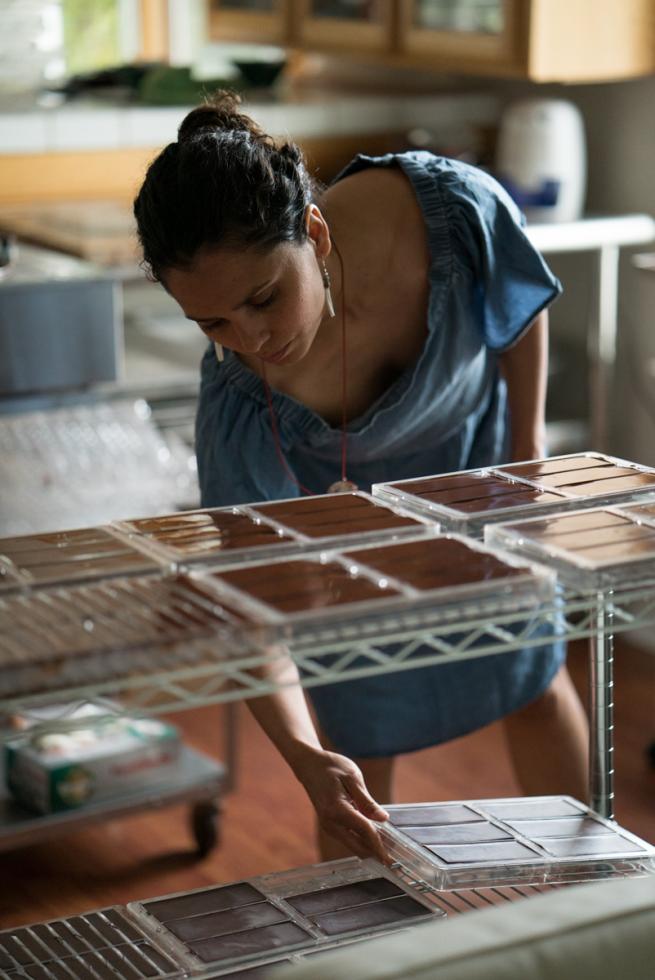 The business holds both Class A and Class B permits, meaning it can sell products directly to consumers at settings such as farmers' markets, as well as to the wide world of retailers. Cru Chocolate sells to Andy's Candy Apothecary, Insight Coffee, Burly Beverages and even Asha Urban Baths, to name a few. Obtaining the Class B permit involves an inspection from county officials, who have the final say on whether or not a kitchen is up to snuff.
Karla McNeil-Rueda founded Cru Chocolate with her business and life partner, Eddie Houston, in 2016. Running a cottage food business allows them the flexibility to be entrepreneurs with minimal overhead; no need to shell out for brick-and-mortar rent or an industrial kitchen, for example. While a cottage food career comes with plenty of challenges, McNeil-Rueda has leveraged it as an opportunity to create her own vision of success.
From Cacao Farm to Kitchen Table
What does a Class B-approved cottage food kitchen look like? "A regular kitchen. Nothing fancy or modern," says McNeil-Rueda, though the chocolate-making machines that crowd her counter are fairly fanciful. She and Houston, both trained engineers turned full-time confectioners, have cobbled together a motley collection of repurposed equipment in their Roseville home: coffee grinders, flour mills, even dentist tools, all drafted for the chocolate cause.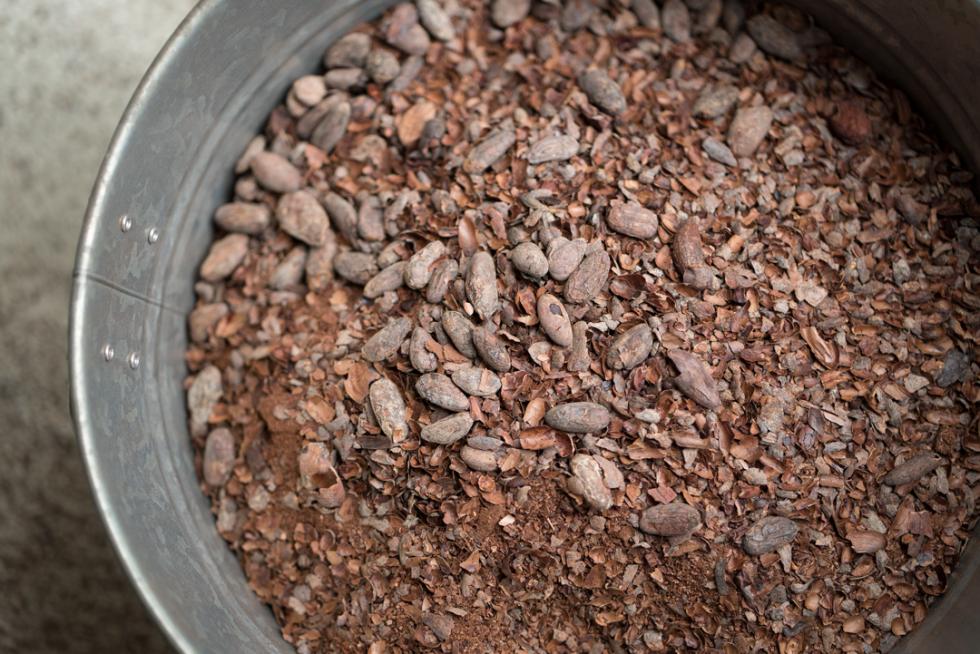 While their engineering degrees proved useful for their chocolate exploits, McNeil-Rueda and Houston also have more specialized training in their chosen field. She studied cacao technology at the Latin American and Caribbean School of Chocolates in Havana; he completed the Chocolate & Confectionery course at Oakland's Food Craft Institute.
McNeil-Rueda's earliest experiences also inform her current career: She grew up in Honduras among a family that farmed coffee and sugarcane. "I grew up thinking of farming as a very noble and honorable thing to do," she says. "It was a very respected vocation." This foundational principle grounds her ethical methods for sourcing cacao. She sees cacao farmers as partners, not mere suppliers, and makes a point of working with women — who often need a lift to gain a foothold in the historically male-dominated cacao industry.
It's no mean feat to manage meals in a kitchen that doubles as a chocolate factory. McNeil-Rueda has to stifle her love of garlic and other strong aromatics during the refining period — cocoa butter soaks up cooking smells like a sponge. "Sometimes we find ourselves having dinner in the backyard," McNeil-Rueda admits with a smile.
Wrapping It Up: Bringing Cottage Food to Market
The tricky balance between meals and manufacturing is just one of the concerns that nascent cottage food entrepreneurs might overlook, says Dr. Shermain Hardesty, lecturer emerita at UC Davis and former director of the University of California Small Farm Program. Over the course of 25 years teaching small producers how to bring their homemade foods to market, she's seen the gamut of slip-ups. Frequently, cottage food producers overlook all-important details such as package design, marketing and positioning in their haste to begin selling.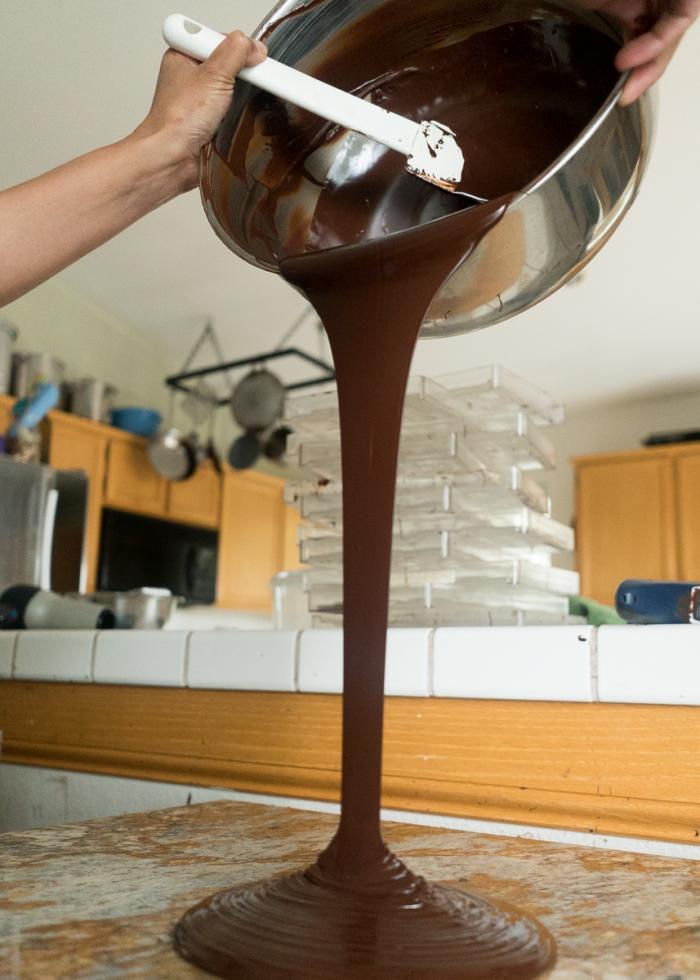 "Entrepreneurs need to understand that their packaging is their first and potentially only salesperson to the customer," Hardesty says. "That rings bells in people's heads."
Cru has the packaging part down pat, according to the eponymous Andy Paul of Andy's Candy. Paul selected Cru for his chocolate wall in part because of those attractive Surrealist labels. "If you're doing a high-end bar, it's got to look amazing," he says. "I've tasted some that are great, but don't sell because of how they look."
It also helps that he likes the way Cru tastes. Paul has bit into plenty of disappointing bean-to-bar chocolates — dry, crumbly or plain unpalatable — but describes Cru as richly-flavored and creamy, with a smooth finish. Though he likes to support small, local confectioners, he holds Cottage Foods to the same standard as products made by larger companies. "Quality is first," he says.
Defining Success One Step at a Time
McNeil-Rueda's own obsession with quality, as well as her versatile skill set, are among the factors that allow Cru to thrive within the strictures of cottage food. Before buying an ounce of cacao, McNeil-Rueda visits farms in Haiti, the Dominican Republic and Central America, including her native Honduras, to vet both the beans and the ethical practices of potential sources.
Once she gets the cacao to California, she tackles much of the remaining work literally by hand, from sorting defects from the beans to wrapping the bars. She also does her own demos when she visits potential retailers, incorporating the Cottage Food angle into her story.
As her microscopic attention to detail attests, McNeil-Rueda is more concerned with making good chocolate than with making millions. Her priorities allow her to function around what Hardesty calls the most "frustrating" part of the Cottage Food Law: the $50,000 income cap.
McNeil-Rueda agrees that the cap is low, especially for companies that want to grow without outside investment. As industrial and retail rents increase every year, it will take quite a leap for Cru to transition beyond Cottage Food under the law's current limit. However, McNeil-Rueda quantifies success through measures other than numbers on spreadsheets.
"Some say 'business is business,' but there are people, families, communities and ecologies behind every number," McNeil-Rueda says. She encourages would-be cottage food producers to articulate their personal definitions of success before beginning to sell. She describes her own vision of success as working with people she admires, creating products she cares about and making a positive contribution to the world.
That positive contribution is already in the works: this past June, she and Houston were in Guatemala, leading workshops that help Mayan women access the global market potential of their traditional products. She encouraged her students to experiment with cacao to find an available niche — ancient Mayan drinking chocolate is great, but how about cacao granola or herbal tea?
McNeil-Rueda gives a piece of advice to her students that any potential entrepreneur can take to heart. "If you are passionate about something," she says, "then take a simple step each day towards it and you will find yourself doing what you love."