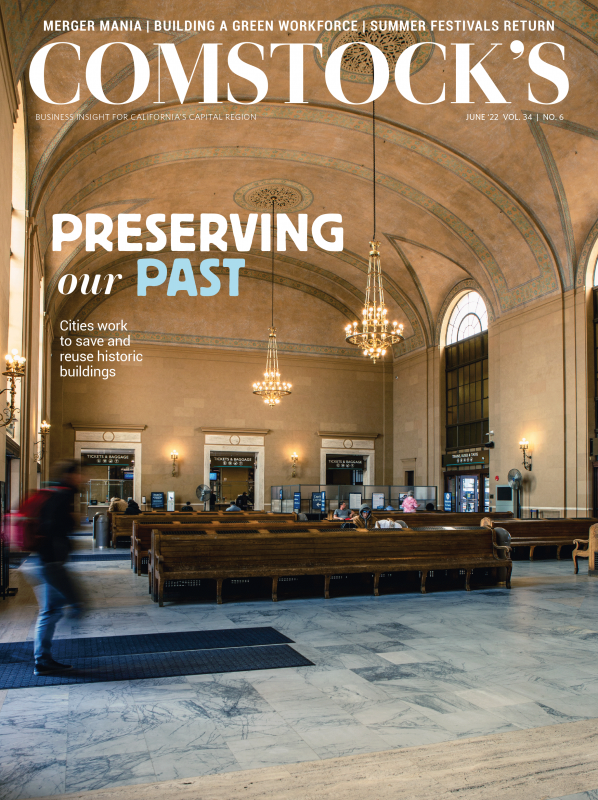 This story is part of our June 2022 print issue. To subscribe, click here.
The purchase of a 75-year-old bar and restaurant in the Locke Historic District in the Sacramento-San Joaquin River Delta, coming in the middle of a pandemic, posed major risks for its new owners. Almost two years later, however, the investment seems to be paying off.
Al the Wop's Place, also known as Al's Place, is located in the mostly vacant yet charming community (population today around 100) first developed in the late 1800s and later settled by Chinese immigrants. Originally known as Lockeport, the tiny 10-acre Locke is about a mile north of Walnut Grove just off River Road Route 160, 30 miles south of Sacramento.
Al's five new owners, who live in Sacramento and the Bay Area and share a common interest in motorcycles, vintage cars and boats, bought the business and property in December 2020 from previous owner Judie Wall. Wall ran it with her husband Bubba beginning in the early 2010s and had been sole owner since his death in 2015.
"We all had this idea of, wouldn't it be cool to own a bar or open a brewery at some point?" says Eric Heath, one of the new owners. "And when we saw Al's come up (for sale) we thought this might be a good opportunity."
"We all have an appreciation for old things because we like vintage vehicles. We've studied the history, and several of us had a preservationist kind of angle. The Delta is an iconic place and was appealing as a whole."

Greg Wellman, co-owner, Al the Wop's
Many of the new owners, like boating enthusiast Greg Wellman, had frequented Al's regularly. Some of the group's friendships go back 20 years, and they all knew of Locke because of its proximity to the popular tourist loop in the Delta region.
"It's nice and curvy; it's nice and flat," Heath says, describing the route that links to other Delta destinations including Hood, Clarksburg and the popular Foster's Bighorn restaurant and bar in Rio Vista. "It's a common car club, bike club or group ride route, with stops all along the way."
Located in the heart of Locke, Al the Wop's Place was opened in 1934 by renowned bootlegger Al Adami the year after Prohibition ended. Much of Locke's and Al's history is depicted on the walls of the famed establishment, which is packed with old photos and memorabilia. Al's was the only non-Chinese business in the agricultural community, hence the name (a pejorative derived from the Southern Italian slang word "guappo") that highlighted his Italian ethnicity. Adami died in 1960, and Al's has changed hands several times since but kept its name.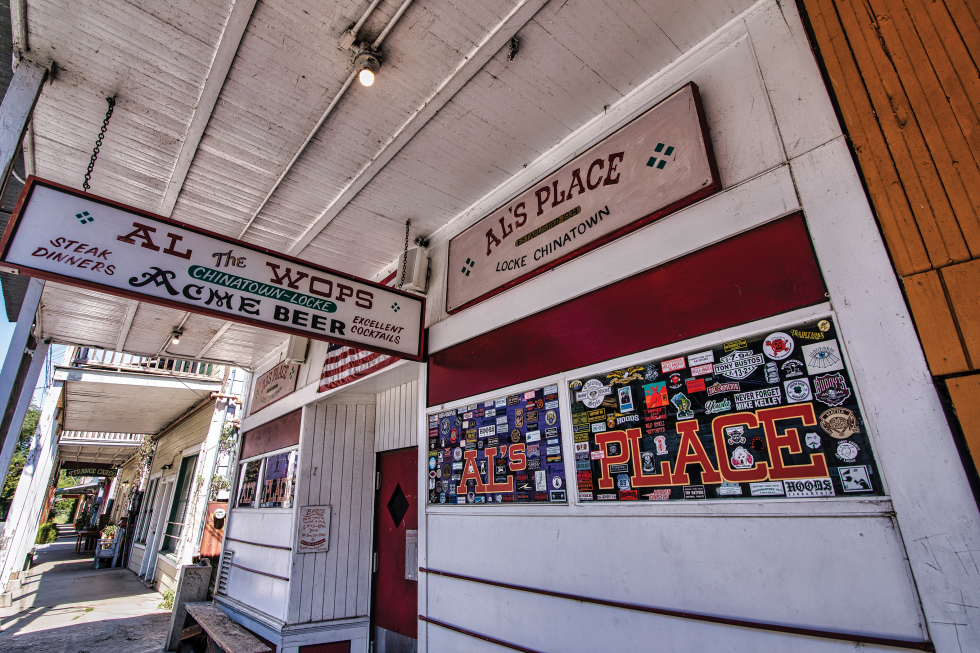 "We were looking around for investment opportunities, especially in the Delta," says Wellman, who really became interested after a visit to Al's in October 2020 with another eventual owner. Ads announcing the sale stipulated a cash-only transaction. "We started putting together the idea of actually buying the place and it snowballed from there, getting the ownership group and funds together."
The new owners purchased the building, restaurant and bar, and after obtaining a liquor license and securing staff, officially opened in March 2021. The owners kept familiar aspects of the business intact, including its friendly biker bar reputation, somewhat controversial name, decor and steakhouse-style food menu. The unique Al's tradition of throwing money up on the ceiling — attached to tacks, where it sticks until it's harvested and given to charity — will also remain, the owners say.
"Between January and March (of 2021), we basically said that since we bought the whole thing, since we had the building, let's do what we can to clean the place up and make sure the things that weren't working were fixed," Heath says, noting that since Al's is on the National Registry of Historic Places, a complete overhaul wouldn't have been allowed anyway. "So we fixed the electrical, we cleaned the kitchen, and because of the pandemic, there wasn't a lot of traffic to turn away anyway."
Wellman says that Al's antique feel was a big selling point for the owners.
"We all have an appreciation for old things because we like vintage vehicles," he says. "We've studied the history, and several of us had a preservationist kind of angle. The Delta is an iconic place and was appealing as a whole."
Wellman says since Al's fully reopened, they've been more aggressive on social media platforms and have noticed a significant increase of people "investigating what we're all about" online, which he says has resulted in customer visits as well.
"We've seen a pretty good jump in the number of patrons coming into the bar," he says. "It was kind of a gamble because of the pandemic. We didn't know what was going to happen. But it was, in retrospect, a good gamble."
–
Stay up to date on business in the Capital Region: Subscribe to the Comstock's newsletter today.