Every morning, Caravan Uzbek Cuisine co-owner Farkhod Soatov wakes up early to make plov. It's a two- to three-hour process centered around a kazan, a cauldron-like vessel that nomadic Turkic people once carried on their long journeys across the steppes of Central Asia. The rice and meat dish, with roots in Persian pilaf, has changed little since the days of the Silk Road.
First, Soatov fries burly, bone-in cuts of beef in the kazan until they're burnished mahogany, their animal essence yielded to the oil. Onions, carrots, chickpeas, spices and plump raisins come next, and finally the rice, with enough water to steam just short of tender. The goal is to imbue the rice with the aroma of all of the ingredients — to taste raisins, carrots and beef in each discrete grain.
The food truck, parked under a lone palm tree in a North Highlands strip mall, opens at noon from Tuesday to Saturday, but sometimes the plov isn't ready until 1 p.m. It almost always sells out by 2 p.m., says Aziza Ibragim, Soatov's wife and co-owner — with a little left over for her. "I eat my plov every day for dinner and I never get tired," Ibragim says. "My husband and I, we are very picky about food."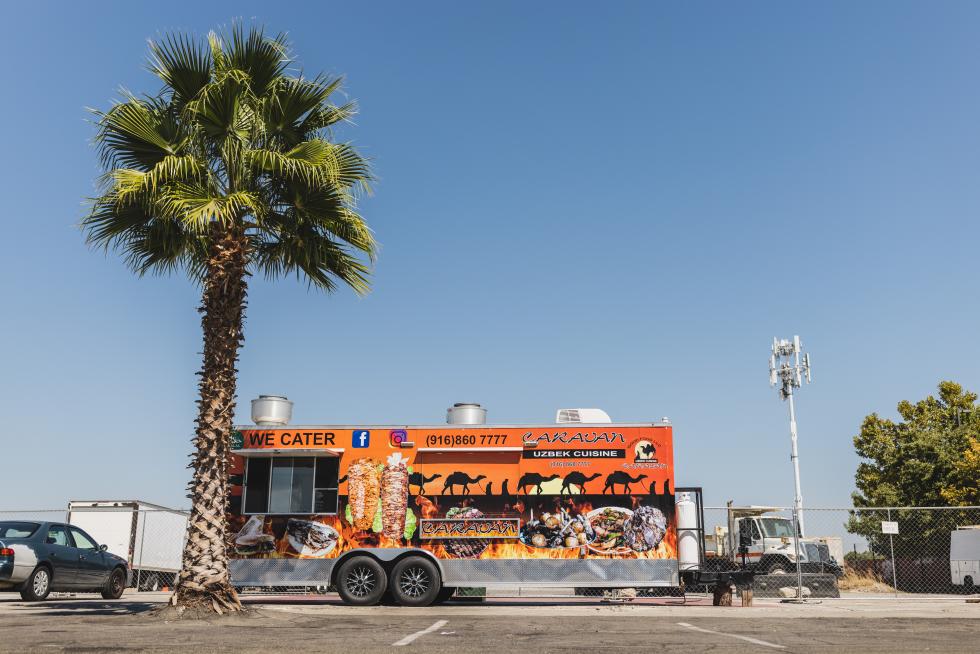 Both Ibragim and Soatov grew up in Tashkent, the capital of Uzbekistan, where Ibragim says they "lived well" despite the authoritarian rule of Islam Karimov. She belongs to a prominent family: Her great-grandfather, Saidnosir Mirjalilov, was a poet and revolutionary martyred to the national liberation cause in the 1930s; his daughter Zarifa Saidnosirova, a nationally recognized chemist and artist, was married to the writer Musa Tashmuhammad oglu Oybek, a cornerstone of Uzbek literature. At 19, Ibragim won U.S. permanent residency through the Diversity Visa Program (also known as the green card lottery) and immigrated with her mother, spending six months in San Francisco followed by 10 years in New York.
After years in a long-distance marriage, Ibragim became a U.S. citizen in 2012 and was able to bring Soatov, then a police detective in Tashkent, to the country permanently. She loved New York's museums and culture; he didn't like how much rent they had to pay to live in a small apartment with their three children. After a year, they decided to move to Sacramento to join a friend who lived there.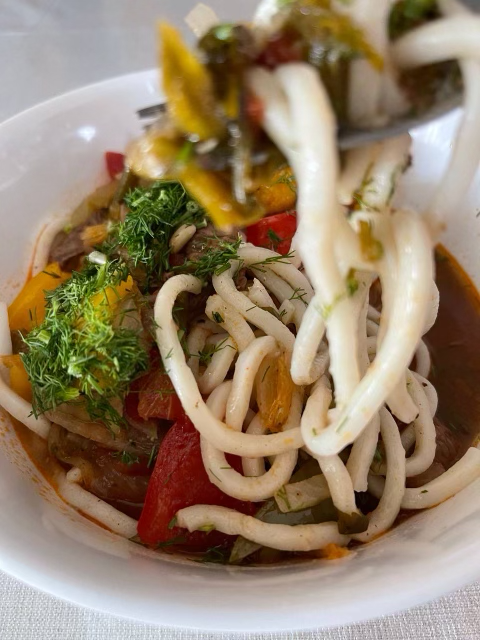 There's a lot Soatov and Ibragim like about Sacramento, but one thing it lacks is Uzbek restaurants. "We cannot find any tasty food," Ibragim says. "In our country, the restaurants are prettier, honestly, than the ones here, so we decided to open our own." She imagined "a five-star restaurant, maybe even higher" with refined dishes served on intricately painted Uzbek ceramics.
But by the time they had saved enough to start their business, it was the summer of 2020 — not the best time to open a brick and mortar. They settled on a food truck instead (which came with its own supply chain headaches) and opened in November of that year. At Caravan's grand opening behind a Smart & Final supermarket, the line snaked through the parking lot, undulating out of the way when a car had to leave. There was a festive atmosphere among the families waiting for their plov and kebab, speaking a mellifluous blend of Slavic and Turkic languages.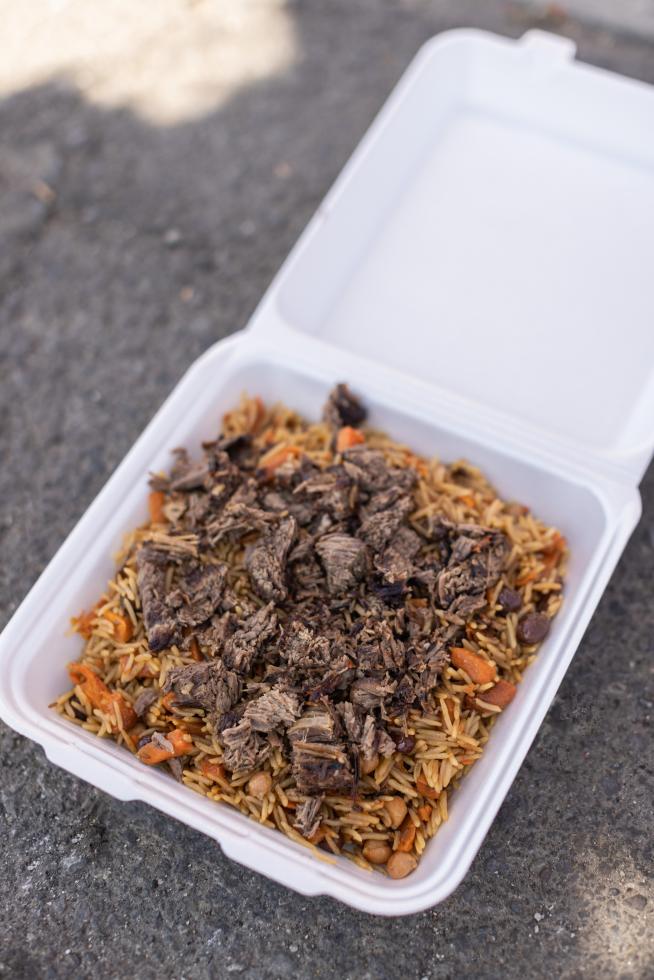 The restaurant has found its niche in the community. On weekdays, when the line at the truck is mostly made up of off-duty laborers in boots and dusty coveralls, the most popular orders are shawarma wraps and kebabs grilled over charcoal. Among these, the standout is the ground lamb kebabs, pressed onto the swordlike skewers so they hold the impression of the cook's grip. The meat is served under a rubble of raw red onions that slice through the richness.
Sometimes there is lagman, beef noodle soup in a tomato broth that carries the vegetal sweetness of a summer garden. In Uzbekistan, the noodles are often hand-pulled, but here fresh ones from a Chinese supermarket make a good substitute. Other days there is kazan kabob, meat and potatoes fried to a glistening brown in the same kind of vessel used to make plov. Rough-hewn and hearty, it's the kind of dish one could imagine fueling nomadic herders on the trail.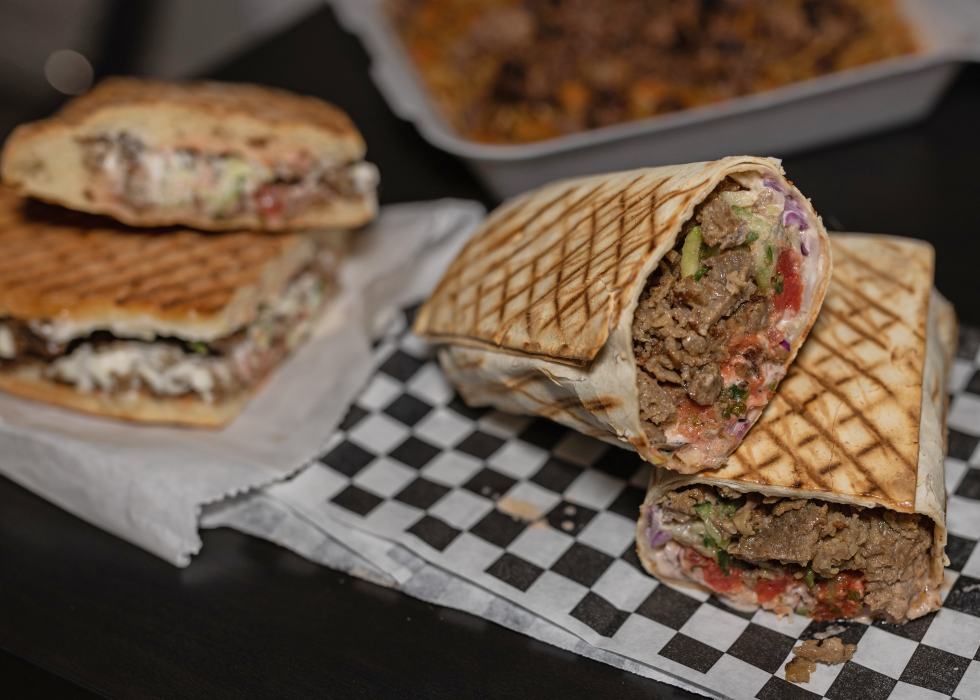 With a compact cooking space and small staff, Caravan is limited to a brief menu; often, the only items available are plov and shawarma. The owners are looking for a restaurant space where they will be able to serve a wider range of Uzbek dishes. Ibragim is still hoping for the ceramic-filled, five-star restaurant she dreamed of.
"I want to give the customers a warm, cozy feeling when they come in, feeling like somewhere else, like traveling to my country," she says. "When they come in, they forget all of their problems, they sit, enjoy, with food and music. The restaurant should be like this."
–
Stay up to date on business in the Capital Region: Subscribe to the Comstock's newsletter today.