It's a Wednesday in early spring and Bryan Widener is preparing for the following day when Lo/Fi will open for its busy lunch schedule. He chops cucumbers, pickles carrots, grills chicken and prepares veggie-based meat. For Widener, the owner of the two-year-old bodega-style restaurant, food preparation is just the beginning. He creates the menu, orders the ingredients, produces each of the 10-or-so dishes, and promotes it all on its irreverent Instagram account. From Thursday through Sunday he and one faithful server, Alana Gilliam, operate the restaurant's takeout window and serve the downtown Sacramento neighborhood of Southside Park.
Lo/Fi, as its window script reads, is "a food thing." More specifically, it's a lunch thing, sometimes a brunch thing and always a crowd pleaser. It's nostalgic yet fresh, unfussy and a little offbeat. If these inchoate adjectives fail to get at the shape of this neighborhood spot, how about this: You know that scene in movies where an off-duty chef whips something up after hours, and the camera lingers on a casual masterpiece that's unpretentious yet undeniably sumptuous? It's kind of like that.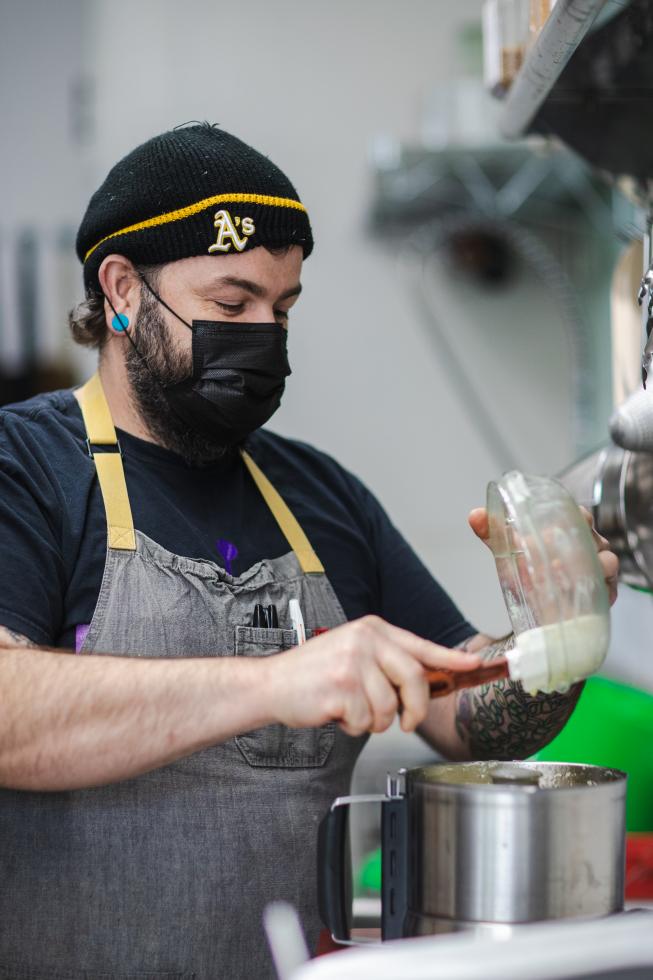 Widener's off-duty, high-end chef approach serves both as a nod and a foil to his background in fine dining. Entering the Sacramento restaurant scene early at age 17, his experience includes working for the Fat family, several years sous cheffing at Enotria, Magpie, and One Speed and stints at fine dining restaurants in Boston. Doing his own thing isn't new, however. From 2011-2014, Widener and his wife Dannah O'Donnell owned and operated the beloved Southside Park donut shop, Doughbot. (He says he is not involved in the shop's upcoming reincarnation.)
Reflecting on his culinary experience, Widener says he picked up good habits along the way. "I let a lot of places influence me as much as I could. At Magpie I learned a lot about working with local farmers and seasonally-driven menus. At Enotria I learned a lot about wine and woodfire cooking, because at the time we had a really nice woodfire grill. And I got into desserts there because I was essentially the sous chef and the pastry chef." During his tenure at One Speed, he met Gilliam, who spent nearly five years cooking at the East Sacramento pizzeria. "That's where I met and became good friends with Bryan," she says. "I'm extremely thankful to get to work with him again and beyond proud of all he's done with this passion project."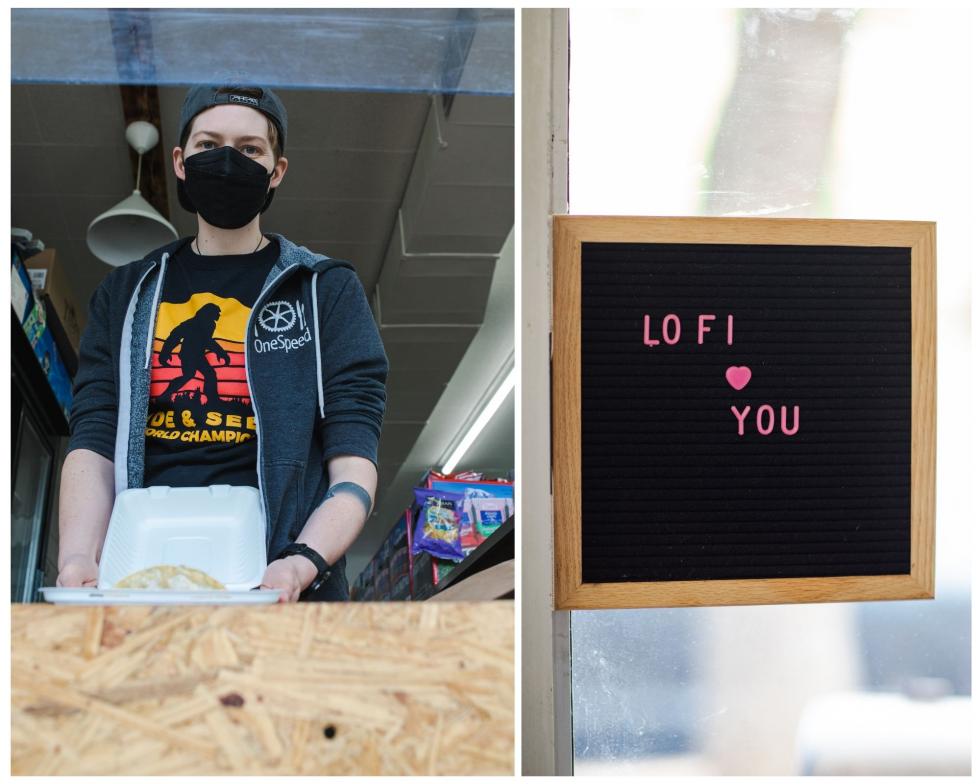 With Lo/Fi, Widener was inspired by the sandwich shop Wax Paper in Los Angeles and by Centre Street in Boston.
Lo/Fi's menu is centered on comfort sandwiches. The food is undeniably satiating and soothing, like a hearty hug to your taste buds. The chef is happy the genre is finally earning some respect. "I feel like comfort food used to be more of a guilty pleasure," he says. "A lot of people assumed comfort food always meant, like, a ton of butter or a ton of cheese … but I think ultimately comfort food is something that elicits a nostalgic reaction in you, maybe even like a mild form of synesthesia where you eat something and you just feel like back when things weren't so bad."
"I think … comfort food … elicits a nostalgic reaction in you, maybe even like a mild form of synesthesia where you eat something and you just feel like back when things weren't so bad."

Bryan Widener, owner and executive chef, Lo/Fi
Feeling like things aren't so bad is always a desirable (if temporary) state, one that was especially welcome during the initial lockdown, when Lo/Fi first opened. "We opened Feb. 4 (2020), and I think we closed the dining room March 11 or 12." Lo/Fi has been operating in a takeout-only capacity ever since, serving as a reliable standby for the Southside Park neighborhood, which Gilliam describes as tight knit, kind and supportive throughout the pandemic. Although Widener "tried to do a lot of dinner stuff when the lockdown first happened," he pivoted back to sandwiches because they traveled better. "Originally, I wanted it to be kind of like a nicer diner," the chef shares. "An actual sit-down counter diner."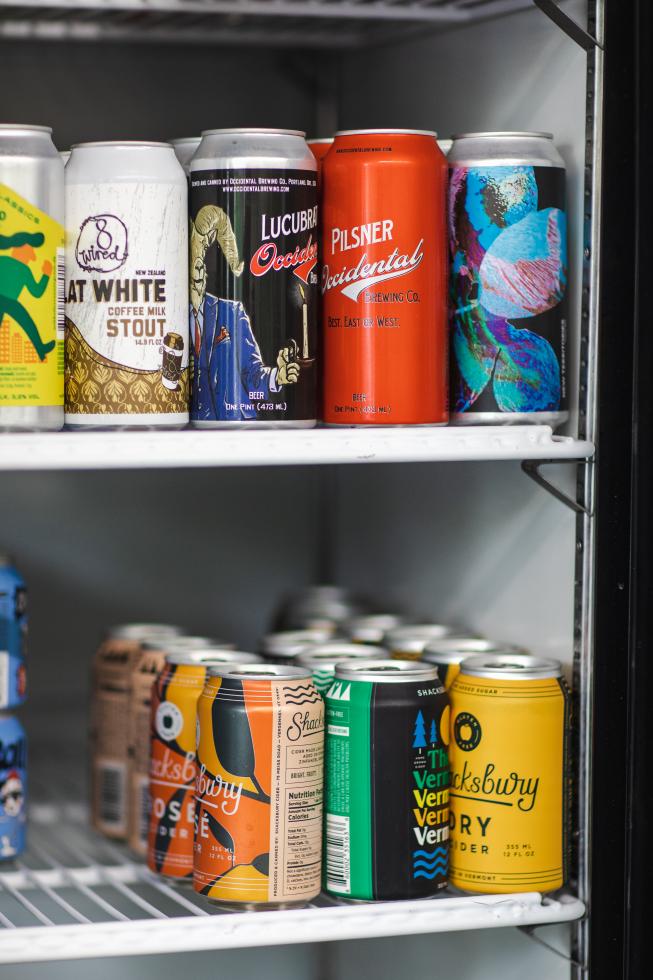 Once upon a time — for 30 years up until 2019 — the 20-seat space was an actual sit-down diner. Before it was "a food thing," it was the hidden gem, June's Cafe. A Southside Park institution, June's was owned by Junko ("June") and Dennis Sullivan, the husband-and-wife team who served a mixed menu of chicken katsu and hamburgers to regulars in the historically Japanese American community. Widener was a fan of June's. He would order the loco moco on his breaks while working at Doughbot.
June's Cafe, Widener recalls with a laugh, had its idiosyncrasies. "I tried to avoid it when it got busy because they were older and grumpy and hated being busy. But I kind of love that." He adds that June would often top his loco moco defiantly with scrambled eggs to avoid complaints about overcooking. (The rice-and-hamburger dish traditionally comes with a fried egg). "She'd be like, 'You're getting a scrambled egg.'"
Although Lo/Fi's fare is a departure from June's Japanese, Hawaiian and Chinese influences, Widener says he does share his predecessor's use of Spam. As if by some indirect passing of the baton, the chef inherited about 30 cans of Spam when he took over the building. "I already was into Spam, I knew Spam was going on my menu, but (when I saw all the Spam), I knew I had to keep going with that." Seared Spam is the main character of "Tommy's Cubano," Lo/Fi's standby sandwich pressed with housemade pickle chips and caramelized pineapple mustard, which cuts through the salty, hammy slice with a sweet tang.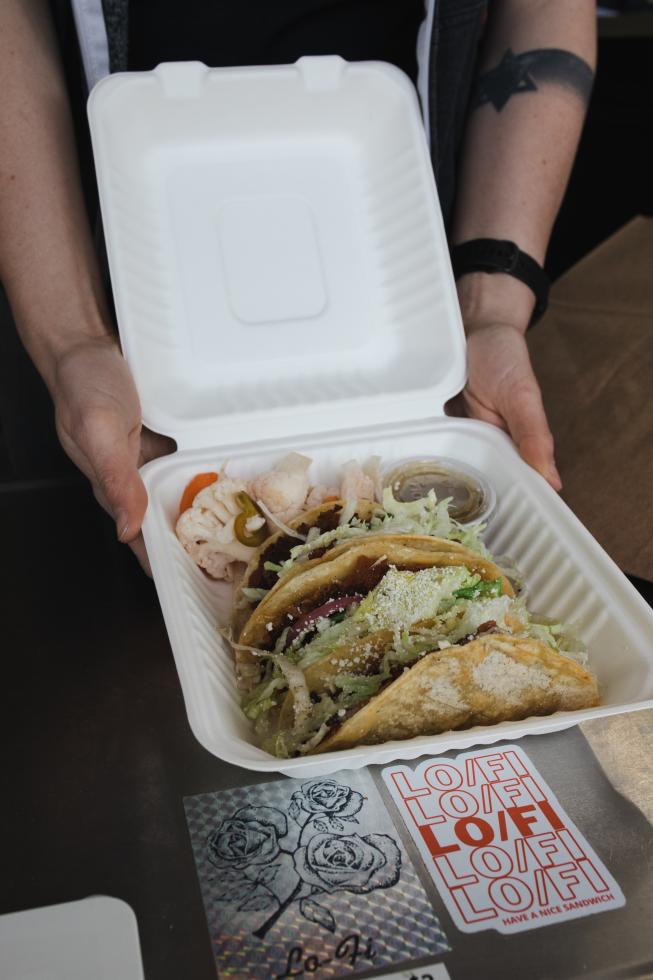 Other menu mainstays include the "Fancy Grilled Chee" and "Late Night Drive Thru Tacos." The latter is an indulgent vegetarian treat, a trio of corn tortilla tacos (oiled and semi-crisped for a firm bite) filled with vegetarian chorizo and creamy avocado and topped with a medley of pickled onions, shredded lettuce and cotija cheese. Habanero jack cheese infuses the "meat" for a bit of heat, and a side of pickled carrots, onions and cauliflower serves as a the perfect between-bite crunch. These tart veggies are best dipped in the tomatillo salsa that comes with.
"I don't think people realize how much work and thought Bryan puts into his menu to make something just about everyone can eat and enjoy," Gilliam says. Widener's new menu debuts another veggie-forward dish — "A Spring Vegan Sandwich," a colorful combo of snappy veggies and sprouts layered on wheat levain and smeared with hummus. A hippie classic, but heftier, thanks to the substantial loaf.
Widener says most of his items are "picnic-y" to fit with the pandemic's culture of outdoor eating, and because of the restaurant's proximity to Southside Park, which abounds with picnic tables and becomes a canvas dotted with blankets and foldable lawn chairs on spring and summer days. Sunday exclusives, "Big Ole Breakfast Burrito" and the "Bodega Breakfast Sandwich," are great handheld items for brunch picnics. Seasonal favorites "F*$&ing Avocado Toast" and "F*$&ing Squashamole Toast" (a honey nut squash spread garnished with marinated beets) — are worthy of the expletives, if you can catch them. Many brunch items come with a crispy hash brown patty reminiscent of the McDonald's classic.
Lo/Fi's aesthetic is reflective of its DIY M.O. Scroll through its creative use of memes on Instagram, and you'll see the no frills attitude that applies to its food is apparent in its communication as well. One post from New Year's Eve is a stock photo of a traffic jam with the caption, "Bread delivery is running late, which means so are we. Thank you for your patience." Within a few hours, a follow-up is posted: a meme of Tobias from Arrested Development exclaiming, "Huzzah!" Underneath its caption reads, "Bread's here! Site is updated, we are GTG." It all lands like a silly text message chain with a friend with whom you share a shorthand of absurdist jokes.
Widener developed this relaxed identity with a punk sensibility in mind. "The name, Lo/Fi, to me, is like '80s and '90s punk where it'd just be a band in a garage with a tape recorder from Radio Shack and a stack of cassettes. You hear a lot of passion, but it's a lot of pops and sizzles and cracking from the crappy recording. So that's kind of the influence on my marketing and all around how I wanted to do Lo/Fi. Just a very DIY influence."
–
Stay up to date on business in the Capital Region: Subscribe to the Comstock's newsletter today.