Anyone who has visited the coffee houses of Vienna will see the resemblance between those venerable institutions and Konditorei Austrian Pastry Café in Davis. Here are the cloth-covered tables, full again after a pandemic hiatus with mostly elderly patrons lingering over coffee and sweets of the decadent Viennese type: plum coffee cake draped in vanilla sauce, strudel filled with apples or soft quark cheese, doughnut-like krapfen concealing warm hearts of custard or marmalade. The soundtrack is Mozart, percussed with the rustle of newspapers and quiet chatter.
Here too is the familiar cake case, a glass skyscraper with a different spectacle on each level. Many of the cakes are mirror images of those one might find in Austria, like Sacher torte, a dense chocolate cake broken by a narrow schism of apricot jam; and Black Forest cake — not the American edifice of buttercream and maraschino cherries, but delicate layers of whipped cream and chocolate cake infused with cherry brandy.
Other cakes in Konditorei's case are less standard. They have women's names — Carina, Nina, Layla — and are more complex than the traditional tortes, with flavors layered as if to tell stories. The bestseller is the Gloria Mousse, a geologic formation buried in a rubble of white chocolate shavings. In cross section, it reveals a checkerboard pattern of white, milk and dark chocolate mousse, with thin chocolate cake strata between each row. All of the female-named cakes are inventions of head chef and co-owner Albert Kutternig, and the Gloria Mousse is the oldest. It is his Taj Mahal: the creation of a man in love.
Albert created the Gloria Mousse as an homage to his wife, Gloria Kutternig, when he was head pastry chef at the InterContinental Vienna hotel. The cake was commissioned as a permanent addition to the hotel's menu. The couple lived in Vienna for the first six years of their marriage, but it is not where their story began. "Everyone thinks we met in Austria," laughs Gloria, who co-owns Konditorei. "Who would have thought that I'm from the Philippines, he's from Austria, and we would meet in a foreign country."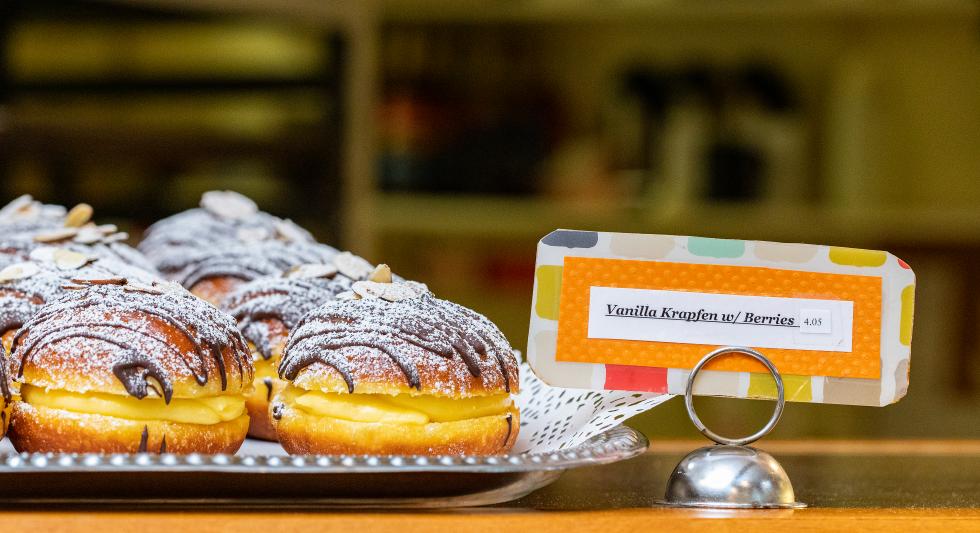 Gloria and Albert's romance, as she tells it, has a fairy-tale quality: the story of the ballerina and the baker. Gloria, the daughter of a Philippine diplomat, began studying ballet at the age of 8 and moved to New York in 1978 to attend the Alvin Ailey American Dance Theater on full scholarship. She was recruited to the Ballet Internacional de Caracas (later the Ballet Nuevo Mundo de Caracas) the following year. In Venezuela, she met Albert, who then was the pastry chef at the Hotel Caracas Hilton (now the Hotel Venetur Alba Caracas). "When I met Albert, I said, 'This is it,'" Gloria says. They moved to Vienna in 1984 to marry and start a family.
Albert also began his career early. His family owned a bakery in Krumpendorf, a small Austrian town in Carinthia near the Italian and Slovenian borders. All of his male ancestors up to his great grandfather were considered master bread bakers. "I pretty much started baking when I was 8," he says. Breaking from tradition, Albert chose to specialize in pastry instead of bread, earned his master's degree in sugar baking in 1981 and studied under the famed patissier Karl Schuhmacher in Vienna.
Through his career with hotel chains like Hilton and InterContinental, Albert became a global ambassador for Austrian pastry, training local chefs in countries including Spain, Greece, Japan, Belgium, Switzerland, Hungary and Portugal. He also trained chefs serving the Vienna Philharmonic on tour to make sure the musicians could always have access to good cakes and croissants (which are Austrian in origin, not French).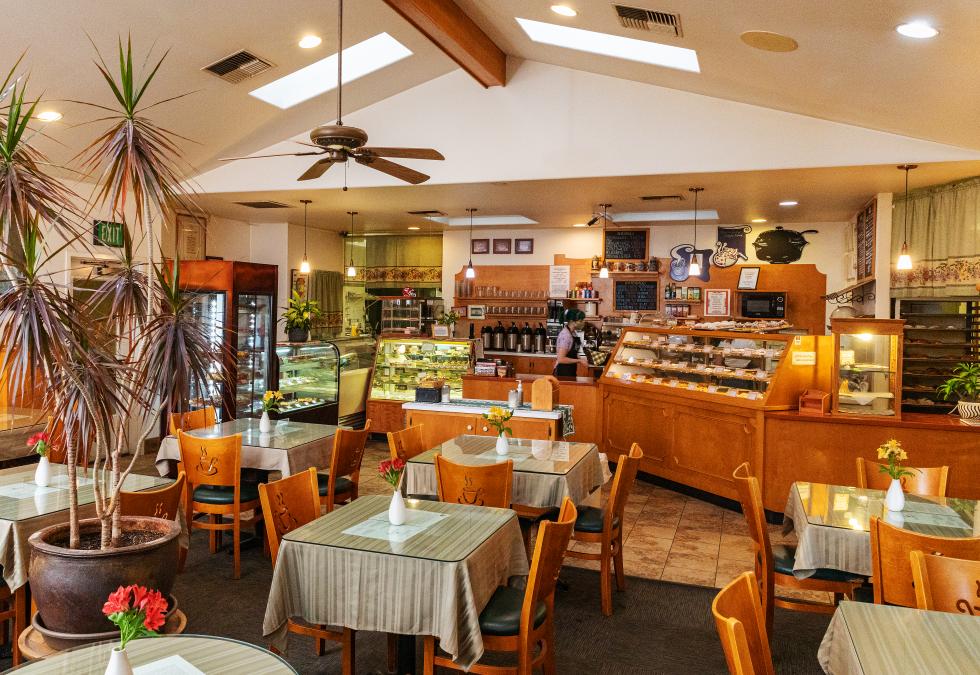 The couple moved to Davis in 1990 to be near Gloria's sister in Sacramento. They knew they wanted to start a business, but as two recent immigrants, they were turned down for loans from banks and the Small Business Administration. Finally, they managed to pool their savings for a $15,000 down payment on a 1,400-square-foot storefront in downtown Davis. They paid off the investment within five years, and after another five years, the business moved to its current custom-built 3,000-square-foot location on the east side of Davis.
"People don't realize this is hard work, bone work."

Albert Kutternig, owner, Konditorei Austrian Pastry Café
The Kutternigs raised their three daughters in Davis, and Albert has named a cake in honor of each of them. These are colorful, fanciful tortes with flavor pairings such as Earl Grey and pistachio (the Carina Torte, named after the eldest), sour cherry and chocolate (the Nina Torte, after the middle daughter), and marzipan and Grand Marnier (the Layla Torte, for the youngest). In honor of the birth of his first granddaughter, Amalia, Albert dreamed up a flourless cake with mango and coconut-flavored cream, flecks of rice dotting the latter. The Amalia Torte recalls the Filipino dessert suman mangga (sticky rice and mango), beloved by Gloria and granddaughter alike.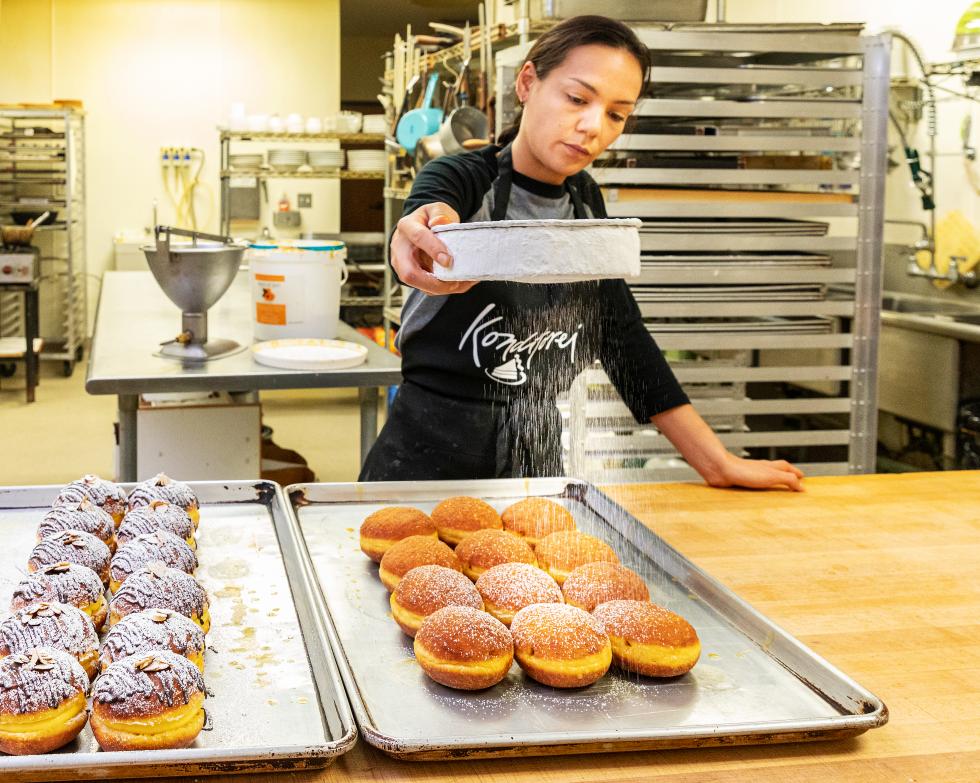 At 66, Albert is still the head baker of Konditorei and does much of the work himself. He hopes to retire within two years, but hasn't found any employees willing to take on the long, early-morning hours involved in leading a from-scratch bakery. "People don't realize this is hard work, bone work," says Albert. "If you're going into a pastry shop, you're usually not hungry. This means the items have to talk you in to buy it. It means it has to have a nice look every day, has to be appealing and has to look yummy. And to achieve this, it has to be very exactly made every day." He anticipates that the business may have to close with his retirement.
Konditorei's strong fanbase may have something to say about that. Customer loyalty kept the business above water while the dining room was closed due to the stay-at-home orders. Gloria says that pastries sold out even faster than usual when the bakery was takeout only. "Everybody needs a little bit of a reward or something delicious to just forget about the pandemic that we are all going through," she says.
–
Stay up to date on business in the Capital Region: Subscribe to the Comstock's newsletter today.