Rochelle Brown gazes at the painted mural across the wall of her shop inside the Courthouse Plaza in downtown Stockton. Her business name, Makers Made, is hand painted with flowers across the west wall of the shop. "These flowers represent my children," Brown says. This is Brown's first retail space. Makers Made, a consignment shop for makers and artisans, provides a platform for entrepreneurs to sell handmade goods and wares in Stockton.
Each shelf showcases a variety of items, including jewelry, clothes, crystals, candles and plants. With vendors stopping by from all across the Central Valley to be a part of the shop, Makers Made becomes a key retail component to the entrepreneurial culture in downtown Stockton. The shop is tucked away inside Courthouse Plaza, a historic building once occupied by the department store Smith & Lang in the 1950s and its purchaser Weinstock's beginning in 1963.
Brown recalls viewing the retail space online. "I started looking for retail stores when we moved to Stockton during the pandemic," she says. "I remember it was 11:11 at night — I woke my husband up telling him I found it! I found the place I want!"
Makers Made and its place in Courthouse Plaza are part of a larger downtown redevelopment trend in Stockton. Though the Miner Avenue improvement project was officially completed early this year, the city continues to improve streets, add bike lanes and build affordable housing units along the downtown corridor. Visionary Home Builders of California has begun building the Grand View Village that will provide 75 affordable housing units downtown, and Cort Companies' investment in the Cal Main building provides market-rate loft apartments to the community. Additionally, the coworking company Huddle will expand its footprint to the first floor of the historic Belding building, originally home to Belding Soda Works.
With organizations investing in the "live, work, play" strategy, these opportunities revitalize and add to the growing ecosystem in an area of Stockton that was neglected for decades.
New ventures
Brown's journey to Stockton started in Alameda, where she and her husband Pierre began their family and discovered a passion for nurturing plants. Their first small business, Hella Succulent, found success online through Instagram and at pop-up markets across the Bay Area. "Gardening was therapy for me. I was a stay-at-home mother and found a way to turn what I love into a business," Brown says.
However, the pandemic shut down all of their momentum. With rent rising in the city of Alameda, the couple made the decision to move their family to Stockton in order to live. "We found a home in Stockton," she says.
During the move, Brown contacted a leasing agent to tour the Courthouse Plaza space in downtown Stockton. The building is owned by a local foster care nonprofit agency, Parents by Choice, which acquired it in 2020. Tony Yadon, executive director of Parents by Choice, explains his staff was outgrowing their space and needed to expand. "I have people come to me and say what a bold move for a small nonprofit," Yadon says of the decision to move the nonprofit into the large, three-story building. "I felt there were so many possibilities to develop foster youth programs and create more energy at this building."
With the agency as an anchor, Yadon addressed several issues to revitalize a building that had been vacant for a decade. He brought in contractors to assist with indoor and outdoor renovations. Life inside the space began to appear as new tenants moved into the space, with the aroma of fresh roasted coffee from the cafe Plaza Perks. Arcade machines on the ground level sounded their bleeps and bloops. Doors swung open to welcome customers into the renovated space. Makers Made became part of a movement.
Make a connection
After reaching an agreement with Yadon, Brown made plans to launch in spring of 2022. Vendors across California reached out to Makers Made over social media to inquire about the new space. Lupe Arevalos, owner of Loop'n Knots, was one of those vendors.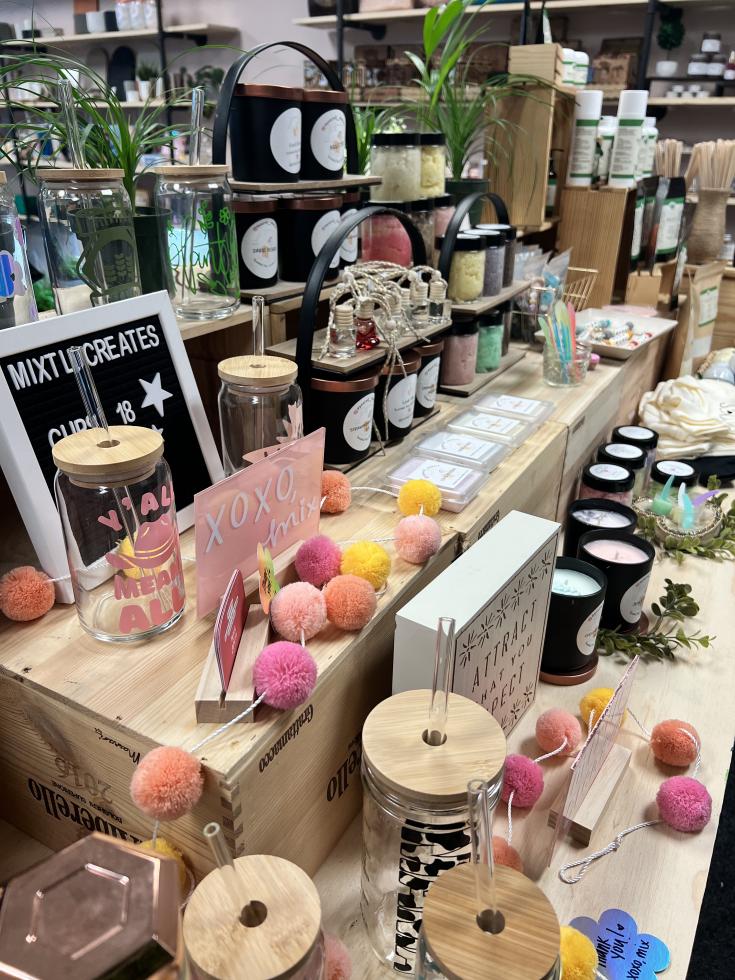 "My sister initially sent me their social media," Arevalos says. "She told me I should think about selling my product at this new consignment shop." Arevalos moved to Stockton in 2004 and created her business during the pandemic, learning the form and technique of macramé. Throughout the pandemic, the craft became therapeutic, a commonality she shares with Brown and her passion for plants. When she reached out, Brown welcomed her. "This is a big step for my business," she says.
Her handmade macramé plant hangers first became popular at pop-up markets in Ceres, Modesto and Stockton. They now hang inside Makers Made. "The pop-up community is wonderful. They are very helpful when I ask for advice," she says. "You find more shops and pop-ups that provide a platform for small businesses here now. I think the culture is more accepting and open to these ideas." While markets are good for networking, Arevalos explained that learning experience helped her grow, connect and build confidence to give her the push she needed to move forward.
Beyond the consignment shop, Brown has collaborated with her community to build more partnership opportunities since her grand opening this spring. In Stockton, the first week of May is Small Business Week; this year, the city chose Makers Made to host a pop-up event featuring local small businesses as part of the week's festivities. Throughout the summer, she partnered with Unbound Stockton, a local nonprofit focused on providing education opportunities to elementary-aged students, to assist with a Makers Made summer camp. The program had students visit local community organizations to help bring out their inner maker by engaging in various forms of art.
The shop is now on a list of small businesses for the RAD (Relief Across Downtown) card program, a digital gift card program focused on assisting small businesses downtown. Customers can download the RAD card app to load funds on the app and the amount is automatically doubled to their account for use at participating businesses.
With cities across the state and the country seeing a resurgence in downtown small businesses, Brown has hope Stockton will rise to its full potential. These early milestones from this family-owned business are the seeds being planted for a better tomorrow. "There is so much potential here. If we can start now and get established when the time is right, we will see a difference," she says.
—
Get web exclusives like this delivered to your inbox: Subscribe to the Comstock's newsletter today.