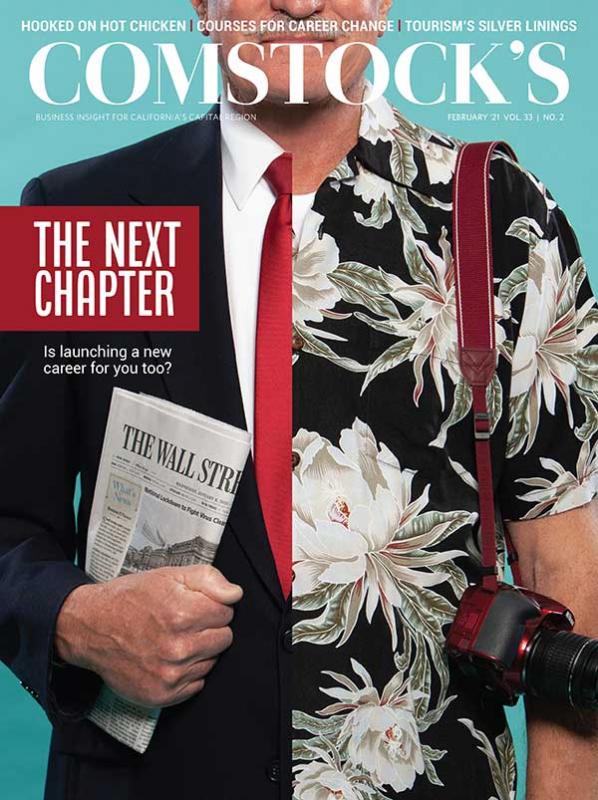 This story is part of our February 2021 issue. To subscribe, click here.
Michael Tubbs losing his Stockton mayoral reelection bid didn't make anyone's 2020 top 10 tragedies list. The year was far too brutal for a political wunderkind's early career hiccup to register as anything more than a pause.
Tubbs, 30, became the youngest mayor in the country of a city with more than 100,000 residents (Stockton has around 313,000) when he was elected in 2016, the same night Donald Trump won the presidency. Tubbs remembers it well, "I was thinking, 'Wow, Stockton got it right.'"
Tubbs instituted some of the most progressive and innovative civic initiatives in the country, recasting Stockton as a community that took pride in a new problem-solving sensibility. But a very 2020 thing happened on Tubbs' path to reelection — he wasn't. Conservative challenger Kevin Lincoln waltzed in and handed Tubbs a surprisingly decisive defeat, winning 56.4 percent of the vote. In the March primary, no candidate garnered more than 50 percent of the vote (Tubbs received 41.5 percent to Lincoln's 21.6 percent), forcing November's showdown with Lincoln. While the November vote counting process was nearly as protracted as the presidential election's, Tubbs never led. After two weeks, he conceded. Lincoln, a political novice who was supported by the Stockton police and fire department unions, powerful organizations used to pulling the civic strings in Stockton, took office Jan. 1.
The unions contributed significantly to Lincoln's campaign, which painted Tubbs as an ambitious political striver more interested in his national image than governing Stockton. That message neatly dovetailed with the corrosive effects of widespread social media trolling against Tubbs, who was targeted by an aggressive campaign against him waged by the blog 209 Times (209 is Stockton's area code), created in 2017 by Stockton political gadfly Motecuzoma "Motec" Patrick Sanchez and engineered by data specialist Jemal Guillory. Sanchez and Guillory have both run for office in Stockton: Sanchez finished fourth in the March 2020 primary election for mayor; Guillory was last in the March 2018 primary for the District 1 seat on the Stockton City Council. "The fatal flaw (in my campaign) was not recognizing or taking seriously the four-year disinformation campaign," Tubbs says.
Sanchez and Guillory sensed they could drive online traffic using Tubbs' notoriety against him. Tubbs had developed a national reputation — Forbes' "30 Under 30" list (2020), TED Talks (2019), an Oprah Winfrey endorsement when he ran for (and won) a seat on the city council in 2012, and an HBO documentary (2020) — he leveraged to his professional advantage. That reputation also made it easy for people to wonder how long he would stay in Stockton.
Sanchez stoked a one-sided feud with Tubbs after the mayor's dismissal of one of his pet projects (partial funding of a neighborhood library) by stirring up Black Lives Matter protesters at Tubbs' officiated city council meetings, ginning up "investigations" of Tubbs' private activities and making false accusations (the site claimed Tubbs mishandled more than $60 million to address the city's homelessness situation when the city received only $6.5 million).
With no pushback from Tubbs and little local media refuting the site's posts, 209 Times began having an impact on San Joaquin Valley politics. The site now has more than 100,000 followers on Facebook and nearly 125,000 followers on Instagram; in comparison, total votes cast in the 2020 Stockton mayor's race were 101,482.
"In post-Trump America, in politics, it's not enough to just do your job really well. You also have to have a very sophisticated social media strategy," Tubbs says. "While you're out doing your thing, there are nefarious bad actors who can spend all their time manipulating Facebook and Google algorithms to stoke racism, the biases that people have, to paint a false narrative."
Sanchez pushes back on the perception his site engages in misinformation. "I would say we're a voice of the community, a grassroots newscast," Sanchez says. "The notion that we somehow tricked the public is not gaining an understanding of what happened and why Michael Tubbs failed at getting reelected."
Sanchez sees his outlet going where other media outlets will not. "We were consistently showing what his (Tubbs) real character was, which was not being reflected by mainstream media," Sanchez says.
"I'm sure I'll continue to work on the issues of equity of justice, of basic human dignity. Whether that's in the government sector or the private sector or bits of both, I haven't quite decided."MICHAEL TUBBSFormer mayor, Stockton
Most observers have a more generous and optimistic outlook for Tubbs' future. Many point to the man in the White House now, noting how many elections President Joe Biden lost along the way. Longtime California political analyst Dan Morain sees Tubbs' loss as barely a bump in the road. "He's clearly got a future in politics if he wants that," Morain says. "He could make $1 million too. He's a very smart guy, but I think his passion is public service." Morain's new book, "Kamala's Way," about the political rise of Vice President Kamala Harris, notes her friendship with Tubbs. Morain says he thinks Harris would "be delighted" to find Tubbs an appointment in the administration. "He could certainly get a job in the new Biden-Harris administration, and not an insignificant job," Morain says. "He could get a job in either Sacramento or Washington (D.C.) if that's his desire. He's got a huge future, I think, in Democratic politics if he wants to run again."
Building a National Reputation
Most of what Tubbs accomplished as mayor comes with documentation. "In a lot of ways, it's been one of the most consequential terms of any mayor in the times that I've lived in Stockton," says Brian Klunk, a longtime Stockton resident who teaches political science and international relations at the University of the Pacific.
Tubbs is nationally known for his guaranteed basic income experiment. "I think the biggest challenge facing cities is absolutely poverty and scarcity," Tubbs says. "That inequity, structural violence and racism — how they manifest themselves in poverty, the lack of security — are the biggest issues in our country."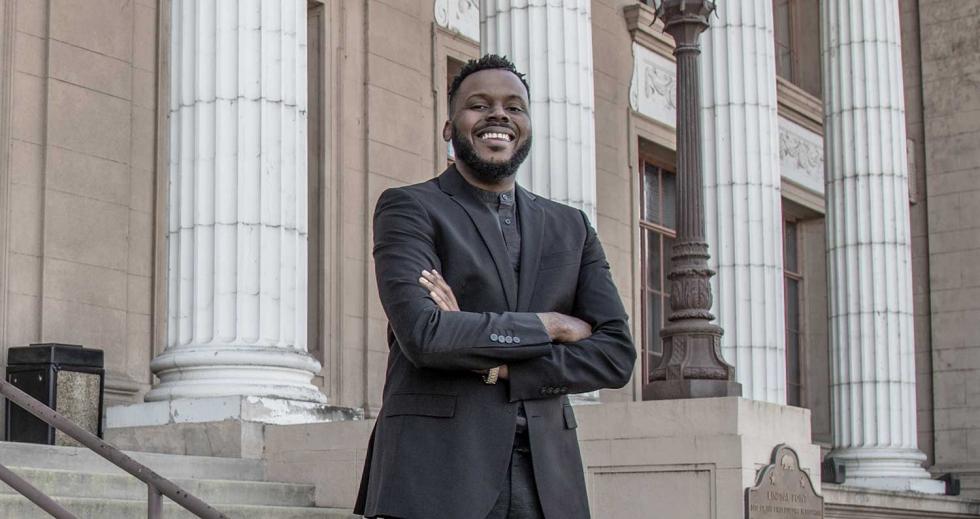 In February 2019, Stockton Economic Empowerment Demonstration began giving 125 Stockton residents a guaranteed income of $500 per month for 18 months. The program was funded by a $1 million grant from the Economic Security Project, a basic-income advocacy group started by Facebook cofounder Chris Hughes. Natalie Foster, co-chair of the Economic Security Project, and Tubbs raised an additional $2 million from organizations and individuals to originally sustain the project. In May 2020, Tubbs announced the program was extended until January 2021 through a private donation because of the economic strain COVID-19 had put on recipients.
Tubbs says he came to the idea through Martin Luther King Jr.'s 1967 book, "Where Do We Go From Here: Chaos or Community?" King wrote, "the solution to poverty is to abolish it directly by a now widely discussed measure: the guaranteed income."
Mayors around the country took notice, seeking Tubbs' advice on implementing similar programs. Tubbs founded and leads Mayors for a Guaranteed Income, a group of more than 30 mayors advocating for universal basic income, and Los Angeles, Oakland, Seattle, Philadelphia and Atlanta are among the cities working on variations of the plan. The idea received a national boost from presidential candidate Andrew Yang, who promised $1,000 a month to all U.S. citizens over 18.
Though Tubbs will theoretically have more time to devote to the national project, he's not sure if that's where he's headed. "The scope of my involvement is dependent on what other options present themselves," Tubbs says. "Whether it will be in (an) advisory capacity or a full-time job remains to be seen. I'm definitely still committed to that work, though."
Stockton's inequity issues have never been theoretical for Tubbs, who grew up on the city's rough southside with a teenage mother and without his father, who was incarcerated as a teenager. But he says he did not feel impoverished; with family support, his mother sent him to a private elementary school, and his grandmother regularly took him to church, instilling a Christian faith that still buoys him. Tubbs pushed himself up and out to Stanford University, attending on a scholarship, gaining promise of a life most of his neighborhood peers couldn't even dream of. While interning at the Obama White House, working with a national coalition of mayors, Tubbs was jolted toward a direction and purpose he feels will be lifelong.
"The murder of my cousin Donnell James in 2010 really caused me to realize that I felt a calling to come back (to Stockton) to stop it and to serve in local government," he says. "I couldn't think of doing anything else." Speaking at his cousin's funeral clarified Tubbs' vision of disrupting the cycle of violence through enabling communities that lacked basic resources.
After graduating from Stanford, he came home and, at 21, ran for and won a seat on the city council. There he gained a reputation as someone who not only had good ideas but turned them into action.
Community-Based Initiatives
In many ways, Stockton had little direction to go but up when Tubbs got there. In 2012, it became the largest city in the U.S. to declare bankruptcy; it left Chapter 9 protection in 2015 when Tubbs was a councilman heading a committee on the city's financial restoration. Homicides, lack of education and poverty, a trifecta Tubbs sees as intractably linked, are all significant concerns. Four years ago, Tubbs won the mayor's contest convincingly, with more than 70 percent of the vote, and he quickly went about acting on his vision. If anything connects his solutions, it's a sense of communities healing themselves with outside structural support.
Tubbs' community-based initiatives included the Stockton Service Corps, which incorporates community service to reverse poor educational outcomes in south Stockton through volunteer mentors and tutors, and Rise Stockton, which works on educating the community about creating a sustainable future by reducing greenhouse emissions. Rise Stockton is funded by a $10.8 million implementation grant from the Transformative Climate Communities Program overseen by the California Strategic Growth Council.
"When I think of governance," Tubbs says, "it's the ultimate act of leadership because you have to merge and forge consensus, you have to allocate scarce resources and put them toward priorities."
Says Klunk, "I think with (Tubbs) something (that) stands out is that at least three of his major initiatives are areas where he has attracted private philanthropic support to bring resources into the community to address some of our long-standing concerns."
In 2018, the Spiegel Family Fund donated $20 million to fund the Stockton Scholars program, which Tubbs started to help underprivileged students graduate from college. Students are mentored in high school and also get assistance on completing entrance applications and, ultimately, receive scholarships rather than loans.
"He's really effective at thinking strategy for resolving issues," says Max Vargas, Tubbs' senior adviser. "Anyone can look at a problem and try to address the symptoms rather than the causes. He's very much interested in trying to resolve things entirely."
Tubbs advocated a data-driven approach called Advance Peace to reduce violent crime. The personalized fellowship program, launched in 2017, mentors the young men most likely to be involved in lethal firearm offenses. "We've customized it and worked really hard on being very data driven in identifying those most at risk of being shot or shooting someone," Erik Jones, chief of the Stockton Police Department, says.
209 Times mocked the plan as "cash for criminals," erroneously stating the program was taxpayer funded, even though it was paid for through a private grant. "The idea of doing something different, it's always going to be met with criticism," Tubbs says. "I just count it as part of the calculus that there's nothing you'll ever do where everyone agrees with it."
Stockton's gun homicide rate (about 13 per 100,000 residents) was in the top 20 nationally, and more than twice the California state average for 20 years. After implementing Advance Peace, Stockton experienced a 40 percent reduction from 2017 in firearm assaults causing injury or death in 2018. (Sacramento and Richmond are also engaged in similar programs.) Tubbs calls the reduction "incredibly important."
Changing a City's Image
As mayor, Tubbs got results, and he has evidence to prove it. He wanted to prove he was more than charisma and Stanford-incubated connections and that progressive ideas can pay off on the bottom line. "During COVID-19, we laid off no staff, made no cuts, no service cuts," Tubbs says.
Six years after filing for bankruptcy, Truth in Accounting in 2018 ranked Stockton as the second most fiscally solvent city among the 75 most populated cities in the nation. In January 2020, it rated Stockton sixth and gave it a "B" for its fiscal health.
Tubbs has studied leadership. He has a master's degree in policy, organization and leadership studies from Stanford's Graduate School of Education, where he also earned his bachelor's degree. "I realized that the folks at Stanford were smart, but they weren't necessarily that much smarter than the people I grew up with," Tubbs says. "But they've had vastly different resources, vastly different investments and vastly different opportunities that led to vastly different outcomes." He hopes offering Stockton residents components of those resources and investments will positively affect their outcomes as well.
Tubbs seems well-suited for going against the grain or simply charting his own course. It could be his generational observance that the people who have been in charge clearly neither have all the answers nor in some cases are they even asking the right questions. "I'm sure I'll continue to work on the issues of equity of justice, of basic human dignity," Tubbs says. "Whether that's in the government sector or the private sector or bits of both, I haven't quite decided."
"I think the sky's the limit for Michael (Tubbs). The guy has enormous talent and potential — he'd be an asset to anyone in government or maybe in the foundation world, where he could do a lot of good for somebody who has a lot of money to dispense and put into an effective program."STEVE MAVIGLIOPolitical consultant
Political consultant Steve Maviglio sees the loss as a political life lesson Tubbs will grow from. "I still think the sky's the limit for Michael," Maviglio says. "The guy has enormous talent and potential — he'd be an asset to anyone in government or maybe in the foundation world, where he could do a lot of good for somebody who has a lot of money to dispense and put into an effective program."
Tubbs' memoir, "The Deeper the Roots," is being published by Flatiron Books in August, and it will be an Oprah's Book Club selection. "It's about everything," Tubbs says. "My college days, what brought me back to Stockton, running for mayor, being mayor, what was it like to be mayor during 2020. My vision for the future."
Losing the election wasn't the worst thing that could have happened to Tubbs. Many think it simply pushes his timeline forward by four years. He doesn't feel any pressure to make a move just yet. "What's next for me in terms of being the youngest ex-mayor in (Stockton's) history?" Tubbs asks. "I'm really open to options and opportunities."
Correction: We incorrectly quoted the name of Michael Tubbs' cousin and the year he died. Donnell James died in 2010.
–
Stay up to date on the effects of the coronavirus on people and business in the Capital Region: Subscribe to the Comstock's newsletter today.