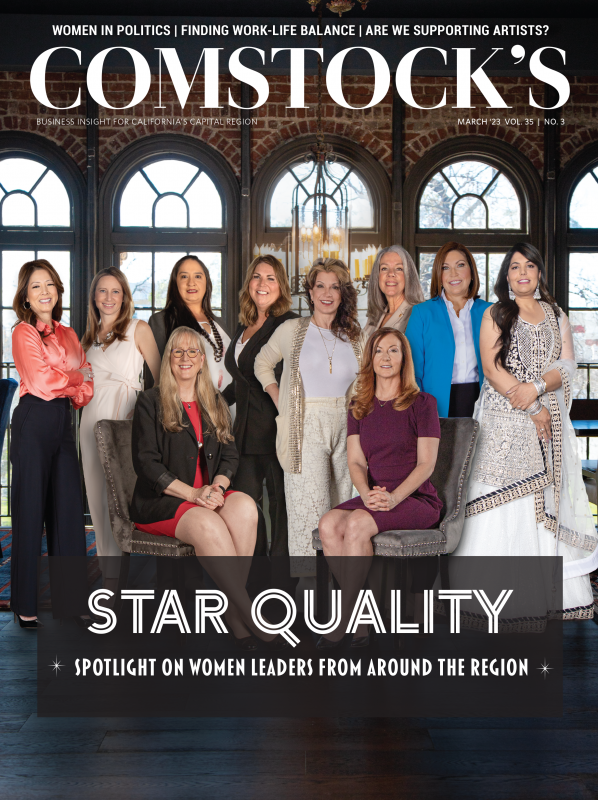 This story is part of our February 2023 print issue. To subscribe, click here.
Becky Johnson
Tribal administrator, United Auburn Indian Community
Becky Johnson, tribal administrator of the United Auburn Indian Community, came to her role in September of last year with two graduate degrees and a weighty resume that includes management roles at Siemens and Pacific Gas & Electric. Retrace that resume to the beginning, before her corporate rise, her first master's degree at Drexel University and her bachelor's at UC Berkeley, and you'll reach her early years on the Hoopa Valley Reservation nestled among the green mountains of Humboldt County.
"We moved from our reservation to Auburn, and so I'm literally where I grew up. I love being able to take that global, corporate experience that I had before and see what fits within this more family-oriented, tribal government structure," says Johnson, who is an enrolled member of the Hoopa Valley Tribe and of Hupa and Karuk descent. "It feels really good to bring it home."
The UAIC is a federally recognized tribe composed of Miwok and Maidu members whose ancestors lived in the Sacramento Valley region for thousands of years before European settlement. It owns Thunder Valley Casino Resort in Lincoln. As tribal administrator, Johnson reports to the tribal council to provide recommendations and implement decisions relating to programs such as the tribal school, social services, and cultural and historic preservation. The latter team is working to repatriate their ancestors' remains and artifacts from museums and universities, one of Johnson's main priorities for the year.
"Prioritize your physical, mental and spiritual health each day — tend to each one of those each day."

Becky Johnson, tribal administrator, United Auburn Indian Community
In her first few months in the job, Johnson has emphasized bringing the UAIC's more than 170 employees together as one team. "It's been a pretty siloed organization for a long time," she says — primarily because, like many organizations, the tribe hired new managers and administrators for each new program that it established. "I'm really proud of bringing the team back together, and really focusing on and listening to what the needs are from the (tribal) members."
Those organizational and people skills are among the areas Johnson developed during her most recent master's degree from Embry-Riddle Aeronautical University in human factors, a field that aims to optimize the human roles within complex systems. After completing the degree, she realized that she didn't necessarily enjoy the kinds of projects that her new credential entailed at her then-employer, PG&E.
While she was reflecting on what she wanted to do next, an executive recruiter friend sent her the UAIC job post and asked her to share it with her network. "I read through it and thought, 'Well, I'm not going to share that. That sounds like my ideal job,'" she says.
The move from PG&E, where she oversaw over 100 employees and 5,000 contractors, to UAIC was part of a gradual shift in philosophy. "I recognize now that I used to chase checklist items," Johnson says — earning degrees, getting promotions, leading organizations. "Through some really deep introspective work — that's been the hardest work I've ever done in my life — I recognize that those were all coping mechanisms and a product of trauma response, where I was overcompensating and trying to prove that I belonged. And now I know that I don't have to do that."
Johnson remains a high achiever both at her job and away from it. She is a senior fellow of the American Leadership Forum, a founding member of the greater Sacramento chapter of Impact100, a women-led organization that funds nonprofits, and co-founder of the Sally Johnson Swim Fund for Disadvantaged Youth, which she and her brother started after their mother, an avid swimmer, died in 2016. She starts most of her days with a CrossFit workout and runs ultramarathons like the Miwok 100K in Marin County.
But she also remains humble. "There are a lot of people with a lot of degrees who could do this type of role," she says. "I'm grateful to have done the introspective work to have the humility to sit back and let others shine in the spotlight, to be open to hearing other people's perspectives. Because that's what it's going to take to help keep this tribe as successful as they've been."
–
Get all the stories in our annual salute to women in leadership delivered to your inbox: Subscribe to the Comstock's newsletter today.