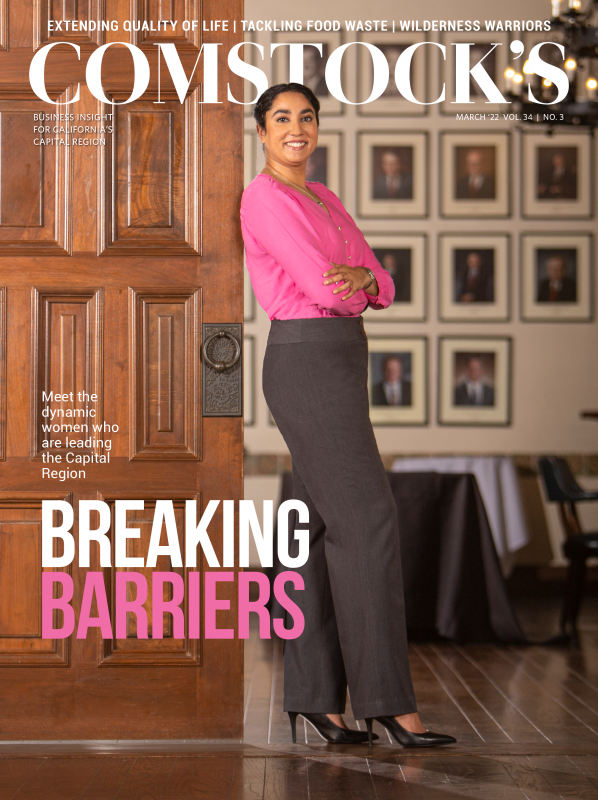 This story is part of our March 2022 Women in Leadership print issue. To subscribe, click here.
Eliza Tudor
Executive director, Nevada County Arts Council
There's no doubt Eliza Tudor is enamored with the arts: "I love nature, travel, poetry and music — in all their eclectic forms," she says. Although originally from England, Tudor has just the artistic spirit and thoughtful disposition to match Nevada City's eclectic essence. But most of all she appreciates art as a tool for health and wellness. As executive director of Nevada County Arts Council for the last six years, she's worked to improve community well-being by creating arts programs that partner across creative, public, business and nonprofit sectors.
"Our role is to facilitate these (programs), making it possible for a delicate ecosystem of social programming to thrive," she says. "This has been particularly true during a pandemic that has crippled our sector, while simultaneously throwing light on its immense value."
The value of art is something Tudor and her small staff are deeply committed to promoting both economically and socially. Together with a board of directors and independent contractors, they dream up change for the twin cities of Grass Valley and Nevada City.
Last year, the organization employed nearly 50 artists and creative workers to implement multiple education programs, a poetry and film festival, a major concert in service to its artist relief fund, and the largest creative placemaking project the region has seen, "FOREST⇌FIRE." The latter, a show on display in Truckee, moves through time to tell the story of forest ecology and how wildfires affect the lives of Californians. (The lines in the show's title signify a desired equilibrium.)
Another more humanistic equilibrium Tudor and team are committed to restoring is cultural equity, particularly the recognition of Nevada County's Indigenous peoples. The council partners with the Nisenan tribe to encourage land acknowledgment and raise funds in support of initiatives that empower them.
The Nevada County Arts Council also helps map their culture, Tudor says, an overdue recognition of the tribe's historical influence. The enterprise involves taking inventory of the tribe's cultural assets and creating a map of the sacred places the tribes feel comfortable sharing. "These efforts are deeply rewarding," Tudor says.
Tudor's professional life has spanned three continents: Europe, Australia and North America. Prior to Nevada County Arts Council, she was senior development executive of humanities at University of Oxford, where she previously earned her master's degree in Arts and Cultural Policy (intellectual history). While working at her alma mater, her focus was on scholarship funding for its lowest-income students.
The art lover's globetrotting is as personal as it is professional. She met her husband, Carlos Caruncho, a Spanish teacher and natural winemaker, about 30 years ago when she was living in Australia and visiting California as a guest producer for an ancient Greek play. "We fell in love and, three children later, we moved to Europe," she says. The family returned to Nevada County in 2015 when Caruncho started to miss the Golden State. Tudor landed first at Yuba Sutter Arts and before settling into her role at Nevada County Arts Council.
"Listening comes first, then a genuine desire to move the needle, support community agendas, and therefore create a rising tide that lifts all boats."

Eliza Tudor, Executive Director, Nevada County Arts Council
Among her proudest moments there is the 2017 state designation of Nevada County as one of only 14 inaugural California Cultural Districts. The accomplishment resonates for Tudor as her team surmounted the challenge of Grass Valley and Nevada City "historically not collaborating to their fullest potential." She adds, "At the same time, we helped … engage our High Sierra community towards a further designation for Truckee."
A self-described introvert, Tudor's strength is channeled through her ability to provide "a creative space for more people to contribute in group settings." The director aims for equity in all things, an ethos that extends to her leadership style. "Listening comes first, then a genuine desire to move the needle, support community agendas, and therefore create a rising tide that lifts all boats."
–
Get all the stories in our annual salute to women in leadership delivered to your inbox: Subscribe to the Comstock's newsletter today.