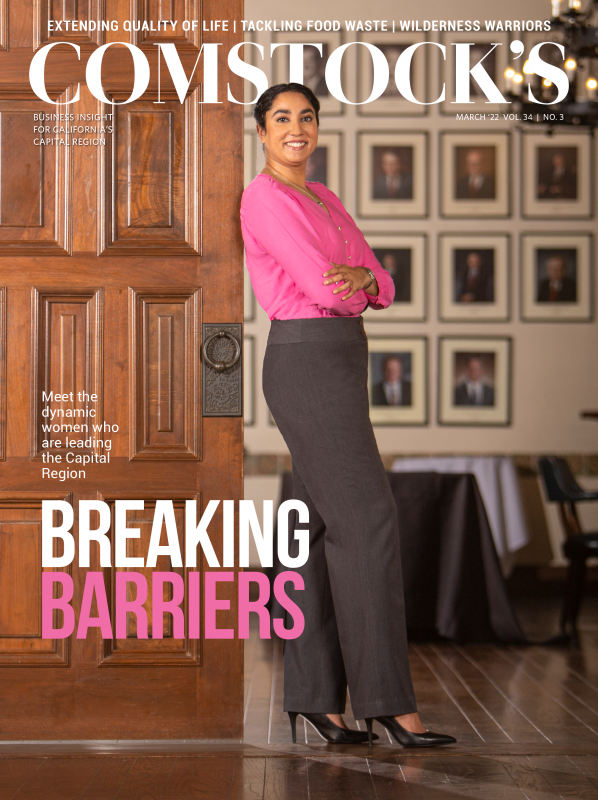 This story is part of our March 2022 Women in Leadership print issue. To subscribe, click here.
Krista Bernasconi
Mayor, City of Roseville
Krista Bernasconi's entrance into mayorship began with taps on the shoulder. The Roseville resident already knew about public service, having spent eight years on the Roseville City School District board of education and then another eight years on the city's planning commission. Long before that, she served for two years in the U.S. Navy while based in Jacksonville, Florida.
Others saw potential in Bernasconi as a Roseville City Council member, which hadn't seriously crossed her mind until those words of encouragement from other community members suggesting she run. So Bernasconi entered the race and was elected in November 2018. She's now in her second year as mayor, leading a government workforce of about 1,000 employees and a city of nearly 150,000 residents during an unprecedented time.
"If people trust you and they like you, they will follow you. I believe that you could be the smartest person in the room with the best ideas and the best college education, but if people don't trust you, they won't follow you."

Mayor, City of Roseville / Founder and CEO, MarketSharePR
Bernasconi's council duties add to a long list of other professional responsibilities attached to her role as CEO of MarketSharePR, a public relations firm she founded in 2012 to provide branding, messaging and communication services to private companies and nonprofit organizations. "One of my favorite sayings is 'consistency compounds.' Hard work creates momentum," says Bernasconi, who earned a degree in liberal studies from Sacramento State and left a corporate job at SureWest Communications a decade ago to pursue her entrepreneurship dreams.
MarketShare has grown from a sole proprietorship to a team of six employees. "You forgo a steady paycheck and that 401(k) and vacation time. But I think on the other side of that is where the sweet spot is; it makes me work. It makes me work harder," Bernasconi says of owning her business. "I know I'm not defined by somebody else's expectations in the workplace. I create those myself."
Being a small-business owner isn't without challenges, Bernasconi says, which she understands from watching the experience of her parents, who owned the TreeHouse toy store in the Roseville Square shopping center in the 1970s and '80s. Her mother also owned Nice Twice, a consignment store on Vernon Street when downtown was full of antique shops, for 35 years.
"Nobody outworked my parents, and that kind of goes down to me too," Bernasconi says. "I don't stop when I'm tired. I stop when the work is done. It's a blessing and a curse. I really feel passionate about public service, and serving the community, and running the team and trying to do this all."
As a council member, Bernasconi says she's proud of how the city has assisted businesses during COVID-19, giving away more than $1 million worth of small-business grants from federal relief funds. Another moment of pride for Bernasconi as mayor was her role in organizing an event at the Civic Center to honor U.S. Marine Corps Sgt. Nicole Gee, a Roseville native who was killed in an attack at Kabul's airport in September 2021.
"Practice an abundance mentality in that somebody else's successes do not take away from yours at all. They're to be celebrated."

Mayor, City of Roseville / Founder and CEO, MarketSharePR
As for MarketSharePR, the pandemic created even more demand for the firm's services from groups needing effective messaging and communication. Nonprofits have also needed more assistance in getting the word out about fundraisers, Bernasconi says, pointing to her firm's work with the Me-One Foundation, which helps adult cancer patients and their families. The firm handled messaging and collateral to improve fundraising efforts; a recent fundraiser generated $100,000 for the local organization.
"There are times that I feel incredibly spread thin, like with my family, or with work or with council responsibilities," says Bernasconi, who has 14-year-old twins. "During this window of my life where I have the time and energy and desire to want to work really hard, I'm going to do it and I have the full support from everyone in my life. But at the end of the day, it's still on me, right? I'm still the one that's got to get the work done."
–
Get all the stories in our annual salute to women in leadership delivered to your inbox: Subscribe to the Comstock's newsletter today.