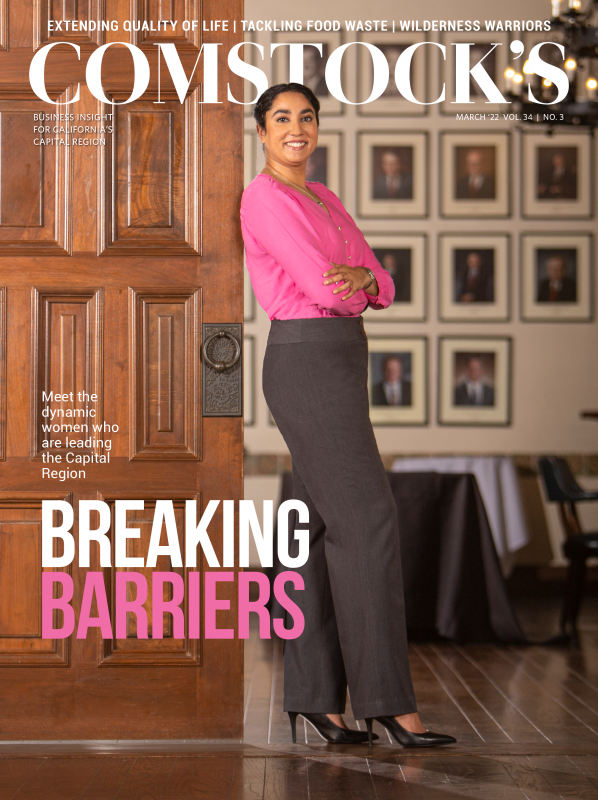 This story is part of our March 2022 Women in Leadership print issue. To subscribe, click here.
Lora Anguay
Chief zero carbon officer, Sacramento Municipal Utilities District
Lora Anguay knows she isn't always the expert in the room in her job at the Sacramento Municipal Utilities District. That's a benefit, not a drawback, she says. With a background that includes serving in the U.S. Coast Guard, Anguay often relies on colleagues as well as the breadth of her own knowledge for guidance.
"One of the benefits of having such a wide range of experience is that I'm actually not the expert on any one thing," she says. "I have a really good aptitude for learning and understanding what we're doing, (as well) as making sure I bring the right people into the room."
Anguay, who has worked at SMUD since 2004, was named the utility company's inaugural chief zero carbon officer in April 2021. In the job, Anguay leads a team responsible for meeting SMUD's efforts to address climate change by achieving zero carbon emissions in its power supply by 2030 by relying more on clean, renewable energy sources. The goals also include plans to retire at least two natural gas power plants, a move that could impact public health as well.
"A lot of these plants are located in disadvantaged communities, where the air quality has a big impact," she says. "It's a huge benefit to the people who live in the area but especially to the region as a whole."
In January, the utility launched a pilot project at the Hedge Solar Farm in south Sacramento with six large-scale, lithium-ion battery storage units that are part of SMUD's plan to add a total of 1,100 megawatts of battery storage over the next decade.
Anguay's role comes with myriad difficulties. "There's challenges with getting our company aligned and on the same page," she says. "There are also challenges in terms of technology readiness. … We set a target for 2030 knowing that we don't know how we're going to get there for that last 10 or 15 percent (of our goal)."
Even so, each incremental achievement, small or large, counts as a win, Anguay adds, particularly when SMUD's actions serve as a model for other statewide utility companies. "(We) are starting to see that drive within the industry," she says. "Other utilities are adopting the same goals and (committing) to decarbonization as well."
Anguay's previous gigs at SMUD included working as the utility's director of distribution operations and maintenance, a role in which she oversaw new design and construction projects as well as the company's smart grid rollout, which launched in 2010.
Before SMUD, the Sacramento native explored multiple career paths. In high school, Anguay worked in accounting. After graduation she joined the Coast Guard. Military duty took her first to Los Angeles and later aviation school in North Carolina. Then, as a single mom of a 1-year-old son, she'd hoped to be stationed in Florida. Instead, a superior officer sent her back to California so that she could rely on a support system of friends and family.
Although initially disappointed in the assignment, Anguay sees it differently now. After finishing her military duty as well as a stint as a finance manager at Oracle, she says she understands the need for such support systems. Anguay went back to school while at SMUD, graduating from Sacramento State in 2013 with a degree in business administration. She financed her education using her GI Bill and SMUD's tuition assistance.
Anguay adds her decision to work for SMUD was influenced by her own guiding work principles.
"I felt that I was better aligned with SMUD's mission and core values," she says. "SMUD is a not-for-profit, community-owned electric utility which means that they always do what is right for the community and for their customers."
As such, her leadership philosophy is rooted in meeting community needs.
While it's important to get a lot of people in the room to talk through problems, Anguay says, she doesn't necessarily rely on a democratic "majority rules" approach to management.
"That's not what you're looking for as (a leader)," she says. "You're looking to figure out the best solution. The key is to look for divergent opinions. If everyone is saying, 'Yes, this is a good idea,' then ask the opposite questions."
–
Get all the stories in our annual salute to women in leadership delivered to your inbox: Subscribe to the Comstock's newsletter today.