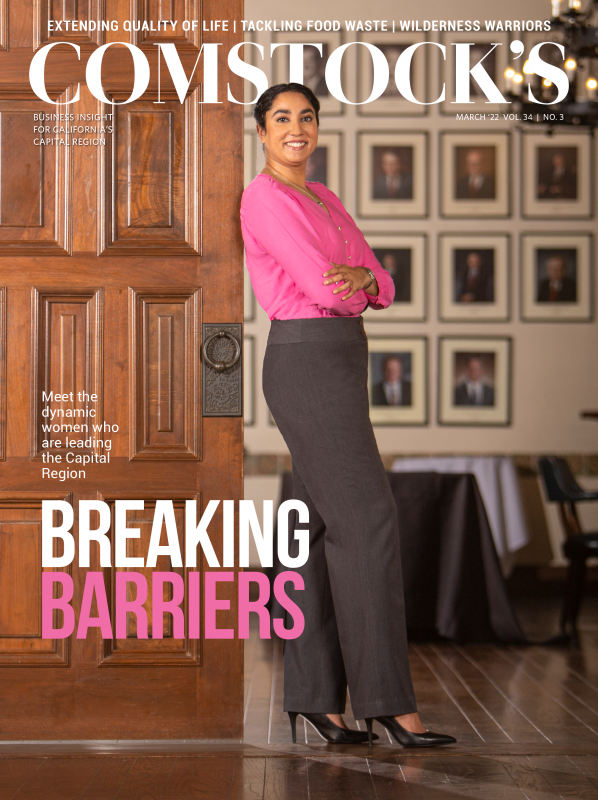 This story is part of our March 2022 Women in Leadership print issue. To subscribe, click here.
Amber Hoiska
Vice President, Pac Shield Roof Services
Amber Hoiska is breaking the glass ceiling of the male-dominated roofing industry, and she wants more women to seize the wealth of opportunities along with her.
Now the vice president of Pac Shield Roof Services, Hoiska credits her success to her early entry into the industry and the mentors who promoted her growth. After attending San Joaquin Delta College while working for Caterpillar in Stockton, then 25-year-old Hoiska took on a credit management role at a roofing supply group in 2004, which she held for 12 years.
"This is one of the few industries where you can actually dictate your success with your hard work," Hoiska remembers one of her first bosses telling her — a statement she believes to be true, even for a demographic that is underrepresented in the field. "I'm absolutely an example of what is available for women in the trades. Roofing is an example of an industry where you will have a paycheck that is more on par with your male counterparts."
Hoiska has nothing but encouragement to offer when meeting other women who are entering the trades. "There are great young women at my company now," she says. "They are just head and shoulders above where I was at that age."
Hoiska has gained experience both behind a desk and in the field, working primarily in finance and sales for several roofing firms. In March 2020 she became the director of sales and marketing at Pac Shield Roofing Services, which specializes in roof installation, maintenance and repairs throughout a 100-mile radius surrounding Modesto. In October 2021, Hoiska became the company's first VP. Under Hoiska's leadership, Pac Shield is looking to expand its headquarters into Sacramento, where the company has a growing number of projects, including installing roof systems for Sacramento City, San Juan and Elk Grove unified school districts.
"In my current role, I'm really focusing on the company's overall fiscal performance and our internal efficiencies. We are really looking to stabilize the growth that we experienced in both 2020 and 2021," Hoiska says. "We also saw a lot of impacts (from) the destabilizing of these supply chains. I'm very focused right now on ensuring those impacts are minimized."
Hoiska and her family live in Ione, where she enjoys a small-town lifestyle and often works remotely. However, the wife and mother of two has put her skills to work on the homefront, joining the city's planning commission in January 2016, where she works on the city's general plan and reviews designs for new buildings.
"Getting more ingrained in the community, I started seeing a correlation between city practices and policies and what's happening in city council meetings and issues in greater Amador County," Hoiska says.
"I am definitely tenacious. I am not one that gets discouraged."

Amber Hoiska, vice president, Pac Shield Roof Services
Once again, Hoiska found herself in a role that was unusual for a woman under the age of 40. The commission's only woman member, her expertise in the construction industry has allowed her to confidently step into the chairperson position. Her main focus in leading the council is to nourish development in Amador County's fastest-growing city while preserving its frontier town charm.
"I am definitely tenacious. I am not one that gets discouraged," Hoiska says of her leadership style. "Water will find the path of least resistance. Being in roofing, it's ironic. I find myself flowing into the spaces that I am able to penetrate."
–
Get all the stories in our annual salute to women in leadership delivered to your inbox: Subscribe to the Comstock's newsletter today.