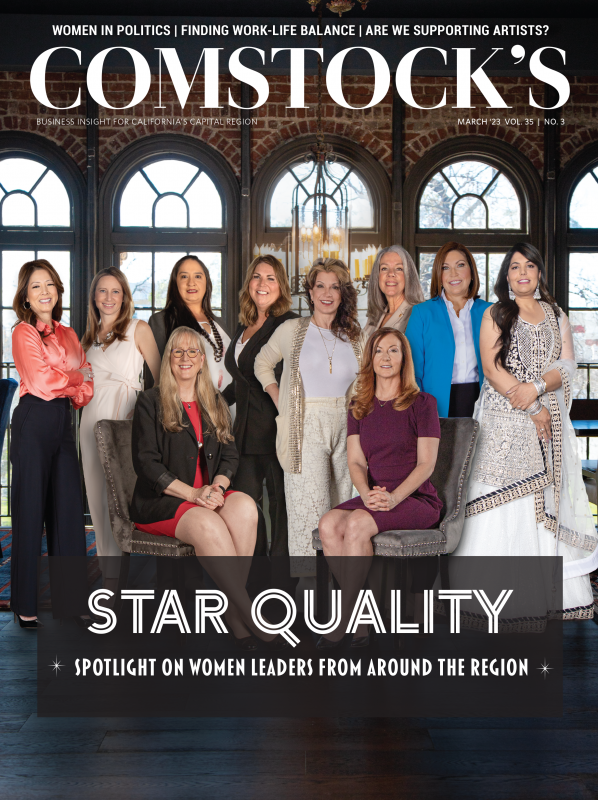 This story is part of our February 2023 print issue. To subscribe, click here.
Regina Cuellar
Chairwoman, Shingle Springs Band of Miwok Indians
As a little girl, Regina Cuellar loved the calming solitude of her visits to the rancheria in Placerville. Her great-grandmother, Nellie Cruz, was the first resident, when there were no roads or electricity. Cuellar's family trips from Visalia tethered the city kid to her ancestors. She savored the slower pace of wandering, feeding the donkeys, and feeling her legs sting as she descended the hot metal slide — one of few amenities at the time.
She never imagined that she would one day lead the tribe.
Today, Cuellar is chairwoman of the Shingle Springs Band of Miwok Indians, a Placerville-based federally recognized tribe — one of 109 in California. She's the public face of the tribe who oversees the operations of departments like the cultural resources division, finance and enrollment, as well as Red Hawk Casino — with about 1,400 employees total. Enrolled members elected Cuellar to the tribal council a decade ago, and in 2018 the council selected her to be the chairwoman. Since then, she's pursued legislative and economic routes to fulfilling the tribe's mission to "be a self-sufficient and unified Tribe empowered to thrive in the modern world while preserving its cultural foundation."
Cuellar's late great-grandmother, Cruz, relocated to the Placerville rancheria in the 1970s after a buyer expressed interest in the land that the government purchased for Indigenous people in 1920. Cruz immediately moved from Southern California to keep the land in their hands. Nearly 50 years later, Cuellar continues the work of representing the tribe's interests.
Cuellar moved to El Dorado County in 2008 with four young kids and a plan to become a pharmacy technician. In pursuit of that goal, she got a receptionist job with the tribal health clinic and worked her way up to contracted health services coordinator. She helped patients navigate the health care system, work that sparked her passion for community involvement and advocacy. After a stint as the education director, she ran for tribal council.
"I love to see people — our members, anybody — be successful," she said. "And I love to know that I have a small part in that."
Among her first major accomplishments as chairwoman was renegotiating the tribe's compact with the state, which saved the tribe over $30 million. Her team also worked on two major recent projects: a new hotel connected to Red Hawk Casino, which will open this year, and an entertainment center, APEX, which opened in December. She also supported two successful state bills that pertained to Indigenous Californians, AB 338 and AB 1314. One made it possible to replace a toppled monument to Junípero Serra with a tribute to Sacramento's Native American community. Serra was a Roman Catholic priest and founder of California's mission system, which relied on brutality and forced labor of Indigenous people. Protestors tore down the Serra statue at the California Capitol in 2020 during racial justice demonstrations.
Last year, Cuellar and others broke ground on a new monument that honors the late William Franklin, a Miwok leader who preserved dances and other cultural traditions before his death in 2000. The other law established a "Feather Alert," an emergency alert system for missing, at-risk Indigenous people — who experience higher rates of violence and missing people, particularly girls and women, the law states.
Under her leadership, the tribal council is addressing the rising need for affordable housing, with a new development underway to provide 13 families with high-quality housing. With 140 members on the waiting list, Cuellar said this first set of homes is just phase one. Despite this work not being part of her original plan, Cuellar treasures her role on the council.
"It's not a job to me. I have a passion," she said. "I have a really good relationship and rapport with my membership. … I cherish that."
–
Get all the stories in our annual salute to women in leadership delivered to your inbox: Subscribe to the Comstock's newsletter today.