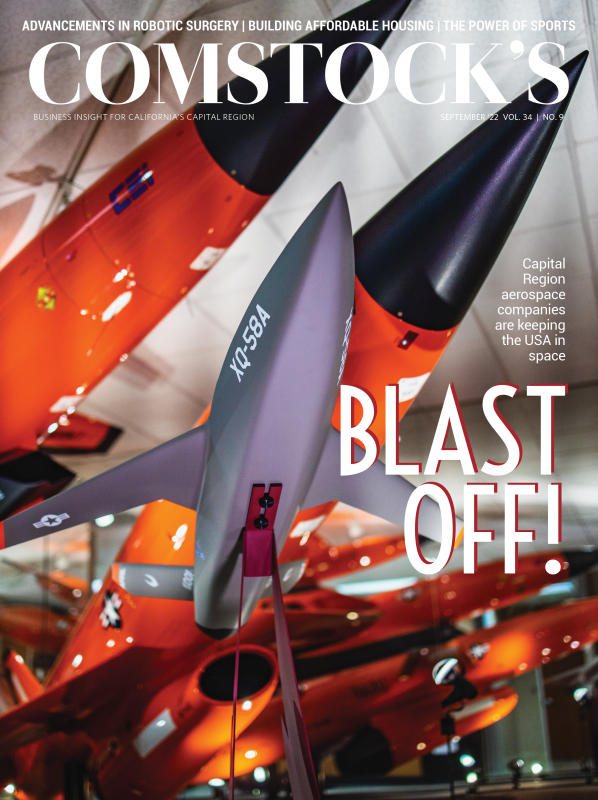 This story is part of our September 2022 print issue. To subscribe, click here.
In the early years of The Kitchen, you went for the freshly-sourced gourmet feasts, top-notch wines and what felt like one-on-one service by the carefully trained and highly responsive staff. But you mostly went for the combo cooking demo, food lecture and standup routine presented by the restaurant's co-founder, co-owner and chef, all of whom are Randall Selland.
Equally brash, playful, instructive and what today he admits "might be politically incorrect," Selland, with his booming voice, walked you through each element of the multi-course meal you were already enjoying. It was the most nutritional tutorial imaginable, and if the $165 meal — plus wine, cocktails or corkage fee — set each guest back a couple hundred bucks, it was like going on an annual vacation you saved for and never regretted the expense of. In fact, you were likely to return, as hundreds have over the past three decades — and sometimes, sooner than a year later.
Even non-foodies were seduced, agreeing that while they may not have come in appreciating the diversity, complexity and organic origins of the meal, Selland's floor show was worth the price of admission. He conducted it from behind an enormous island, featuring select members of his galley crew and frequent forays into the audience, seated at tables arranged like a nightclub.
Three years ago, The Kitchen became the first Sacramento restaurant to receive a Michelin star.
"The Kitchen was the first place where cooks were meeting customers every day and sharing the 'craic' (fun)," says Patrick Mulvaney, co-owner with his wife Bobbin of Mulvaney's Building & Loan, which has been one of the Capital Region's fine-dining destinations for decades. Mulvaney worked for Selland early in his own career and clearly took away things that were much more valuable than napkin rings or salt shakers.
"Randall taught me this technique I still use today," he recalls, "which is: Greet people with the phrase 'Nice to see you.' It always works — with folks you meet for the first time, with those you may have already met and with those who might not want their guest to know they're regulars."
It's about 4 p.m. on a recent Wednesday and Selland is sitting patiently but animatedly for an interview at his bistro on H Street in East Sacramento, the first of his three eponymous eat-in market cafes (the other two are on Broadway in Land Park and in the El Dorado Hills Town Center). At 67, his trim frame and still-thick head of hair drop his age by at least a decade despite the laugh lines on his face, while his voice is still robust after years of projecting mic-less at The Kitchen five nights a week. He's wearing a T-shirt, shorts and flip-flops. "I was just on a ladder repairing a mister at the Broadway store," he says, adding in a conspiratorial aside, "I think my family doesn't like it when I climb up on ladders these days."
That family includes Selland's "three absolutely equal" business partners: Nancy Zimmer, with whom he's lived for 46 years; son Joshua Nelson, and daughter Tamera Baker. Ella, the elegant restaurant the family owns and runs on 13th and L Streets near the state Capitol, is named for one of Selland's and Zimmer's grandkids. So is OBO', the Italian-style mercato in East Sacramento not far from Randall and Nancy's home, an homage to grandson Owen's nickname since toddlerhood. (Asked about the apostrophe that follows OBO', Selland laughs and says, "Oh, you know how the Italians always have apostrophes all over the place.")
"I know we use my name as the catch-all for the businesses, Selland Family Restaurants," Selland says — then adds, almost apologetically, "but it's totally a family operation, owned and operated by the four of us."
Some of the Secret Ingredients of a Local Success Story
Randall Selland, Nancy Zimmer, son Josh Nelson and daughter Tamera Baker buy fresh ingredients from a variety of growers, "though not always within a 10-mile radius," Selland says, "if I know someone's growing something great a little farther away. It's always about quality." Josh Nelson is credited as the one who came up with the now-ubiquitous tagline "America's Farm-to-Fork Capital" — he'd had some T-shirts made for the staff to wear at the cafes — and, with restaurateur Patrick Mulvaney and Visit Sacramento's CEO Mike Testa, created the annual Tower Bridge Dinner, an event so popular you almost have to time-travel to grab a ticket before it sells out every year.
Selland and Zimmer eat at their own restaurants "regularly. We're so proud of our staff." He says they're trained so completely that occasionally, "a young server will say something like, 'This is great, but you know I'm just going to work here for a couple of summers then go to law school.' That doesn't make me feel bad in the slightest. Because when they leave here and go into their careers, they'll have learned something not many schools know how to teach: How to work."
Selland says his family's collection of restaurants would never have survived COVID had it not been for his son and daughter's attention to detail in filling out the applications for various government loans — and, most tellingly, the company's longtime personal relationship with Columbia Bank in Roseville. "Every business is about its relationships," he says.
"Don't call me a chef," Selland says. "I'm not a chef. I'm a pretty good cook who got lucky."
–Ed Goldman
Selland, a native of Fresno, began his current career "not even thinking about it as a career." He had been a stained glass artist, working with his mom in a small studio in Folsom. Nancy Zimmer attended one of his shows when he was around 28 years old, and he says he thinks "it's literally true: We've been together ever since."
Zimmer was a caterer with connections to the restaurant industry and "she taught me to cook," Selland says. Separately and together, they ended up working at various high-end regional eateries of the day, including The Cookery, whose chef de cuisine, Kevin Nichols, "was a true mentor." Eventually, the couple was able to save up enough money to open The Kitchen.
"Randall Selland and Nancy Zimmer set the bar for what we think of as Sacramento hospitality — elegant, welcoming and inclusive."

Patrick Mulvaney, co-owner, Mulvaney's B&L
"Randall Selland and Nancy Zimmer set the bar for what we think of as Sacramento hospitality — elegant, welcoming and inclusive," says longtime fan, colleague and former employee Mulvaney, still marveling at the changes Selland's restaurants made on the local hospitality scene. "I remember early days at The Kitchen where you could find people drinking Napa Valley's finest wines as they sat next to folks who bought 'the champagne of bottled beer' (Miller High Life). And everyone was treated the same."
"The Kitchen began, and the other Selland family restaurants continue, the Sacramento tradition of celebrating our friends, the farmers who make our food scene what it is," Mulvaney adds. "Randall's talent, not only as a chef but as a host, has changed the way Sacramento dines out, creating not only great experiences but also building community."
"The point of the place is in its name," Selland says. "It's like we invite you into our home for an evening. There's just one seating and the menu is fixed." But that doesn't stop Selland from channeling his inner imp when called on.
"One night, some time ago, a guy came in and I could tell right off he didn't like being at the place, which he assumed was going to be stuffy, and when I started my spiel about the farm-fresh ingredients we use, he obviously didn't like me."
"Well, I'm all about being a good host, so I went to his table and said, 'OK, what can we do to make you happy?' He was kind of showing off for the other guests at the table. He said, 'I'm just a guy who wants meatloaf and pizza, not all this fancy stuff.' I said OK." He says he went into the back and called the Selland's Market Café on H Street, "where we sell really great meatloaf and pizza, and I had them delivered to The Kitchen."
"While the other people at the table were being served all of this gourmet food, I put a plate of meatloaf and pizza in front of the guy. I might have even said, 'Bon appétit.' The laughter from the table was worth the effort." He pauses. "I don't think he ever came back." Then his face lights up: "But the other guests did."
–
Stay up to date on business in the Capital Region: Subscribe to the Comstock's newsletter today.