Sometimes you don't know a scene needs shaking up until you see — and in this case, taste — a brand-new approach. The culinary scene has a new format for consuming content and food with the creation of Last Supper Society, which cofounders Ryan Royster and Byron Hughes describe as "a culinary collective that designs food experiences," as well as "a first-of-its-kind interactive TV show."
Royster and Hughes began planning their experiential dining venture in early 2020 as a way of expressing their creative and cultural points of view through food storytelling. Royster, a marketing strategist and producer, and Hughes, a chef with 11 years of experience in kitchens such as Chez Panisse in Berkeley and Canon in Sacramento, built their business by combining their brand strategy acumen, creative skills and community-building experience. Last Supper Society is a virtual cooking instructor, an interview series and an expression of the Black lived experience, and more than the sum of its parts.
In-person events were the duo's initial goal. The partners believed in the power of food to foster meaningful connections. This, of course, was swiftly derailed when pandemic restrictions hit in early March. But with a pivot toward an episodic YouTube series called The Cook In, they were able to maintain their momentum. Their Instagram audience of 3,200 followers ate it up.
The Cook In is an interactive show on YouTube Live, where hosts Hughes and Royster guide viewers through a recipe and have conversations with virtual guests. Viewers purchase and pick up a "supper kit" beforehand which, at $60, serves two and contains all the ingredients for dishes like fig leaf-wrapped halibut and Ghanian-style cioppino. (Pickup is at various food and drink providers they partner with. For example, their next pickup location in Sacramento will be at Good Bottle, which is also providing the wine pairings for that particular meal).
"It's a hybrid cooking show," Royster says. "It's a cooking class and a talk show." Viewers can use the chat feature via YouTube Live to ask questions along the way or engage with the guests in real time. "The chat feature is literally hilarious every episode," Royster says.
The force behind the brand is a confidence that's as inviting as it is cool. When creating a mood board in the business's early stages, the pair imagined flamboyant rapper Young Thug as part of the inspiration behind their brand. The pair recognized themselves in the musician's ability to be unapologetically himself in traditionally "high society" spaces like Paris Fashion Week. "He felt at home where he didn't belong," Royster says. Leading with that authenticity and rebellious spirit, they say, is at the core of their business.
What "dining different" means to us: Royster: We reimagine how people break bread together. We curate radical food experiences and encourage people to dine different. There's no exact formula for that, but just challenging people that there's different ways to do things, whether it's virtually or the way that we're feeding the homeless in a way that's more focused on the experience rather than simply sustenance.
Hughes: I've been a chef for 11 years now and this idea of dining differently is something that I've always been interested in exploring. And being a Black male in this industry, I constantly find myself thinking, there's got to be a different way to do this. I think with Last Supper Society, I finally found a vehicle to explore that topic. I think we're well on our way to challenging everybody's idea of what dining could be.
From friend to patron to partner: Royster: We're both from Sacramento, so we've been in similar circles for years. Byron had always been doing really cool stuff that I was interested in as a patron, like wanting to be part of his pop-up experiences and things like that. I reached out to him, wanting to expand what I was doing creatively. I know that he was kind of in a place where he wasn't feeling as creatively fulfilled in what he was doing as well.
We sat down over a drink and we just kind of brainstormed ideas. And we came up with this idea of a culinary collective that is reimagining dining through experiential, hyper-immersive events. This is all pre-COVID. So we had already built the entire business when COVID hit, but we had built up so much momentum that we just weren't going to stop.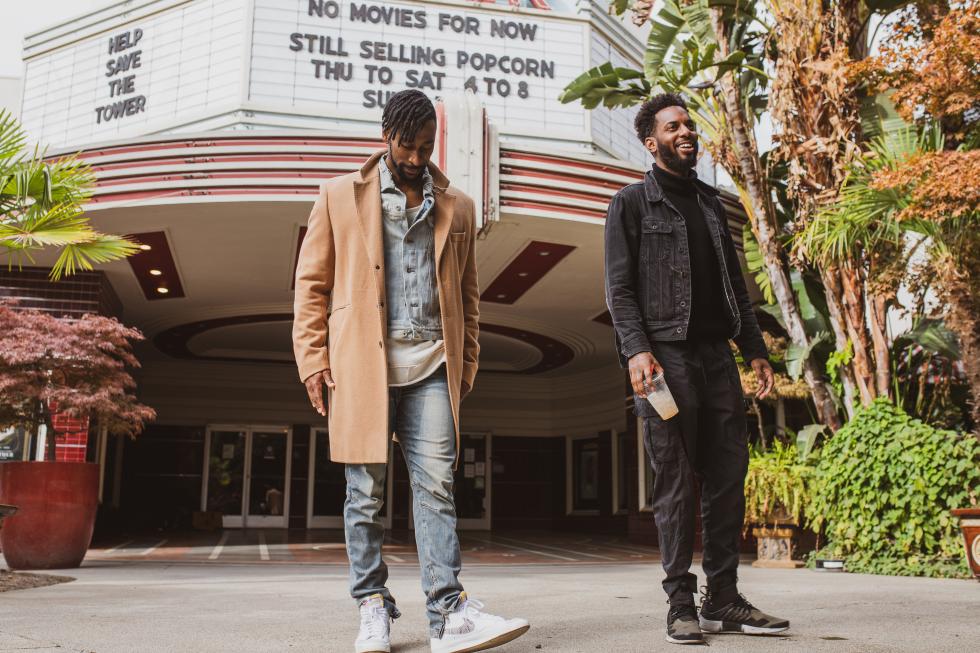 A shared creative spirit, with complementary skills and a drive for ownership: Royster: I think we're both creatives in our own right, but I would consider Byron the more creative force of the group. I come from a marketing and business development background, I'm pretty much focused on growing the business and structurally making the business sound so that we can grow in all these different, creative ways.
Hughes: One analogy that I've used recently is that Ryan is building the foundation of the house and maybe he's putting the walls up, and I come in and I embellish the wall. So, you know, I put dope paintings and put plants in the room. That's my role.
And it's been so nice to be able to create everything. Everything you see visually from Last Supper Society, I either designed it with Photoshop or Illustrator. Or I'm making the food or I'm curating the photo shoot. I get to do it all. This is the most fulfilling thing I've ever done in this walk of life. Without Ryan, I would just be like a hamster on a wheel — going and creating with no idea of scale or growth or business other than what I've learned from making a ton of mistakes in the past.
On discovering the power of food and togetherness: Hughes: Food has always been something that I've looked at as a connector of people. I was interested in food when I was a kid just through watching food television. And then it kind of went away for a while. Then I started throwing parties with my homies through HOF or Hall of Fame (a Sacramento-based event production and branding agency). And since we stopped doing that maybe five or six years ago, I realized that what I love is to see people congregating. I love to see this communal situation happening where people are having conversations, people are laughing and telling stories and just sharing an experience.
From restaurant worker to director of an owned experience: Hughes: Regardless if it's food or some crazy house party or whatever we're doing, it seems like the common denominator is bringing people together. I think that's really what I'm passionate about. In this industry as a cook, you have no part in that. The restaurant is why people are coming together, and you're just one small part of that. And now (with Last Supper Society), we can control the whole thing. I can see this whole bird's eye view of connecting people, whether through food or a party or whatever. That's what I'm passionate about.
On the importance of being ourselves: Royster: There's no code switch in what we do (the practice of shifting the way someone expresses themselves in conversations). I think people really appreciate that. Whether Byron is cooking for the governor (Gavin Newsom), or we're doing an episode of the show, or we're feeding the homeless, it's just us all the time. We're two Black dudes in our 30s from Sacramento from various kinds of hood situations. We find that people have embraced and appreciated that.
There's this Toni Morrison quote that I always use as the north star. She says, "I stood at the border, I stood at the edge, and I claimed it as central … and let the rest of the world move over to where I was." So we're not changing, even though we're doing fine dining, we're not going over to one side or straddling some line that's (modeled after) how we grew up and the fine-dining space. We're just us over here, and anybody who wants to experience what we're doing or be a part of it can come over to where we're at. I think it's important that we embody that.
Connecting with our audience in a way that reflects our entire brand values: Royster: We text. And that's actually by design. When we were thinking about how we're going to communicate and connect with people, I think it was on brand for us to use a text app. And it's not just sending out automatic, scheduled updates. It's like, what's up, we talk to you. On the website it says, text us, we'll text back. And if you text our number, our phones buzz, and one of us will hit you back. That informal communication vehicle is an extension of our brand — connecting with people in genuine ways, the way that people connect.
Food storytelling through experiences: Royster: Our experiences take a lot of shapes. We do private virtual events and work with companies like Google and Intel. We also do private corporate experiences — from people's Christmas parties coming up to corporate team-building events, to private social events as well.
With Byron, there's always a story behind what we're doing. So, we're not a catering company, we're not bringing food to you and dropping it off. There is an entire experience that goes around what we're doing. This is food storytelling that has a way of really sparking dialogue. It goes beyond eating to actually breaking bread. There's always that communal, lived experience that the food brings through connectivity.
On creating something new in Sacramento, and reaching beyond Sacramento: Hughes: A big part of my rebelliousness is that I've always seen room for improvement in Sacramento as far as the culinary scene goes. And that's a big motivating factor for us, there is a lot of room for creativity and innovation here in Sacramento. I feel so much freedom and ability to do these crazy ideas. I love the city and the chefs in our city. But I think it's time to innovate. Let's see what we can do differently.
Royster: I think we've been "little bro'ed" by San Francisco so much that we've spent so much time trying to catch up or be the next San Francisco or Portland. But for us, we're not concerned with what anybody is doing. We just want to do our own thing and give ourselves the grace and space to do it. We try to surround ourselves and connect with the people who aren't trying to be like anyone else.
–
Get all our web exclusives in your mailbox every week: Sign up for the Comstock's newsletter today!