Juggling parenthood and a creative passion or career is so common, the struggle to do it all almost seems like a rite of passage. Put the kids to bed, rub your weary eyes and get started on that business plan.
Leslie Bosserman, a self-employed leadership coach, was tired of the notion that parents must squeeze productivity into the wee hours of the morning or the cracks of one's life. Longing for a way to be creative during the hours she felt most energized, she set out to develop The Makers Place, a community space for working families in early 2018.
Bosserman, who earned her bachelor's in communications and her master's in social justice and diversity education from UCLA, has been training people in the art of leadership for more than 10 years. After moving to Sacramento for her husband's job six years ago — and becoming pregnant that same year — she began to see a need for a support system for parents, one that merged child care and coworking.
She and her husband, Joel Bosserman, bought a house off Broadway in Sacramento, flipped it in 37 days, and created a haven for parents to work, drop off their kids, or both. Initially, the child care program focused on a cooperative-style membership (parents had to be present at the location), offering a range of three to 30 hours per week for children ages 0 to 5. Noticing that families affected by the coronavirus pandemic had entirely different needs, they pivoted the model toward a licensed drop-off preschool program. The Bossermans also recently added a kindergarten cohort for children ages 5-6 who were prevented from starting kindergarten by the coronavirus-related school closures.
In a world where the only constant is change, Bosserman is using her leadership experience to stay nimble and ensure The Makers Place continues to be a resource for modern parents with ever-fluctuating needs.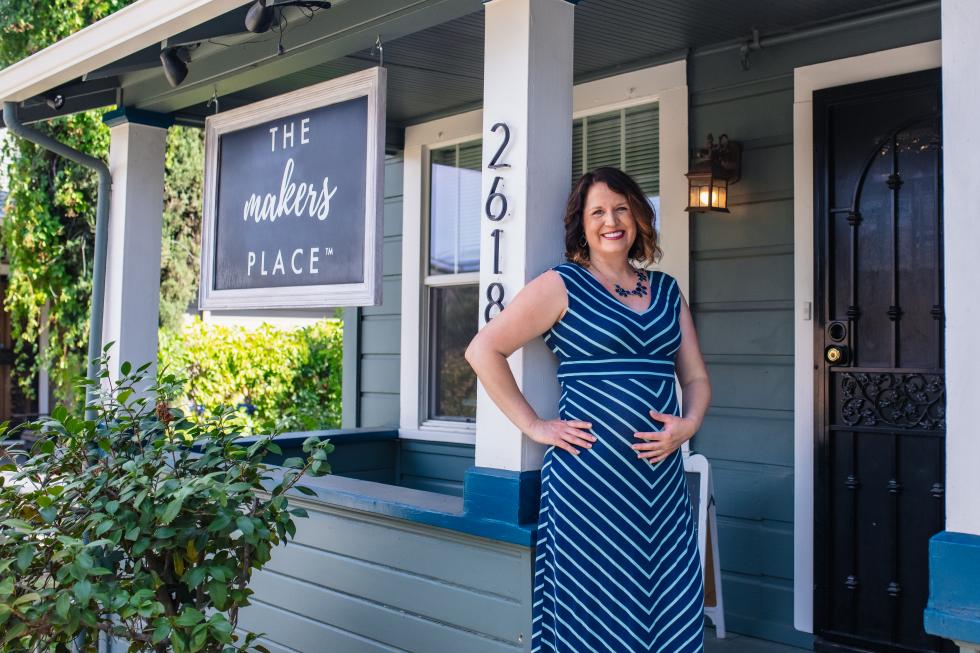 How I describe what I do: We provide a comprehensive suite of services for families: Everything from on-site childcare and coworking to fully licensed drop-off, full-day preschool. We also have free parent education workshops, leadership development coaching (and) collaborative workshops specifically for women.
We wanted a brick-and-mortar space where people felt at home that didn't have piles of laundry or dishes they have to do. Someone called it a day spa for parents, which is funny, cause we're obviously not a day spa, but pre-COVID, we did have on-site acupuncture, massage and mini facials. So I guess we kind of became a day spa. We partner with a lot of hyper-local businesses and do really great collaborations, but right now we're kind of bare bones.
My ethos of balancing parenthood and career: We started our family and I quickly realized that I wanted to be able to balance professional with personal in a way that felt holistic and not like a tug-of-war. And that's the struggle that most parents have, that they have to sacrifice something. So I said, "Well, what if we created a lifestyle where you're not just waiting to retire to do the things you love, but you're actually seeking fulfillment now?" And that's one of my life slogans: What if you lived for fulfillment, not just retirement?
How the idea of The Makers Place was born from first-hand experience: The idea came about when I was pregnant with my second baby three years ago. My husband came home and said, "Sacramento is changing a lot. What do you feel like we can contribute? What do you feel like is needed (so) that we have a unique way to serve the community?" I said, "Well, selfishly, it'd be great to have a coworking space for child care."
I thought, wouldn't it be great if there was a space that was intentional about, hey, if you're a nursing mom and you need a private space to nurse your baby or pump your milk, you don't have to do it in a bathroom.
It also primarily came out of what I saw missing in Sacramento. For new parents, what they do is they kind of figure out how to be a parent, figure out the routine of what their child needs and then they stay home, like, a lot. And parents become very isolated. And so it came out of my own lived experience of an extrovert in parental isolation.
A space for all parents, all professionals: Our space is not just for moms. A third of our members are dads, which is really neat. And it's actually grown even more during COVID, because parents are all home; they need the kind of space where their children are cared for. I'm finding more dads coming in saying, "I have a 1-year-old. I just need a few hours a week of child care so I can get my stuff done and so my wife or my partner can be at home and have time." And so it's been a really kind of unique shift in that.
The many makers of The Makers Place: We have a pretty diverse cross section of Sacramento, both in types of business and a lot of self-employed, true startups. Some are brand new parents who maybe leave their career they've been trained in, and they want to start something out of a passion project. So it's like a true chance to remake yourself.
We have people who have started artistic consulting businesses, all the way up to professional photographers, graphic artists, marketing specialists; and we have a couple of landscape architects. We have a few who work remotely for other companies because they're not based in Sacramento.
Our model for virtual community building: We host an internal virtual community where people can network and connect and build awareness. Because sometimes you're coworking and sitting next to somebody — or sitting at least six to 10 feet away from somebody — but you're usually doing your own thing and you never talk in depth about what you do.
So I have prompted posts in this virtual community that (encourage) people to shamelessly brag about what they're doing in a positive way, so promoting their business and their mission and their vision. In non-COVID times, we do community gatherings that are open to the public. We also do social events strictly for members to get to know each other and to come together, whether they're leadership workshops for professional development or social gatherings.
So there's a lot of mutual support. We've had people help other members rebuild a website or help with marketing or just be like, "Hey, can I get another set of eyes on it?" It's been fun to see that collaboration happen.
Encouraging parents to embrace their dual identity: When I was self-employed, I was trying to find the support I needed both personally and professionally while my husband worked full-time, and wanted to find other people who kind of got it and understood what it was like to run a business and try and do that while also having the dual identity of a mother.
I still remember my first phone conversation with one of our early co-op members. I was talking with her and her baby started crying and she said, "I'm so, so sorry." And I just stopped her. I said, "Why are you apologizing? This is your identity. You're still professional even if I hear your baby cry." She said, "It really struck me because it gave me permission to be me."
And that's what I want our space to be. I want our space to be a place where you can say, "I am this as a professional and I'm raising these three kids." That vulnerability is really beautiful and really raw.
Going from autopilot to creating space for creativity: I talk to clients a lot about tracking your energy throughout the day, when are you at your highest and when are you in your peaks and your valleys, and then try to match the things that require that creative passion or that energy during the peaks.
And sometimes people don't know they've just been in autopilot for so long, especially with young kids. I've had so many people come to our space and their first day or two, they just sit there with coffee and a blank notebook and they're like, I haven't felt this quiet and I don't know what to do with it. And it's almost like creativity has to invite them back in. It's a really neat unveiling process to witness and behold for people to recreate their creative side and kind of be called back to it because they've now set aside the space for it.
—
Get web exclusives like this delivered to your inbox: Subscribe to the Comstock's newsletter today.