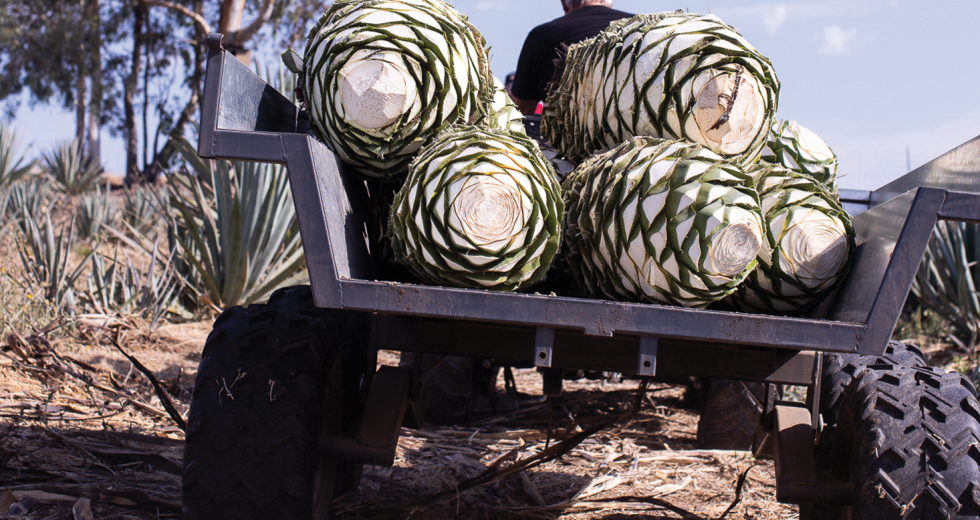 To learn about California agave spirits, click here.
Carlos Rodriguez found a piece of the California dream by taking inspiration from his childhood in Mexico. The Solano County roofing contractor recently planted 2,000 agave plants in his fields outside Vacaville, which he'll eventually use to propel the state's newest movement in craft spirits.
Rodriguez grew up in Tonaya, Jalisco, where his early years involved working with corn, beans and agave crops. He was 16 when he moved to the U.S. and started working in construction. Seventeen years later, Rodriguez launched his own roofing company. He enjoys running his eight-man crew, but he'd also been hoping to do something productive with the 33 acres around his house. It's in the heart of farming country, but it's on well water. It can't be irrigated.
In March, Rodriguez and his wife, Cecelia, were visiting family in Mexico when the sweeping views gave him an epiphany. "We saw all the fields growing agave, so when we came back, we started trying to find a way to do it here," Rodriguez remembers. The contractor soon discovered that Northern California agave pioneer Craig Reynolds was growing agave in Woodland just 30 miles away.
"Ever since we came back, Carlos had been talking about it; but we never knew that this was already going on," says Cecelia.
Reynolds gave Rodriguez a tour of his farm and ultimately supplied him with plantings. "One of the factors that makes California realistic for agave is how many people we have who already have backgrounds with it," Reynolds notes. "We have people from Jalisco who know agave, know how to plant it, know how to harvest it, know how to bring that experience to that table."
Being a tequila fan, Rodriguez intends to sell his matured plants to regional distilleries. In the meantime, friends who grew up around Mexican agave farms have been coming over to help him treat the roots and plant his fields.
"It's been really fun," Rodriguez says. "We all really enjoy working with the agave."
–
Stay up to date on business in the Capital Region: Subscribe to the Comstock's newsletter today.