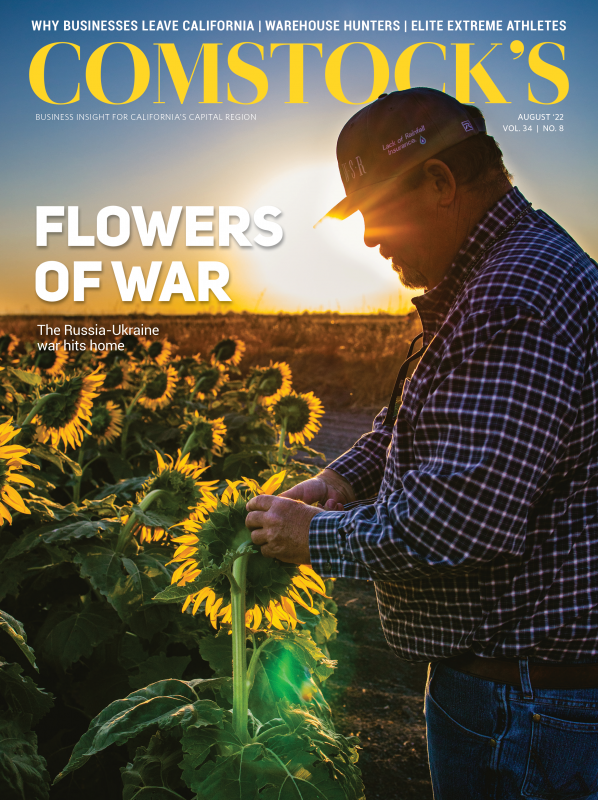 This story is part of our August 2022 print issue. To subscribe, click here.
All around Yolo County, small businesses celebrated the return of sunflower season in June and July. Turkovich Family Wines and Berryessa Gap Vineyards in Winters offered tasting flights paired with sunflower snacks, such as crostini with sunflower pesto and fresh mozzarella. At Park Winters, the bed-and-breakfast and event space that hosts invite-only influencer parties, visitors built their own bouquets with sunflower centerpieces.
There was a sunflower exhibit at the California Agricultural Museum in Woodland, and it was one of the stops on the Sunflowers, Bees & Brunch tour offered by SacTown Bites, which also included a photo opportunity at one of the county's many sunflower fields.
It's far from the only photoshoot that took place among the fields, especially during the golden hour before sunset when the rays cast a complexion-flattering glow across the flowers. Packs of friends toting cameras and recent-model iPhones took turns posing, occasionally breaking off a blossom or kicking over some stems in their quest for the perfect angle. Farmers put out annual requests for visitors not to trample or steal their flowers.
But this year, overzealous Instagrammers are the least of sunflower farmers' troubles. The region's most photogenic crop is facing a barrage of challenges, including supply issues related to the war in Ukraine, global currency volatility and drought.
An oil crisis
The majority of Yolo County's sunflowers are not destined to decorate bouquets or contribute seeds to multigrain crackers. Instead, most local farmers produce hybrid seed on contract with seed production companies, which in turn are under contract with multinational agricultural technology companies like Syngenta and Limagrain. The agtech companies develop the hybrid varieties and hire the seed production companies to produce them; the seed production companies hire the farmers to grow the sunflowers, then process and ship the seeds.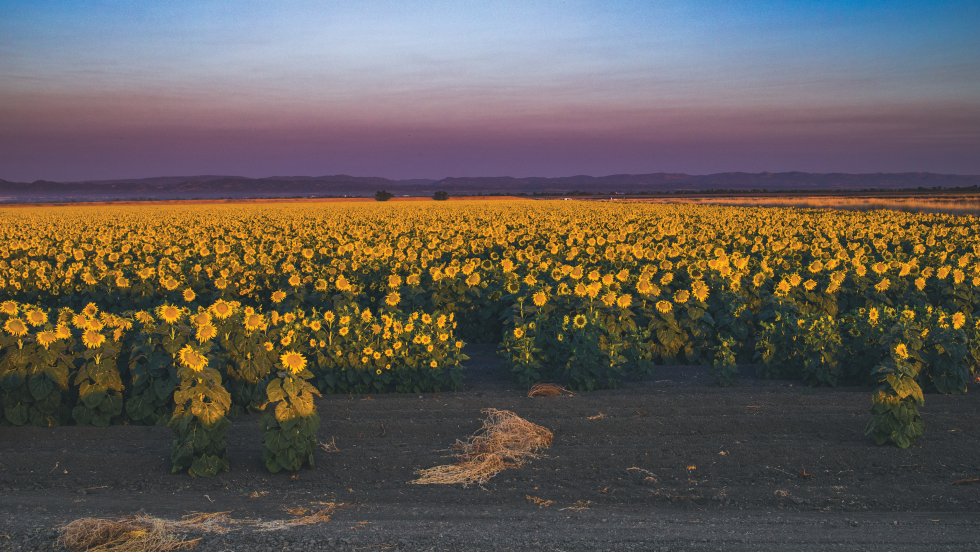 Like many globalized industries, the sunflower seed world is consolidating. The region's largest sunflower seed production company, Chico-based Sunfield Seeds, has been owned by multinational biotech firm Syngenta since 2012. Iowa-based seed company Pioneer Hi-Bred International, which has a location in Woodland, was purchased by chemical giant DuPont (now DowDuPont) in 1999 and has been owned by DowDuPont spinoff Corteva Agriscience since 2019.
In previous years, the lion's share of these seeds would be destined for Ukraine and Russia, which together produce more than half of the world's sunflowers, along with other countries in the former Soviet bloc. Sunflowers in this region are grown primarily for oil, with some bred for confectionary seeds (the kind you might eat at a baseball game). Sunflower oil is the primary cooking oil in much of Europe and is also a key ingredient in mass-produced snack foods like potato chips. Ukraine is the largest exporter of sunflower oil in the world, and the sunflower is the country's national flower.
As Ukraine's farms become battlefields and men of working age are conscripted into the military, millions of acres that would have been planted with sunflowers are lying fallow. Bloomberg reported that Ukrainian farmers are expected to plant less than 10 million acres of sunflowers this year, a decrease of more than 40 percent from last year. Meanwhile, Russia has put a quota on sunflower seed and oil exports in response to trade sanctions in order to protect its domestic food supply. Sunflower oil prices, which were already creeping upward before the invasion due to inflation, poor harvests and rising costs of doing business, are continuing to climb in response to this gap in supply.
As of June, sunflower oil was selling for about $40 per hundredweight at mills in North Dakota, more than double what it sold for in January 2021 — and the 2021 prices were already record-breaking. Food manufacturers have responded to the price hikes by shifting to other cooking oils like soybean and cottonseed, which has in turn increased the prices of those oils and the seeds that produce them.
The increase in sunflower prices is good news for some American farmers, such as those in North Dakota and Colorado, who produce seeds for oil and have mills nearby to sell to. A modest increase in sunflower acreage is expected in this region among farmers who hope that the elevated prices will continue into next year's harvest season. But Yolo County farmers, further from the final product, expressed less optimism.
"We've had a declining market for sunflowers for the last several years," says Colin Muller, farm manager of M Three Ranches. The family business farms several thousand acres in Yolo and Sutter counties, including about 500 acres of sunflowers. "Contract pricing has been rather stagnant, and they're not terribly desirable to grow any longer."
M Three Ranches' sunflower rows are neatly arranged in male-female order, like a line of kindergarteners. "There's a couple of rows of what we call a male variety that will produce pollen for a female variety adjacent," says Muller. "So you'll see a pattern of, sometimes, six female plants and then two male plants, six female, two male, et cetera." The pattern allows the farmers to ensure that bees pollinate the female plants with the correct pollen to produce the hybrid that the seed companies want.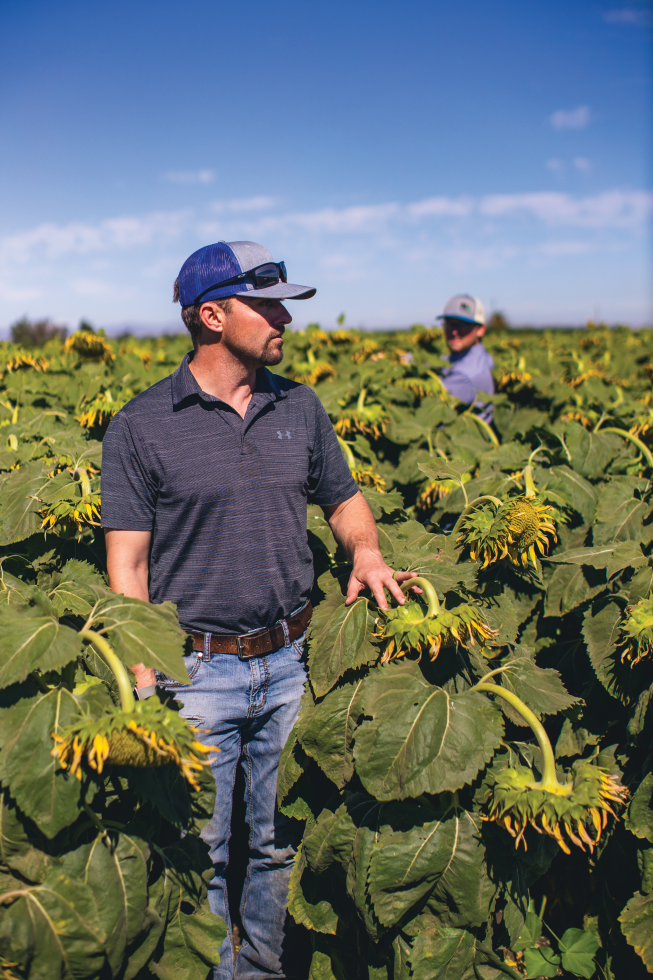 Growing hybrid seeds is a precise undertaking with significant inputs, including skilled labor, fertilizer and fuel, all of which have been rapidly increasing in price. Muller estimates his costs have increased between 20 and 30 percent over the past year. The seed companies' prices have not increased in step, and Muller is concerned they will buy less in response to the drop in demand from Russia and Ukraine. Worst of all is the drought and the resulting water cuts that left Sacramento Valley farms without the irrigation their crops need to survive.
"Economically, it's just one of the worst crops to grow these days," he says. "You can't project any profit at their current pricing." He has considered getting out of the sunflower market altogether, though his family has grown the crop for generations.
Seed money
Sean Doherty, co-founder of Sean Doherty Farms in Dunnigan, has a sunnier outlook. The third-generation farmer primarily grows rice on his windswept land near the northern Yolo County border, but he often sets aside 1,000 acres or more for sunflowers each year. "There will always be sunflowers produced here in the valley," he says. "It is the best place in the world to raise hybrid sunflower seeds."
"There will always be sunflowers produced here in the valley. It is the best place in the world to raise hybrid sunflower seeds." Sean Doherty, co-founder, Sean Doherty Farms
In non-drought years, he explains, the Sacramento Valley's dry climate is a boon for the flowers, which are susceptible to parasites and fungi. "You can produce hybrid sunflower seeds anywhere, but say in the Midwest, you'll get a rainstorm come through, and all of a sudden you have your molds and your mildews," he says. "We don't get any rain at all during the growing season. Everything's very uniform, very specific, very precise."
But because sunflowers, which are native to North America, can be produced in any temperate climate, the seed companies can easily be wooed away by farmers in regions with lower cost inputs. That means local farmers are being affected by another oblique consequence of the war in Ukraine: a strong dollar.
Compared to other global currencies, the U.S. dollar is currently at its highest value in two decades. An American shopper in Paris or another foreign city may feel as though everything is on sale, though prices are rising at home. That sale also applies to multinational companies looking to source materials; a strong dollar will make these companies more likely to seek cheaper options outside of the U.S.
Several factors are contributing to the strong dollar, including the Federal Reserve raising interest rates (meaning higher returns for investors), the economically disastrous zero-COVID policy in China, and the war in Ukraine. The dollar tends to increase in value whenever there is war and market volatility elsewhere in the world because, notwithstanding our faults, the U.S. still has a reputation as a safe and reliable home for cash. The increase in foreign investments bids up the dollar.
So despite the favorable conditions in California, the strong dollar (and some of the highest fuel prices in the country) may make Sacramento Valley sunflowers too expensive for value-minded multinationals. Doherty says the companies he contracts with have already expressed concern on this point.
"The main discussions we were having all centered around currency exchange rates," he says. "Sometimes our currency gets too strong and costs them too much, and they can produce elsewhere for cheaper: say in Turkey, South America, Southern Europe. It's all based on how much they can get."
But like Muller, Doherty's most immediate concern is the drought. Many of his rice fields, usually flooded and reflecting the blue summer sky, remain dry this year; he only planted four fields in the spring. He also decreased his sunflower fields to 220 acres, down from over 1,000. "I don't have water to irrigate it, so it's completely dry land," he says. "It's just relying on rain that fell through the wintertime to sustain this crop to production through harvest."
Dry times
California is in its third year of drought, and farmers across the state are struggling to adapt to increasingly dry conditions. But the Sacramento Valley has been saddled with an especially punishing ordeal: For the first time this spring, the water district delivered no water at all to roughly 800 agricultural customers in the region, CalMatters reported in May. It was a shock to local farmers, who believed their supply was guaranteed under the vestiges of the 19th-century water rights system and the agreements that form the framework of the Central Valley Project.
The water cuts may serve to accelerate efforts some farmers are already undertaking to transition their fields to crops that require less irrigation. One of these is another commodity affected by the war in Ukraine: wheat.
Russia and Ukraine both make up one of the world's most important breadbasket regions. Russia is the world's largest exporter of wheat, while Ukraine is the fifth largest, and together they produce more than a quarter of the world's supply. Much of the grain grown in this part of the world is destined for countries in Asia, Africa and the Middle East. Wheat and other food products are exempt from trade sanctions against Russia, but sanctions on Russian ships and other disruptions are preventing exports. These disruptions have already driven up the price of wheat more than 60 percent, and the price is only expected to rise as the conflict continues.
Wheat can't be considered a drought-resistant crop; soon after wheat production started in the Central Valley in the 1880s, it petered out when farmers realized there were other crops better suited to the dry climate, such as barley. But unlike many of the crops most popular in the Sacramento Valley today, such as rice and almonds, winter wheat doesn't require major irrigation, and its growing period coincides with the valley's brief rainy season.
"It's a low input, low chance of profit margin crop," says Muller, who is considering increasing his wheat acreage in response to rising prices. "It hasn't been as desirable in recent years until now. It's looking like something that's a viable option that the world is going to need."
Doherty also grows wheat and is seeing promising signs in the market. "People are booking next year's winter wheat right now, because prices are good," he says. He's keeping an eye on prices to determine how much he'll plant.
Flower seekers
Despite the declines in acreage and the mounting challenges associated with the crop, tourists still drive in to see the sunflowers that remain in the Sacramento Valley. The region is home to the largest chunk of California's roughly 70,000 acres of sunflowers and attracts visitors from across the state during the blossoms' summer peak.
To guide these visitors through the region, the Yolo County Visitors Bureau has developed a Sunflower Experience Pass that lists local businesses running sunflower-themed events, including wine tastings and balloon rides. Notably, it doesn't include a list of sunflower fields.
"Sunflowers are huge in Yolo County, and we have visitors coming from all over to view them," says Tiffany Dozier, PR and communications director of the Yolo County Visitors Bureau. The bureau only works with two or three sunflower farmers each year, who allow visitors on the SacTown Bites tour, she says. On its website, Visit Yolo, the bureau posted a list of dos and don'ts for flower seekers that discourages parking or walking on other farms. Most farmers don't want visitors on their property, Dozier notes.
She says the farmers who take part in the tour have not indicated a need to reduce acreage but acknowledges that her sample size is small. "Given that we only work with a few select farmers who are willing to host visitors, we don't anticipate seeing any decline in the consumer sunflower interest for our experience pass," she says.
For now, the photoshoots and wine pairings will continue, even if the flowers look more sun-dried than usual and the yellow blooms don't stretch quite as far toward the horizon. The real test will come next season, after seed companies have adjusted their buying practices to global conflicts, especially if the fighting and the drought drag on.
"The world is still just sorting it out," says Doherty. "It's going to be interesting to see how that plays out over the fall and winter, between this runaway inflation and supply chain disruptions. … I don't know if everything has affected us yet, but it surely will by next year."
–
Stay up to date on business in the Capital Region: Subscribe to the Comstock's newsletter today.