Out on County Road 26, just west of Interstate 505 in Yolo County, Park Winters sits holding court against a backdrop of the Vaca Mountains as it has since George Washington Scott built the mansion in 1865. Now under the ownership of partners John Martin and Rafael Galiano, this 151-year-old 10-acre property is thriving with new life, while harkening back to the times when the surrounding 14,000 acres were farmed by the Scott family.
"We never expected to be in the country," Martin says. They had plans to develop a country property as a sister to their San Francisco Victorian Inn. After purchasing and renovating Park Winters in 2011, both men saw their desire to return to the city slowly ebb. "As time went on we just kept saying to each other, 'Well, you go on to San Francisco this time,' and we just decided it was time to sell our San Francisco property." In 2012, they sold their Victorian on Divisadero Street and redoubled their efforts in the mansion in Winters.
In the four years since then, the property has continued to evolve into a unique hybrid of amenities, providing inn stays, day use of the property's pool and grounds, farm dining experiences and private events. While luxury abounds at Park Winters, the partners did not have the luxury of a bottomless purse and a lackadaisical construction timeline. Starting from the very beginning, the duo balanced sweeping renovations with refined soirees.
"We were hosting events while we were building; we had to come up with a clever dance," Galiano says. "We were doing construction Monday through Thursday, then we had to do a heavy cleanup and then Friday, Saturday, Sunday we would operate, starting over again on Monday."
To support the year-round events, Galiano and Martin designed their newest addition the the property: a modern barn that provides indoor event space for shelter against the hot valley summers and occasional winter rains. French doors around the room frame the sweeping views of sunflower fields and walnut orchards against the silhouette of the Vaca Mountains in the West. Galiano designed a space that intersects the opulence of city living with unrivaled agricultural grandeur of the Sacramento Valley.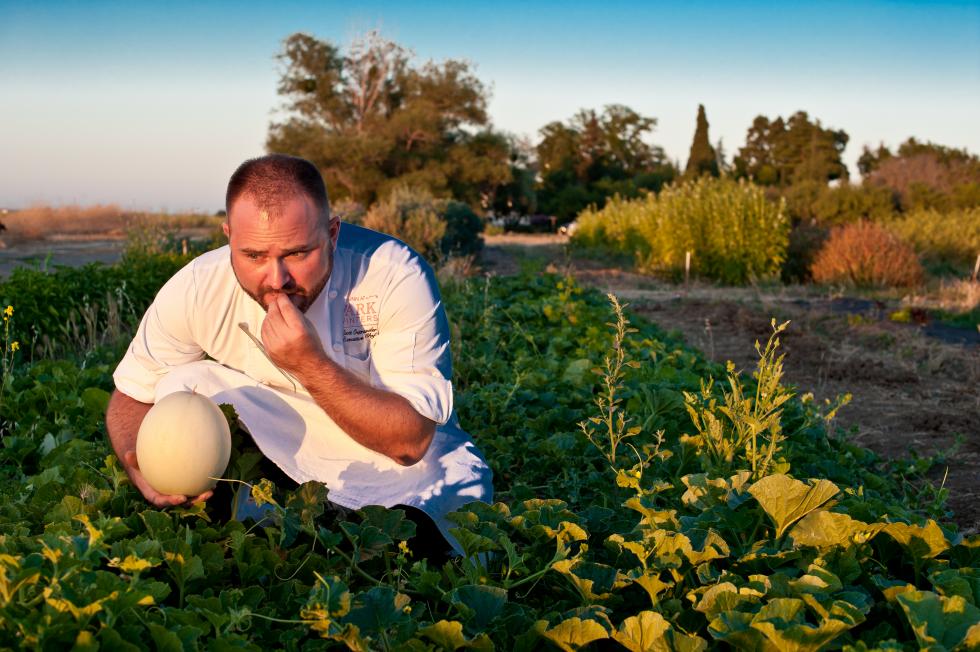 In raising the barn, Galiano and Martin built out a full kitchen in order to develop their own in-house food program. The realities of keeping a full-time kitchen staff led them to pursue yet another addition to the property, The Restaurant at Park Winters, which opened at the end of December 2015.
"We knew from the beginning that we wanted to do farm dinners," Martin says. "In order to attract and really keep a full-time kitchen with people such as Chef Scott Ostrander and all of our amazing chefs, they can only dedicate themselves to us on a full-time basis." To do this, The Restaurant at Park Winters opened up five nights a week for fine-dining farm dinners.
Ostrander, a Sacramento native, left his Chef de Cuisine at Paragary's in October 2015 to open The Restaurant at Park Winters in a short two-month ramp up. "We didn't have anything," Ostrander says. "We didn't have sugar, we didn't flour, we didn't have bins to put sugar and flour into. We spent a month getting what we needed and another two weeks refining what we needed equipment wise; we really had to get creative to get through."
Ostrander was soon joined by Chefs de Cuisine David Dein and Paul DiPierro and Sous Chef Taylor Lovelace. "In two months, we had the opening menu finalized and then we had a good opportunity before we opened to the public to do private parties for that menu," he says. "It was very hard, but we figured out what our limitations were and we found out what we were capable of. By the time we opened the restaurant, we felt really good about how we operate and we hit it off when we opened."
The kitchen staff has turned one and a half acres of the property back into a farm. Ostrander made a call to Suzanne Peabody Ashworth at Del Rio Botanical, who had pushed for him to make his way out to Yolo County for years. "Two days later, she had an entire year mapped out in terms of crops, how long they go, when to plant, them, like an entire farmer's almanac itinerary and all the seeds for all of these crops, and she said, 'I'll be there.'"
Soon, Peabody Ashworth was surveying the property and planning out the rehabilitation of the land for farming. The neighboring farmers pitched in, bringing in 14 dump trucks to haul off years of accumulation, levelling, tilling and irrigating the land. "Within two weeks, we had this blank canvas to grow whatever we want," Ostrander says.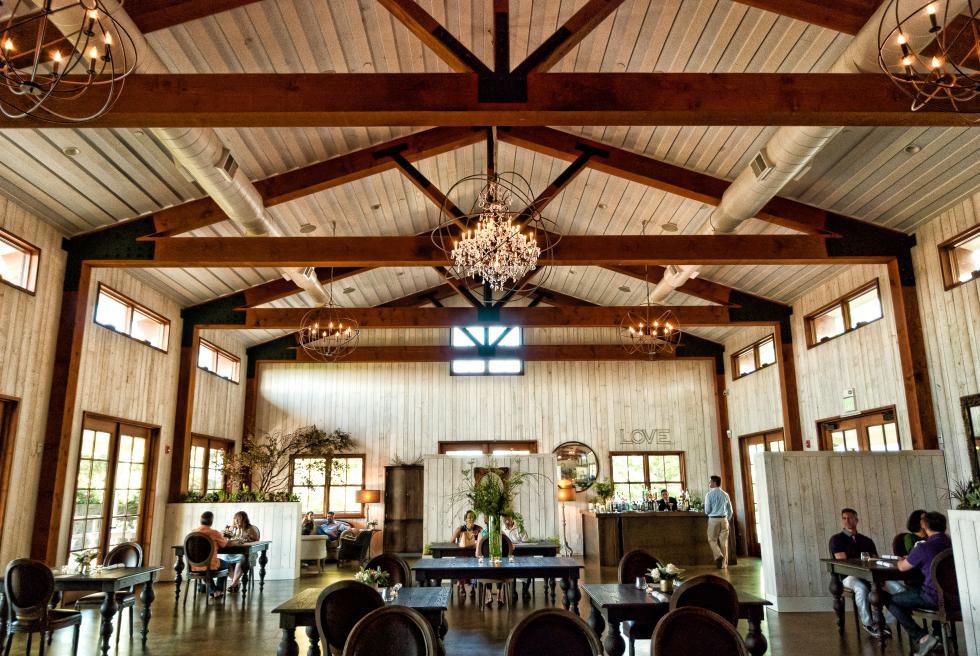 According to Galiano, "All our chefs got on their hands and knees and planted all of our seeds on the farm when we first got started. Now, we've graduated to a farm manager and several interns. It connects to all of us. We all work together — nobody works for us — to serve the guest."
The remarkable bounty of the farm curls its tendrils onto each plate, as if the crops have pulled themselves effortlessly from the field sunk roots right into the floor of the kitchen to inspire the chefs to preserve their unrivaled freshness. The restaurant is open Wednesday through Sunday, reservation only, with a prix fixe menu that changes every four to six weeks in line with the produce coming out of the field.
I visited The Restaurant at Park Winters at the height of summer, with the field-ripened produce practically at its peak. Ostrander and his team put together a six course menu along with some off-menu surprises inspired by the property-grown fruits and vegetables. For an amuse, a handmade tomato ravioli filled with tomato water and topped with shaved parmigiano reggiano tasted so fresh and bright that I'm still not convinced that they don't have a ravioli vines out in their field somewhere. The garden crudité is also the most beautiful plate of food I've been served, with a gem lettuce mousse atop an ice disk and a mixture of young vegetables, herbs and edible flowers that would appear to house a secret fairy village within its depths. I have to say that I played the monster and demolished their fairy city with reckless gluttony.
Whether it be peas and pea shoots and pea tendrils from the property or corn and walnuts from the neighbors, everything is utilized across the menu. "Our neighbors were coming to us saying, 'We want you using our products, can you use it and make it into something we've never seen before?'" Ostrander says. "With corn from our neighbors, we cut the corn off the cob, use the cobs to make corn stock, poach the corn kernels in the corn stock, make corn milk by pureeing it. Even candying the corn silk and frying it to make it into a nest."
On another dish, a well-seared scallop balanced by a oceany scallop ceviche, accented with piped gems of velvety avocado and chile sauces, with sprays of vegetable curls and vibrantly chartreuse frisée. As a main, the gracefully medium rare Richards Ranch New York strip focused the diner upon the quality of grass fed beef, with sweet corn and a fried fromage blanc stuffed squash blossom that was so delicious it tastes imagined. Not on the menu that evening was a sous vide, liquid nitrogen frozen, deep fried, basted and broiled pork belly that came perched upon a cake stand the size of a postage stamp. It was such a deep red I mistook it for a cube of raw tuna as it made its way to the table; the only negative was that they didn't send 10 more. The berries and cream dessert featured yolky champagne sabayon and olive oil cake; the fresh berries in combination with the other components leaves eaters feeling satisfied and not satiated.
The wine pairing for the menu featured representing wine regions not often purchased by the casual wine buyer. The 2015 Rose Esprit Gassier from Chateau Gassier and the 2007 5 Puttonyos Tokaji from Disznoko were my particular favorites. Also worth ordering are the many signature cocktails mixed by lead bartender Felicia Montenegro.
"Right now, 9 out of 10 of the guests that come to these dinners are celebrating something special," Martin says. "It's an anniversary, it's a birthday, it's friends who like to get together and have a foodie experience."
For more information about the Inn at Park Winters, visit www.parkwinters.com.