Maltese pastizzi comes in two classical forms, delineated by how the finely fissile pastry — laminated with both butter and lard — folds around its savory filling. Shell-shaped pastizzi, clamped tight like clams at low tide, conceal peas cooked to their melting point and spiced with a subtle curry that's more English (Malta's most recent colonizers) than Indian. Those with the seam down the middle, winking coyly open, usually bear ricotta flecked with herbs. The latter shape gives rise to pastizzi's role as ribald slang in Maltese.
Their more important role is as an affordable and ubiquitous snack, available at countless bakeries and cafes in the small Mediterranean island nation for less than a euro each. Starting next month, they will also be available from the new food truck For the Love of Malta in Sacramento.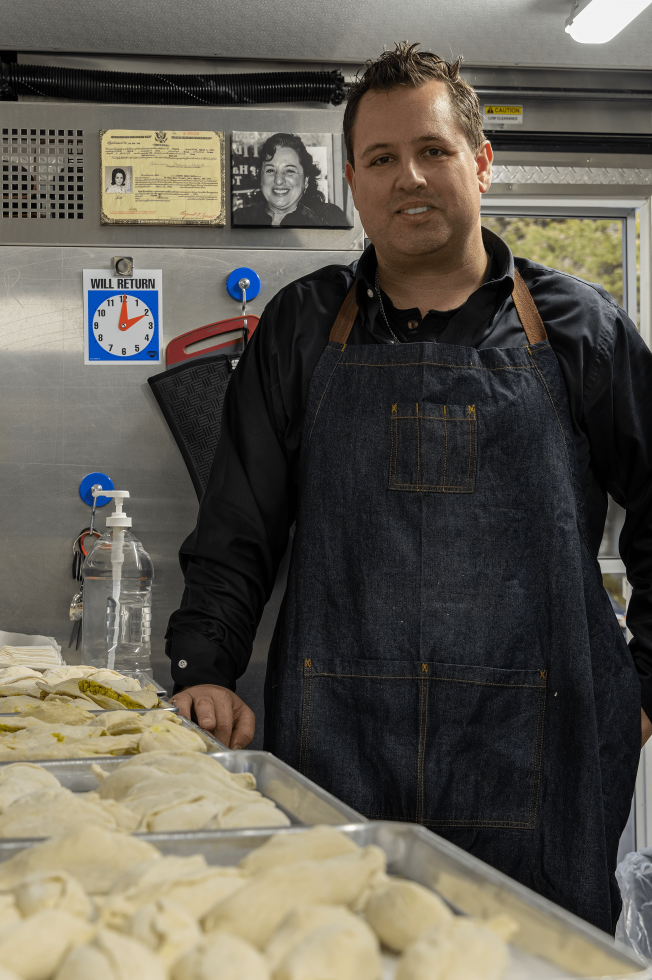 For the Love of Malta is owned by Christopher Mack, a Sutter Health executive director who worked his way up in the health care system from a cleaning job. He first visited Malta in 2018, retracing the steps his mother took before she emigrated from the country with her parents at 8 years old. There, he experienced the reckoning that often comes to children of immigrants in their ancestral homelands.
"The minute I stepped foot there, I was like, I get it. I get some of the stuff my mom does, I get some of the stuff I was raised with. It was like it all sort of clicked," he says. "I came home and I told my partner and my two kids, I have never felt more Maltese in my life. And I just immediately was drawn to how can I further connect to my heritage."
He started learning to make pastizzi with his mother, a strict teacher. "I would make her something, and she was like, 'Oh my gosh, this is gross. Like, no, you need help,'" he says. Together they recaptured the recipes her parents brought from Malta, kneading memories between the layers of dough.
Mack found his first taste-testers through the nonprofit Loaves and Fishes in 2019. On weekends, he would make about 200 pastizzi to be distributed at encampments around the city. By the time the pandemic lockdowns sent his day job to his home office, he felt ready for a career change and met with agents at Turton Real Estate to discuss opening a restaurant.
"They were so honest with me," he says. "They were like, 'We know that sounds romantic in your head, but don't do that.'" They encouraged Mack to start with a food truck instead. A Google search revealed that a pastizzi food truck already existed a few states away: Malta Joe's Baked Goods in Tucson, Arizona.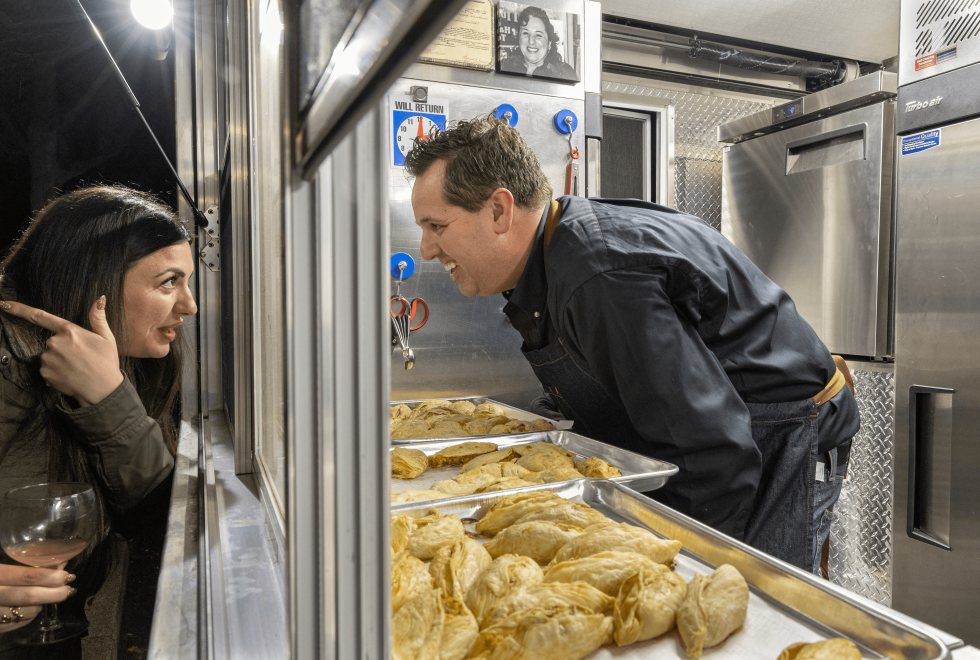 Founded in 2016, Malta Joe's won fans with all-American flavors like pumpkin spice and Hatch chile in addition to traditional ricotta and curried pea. It's now one of the only businesses in the U.S. that ships frozen pastizzi around the country. Mack sent owner Joe Gauci a message offering to work with him for free, and in October 2021 he flew to Arizona to help at a farmers market and an Oktoberfest event.
Mack wrote his business plan soon after he returned, bought a custom food truck in 2022, and spent the intervening year working through the long and costly list of courses and licenses that the state, county and city require for mobile food businesses. "If I didn't have a well-established job and I didn't have good savings and I didn't live in an affordable area like I do, I don't know how I would ever have realized this vision," he says. "It's shocking to me how expensive it is. We should be encouraging new businesses and not discouraging by putting extra, unnecessary steps in the process."
While waiting to be allowed to sell his products, Mack continued to give them away for free. Around Christmas, he made a few dozen for a woman who found his Facebook page and asked to buy pastizzi for her Maltese father. "I said I'm not ready to sell to people right now, but I am more than happy to give," he says. "She said it passed her dad's test, and it reminded him of the homeland."
The food truck itself, which will make its official debut at the Capitol Beer Fest on March 4, is wrapped in memories of the homeland. Images of postcards from Malta (featuring Mack's own photographs) cover three sides of the truck's vinyl wrap, some printed with breathless vacation missives. Mack says each postcard is dedicated to someone who supported him. To one, he wrote: "The minute I stepped off the ferry I could smell pastizzi and purchased some from a street vendor. … I love Malta and you!"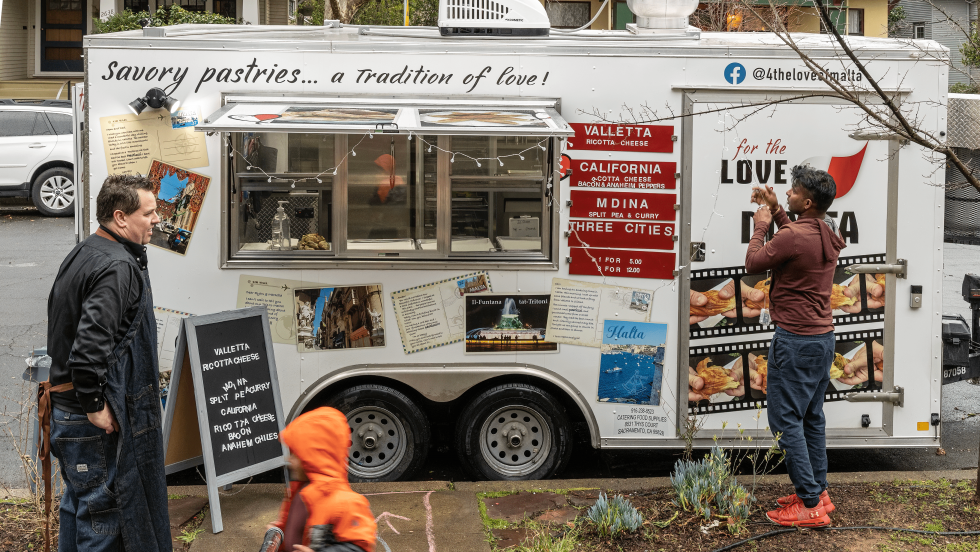 On a recent Friday, the scent that met Mack on the ferry dock in Malta ribboned through a street in Curtis Park as he held an under-the-radar event at a friend's house. Neighbors lined up for ricotta and curried pea pastizzi, along with a bacon, cheese and Anaheim chile variety called "California." These emerged from the truck's gleaming-new ovens burnished gold, bacon glinting through their center seams.
The California pastizzi are calibrated to local tastes, and Mack hopes they will serve as an entree to the culture of a place few Californians can point to on a map. "I really like the idea of introducing people to a food that they have no clue what it is," he says. "I would just love it if out of 1,000 people, a couple hundred people that come to my truck feel like they want to go visit Malta."