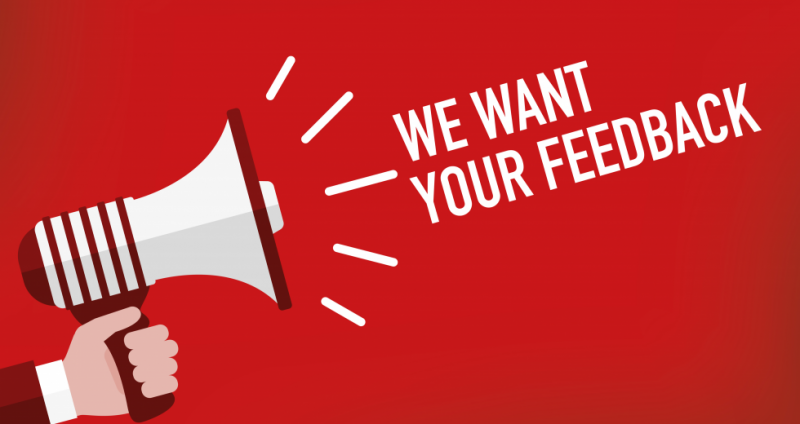 Tell us what you want to see in Comstock's magazine: Take our reader feedback survey here!
It's a Friday afternoon in Fair Oaks, and Marty Maskall wants to show off her pool. Well, it's not her pool, exactly; it also belongs to her neighbors. And it's not yet ready for splashing around, but once it's up to code and filled with water, she knows it will be a big draw for adults and kids alike.
The pool, at the edge of an adjacent clubhouse, is just one gathering place at Fair Oaks EcoHousing, a new 30-home cohousing development tucked away on 3.7 acres near Sunrise Boulevard. The two-story clubhouse is empty today and has been since residents started moving into the development in June 2020. But while the COVID-19 pandemic and ensuing shelter-in-place guidelines have had an impact on some aspects of communal living, a companionable vibe still thrums through this community, which Maskall cofounded.
Residents chat while they garden in their yards, and in the evenings, a small, socially distanced group might gather to watch a soccer match on a nearby strip of grass. Throughout the day, homeowners often relax on their porches, sipping drinks and waving to those who wander past. That neighborly spirit is by design.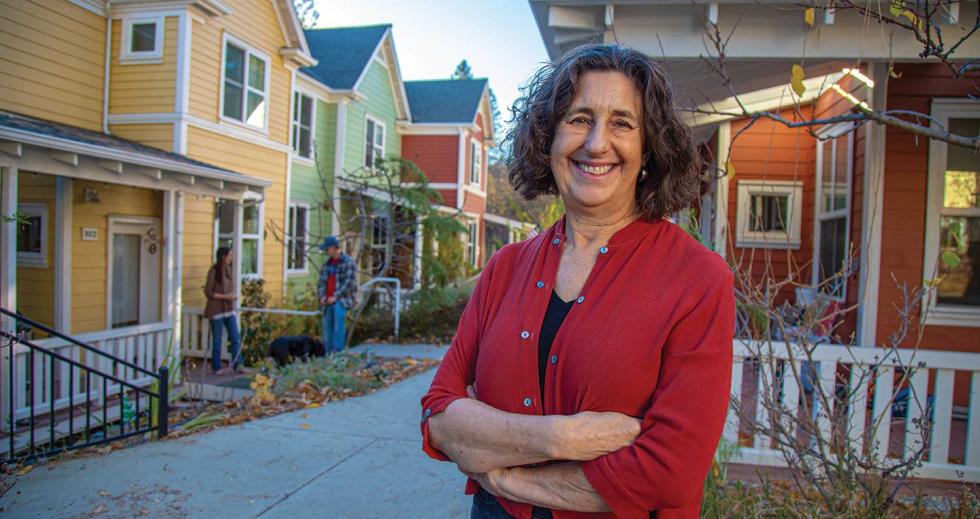 The modern concept of cohousing originated in 1967 in Denmark when groups of families, unhappy with existing options, sought to create "intentional communities" that centered on sharing spaces, resources and skills. This idea eventually migrated to the United States via architects Kathryn McCamant and Charles Durrett, who embraced the concept after visiting Denmark and coined the term cohousing. In 1988, the couple published what's widely considered the definitive book on the subject, "Cohousing: A Contemporary Approach to Housing Ourselves."
Cohousing shouldn't be confused with the concept of communal living, where residents usually share the same living quarters. The Cohousing Association of the United States defines cohousing as "community designed to foster connection," where physical neighborhood spaces, outdoors and indoors, give residents a place to interact outside of their private homes. The prevailing philosophy, according to the organization, is one rooted in unity: "Collaborative decision-making builds relationships."
Durrett was inspired by the trip to Denmark, where he says he observed "highly functional" neighborhoods. What appealed to him, Durrett says, is the neighborly way people gathered outside and in the common house to socialize. "It was the way (people) knew each other, cared about each other and supported each other," he says.
McCamant, now president of Nevada City-based CoHousing Solutions, which works with such communities, says one has to experience cohousing to understand it. "You have to live there to really get it in your bones, to understand what it feels like to be surrounded by people that you know and that are there for you," says McCamant, who, like Durrett, lives in Nevada City Cohousing.
"When I'm at home, I feel like it's OK that I'm there by myself because there's activity right outside my door. It's a balance of privacy in your home and community at your doorstep."

MARTY MASKALL Cofounder, Fair Oaks EcoHousing
Or, as Maskall sees it, it's about living independently, even as you get by with a little help from your friends. "When I'm at home, I feel like it's OK that I'm there by myself because there's activity right outside my door," says Maskall, who lives with her partner of 30 years. "It's a balance of privacy in your home and community at your doorstep."
Fair Oaks EcoHousing, which promises smart growth, green design and quality of life for its residents, is one of the region's newest cohousing developments and one of more than 160 such communities throughout the United States. With at least 10 such communities in the Capital Region, it's a noteworthy trend as homebuyers seek options that invest in sustainability and personal connections.
From the Ground Up
Maskall thought she'd want a dog once she settled into her new home, but many Fair Oaks EcoHousing residents already have dogs. So far, she's happy just playing with the ones she encounters on her daily walks. "They're all so friendly," she says as she watches a neighbor's dog amble by.
As she walks the grounds, Maskall stops to greet neighbors. Her path winds through a layout that puts the focus on shared spaces. There's a central garden, and the clubhouse, which, in addition to its pool, has a kitchen, communal laundry room, children's playroom and upstairs guest quarters. Two colorful rows of single-car garages are stationed near the neighborhood's entrance at a considerable distance from the homes, as if to emphasize that the point here is staying, not leaving.
The development bustles with friendliness, even during a pandemic. The condominium-styled homes, which range in size from 934 square feet to 1,726 square feet, share exterior walls and roofs and boast wide, sweeping porches that face toward a common grassy area, buzzing with honeybees that dart between drought-tolerant flowering plants such as lavender.
In 2003, Maskall fell in love with the idea of cohousing after she visited a friend at Southside Park Cohousing in downtown Sacramento. "I said, 'You know, the world needs more of this,'" Maskall says. "I had no idea what I was getting into and just forged ahead, but it's been a tough road."
Fifteen years passed between Maskall finding and purchasing the Fair Oaks property. During that time, she contacted Durrett and McCamant, and with Durrett's architectural skills and guidance from McCamant, whom Maskall hired as a development consultant, Maskall scouted properties. During that time, she also recruited buyers and investors to buy into the future development. The process was slow, however, as Maskall compiled a spreadsheet with more than 100 possible options, including the Fair Oaks location, which she thought of as her dream spot. She approached its owner about selling, but a deal eventually fizzled over money.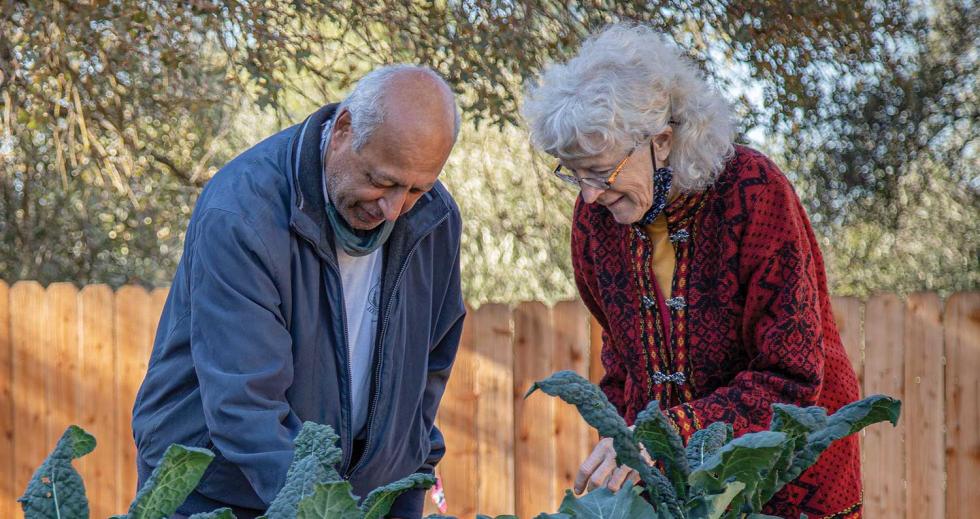 Maskall persisted, and by 2006, they'd found property in rural Orangevale. They met resistance, however, from area homeowners who worried a cohousing community would be disruptive. Then the recession hit, and the group had to abandon its plans. Another similar heartbreak followed in Folsom, but several years later, the seemingly impossible happened: The Fair Oaks location came up for sale again.
By 2014, Maskall and her cohorts were in full swing, raising money and getting permits. They broke ground in 2017.
Durrett, who counts Fair Oaks EcoHousing among the 55 cohousing developments he's designed, says there's a central philosophy that links each community. "The design process is about figuring out the culture of (a community) and wrapping the neighborhood around that culture," says Durrett, who owns the Cohousing Company, an architectural firm that works with new developments across the United States.
For example, culturally, Americans don't want to hear their neighbors, says Durrett, who has also authored several books on the subject, including the forthcoming "Designing Cohousing." This means that townhomes, such as the ones at Fair Oaks EcoHousing, are usually the better (and more affordable) option. With their shared walls, they allow residents to enjoy both privacy and socializing.
Gina Massey, one of the first to move into Fair Oaks EcoHousing last summer, wanted that mix of privacy and camaraderie. Massey, widowed and living in Granite Bay at the time, had retired from being a nurse, and her children had grown up and moved away. But she longed for community. Then she attended a talk Durrett gave on the still-fledgling Fair Oaks EcoHousing. The presentation sold her on the idea of living and sharing space with her neighbors, even though the project had yet to break ground. She says she likes cohousing's promise of shared meals and neighborly check-ins. "Human contact adds richness to your life."
The Growth of Cohousing
Less than 20 miles away, Anne Geraghty also sees the potential in the empty spaces of Third and G streets in West Sacramento, where her project, Washington Commons, is in development. Geraghty learned about cohousing after a work retreat at Muir Commons in Davis, the region's oldest such community, completed in 1991. "(Cohousing's) immediate appeal was that somebody else would make dinner for me," Geraghty says with a laugh. "I loved the idea that you could do things with people, but you also had your own space."
Laurie Friedman, a founding member of Muir Commons, says cohousing allows residents to create harmony between the vital parts of our lives: community, work and play. At Muir Commons, as with most other cohousing communities, decisions are made by consensus (with a fallback to a majority vote if necessary), and residents sign up to work on various committees that include gardening, maintenance and entertainment. (Residents who can't or don't complete committee work are instead charged a fee.)
"When I'm in my backyard, it's private, but when I go out the front door, it's an instant neighborhood," she says. "That's why it works for people — it's not a commune, it's a nice balance."
Geraghty, seeking that balance, attended a seminar taught by McCamant and considered living in her own intentional community. She wanted an urban location, a place that combined green spaces with city amenities. With the help of McCamant, she approached several developers, including Fulcrum Property founder Mark Friedman, who, ultimately, helped Geraghty and her team secure the half-acre lot.
Now there are plans to break ground this year to build 35 private, single-level condominiums, which will be part of four-story structures that include first-level garages and a second-floor common dining space. The homes are expected to range in price from approximately $400,000 for a one-bedroom flat to $770,000 for a two-bedroom home. In addition to a mortgage, residents will pay monthly homeowner fees for maintenance on shared spaces and landscaping, internet, and other amenities.
One of the more notable hurdles for developing communities is getting potential buyers to opt in with a 20-percent down payment. That can be an obstacle for some, particularly younger buyers or first-time homebuyers who've yet to build up real estate equity, Geraghty says.
Still, Geraghty says Washington Commons should be attractive to potential buyers. With its proximity to the Sacramento River and downtown Sacramento's shops, restaurants and nightlife, Geraghty says Washington Commons offers environmentally friendly high-
density living. Think of it as city life without the congestion and the added bonus of electric energy, solar panels and a smaller carbon footprint. After all, why drive when you can just as easily walk?
Washington Common's location and design work in partnership with nature, not against it. That concept is particularly important, Geraghty says, in pandemic times. "The condos open up to an (outside) veranda or hallway," Geraghty says. "People sit outside and convene as a group in the courtyard."
McCamant says such eco-friendly design also helps draw in those who worry about the impact of climate change. Part of the cohousing attraction, she says, is creating a more sustainable lifestyle. Cohousing gives people that option without sacrificing convenience. With close neighborly relationships, community gardens and a swap-and-share ethos, McCamant says, residents tend to drive — and spend — less.
"For me, that's why I do the work of trying to get communities built," McCamant says. "In the U.S., we desperately need good models where you can live a good life and use less resources."
It's a Lifestyle Choice
Many years ago, when McCamant's daughter was still in high school, she and a friend wanted to bake chocolate chip cookies for firefighters battling a nearby wildfire. Neither had the needed ingredients but instead of driving to the store they resorted to a closer resource: their neighbors in Nevada City Cohousing. "They worked their way down the row of houses, knocking on doors until they had everything they needed," McCamant says. "They never even left the property."
McCamant and Durrett, her ex-husband, raised their daughter in cohousing — first at Doyle Street Cohousing in Emeryville, which she and Durrett cofounded in the 1990s, and then later Nevada City Cohousing, which opened in 2006.
Nevada City Cohousing's 34 homes sprawl across 11 acres of wooded terrain. There are native pines as well as fruit trees, including lemon, peach and apple. A large community garden, perched along the property's top ridge, is popular with children because of its plentiful berry harvest. McCamant says she planted them here with a specific vision. "I figured if we lined the path with strawberries, it'd be a good way to get (the children) up here," she says.
For McCamant, cohousing hasn't just been an architectural pursuit, it's been a lifeline.
Until the boom of the single-family home and modern car culture, McCamant points out, people lived and congregated in small towns and villages, helping each other raise families. "Before, there was never this idea that only the mom and dad were supposed to take care of the kids," she says.
Modern living has mostly eroded the idea of such community care, she says, and the resulting "nuclear family" unit — mom, dad and kids in a single-family home — is often isolating. Now, she says, as our concepts of family and household continue to evolve, so do our ways of providing shelter. "(With) the changing natures of families and households, it's not just the nuclear family that is the dominant family type," she says. "We've had this radical shift in the household."
Cohousing is one answer to that shift and, McCamant adds, it's a solution for all generations, including aging seniors, who for health and safety reasons want to live closer to others, and young families struggling to balance work and family life.
The coronavirus-induced lockdowns have made it more clear, she says. Instead of group dinners and other close-quarter gatherings, residents have, like much of the nation, taken to Zoom for meetings and get-togethers. Recently, neighbors staged a talent show on the terrace, and everyone watched from their porches or via videoconference.
"The pandemic is just a really good reminder that who you live next door to matters — proximity matters," McCamant says. "Relationships are deeper than any specific space."
–
Tell us what you want to see in Comstock's: Take our reader feedback survey and be entered to win a $100 gift card.