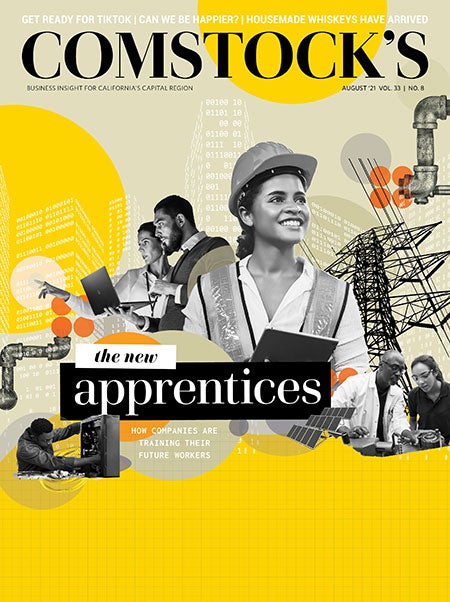 This story is part of our August 2021 issue. To subscribe, click here.
The granny flat has a new name. The venerable backyard addition, long loathed by local jurisdictions for its building code headaches and do-it-yourself construction and design, was not a welcome project in most municipalities. Bruce Monighan, urban design manager for the City of Sacramento, says the requirements and restrictions were different in every city and every county, adding to the confusion.
But several California housing laws, including Assembly Bill 68 and Senate Bill 13, which went into effect Jan. 1, 2020, changed all that. The legislation provides parameters on how and where granny flats — now called accessory dwelling units — can be built, and it restricts local governments from adopting ordinances that hinder their construction. It also eliminates or reduces the development impact fees cities can charge for ADUs.
Now these units are popping up in single-family backyards and multifamily lots all over the state, and the Capital Region is no exception. An uptick in ADU interest has planning departments and architects working together to add the product type to the area's much-needed affordable housing inventory.
ADUs have been around for at least a decade, but before 2019 — when Gov. Gavin Newsom signed six housing bills intended to reduce local barriers to affordable housing — a number of restrictions made constructing an ADU prohibitive and cumbersome, such as requiring the primary or secondary dwelling unit to be owner-occupied and mandating additional parking for converted ADUs. Those restrictions and others have been lifted. But the biggest change is the elimination of development impact fees for units less than 750 square feet, which can save a property owner between $10,000 and $30,000, according to Monighan.
To ensure ADUs are used for permanent housing and not for weekend or short-term rentals, rental agreements must be for more than 30 days. Units must also contain living, sleeping, eating, cooking and sanitation facilities, including a full kitchen and bathroom. An efficiency kitchen and shared bathroom facilities with the primary dwelling are permitted for a junior ADU, but a separate entrance is required.
Single-family-property owners can now build both a junior ADU (no more than 500 square feet and entirely contained within an existing home) and either a converted ADU (like a garage conversion) or a detached unit on the same lot. Multifamily-property owners can add up to two detached ADUs and multiple units within existing structures. Suddenly ADUs are on the radar as an affordable and flexible living space for family and friends, and to create steady passive income.
Architects Get Involved
Mike Malinowski has been working as an architect for more than 40 years, but even he is surprised by the number of ADU projects in the office of his Sacramento company, Applied Architecture. "If you asked me a year ago if I would personally be doing a tiny house, I would have said, 'I don't think so,'" he says, referring to units less than 400 square feet. "But they pencil so well."
Today, Malinowski has upward of 20 ADU projects in various stages, including two tiny houses. His projects range in size from a modest 400-square-foot cottage to a 1,200-square-foot family unit and are being constructed all over the region. Currently, he is working on projects in Elk Grove, Vacaville, Roseville, Folsom and Sacramento. The cost comes in at roughly $200 per square foot on the low end and up to $400 per square foot on the high end.
He is designing homes for people who are seeking to supplement retirement income, want additional space for family or are preparing for aging parents. "One of the unique things about ADUs is that they are an extremely clever way to take private capital and private economic interest and have that focused on solving a state-level crisis," he says.
"One of the unique things about ADUs is that they are an extremely clever way to take private capital and private economic interest and have that focused on solving a state-level crisis."

Mike Malinowski Owner and architect, Applied Architecture
While some property owners choose to work with an architect for a more custom ADU, it's not required. A number of manufacturers offer prefabricated or modular units that can be trucked to a site. And the City of Sacramento is working on three to four pre-engineered designs that a property owner can select and use, along with their own approved site plan. The designs will include a full set of drawings that have been preapproved by the building department. "We want to see as many different ways to do it as possible," Monighan says. "Each of these options have a different cost impact and a different risk assessment, but all of these paths should be available."
Placer County is also making free ADU plans available through its accessory homes page on its website, which provides tools to calculate the cost of building an ADU, as well as the return on investment. The county worked with Jackson and Sands Engineering in Chico to design three plans with various options, all under 750 square feet, to maximize the affordability and bypass higher development impact fees. Each of the jurisdictions is making a concerted effort to market the new laws and affordable housing options, but it can be a complicated task.
To help, AIA California, an architectural association, tapped the AIA Central Valley chapter and others to create an ADU website, Plus1House.org. It's intended to be a resource on how homeowners and property owners can use the state's new ADU policy to add living space to their property. Malinowski spearheaded the education project and brought on Sacramento architect Gennifer Muñoz to write the copy for the website. "I worked with a team on the website development and designing the information that went into it," Muñoz says. "It is really meant as a high-level tool that can be applied to any jurisdiction in the state."
Muñoz's firm, Studio Oxeye, has designed a number of ADUs for clients, including a 650-square-foot contemporary, one-bedroom, one-bath dwelling with an open kitchen and living area. The property owner intends to live in the unit while renting out the main house. Muñoz's projects are all custom designed and are coming in on the higher end, approximately $300 to $600 per square foot. "I always start the conversation talking about budgets, making sure we are working in reality," she says. "We definitely get calls from people who want to build for $150 per square foot, and personally, I can't promise that. But I bet there's a hero out there that can do that."
Properties With Existing ADUs Are in Demand — But They Are Hard to Find
Kandace Mulvaney, an experienced real estate broker with boutique agency Miller Real Estate in Carmichael, recently sold a Fair Oaks home on a half-acre lot that included a permitted accessory dwelling unit. "Availability of these types of properties is really light," says Mulvaney. "They don't come on the market all that often, and when they do, they fly off the market." In all, there were 12 offers on the property, which ended up selling for $100,000 over the list price.
Mulvaney has noticed an increased demand for properties with ADUs, primarily for families who desire a multigenerational space to house loved ones nearby. Some of her clients are looking for an ADU already built on the property, and others are interested in adding their own. Older, more established areas with larger lots, like in Orangevale, Citrus Heights, Fair Oaks and Granite Bay, tend to have more of that kind of inventory, but demand is still higher than availability. By Mulvaney's estimation, buyers looking for these types of properties are also willing to pay significantly more for them. "It's going to vary, but in this market and based on our recent Fair Oaks sale, I can see where it could easily add 15-20 percent to the value," she says. Conversely, she has also found that an unpermitted, do-it-yourself type of unit can take away value.
With more people working from home, garage conversions are also gaining in popularity. One couple she worked with did not have the space to expand their small East Sacramento home, but instead of moving, opted to convert their garage into a home office space. "They had nowhere to go, and this was a good option for them," she says. "I always counsel my clients to have a plan, because their first choice may not always work out."
–Laurie Lauletta-Boshart
Enter Mark Roddy. Before moving to Sacramento nearly three years ago, Roddy worked in commercial architecture in Phoenix and San Francisco. He and wife Caren Roddy — also an architect — were ready for a lifestyle change and moved from the Bay Area to Sacramento with their young family in 2018. Roddy took a position with Sacramento State teaching interior architecture and launched his own boutique architecture firm.
He has a long-standing affinity for prefabrication and pre-engineered buildings, dating back to when he lived in Phoenix and designed a 700-square-foot addition to his historic 1928 bungalow that was an "experiment in affordable, off-the-shelf and lean construction methods." The project won a number of awards, including one from Metal Architecture magazine in 2008.
"My wife and I have always been nerds about prefabrication," he says. "And there's other projects I'm working on right now and playing with that typology (types of architecture) as a solution to lower cost, faster schedule types of projects."
Roddy's prefab ADU concept, called barndominium, won the AIA Award in AIACV's 2019 design competition for its innovative use of a prefab steel building. Outside of the design competition, Roddy is marketing his yard-barn project (which was modified for the AIACV design competition to meet the needs and budget parameters) to property owners interested in a prefabricated ADU, which makes use of a pre-engineered metal kit of parts for easy, even DIY, construction.
"The overall goal of the state legislation is that we have a housing emergency right now, so how do we get things going quickly?"

Mark Roddy, architect
Inside, off-the-shelf items like kitchen cabinets and a wardrobe from Ikea are also specified. For warmth, Roddy's design adds a plywood wall panel system that hangs on the inside of the structure. "The overall goal of the state legislation is that we have a housing emergency right now, so how do we get things going quickly?" says Roddy. "Wouldn't it be great if you could get this thing up in a matter of weeks instead of months? The yard-barn idea was really hatched on this notion of prefabrication. There's a lot more flexibility there."
Dov Kadin and his partner, Tawny Macedo, decided to go the predesigned ADU route. Before purchasing their first home together in the Oak Park neighborhood of Sacramento, the couple intentionally looked for a residence that would accommodate an ADU. They found a 1925 bungalow situated on a large corner lot with an unused side yard that fit the bill.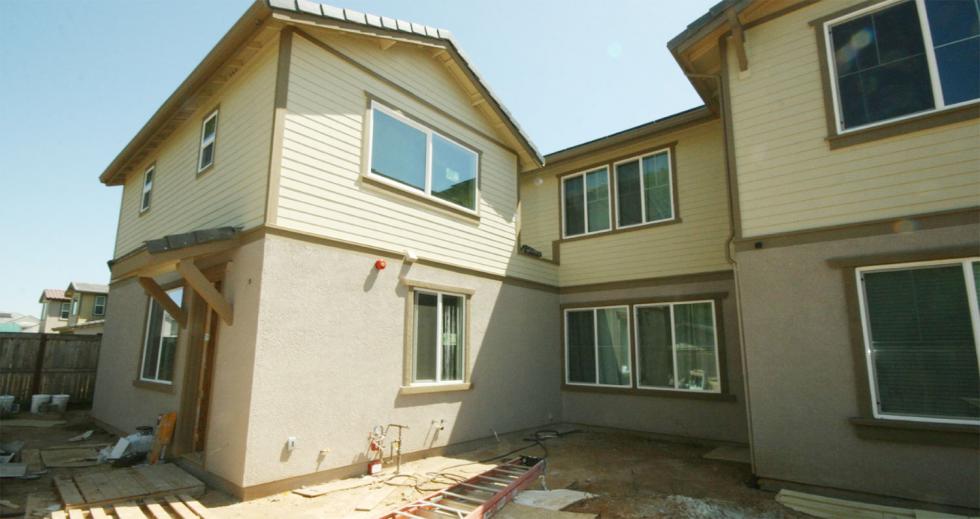 The cost-conscious pair worked directly with a general contractor to build a pre-engineered ADU in their backyard for roughly $135,000. The 820-square-foot home took about a year to complete. The couple rents the unit out for $1,500 a month, which in Sacramento is affordable for households making about 85 percent of the county median income.
"We are very close to the state definition of affordable housing with zero subsidies," Kadin says. "To us, it's a huge win to be able to do that. That's why I'm such a big believer in ADUs as part of the housing solution."
The AIACV, which covers 17 counties in Northern California, has made affordable housing its focus for the year, starting with this year's 2021 design competition that challenges architects to create a prototype for low-income, workforce family housing.
In addition, the local chapter is championing innovative projects from its member firms and architects on how to address affordable housing. "We really would like firms to get some exemplary pilot housing projects in place so people can see what can happen," explains Paul Menard, AIACV's president. He points to Paul's Place as an example.
Paul's Place, a multifunctional housing center designed to serve the unsheltered in Davis, was designed pro bono by long-term Davis resident and architect Maria Ogrydziak. Ogrydziak is partnering with her son Luke Ogrydziak, cofounder of San Francisco-based OPA, to complete the working drawings. The project is meant to replace the aging Davis Community Meals and Housing facility that has been in operation for decades.
The four-story, tiny-house-type village is designed with colors that mimic the surrounding Davis terrain and includes plenty of outdoor terrace space for residents and guests. Each of the four floors progresses to more independent living. The first floor serves as a daytime drop-in space with laundry and bathroom facilities, a resource center, and four emergency beds.
"To have the community that supports something like this realize they can be part of doing something changes the perception of the homeless and their plight."

Maria Ogrydziak, Architect
The second floor functions as transitional bridge housing with 10 bedrooms and communal spaces. The top two floors each feature nine affordable 300-square-foot microhousing units, which are all self-contained tiny houses. Wraparound services are provided to help ensure stability and independence.
"This was really a community effort," Ogrydziak says. "To have the community that supports something like this realize they can be part of doing something changes the perception of the homeless and their plight." The project is in plan check and expected to break ground this summer, with an anticipated completion of mid-to-late 2022.
Through the combined effort of planners, architects, engineers, developers and housing experts, the ADU movement is starting to gain momentum. Before 2020, Placer County received about 35 ADU applications each year. Last year, it received 100. In the first quarter of 2021, 24 applications were filed. The City of Sacramento has similar numbers. Its ADU applications jumped from 30 in 2019 to 70 in 2020, with 20-30 applications per month in 2021.
"It really wasn't until the state started putting down some mandates about what jurisdictions had to consider that the industry really took off," Monighan says. "As a jurisdiction, we believe in increased densities, we believe in maximizing lot potential, we believe in providing less expensive housing alternatives, so the ADU really fits within our concept of how we begin to fill out housing opportunities."
Kadin also believes the future of the ADU project type will be a one-stop shop for property owners, where a single entity will take care of all the steps of getting an ADU financed, built, permitted, rented and managed. "To the extent to which you can make it easier for the homeowner developer, to me, that's the future," he says. "And that's where I think a lot of this is going."
–
Stay up to date on business in the Capital Region: Subscribe to the Comstock's newsletter today.