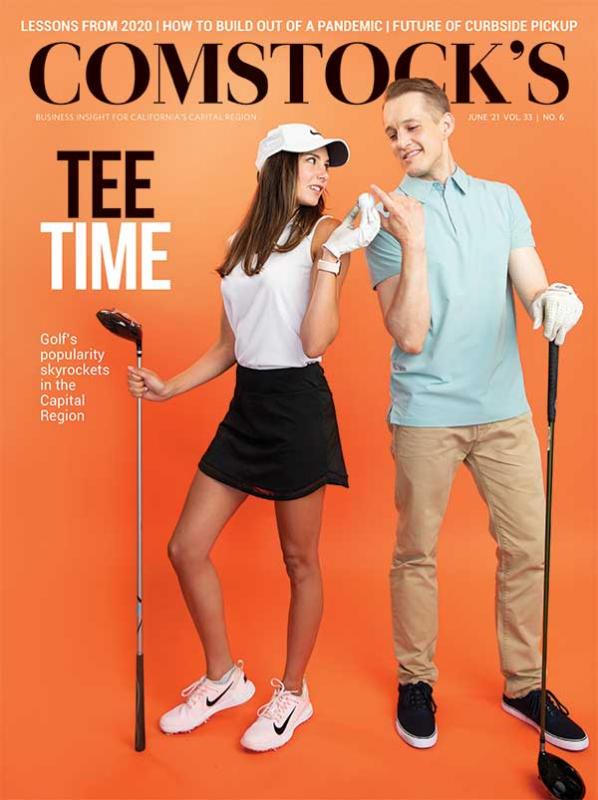 This story is part of our June 2021 issue. To subscribe, click here.
Scott Hooker, president of Buehler Engineering, describes the past year at his Sacramento-based structural engineering firm as feeling "like we're defying gravity." Despite a haunting expectation that business would plummet, Hooker and other members of the Capital Region's construction industry say they managed to do better than just stay afloat as COVID-19 shut down much of the economy across California and the country.
The pandemic caused architects, contractors, engineers and others in construction to drastically alter the way they do business almost overnight. Collaborative meetings were being conducted on Zoom, inspections were performed over FaceTime, tools on job sites had to be sanitized and couldn't be shared, and face masks joined steel-toed boots as protective gear.
Still, work continued on many large-scale commercial projects in the Sacramento area. "For me, the thing that stands out about the last year is how resilient the industry has been," says Wendy Cohen, president of Kitchell CEM, which is based in Sacramento. "I was just so impressed at the industry as a whole: how quickly we adapted, how quickly we innovated and came up with different ideas to keep our employees safe and really focus on the health aspect — but at the same time, keep our projects moving and the economy moving."
Rethinking Office Space
The experience government and private sector employers have had with their employees working remotely is also leading to a rethinking of what office space will be like post-pandemic. That is leading to a significant impact on design, Cohen says.
"Every single client we have that is building any kind of office space is absolutely reconsidering what office space looks like," Cohen says. "We're working on a number of projects that include office space that were in design during COVID, and many of them either paused to reevaluate and change direction or have a more inspired direction because of COVID."
"I was just so impressed at the industry as a whole: how quickly we adapted, how quickly we innovated and came up with different ideas to keep our employees safe and really focus on the health aspect — but at the same time, keep our projects moving and the economy moving."

Wendy Cohen President, Kitchell CM
Architects are also building lessons they learned from their own offices during the pandemic into their designs for clients, including how efficiently employees can collaborate over virtual platforms, what layouts allow for social distancing and how to ensure cleanliness.
"There is a lot of discussion of what is 'the office' now," says Naaz Alikhan, principal of the Interior Environments Group at Williams + Paddon in Roseville. "Maybe it will change in its size and its footprint, and maybe it will focus on meetings more so than actually having people sit there and work."
She expects fewer large conference rooms and more spaces where workers can meet to collaborate. More obvious COVID-driven additions such as arrows in the carpet showing safe traffic patterns will disappear as the pandemic fades, she says, but others will be integrated into the environment in more subtle ways.
Touchless features are now a prerequisite, personal space will be expanded, and features that allow remote workers an equal chance to contribute to meetings will be incorporated into new and existing spaces, says Mike Parrott, president of architectural firm Nacht & Lewis in Sacramento.
"We're always looking at the user experiences and what architectural response there can be to that," says Parrott. "The ideas of wellness and experience are much more prevalent than they were in the past, and that's becoming integrated with things like sustainability."
Parrott notes, however, that energy efficiency and sustainability goals can be in conflict, something that provides architects with a challenge. "You try to push more air through a building, you're going to raise your energy costs," Parrott says. "So we're in this world where we're trying to meet some sustainability goals and energy efficiency goals, and at the same time trying to focus on providing more ventilation for people's wellness and health."
Rick Taipale, director of business development for DMG North, a Northern California-based provider of custom heating, ventilating, and air conditioning solutions with an office in Sacramento, says he believes that increasing the amount and quality of ventilation in commercial spaces will take precedence over energy usage goals in the short term. "Energy efficiency was always kind of rising to the top," Taipale says. "Now I see it as more of a holistic deal: It's got to be energy efficient, but it's got to be healthy."
Taipale says the wildfires prior to the pandemic had already increased client interest in improving filtration. But he has also been approached by numerous clients interested in newer technology such as active systems that use ultraviolet light to kill pathogens or bipolar ionization, a process that sends ions into the air stream to form a bond with pollutants and increase their size so they can be filtered out more easily. "Besides getting rid of dirt, smoke and dust, it can also nuke out viruses," Taipale adds.
Parrott says building design is also starting to incorporate the old-fashioned way of delivering more fresh air: letting outside air in through open windows and other passive systems. "We're starting to move away from the building being something that is completely enclosed and where we're trying to keep nature out, so we're bringing natural ventilation into spaces," he says.
Alikhan also expects the connection between inside and outside spaces, something she says her firm has always designed for, to become a bigger part of office buildings. "I think that's going to become huge," Alikhan says of places where people can go outside during the workday and interact with nature. "There is going to be an emphasis put on the outdoors."
She predicts that outside spaces will also play a bigger role in school design. "For education facilities, the outdoor space is going to become as important as the indoor space for all kinds of things," Alikhan says. "The connection with nature, the ability for kids to maybe learn outside, so that the outside becomes as much a learning ground as the inside is, I think that's going to be an important change."
One sector that continued to be active during the pandemic was health care facilities, which constantly have to upgrade to accommodate new technologies and services. Health care facilities were not prospering despite being inundated by COVID-19 cases: Many hospitals took a serious hit to their finances in 2020 because they had to suspend nonemergency surgeries for safety reasons.
That lesson, Cohen says, is leading health care providers to place a new emphasis on flexibility as facilities are upgraded. "If you're in health care, you don't ever want to be boxed out from doing elective surgeries again, so you're going to design and modify your facilities to make sure you have that flexibility," she says.
One of the hardest hit sectors was hospitality, where funding for new projects dried up. Tricorp Group CEO Tony Moayed says his Sacramento company had a couple of hospitality projects put on hold, but one of them was recently given the go-ahead for construction after being delayed for a year. He says lenders are slowly starting to back hospitality projects again but are placing more burden on the contractors who will build them.
"They're very careful. We answer more questions than ever before from lenders now," says Moayed. "They want to know our policies, they want to know our history, they want to know our success rate with handling COVID and other projects."
A Positive Outlook
If there is one across-the-board item that is plaguing the construction industry as a result of the pandemic, it's supply-chain issues. There has been a significant uptick in warehouse space leased to hold building materials, including a 20,000-square-foot space rented by Tricorp Group. DMG North also recently upgraded and expanded its Sacramento warehouse space to hold HVAC stock.
"There are folks out there that I know are filling up their warehouses with materials," Moayed says. "Remember the toilet paper issue? That's exactly what's happening to the construction market out there."
Cohen expects supply-chain challenges to persist for an extended period of time and says the slowdown is leading to price increases. "You have tons of ships sitting off of (at the Port of Los Angeles in) San Pedro in LA that cannot get unloaded fast enough that are full of building supplies," she says.
Many of these building products originate in China, where factories were temporarily shut down during the pandemic. Kitchell CEM is encouraging its clients to make sure the materials they specify are available from alternate suppliers in the U.S. or countries that aren't experiencing the same backlog.
"I have a lot of work out to bid right now, some of it from owners who literally lost their financing … and some who put things on a slow boat on purpose because of COVID."

Tony Moayed CEO, Tricorp Group
Moayed decided early in the pandemic as the bottleneck in supplies became apparent to rent warehouse space and order items such as cabinets and furniture up to six months in advance. That also meant Moayed had to pay to have those stockpiled supplies trucked to the job site — rather than have his suppliers deliver them directly to the job as they normally would — in order to ensure the project could continue to move forward.
Moayed says planning well ahead for materials that in the past had been readily available is one pandemic-driven change that he expects to make an ongoing element of his operations. "We learned to plan a lot earlier for procurement," says Moayed. "I don't think that's something we really want to lose."
Because many in the construction industry did better than they initially thought they would a year ago. "Business wasn't great last year, but it wasn't horrible; I think we all expected it to be horrible," Parrott says. There is guarded optimism that as a post-pandemic "normal" returns, construction will continue to pick up and possibly enjoy a healthy surge. Public sector projects that were planned years in advance and backed by bond measures are more likely to move forward, although Parrott says that he is keeping a hopeful eye on revisions to the state budget in May after a lean budget crafted with a large dose of financial uncertainty was presented in January.
"Looking at all the trends from all the industry groups, right now, the outlook seems to be fairly positive," Cohen says. But it's not clear sailing, she says, as the industry is concerned about potential inflation, the cost and availability of labor, shortages of materials and whether interest rates will rise.
Hooker says that in retrospect, despite the unusual circumstances surrounding the pandemic, 2020 ultimately wasn't much different from the normal ups and downs of the construction industry. "It feels like an interruption," he says. "It feels like a blip that we've had many times before and will happen many times in the future as well."
He agrees that there's s cautious optimism that a quick rebound is forthcoming. "We went into the pandemic in just wonderful times: Things were really, really busy," says Hooker. "Optimism, I think, will drive prosperity in the design and construction industry … bonds will sell if people are optimistic, the school district will build schools."
Moayed also believes good times are in the immediate future. "We've had a lot of pent-up demand, so I think the market is going to immediately be very strong," he says. "I have a lot of work out to bid right now, some of it from owners who literally lost their financing … and some who put things on a slow boat on purpose because of COVID. Everyone's trying to start their construction before everyone else, not realizing they're all going at the same time."
–
Stay up to date on business in the Capital Region: Subscribe to the Comstock's newsletter today.