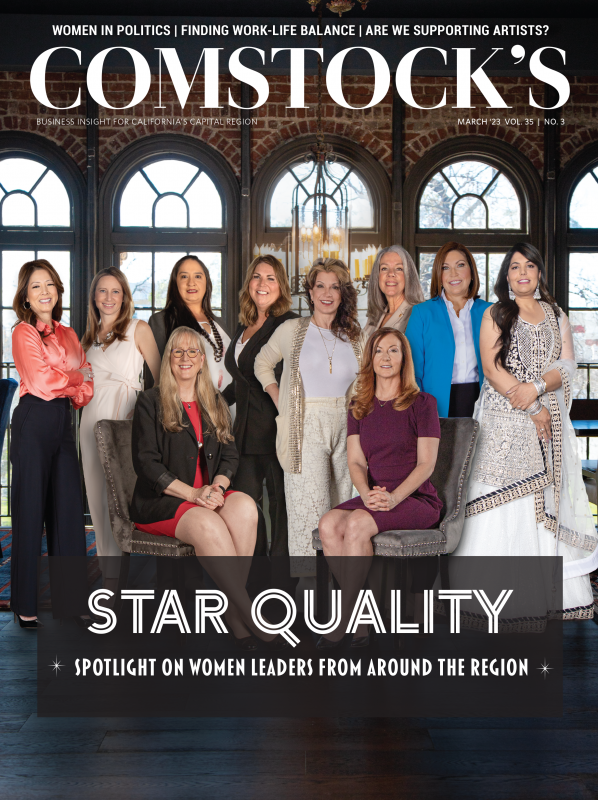 This story is part of our February 2023 print issue. To subscribe, click here.
Lakhwinder Kaur
Senior Vice President, Sacramento Valley Market President, Five Star Bank
The day starts early for Lakhwinder "Nikki" Kaur, who intentionally carves out 90 minutes for herself in the predawn hours of the morning. The senior vice president for Five Star Bank — who is also a single parent — prioritizes daily stillness, followed by quality time with her high-school aged son before dropping him at school and starting work. "The early morning is my time just for me," says Kaur, who uses the quiet to relax and recharge. She also hits the gym two to three evenings a week. Her go-to workout: boxing. "I have my own gloves and everything," she laughs. "It's fun and a good place to go and get all that aggression out. Plus, when I am mentally exhausted from work and then physically exhausted from my workout, I can sleep better."
Born and raised in Punjab, India, Kaur came to Sacramento in 2005 as part of an arranged marriage. She met her betrothed for the first time when she arrived on U.S. soil. The pair were wed in 2005 and quickly started a family. Son Maninderjit Singh was born the following year.
Kaur earned undergraduate and graduate degrees in economics and computers from HMV College in Punjab, India, then found work in the banking industry when she arrived in the U.S. She started out as a teller, but was quickly promoted to a personal banker. From there, it was a long, steady climb to her current role with Five Star Bank, where she oversees the Sacramento Valley market.
In 2008, Kaur and her former husband separated and then divorced, making her a single parent. "Raising a kid by yourself is hard," she says. "I have no family here, but my community adopted me and my son as family." She points to her mom, Surinder Kaur, as a positive role model that helped her persevere. "My dad died when I was four. My mother never remarried and raised my two brothers and me by herself. She's been a big influence on me."
"The early morning is my time just for me."

Lakhwinder Kaur, Senior Vice President, Sacramento Valley Market President, Five Star Bank
Before joining Five Star Bank, Kaur spent 12 years with Tri Counties Bank and another three at California Bank & Trust in downtown Sacramento, where she most recently served as vice president and business banking manager.
Five Star Bank in Rancho Cordova enticed her away in July 2021 with the assurance that it could improve her closing time on fundings. She primarily works with commercial clients and small businesses. The move paid off: Last year she closed over $80 million in business and attributes much of it to Five Star's supportive and creative management. "With Five Star Bank my deals don't have to fit into a certain box," she explains. "Any deal I take to management, they are always looking at how we can make it work and how we can help the client achieve their goal."
Another important aspect of her job — community involvement and outreach ­— is where Kaur spends a significant amount of her time. She volunteers at a number of nonprofits and has served as the past president of the Indus Valley American Chamber of Commerce in Elk Grove; she also serves on the board of the Indian Association of Greater Sacramento and became the first non-physician to be elected to the board of the California Sikh Foundation.
With her connections, Kaur has found herself in the influential position of being a role model, especially after she was recognized in 2022 by the Sacramento Business Journal as one of the region's best young talents in its 40 Under 40 awards. "After the 40 Under 40 award, a lot of people reached out to me to talk to their kids, to mentor them. I feel like this is something I can give to the kids. I had no family here; I learned the hard way. If I can help make it easier for others, I want to do that."
While Kaur admits that her personal and professional journeys have been challenging at times, she says she has learned a lot along the way and is proud of what she has accomplished. "Every morning I wake up and I know I have a purpose. And that purpose is not only to do what I am doing as a banker, but also as a parent and to set an example for others."
–
Get all the stories in our annual salute to women in leadership delivered to your inbox: Subscribe to the Comstock's newsletter today.