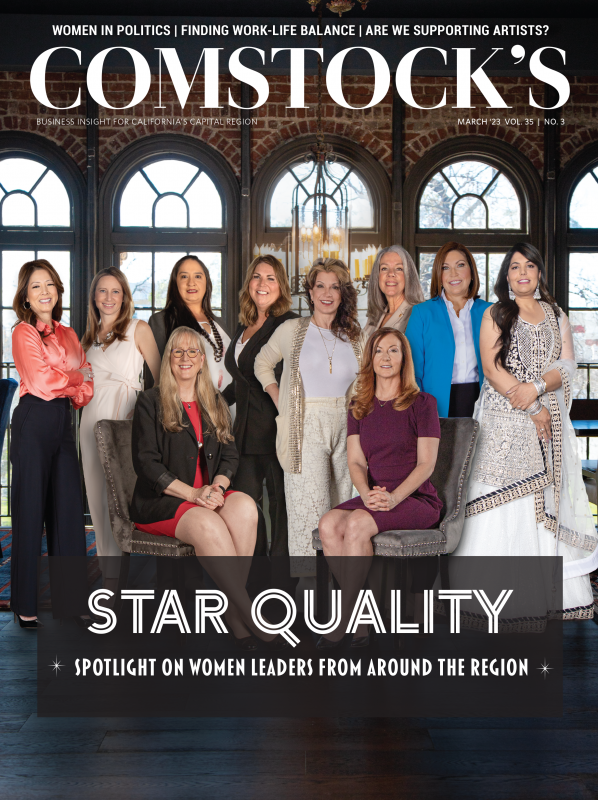 This story is part of our February 2023 print issue. To subscribe, click here.
Carrie Lane
CEO, California Association for Highway Patrolmen
When Carrie Lane enters a room to begin labor negotiations, she keeps a few things in mind. "Respecting the role of the person on the other side of the table is essential," says the CEO of the California Association for Highway Patrolmen. "I always lead with a strong passion for making sure everybody remembers the difficult work that law enforcement does for all of us."
CAHP is a labor organization that advocates on behalf of active and retired California Highway Patrol officers for issues like pay, benefits and working conditions. A 31-year veteran of the organization, Lane has risen through the ranks to become CEO, managing and overseeing all of their operations and serving as chief negotiator in collective bargaining on behalf of 6,000 CHP officers throughout the state of California.
Her career path in the organization started with a temporary receptionist role back in 1991. "My original intention was to get a master's in social work to do marriage and family counseling," says Lane, who graduated from UC Davis with a B.A. in psychology and sociology. "But I needed a job to pay the bills in the meantime." The organization's then-CEO became a trusted mentor. "He took the time to sit and have philosophical conversations with me about what we do and why it's important," she says. "I learned so much from him." She moved through various positions, including doing administrative work and becoming a labor representative, and eventually took over the role of CEO in 2015.
"I would say the thing I got right was that I truly valued that aspect of my professional work. … It has given me the opportunity to spend off-time investing in myself and my family."

Carrie Lane, CEO, California Association for Highway Patrolmen
"I think the only jobs I didn't do were accounting and maybe IT support," she says. "But everything else I had some exposure to, so I really got to know the organization from the inside out. I think that brings a certain amount of credibility to the table that has been very helpful."
Lane also oversees management of self-insured benefit trusts created for association members and their families. "What I hope is that some part of my work helps to humanize law enforcement officers," she says, adding that they've seen a mass exodus from a profession that has become "a bit embattled" the last few years. "I hope we show that the vast majority of officers are very caring individuals who do a really difficult job and are passionate about serving their communities."
She is particularly proud of her role on the board of directors for Impact Teen Drivers, a 501c3 organization started by her predecessor at CAHP. The nonprofit works to educate young people on the dangers of distracted driving, which she says has increased with the advent of cell phones and in-car computer screens. Lane was able to assist in securing a $1 million grant for the organization. "That really ended up being a game changer," she says. "To be able to take that nonprofit from a little tiny organization to one that can now serve students throughout the United States is a pretty cool thing to be a part of."
Lane believes in being an engaged citizen. She serves as a board member for the Historic Folsom Residents Association and supports a number of local organizations, including Big Brothers, Big Sisters of Greater Sacramento, Habitat for Humanity and the Sacramento Tree Foundation. "Someday, when I retire, I think I'd like to work in the nonprofit industry," she says. "There are so many good causes out there that I'd love to help support. That said, I could also be happy as a clam working at a library or a bookstore! We'll see what unfolds at that point in time."
–
Get all the stories in our annual salute to women in leadership delivered to your inbox: Subscribe to the Comstock's newsletter today.