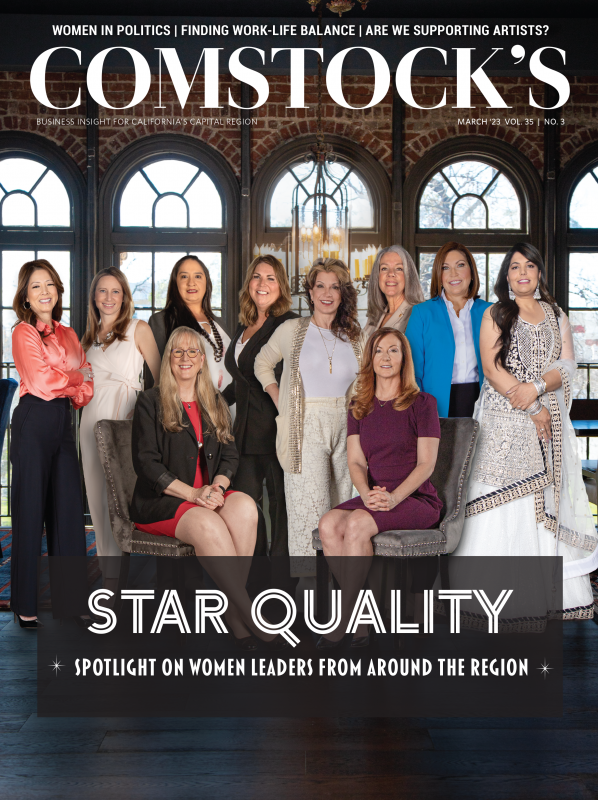 This story is part of our February 2023 print issue. To subscribe, click here.
Bonnie Ferreira
CEO, Mountain Valley Chapter of the American Leadership Forum
One lesson Bonnie Ferreira has learned from nearly 14 years as CEO of a leadership organization is that all leaders are different.
Since 2009, Ferreira has helmed the Mountain Valley Chapter of the American Leadership Forum. Founded in 1996, ALF Mountain Valley assembles one cohort annually with between 25 and 28 fellows. They come together from all walks of life, ethnic and cultural backgrounds, and industries, representing El Dorado, Placer, Sacramento, Sutter and Yolo counties to explore challenges facing the region, connect with one another and develop their leadership skills, Ferreira says.
"We really believe that social, economic and political growth is essential and possible through a connected community of leaders," she says.
One of Ferreira's favorite aspects of her job is the opportunity to form deep, long-lasting bonds with these leaders. She spends 20 days with fellows as they complete their classes, which are held monthly, and include two retreats and a wilderness experience. Out of this shared experience, collaborations and strategic partnerships develop. "I am committed to uniting diverse leaders in order to strengthen their relationships and build trust so they can serve the region," she says of her role.
Past and current cohorts also forge connections with one another; the local chapter counts about 600 fellows (including Ferreira) across 19 sectors and 400 organizations and agencies among its ranks. "Somebody can call and say, 'Hey, I need somebody in this area. Do you know anyone?' And then I can connect them," Ferreira says. "I think that's powerful."
"I'm not a leader that needs awards or name recognition. I'm more about making the connections between people."

Bonnie Ferreira, CEO, Mountain Valley Chapter of the American Leadership Forum
Recently, senior fellow Parnell M. Lovelace Jr., the founder and senior pastor of Center of Praise Ministries, partnered with the City of Rancho Cordova — where two councilmembers and the city manager are also ALF senior fellows — to build the city's first youth center. Ferreira says the project may not have happened without an ALF affiliation. (Center of Praise Ministries donated the building and land to the city, which invested $8 million to renovate the property.)
Since 2018, the chapter has also done a lot of work around diversity, equity and inclusion, Ferreira says, including launching a DEI affinity group that members can opt into. Other forms of diversity are incorporated into the program with the goal to create a sense of belonging. Then when these leaders undertake what may be divisive work, they are able to successfully come together, because they're accustomed to working with the diversity within the class, she says.
Originally from Indiana, Ferreira has lived in Sacramento for nearly three decades. She graduated from UC Berkeley with a degree in social welfare and later earned her master's degree in public administration from Golden Gate University.
In 2004, she became executive director of Cover the Kids, Sacramento's children's health initiative, which enrolled over 25,000 kids during her time there. Concurrently, she led Healthy Kids, Healthy Future, which worked to improve health access in five local counties. These groups helped low-income children get health care and informed their parents about navigating health care systems.
Additionally, she worked with advocacy organizations to write legislation that would, she says, "ensure that the statewide children's health movement was a sustainable model." In 2006, she served as co-chair of a statewide organization that has since evolved into the California Coverage & Health Initiatives, which has helped more than 7 million low-income residents enroll in affordable health care.
She left both organizations to head up the local ALF chapter. "I'm not a leader that needs awards or name recognition," she says. "I'm more about making the connections between people and really making sure they have a safe space so that they can work through any issues so they can move the region in positive ways."
–
Get all the stories in our annual salute to women in leadership delivered to your inbox: Subscribe to the Comstock's newsletter today.