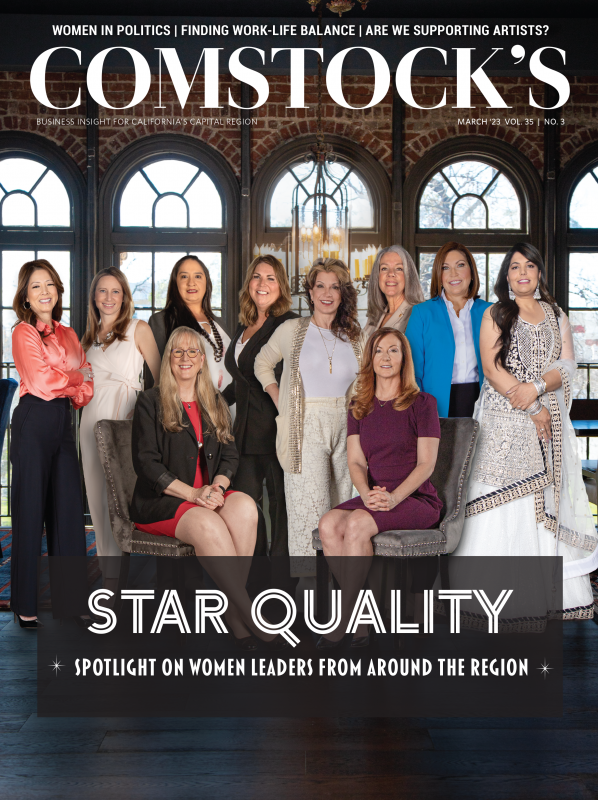 This story is part of our March 2023 print issue. To subscribe, click here.
During a period of roughly two decades, you could be forgiven for thinking that Sandy Smoley might actually be four or five people.
She was that ubiquitous in local and state government, in the arts, in charity, in civic beautification and ultimately, after she retired from government after a 20-year run, as an in-demand public affairs and health care consultant for The Smoley Group. "The group included only one person," she says over a recent lunch. "Me." Then she lets go with one of her charmingly quirky laughs, which consists of her gently leaning her head back, opening her mouth slightly in a smile and making barely a sound.
Since 2012, Smoley, who's 86, has also become her own Midtown Sacramento landmark in the warm months hosting "porchies": informal al fresco get-togethers at the rented home she moved into after she was widowed. She not only began to despise the commute to and from her downtown office — she and her late husband, architect Walter Rohrer, who died in 2008, had a home 10 miles away in Fair Oaks — but also felt isolated.
"I used to just ask three or four people to join me for drinks," she says. "Then it became dinner. It's gotten to be kind of infamous." Restaurants in the area often send over snacks or more substantial fare "because they're happy to see the activity." On a serious note, she then says, "If people would all get together on their front porches and talk to everyone, we'd have stronger neighborhoods."
"If people would all get together on their front porches and talk to everyone, we'd have stronger neighborhoods."

Sandy Smoley, former Sacramento County supervisor and community leader
"It's a holdover from my being raised in Iowa. I always liked being where there were plenty of people."
Therein may lie the key to Smoley, the transplanted Midwestern nurse who's instantly recognized in restaurants, chambers of commerce, fundraisers, concert audiences, VIP receptions and nonprofit board meetings: her love, though hardly a desperate need, of being surrounded by "plenty of people." She is a born enthusiast: always up for a morning, afternoon or evening out, for entertaining longtime or about-to-become friends.
Smoley's dad, the late Don Rodawig, was the town doctor in Spirit Lake, Iowa and "delivered everyone." He built, owned and ran a 26-bed rural hospital and used to take Sandy, his youngest child, on house calls. "Being around him made me want to become a nurse," she says. "It was always more about the way he treated people than about the medicine he gave them."
Fred Teichert, executive director since 1991 of the Teichert Foundation, the charitable spinoff of his family's 146-year-old construction business, has known and worked alongside Smoley in various volunteer roles since 1979. "She's always been very plain spoken but never mean," he says. "Candid is probably the correct word. And I've never seen her do or say anything she didn't truly believe or believe in."
Smoley was the first woman to be elected to the Sacramento County Board of Supervisors in 1972, a post she held for 20 years and included stints as its chairperson.
Teichert mentions that Smoley was named Leader of the Year by her peers in the second class of the prestigious American Leadership Forum, one of many accolades she amassed in her career. "She should probably have been named that every year by the entire Sacramento region," he says.
"Everything from her rescue of the Sacramento Symphony to her civic beautification efforts, which included spearheading the drive to light the Tower Bridge, making it a true landmark for the area, showed leadership and community pride," he continues. He also recalls her "surprising stand, as a Republican, in favor of needle exchanges when she was on the county's board of supervisors. But Sandy was a nurse and she went with science and her humanity. For her, it wasn't a political issue; it was a practical one. It was a way to get people off the streets and keep them from using infected needles.
Smoley has traveled to all seven continents and all 50 states. She's known every U.S. president in her lifetime and became friends with Ronald Reagan when his party wanted to find the highest-ranking Republican in Sacramento to appear with him at an official function. "That was me, uh, by default," she says, glancing off to the side with disarming modesty.
Not that Smoley has been all-business, all-the-time. Ron Alvarado, partner and chief administrative officer of SBM Management Services LP, based in McClellan Business Park, has known Smoley since 1976, and has worked with her in various capacities. He did repeat stints as her chief of staff when she was on the Sacramento County Board of Supervisors and when she was president of the National Association of Counties, and secretary of California's Department of Consumer Affairs and then its Health and Human Services agency.
"Sandy had her architect husband, Walter Rohrer, build her a witching platform which could be assembled each Halloween," Alvarado remembers. "When connected to their second story bedroom window … she would sit dressed in a very authentic witch's costume, complete with peaked hat. She had the perfect, eerie Halloween lighting shining up on the platform. From this perch she would lower a bucket filled with candies for the little trick-or-treaters. And, for the adults taking their kids around, well, Sandy would lower plastic cups full of chardonnay. Needless to say, a lot of the grown-ups were in no hurry to move on, much to the chagrin of their little ones to get on with the door-to-door visits."
He adds that there was a method to her merriment: "She had a great witch's laugh she would put out. Those were the perfect Halloweens, for young and old, and help to exemplify her community, neighborhood spirit and her humor."
Characterizing herself as an "Olympian, honorary consul for New Zealand and a friend of Sandy Smoley," Starr Hurley says that Smoley was originally a good friend of her parents and they were in the California Kandahar Ski Club together.
Hurley, who was on the 1964 U.S. Alpine ski team in Innsbruck, Austria, may be the only person who ever taunted Smoley into doing something. "Sandy and I were skiing in Europe and she was behind me," she recalls. "I heard her whining about the snow conditions and said abruptly, 'Put those skis together and ski!'
She meekly replied 'All right, I will' — and down the mountain she swooped! She was a beautiful skier and we have great memories of the ski slopes together."
Smoley has an older brother and sister, two children and two grandsons. "Have you ever seen such handsome young men?" she asks, displaying two smartphone photos. When told that she seemed to access those pictures in about a millisecond, she says, "Well, I show them a lot. Wouldn't you?"
Those who know Smoley marvel at her resilience. At 86, she's fought "infections, heart trouble, cancer and diabetes. I've had everything known to man go wrong with me." She also acknowledges that these days she has 24-hour care; she uses a wheelchair when she goes out but a walker in the house.
She smiles and says, "But don't dwell on any of this when you write your story. I'm hardly a 'woe is me' person." It's one of Sandy Smoley's rare understatements.
The Returns Are In: Sandy Smoley Declared Winner
- "Sandy is one of a kind," says Starr Hurley, Olympian and former skiing buddy of Sandy Smoley, who thinks the Tower Bridge "should be called The Sandy Smoley Bridge" because of her leadership in the 1989, $250,000 private-money campaign to light the regional landmark. "She is a fierce and loyal friend. And I am so privileged to be her friend."
- "Sandy is loyal," says Ron Alvarado, a longtime friend and businessman. "She is a leader, a consensus-builder, an innovator. She is humorous, understanding, no-nonsense, practical and very inclusive of others. She doesn't look back on challenging times, but puts the past behind, is always positive and concentrates on going forward. She has been a treasure for the Sacramento region ever since moving here from her native Iowa 60 years ago."
- Ed Goldman
–
Stay up to date on business in the Capital Region: Subscribe to the Comstock's newsletter today.