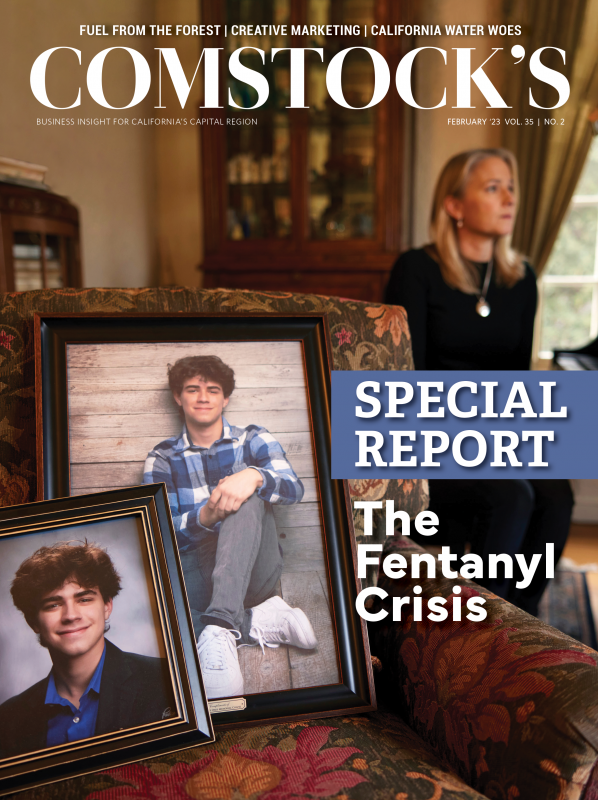 This story is part of our February 2023 print issue. To subscribe, click here.
Chef Tim Wong's omakase begins with a tartare of toro, the fat-marbled belly of bluefin tuna, crowned with opalescent globes of osetra caviar. It is served in an antique sherry glass beside a soldier of grilled milk bread. Guests spread the tartare and caviar on the toast with slim wooden spoons like breakfasting oligarchs.
The Japanese restaurant Masa in New York City serves a similar course as part of its omakase tasting menu, which now starts at $1,000 per person — making it the most expensive restaurant in the country. But this meal took place in a roped-off corner of a busy sushi restaurant in a Carmichael strip mall, not in Midtown Manhattan. For the 19-course tasting menu, each of the 10 or so guests paid $175.
The Masa homage sets the tone for the meal, but most of the courses come from Wong's own imagination. One course, called simply "black sea bass" on the menu, first shows no sign of the fish — it is encased in a tempura husk shot through with shiso leaves. The tempura wears an orange topper of California uni (sea urchin roe), dusted in sharp shreds of dried seaweed. The textures layer like the voices in a fugue, echoing and counterposing.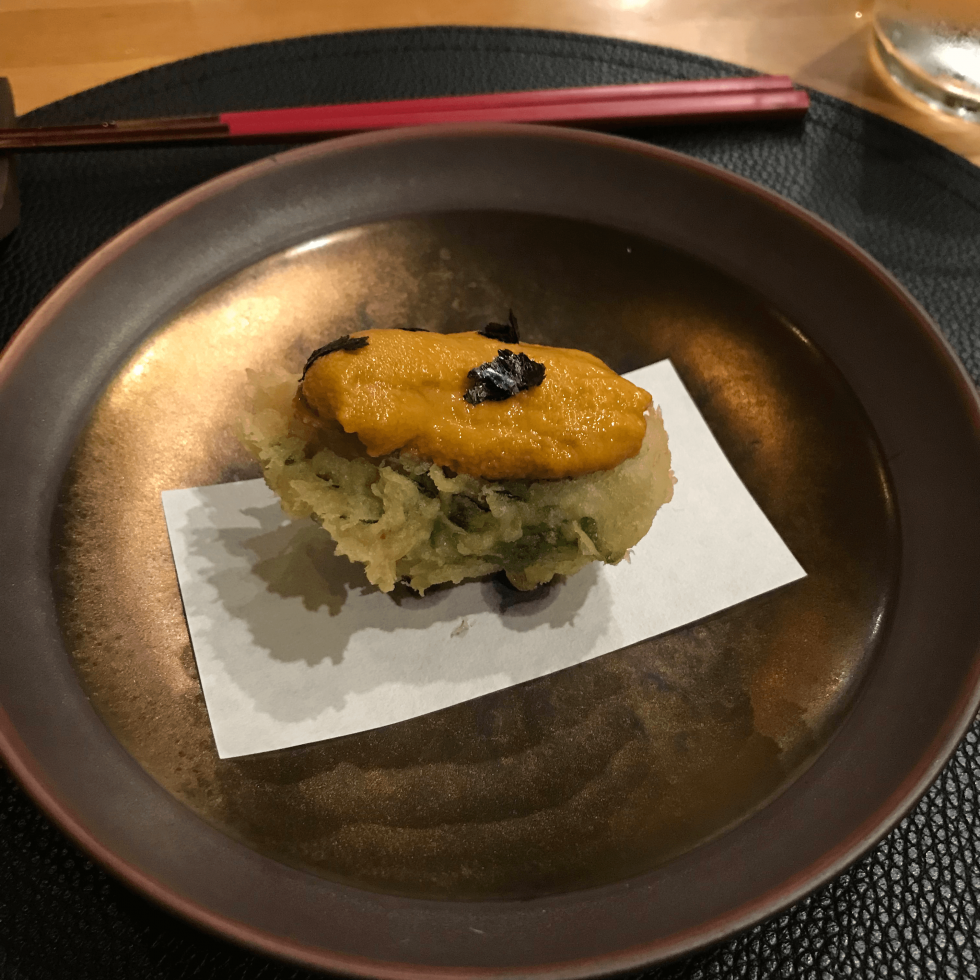 When asked if he's making much of a profit at his price point, Wong shakes his head and laughs. "I'm getting my fish from the same places as the guys in New York and San Francisco, but I can't charge that much here," he says.
The monthly pop-up series is a passion project Wong began when his 2019 pancreatic cancer diagnosis derailed his burgeoning sushi career in San Francisco. A fellow chef helped organize his first pop-up to defray his medical bills. After six months of chemotherapy, a surgery and a grueling recovery period, Wong found himself in the middle of a pandemic with no job, no pancreas and the most free time of his adult life. As soon as he could eat normally, he started flying to famous sushi restaurants around the country, working down a list of places he'd always wanted to try. Back in his hometown of Sacramento, he practiced new techniques and began to plan out his business.
Called Tenko after the mythological nine-tailed fox, Wong's ongoing pop-up series helps to garner interest for the project he considers his legacy: Sacramento's first omakase-only sushi restaurant. The restaurant, also called Tenko, is set to open downtown later this year. It will bring Sacramento into a high-end trend that has been spreading through the country's larger cities for over a decade.
Improvising with tradition
From Japanese, omakase translates roughly to "I leave it up to you." It is a covenant in which the diner cedes all decision-making power to the chef. In a casual bar, saying "omakase" might bring out fried chicken, potato salad and edamame to go with a glass of beer; at a sushi counter, it's likely to yield a few pieces of the freshest fish delivered that day. In higher-end restaurants, omakase became conflated with kaiseki, a highly formalized, multi-course style of dining influenced by Zen Buddhism and the cuisine of the imperial court.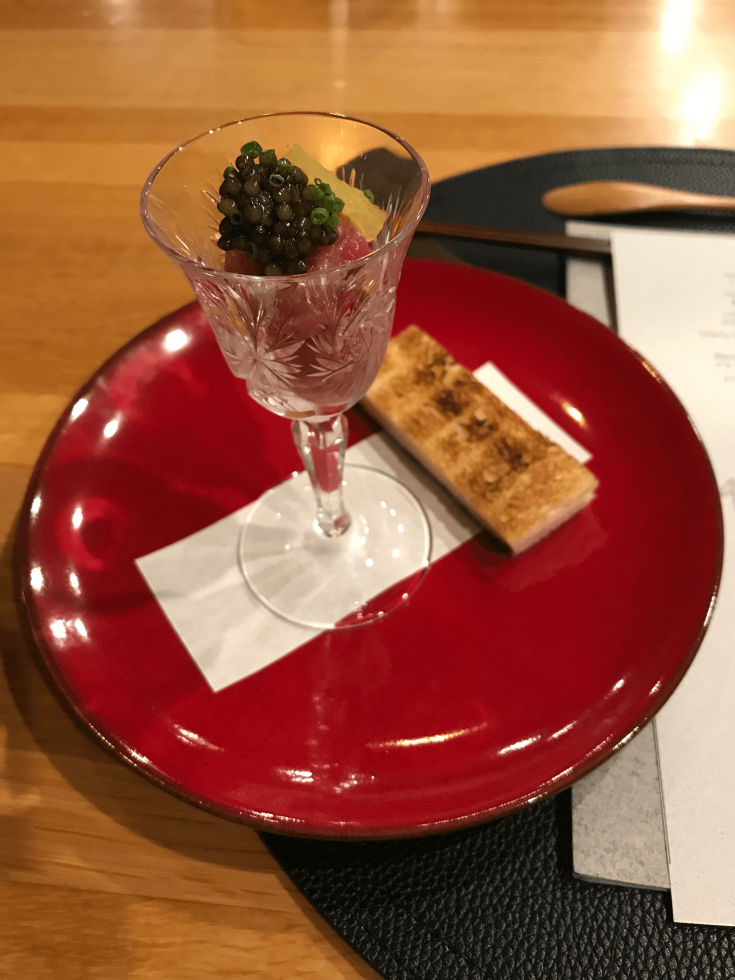 The higher-end style of omakase took hold in the West, in part because its resemblance to haute-cuisine tasting menus endeared it to the Michelin Guide and other elite tastemakers. The only Japanese restaurant in America with three Michelin stars is Masa, of the $1,000 omakase. California has three Japanese restaurants with two Michelin stars, all serving omakase sushi in Los Angeles County. These restaurants follow a standard template: Guests, who generally pay or make a deposit of hundreds of dollars in advance, sit in hushed, neutral-toned dining rooms and receive individual servings of sushi and other dishes on plates nearly as precious and difficult-to-source as the fish themselves.
The Sacramento restaurant Kru has been offering an omakase option since 2005, originally the freeform version seen in casual sushi bars in Japan. "People came in, I made them food, they told me when they're full," says chef and co-owner Billy Ngo. After Kru moved to its current location in East Sacramento in 2017, Ngo introduced the more formal omakase that diners had begun to demand. Today, guests pay $200 each for Ngo's weekly omakase sessions, which seat a maximum of five people and are often booked months in advance.
The predictability of the set-price, reservation-only meals offers some benefits, Ngo says — chefs know exactly how many people they're serving and how many ingredients to buy. But he posits that running an omakase-only restaurant in a market like Sacramento, which has a limited number of high-income residents, would be a gamble.
Ngo considered adding an omakase-only spot to his roster of restaurants (which also includes Kodaiko Ramen, Fish Face Poke Bar and the gourmet pet food business Healthy Hounds) but changed his mind after doing the accounting. "If you do two seatings a night, 12 seats, 15 seats, even at $300 — and that would be the most expensive tasting menu in Sacramento — I don't know how you would turn a profit," he says. "You have to pay rent, pay staff, and fish is not cheap." He nevertheless looks forward to Tenko's opening date and says that it's "something we need in Sacramento."
New incarnations
Across the causeway in Davis, the omakase niche has already been filled by Hikari Sushi and Omakase, which opened in May 2022. Husband-and-wife co-owners Tun Sithu and Zin Khine, who were both born in Burma (now Myanmar) and met in the Bay Area, also own the supermarket sushi supplier Mermaid Sushi. Hikari offers an a la carte menu from Tuesday to Thursday, but on Friday and Saturday nights the restaurant is only open to those who have booked the $125 omakase. The set meal lasts about two hours and may begin with a savory egg custard, crescendo through a series of nigiri, and climax with chutoro (one step less marbled than toro) topped with Hokkaido uni like a thick pat of butter.
"In the beginning, it was really tough. I couldn't sleep in those days," says Sithu, who notes that the restaurant opened in the middle of a supply chain crisis and right before many UC Davis students left town for summer vacation. "But right now, things are getting so much better. We want to improve each and every day and impact every customer who comes through our doors."
Though Sithu says that he and Khine are "still taking notes," the restaurant has been well received by the Davis community. Sithu says that he's served omakase to customers from around the Capital Region and the Bay Area, and demand is high enough that he is considering offering the experience throughout the week.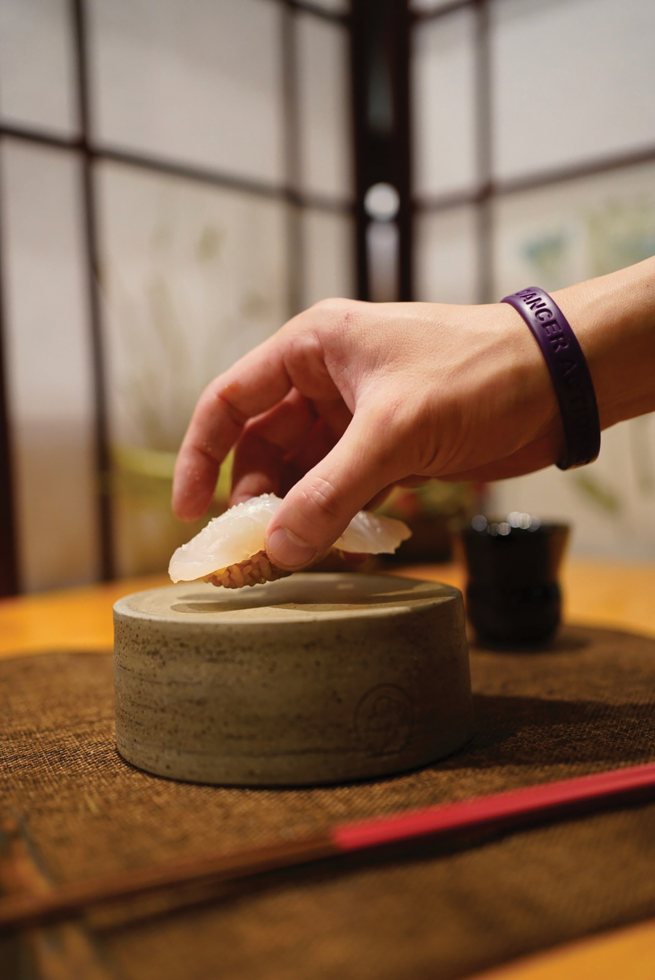 Chef Wong of Tenko has also seen high demand for his monthly omakase pop-ups, which almost invariably sell out weeks before the date. In addition to his growing fan base among Sacramento's gourmand community, he's building a name for himself in Los Angeles and the Bay Area, where he sells burnished Basque cheesecakes in Japanese-inflected flavors like matcha and yuzu under a separate pop-up series called Kēki. Meanwhile, his downtown brick-and-mortar inches closer to opening each day. The color scheme is black and gold, with accents of wood and stone.
The restaurant will seat about 10 people for two-and-a-half hour sessions, with Wong holding court behind the counter. "It's like having your own private show," he says. His gestures — shaping rice, slicing fish, grating fresh wasabi — are as fluid as those of a stage magician, as if a dove might emerge from his hands instead of a perfectly formed nigiri. Following his movements with shadowlike precision is his apprentice Kevin Hernandez-Ng, a former opening team member of Momofuku Las Vegas who Wong offered to give 20 years' worth of training in a few months. "I am made of effort," says Hernandez-Ng.
The logo, soon to be displayed on the sign and menus, features Tenko's nine-tailed namesake, the final form of the fox spirits that make frequent appearances in Japanese and other East Asian folklore. If it manages to gather enough wisdom in 1,000 years, a fox spirit grows its ninth tail and ascends to the heavens, where it gains divine powers and immortality. "That mythology just called out to me," Wong says. "You could say I related to it."
–
Stay up to date on business in the Capital Region: Subscribe to the Comstock's newsletter today.
For these chefs, cult followings are built through next-level broth, experimentation and a healthy dose of nostalgia.

State government leaders take a break from making California laws to make California rolls for the Capitol Roller Competition, part of a recent summit for rice industry stakeholders.
To walk along Elena's deli counter is to explore the diversity of the former Soviet republics.