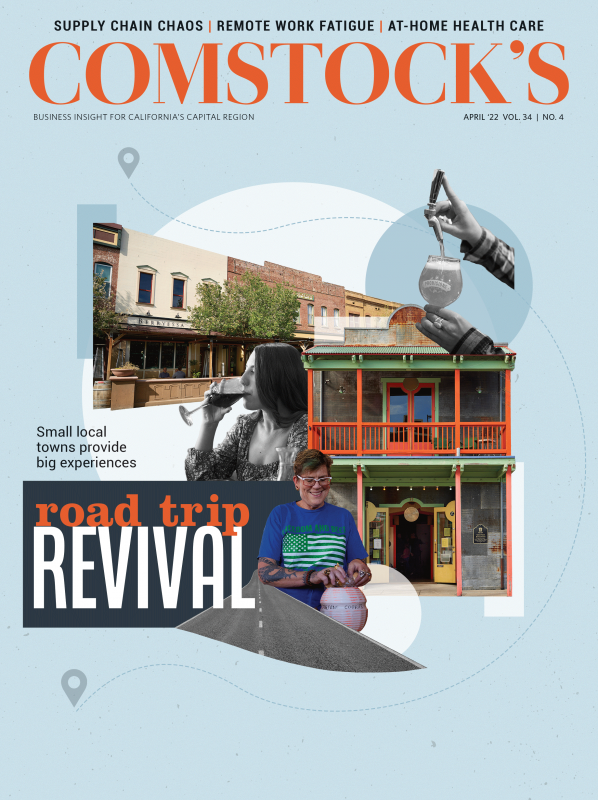 This story is part of our April 2022 print issue. To subscribe, click here.
If you've been fortunate enough to dine in a ramen-ya (ramen shop) in Japan, you know that each shop and region has its own unique spin on the noodle dish. You may have purchased your ramen from a ticket machine or had a robot deliver it to your table. Maybe you experienced different regional styles, like the seafood-based champon of Nagasaki or the deeply porcine aroma of Hakata-style. Not everyone can make it to Japan, but a range of ramen shops with varying specialities, angles and passionate motivations can now be found in Sacramento. After all, as the chalkboard sign outside the downtown ramen shop Kodaiko proclaims, "You can't spell Sacramento without 'ramen.'"
One of the earliest additions to the Capital Region's ramen scene was Shoki Ramen House (motto: "A bowl of dreams"). Ramen heads have been following the saga of Shoki since its original 24th Street location opened in 2007, and what a journey it's been. Chef and co-owner Yasushi Ueyama, who got his start owning restaurants in Japan in the 1990s, built a cult following based on his complex, from-scratch broths. Soon the slightly scruffy, 20-seat restaurant had a sign-in sheet and a hungry crowd outside. A second, sleek and new location opened on R Street in 2011, again attracting crowds.
The original Curtis Park location closed in 2015, followed shortly by the opening of another Shoki on 21st Street in the former location of the 1950s-era Trails restaurant, a quirky combo of Western decor and Japanese charm that we didn't know we needed until we had it.
Then, calamity struck. A kitchen fire in 2018 led to the closure of the 21st Street location; it remains fenced off to this day. Next, the by-now-familiar litany: a pandemic, a pivot to takeout, a closure of the final R Street location, and another pivot to a food truck.
But co-owner Kathy Ueyama brightly explains that this is all part of the plan. She says that the pandemic was not much of a factor in the closure of the R Street location. The Ueyamas had been looking to downsize for some time, so in May 2021 they decided to sell to a buyer who had been eyeing the location for four years. The plan had been to take a few months to rest and regroup during the summer (when Kathy, a full-time teacher, is free to help), and reopen the 21st Street location in late 2021 — but that date has been pushed to summer 2022.
The pandemic shuffled the Ueyamas' priorities. The lack of available staff and the need to keep the crew small to avoid COVID-19 transmission diverted Yasushi back to daily cooking, his original love. This rekindled passion influenced the Ueyamas to direct their architect, Craig Hausman of Hausman Architecture (the firm behind the light-filled Urban Roots Brewery and Smokehouse), to design their 21st Street location as a small, intimate space that could be run by two — a literal mom-and-pop shop.
Kathy explains that Yasushi "has always wanted to go back to his roots, kind of how we started. … We created Shoki together."
As for the specifics of the plan and the menu, she plays it coy, hinting at possible collaborations, pop-ups, specialty ramens and non-ramen dishes. When the renewed Shoki opens, she will continue to work full time as a teacher, he'll prep during the day, and they'll run the restaurant together in the evenings.
Takeout titans
Also thriving — perhaps surprisingly, in the challenging environment of downtown K Street — is Kodaiko. Folks may associate Kodaiko primarily with high-profile entrepreneur and chef Billy Ngo (Kru, Healthy Hounds, Red Lotus), but Ngo makes it clear that his business partner Takumi Abe deserves primary credit.
Abe worked at Zuni Café in San Francisco and a ramen shop in Tokyo before moving to Sacramento to be closer to his wife's family. He began working at Kru's first J Street location in 2013, where he says he and Ngo would "talk about ramen all the time." That led to wildly popular ramen pop-ups at Kru in 2018, which got Ngo and Abe musing on a ramen-devoted restaurant. They opened Kodaiko in 2019.
Abe and Ngo both continue to take inspiration from Japan. "The ramen shops in Japan are super tight and there's lines out the door and they're just pumping out these bowls," says Ngo. "They're delicious and it is crafted."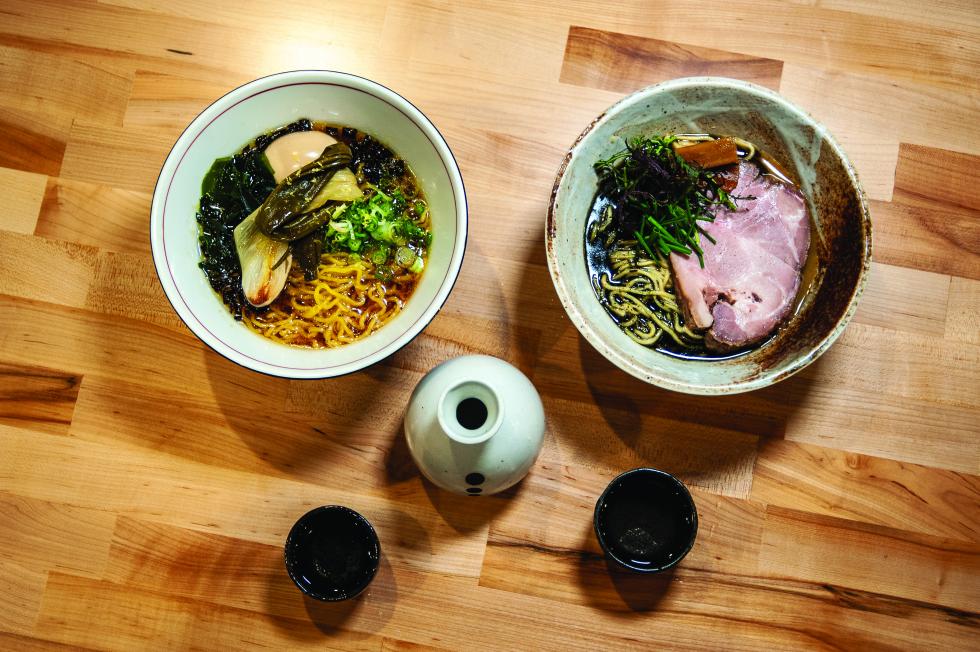 Abe chimes in that due to ramen being a newer dish (circa 1890s) in Japan's ancient culinary tradition, ramen-makers are free to have fun and experiment without the strictures placed on dishes such as sushi or soba. "It's fun and it's amazing over there, and so that's what we're trying to capture. Try to have fun with it and bring a Japanese American point of view."
As evidence, he points to a current menu offering of mazemen (brothless ramen) that approximates a reuben sandwich, complete with smoked cheddar, crispy caraway breadcrumbs and pastrami-cured pork belly. Most bowls at Kodaiko are priced from $15-$20.
When asked about Kodaiko's pandemic pivot, Abe credits Ngo (along with third business partner, Peter Kwong) with having the foresight to work to perfect the packaging for to-go ramen. Takeout ramen can be a touchy topic to ramen purists because the noodles continue to cook in the hot broth. Ngo said he's never agreed with that approach, because he views ramen as a "casual, non-serious food" as well as a craft.
Kodaiko settled on multilayered packaging, which separates the broth, toppings and noodles. They also have an option to buy uncooked noodles and boil them at home, which they recommend for those who have the time. When the shutdown came, they also offered family cook-at-home ramen kits, as well as groceries like toilet paper and eggs, in those dark days we'd maybe all like to forget.
Abe says that the pandemic put their takeout "on the map" and that on the weekends they have to shut down the option at times because the kitchen can't handle the demand. "That's been a part of (the pandemic) that has been a positive," he says.
Nostalgia in a bowl
Tokiko Sawada, the general manager and co-owner of Binchoyaki, sounds wearied but not beaten by the pandemic, and is candid about hopes that small restaurants have more help coming from the government on the horizon, because "now is harder than before."
Binchoyaki is an izakaya, a term which denotes a bar that offers small dishes and snacks, in this case focusing on charcoal-grilled dishes — but ramen has grown to be one of their more popular menu items.
"A lot of people in our culture, after drinking, as a closer we eat a noodle dish. And in Japan, ramen shops are usually open from lunch, and a lot of places until late night. We do a lot of business with ramen," Sawada says.
She grew up splitting her time between Japan and Los Angeles and had a particular fondness for ramen at a bygone shop in L.A.'s Little Tokyo. "It was such a treat for my mom to take us there, and I would always eat their pork and bean sprouts ramen. That's why we have the buta moyashi ramen," topped with pork, bean sprouts and chili oil, she says. "It's nostalgic for me."
Binchoyaki makes multiple broths from scratch and offers different styles, such as Okinawan ramen with thick-cut noodles and ginger, and seasonal soups. Their most popular seasonal special is duck ramen, which they only offer during the winter.
Most of their ramen offerings have gone up a few bucks since they opened in 2018, which Sawada attributes to rising labor and import costs. "Because of the pandemic, it feels like it has gone up much faster," she adds. Although they are farm-to-fork when it comes to meat and produce, they do use a lot of imported Japanese ingredients, such as condiments and soy sauce.
"It's not that we're trying to buy a mansion and buy expensive cars. It's just the cost itself to make real ramen from scratch."

Tokiko Sawada, general manager and co-owner, Binchoyaki
Sawada outlines the economics of pricing Binchoyaki's ramen, which ranges in price from $13-$23 a bowl. "It's not that we're trying to buy a mansion and buy expensive cars. It's just the cost itself to make real ramen from scratch."
–
Stay up to date on business in the Capital Region: Subscribe to the Comstock's newsletter today.