If you want to talk sides, Mike Brown is your man.
As the owner of midtown's Capitol Dawg, Brown knows his various hot dogs draw in the crowds, but it's the side dishes that complete the meal.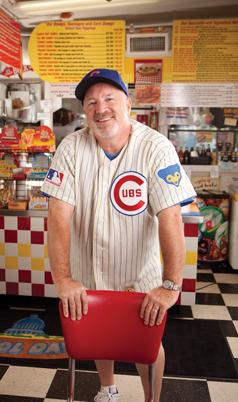 "We've got garlic fries, homemade coleslaw," says Brown, in a polo shirt and khaki shorts, to a customer one summer afternoon. "You can try out our chili that we make from scratch."
For Brown, this way of thinking goes beyond the menu and into his broader business strategy: Capitol Dawg is his side business, a three-year-old venture that emerged only after he found success in his first business, a service bureau that distributes supplies like labels, bar coded price tags and size strips to the apparel industry. And for entrepreneurs, this approach makes sense. In the chaos of a shaky economy, starting a side business could turn a passion into profits.
"It becomes cliché advice to say, 'Do something you have a passion for and that you believe in,'" Brown says. "But (if you do) you will have a better chance than many to succeed. Those are capitalist ideas, to do something you enjoy and make a living from it."
But these days, small businesses in Sacramento are feeling the financial crunch. Out of 100 major metropolitan areas across the country, Sacramento ranks near the bottom at No. 96 for small-business vitality, according to a study by The Business Journals. Between 2005 and 2010, the area — which ranked No. 78 in 2009 — lost 14.5 percent of its private sector jobs.
Austin came in at No.1 and Modesto ranked last in the study, which gave high marks to expanding markets with prosperous economies and thriving small businesses.
Of course, existing business owners have an advantage because they already know the ins and outs of the process. In any case, if you want to start a side business based on an interest or passion, you must first understand this one critical fact: A bona fide business can't be a hobby.
"A hobby is not for profit," says Jeb Burton, a Sacramento attorney whose law firm provides customized estate, tax and legal services. "If you say you're making money from your hobby, the [Internal Revenue Service] will hold that against you. You have to follow the rules, and set it up as a company."
This means taking all the necessary steps to be legitimate, such as opening a separate bank account, getting a business license and obtaining the necessary paperwork, which varies depending on the type of business. Most companies don't make a profit immediately, Burton says, so losses in the first few years are expected. But, he adds, the business owner still must treat the venture like a company, with the desire and goal to earn profits in order to write-off expenses.
"It's not the matter of the type of business but the potential for income," says Burton, who's starting a secondary business, a wine import/export distribution service. "For instance, if you're creating quilts and selling them for $1 and spending $1,000 on supplies, the IRS won't buy it. Also, most people don't follow local rules. They don't get a tax form and get hit with back taxes."
Brown had to learn the rules when he started his first business in the late 1980s after moving to Los Angeles. He came in early enough to corner the market, he says, which led to success. But his entrepreneurial hunger wasn't fulfilled. Growing up in Chicago, he sold hot dogs and Coca-Cola to sports fans in the stands at Wrigley and Soldier fields. That experience as a teenager helped shape his idea for a second business.
"I've always toyed with the idea of owning a neat hot dog stand that had great variety, good quality and fit into the community," says Brown, who has also owned racehorses. "I didn't want to have a hot dog stand. I wanted to create a destination."
By 2001, he had moved to Sacramento believing that if he could find the right location, he could open the business. But he wasn't in a rush either. "When you're starting from scratch without experience other than being a businessman, you really need to take your time," he says. "I wanted to be absolutely ready when we opened on day one."
"When you're starting from scratch without experience other than being a businessman, you really need to take your time."

Mike Brown, owner, Capitol Dawg
He followed his instincts, but says he never had any intention of using Capitol Dawg as some sort of tax shield. He says that intention misses the point of starting a business, which should be based on passion. Not to say that the road has been easy. Capitol Dawg has had to deal with poor parking availability, vandalism and increases in food prices. The restaurant also opened as the recession peaked, and his revenue felt the impact of the furloughs and the cutbacks of state workers, his frequent lunch customers.
Despite the odds, Capitol Dawg remains in business. The company has become steady enough that Brown only has to work about 20 hours a week, mostly shopping, going over numbers and checking in. Even so, he says if Capitol Dawg were his only source of income, he would need to be more involved and put in 60 hours a week, which would cramp his current lifestyle. With that said, he doesn't define success by profit margins. If he needed the restaurant to pay most of his bills, he would've made different choices.
"If you measure success on if you can rely on it to pay the mortgage, it would have been a choice I would have preferred to go elsewhere with," he says. "If you measure it based on providing employment and satisfaction to a lot of customers and playing a positive role in the community, we've been nothing less than successful."
If you want to add a side business to your plate, Brown's advice would be to gather as much information as possible, ask for guidance for those who've succeeded and proceed carefully and patiently. And one more thing, he says: "Don't bet the farm."
While browsing in a shop in 2009, 6-year-old Allison Prestwich saw a candle made by the Tyler Candle Co., and she wondered aloud if it was named after her younger brother.
Salon owner Carol Milani had never invented anything before, but she needed a way to keep her strong and fearless Bengal cat from escaping the yard.