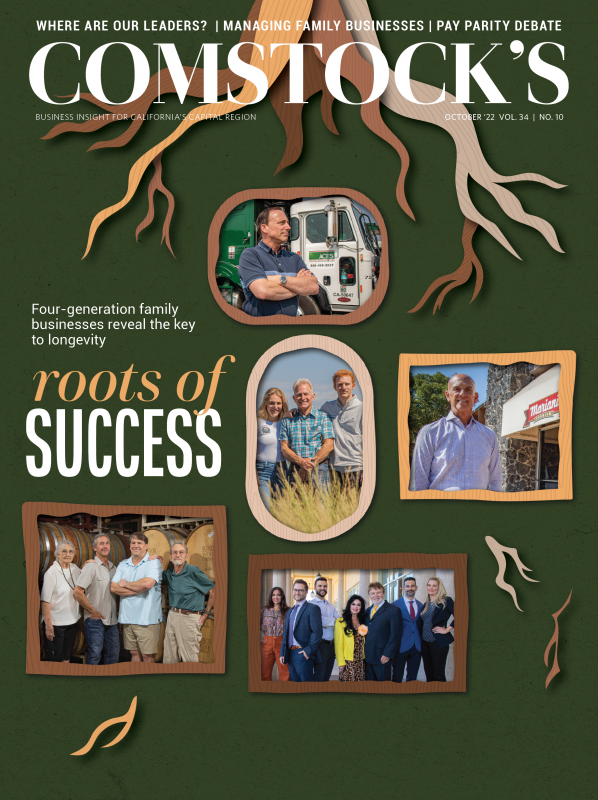 This story is part of our October 2022 Family Business print issue. To subscribe, click here.
Over 100 years ago, Chicago native Roscoe Zuckerman first saw the labyrinthine waterways and windswept fields of the California Delta. He was there on a sourcing assignment for his cousin Edward Weyl, who ran a produce company in Los Angeles. But as he got to know the still-wild place and the people cultivating it, he realized he didn't want to be a middleman tethered to the city. He wanted to be a farmer.
"Farming is very, very up and down, so it's been a roller coaster ride," says Ed Zuckerman, president of Zuckerman Family Farms and Roscoe's grandson, of the century that followed. Roscoe and his brothers Morris and Herbert, who also worked at the produce company, convinced Weyl to help them start a farm. They planted their first fields of potatoes, asparagus, celery and other crops on McDonald Island, a slough-bound chunk of Delta land that still forms the heart of the Zuckerman empire.
By the time Ed's father, Alfred Zuckerman, returned from fighting in World War II to join the business, the Zuckerman family had expanded their farming interests to several states. In the Delta alone, they grew about 6,000 acres of asparagus, then a sought-after vegetable associated with luxe meals and hollandaise sauce.
Zuckerman Family Farms no longer grows asparagus because of high labor costs (the delicate spears require skilled, gentle hands) and cheaper imports from Mexico and Peru. Alfred saw those issues on the horizon in the 1960s and '70s, so he began growing wine grapes and selling plantings to winemakers in burgeoning Napa County — helping the company to survive another generation.
When it was Ed's turn to ask for a job while he was in college, his father was blunt. "He was kind of a hardass," Ed admits. "He said, 'Well, there's not room for you in the family business right now. I don't think it will support a family unless you bring something to the table.'" Inspiration came in the form of a billboard advertising turf grass that Ed passed outside of Tracy. Now operating under the trade name Delta Bluegrass Co., his sod company Zuckerman Heritage is one of the largest in Northern California, greening sports fields, golf courses and yards around the state.
"Farming is very, very up and down, so it's been a roller coaster ride."

Ed Zuckerman, president, Zuckerman Family Farms
Ed later started Heritage Land Company with his business partner Dennis Gardemeyer; under this company, they co-own Zuckerman Family Farms and Zuckerman Heritage. The Heritage Land umbrella also covers a fertilizer and chemical company and a packing company that have other owners. (The original company that Roscoe started now operates as a land-owning entity.)
Over a century after the first planting, potatoes remain a focal point of the Zuckerman business, which supplies Safeways, Walmarts, Costcos and other supermarkets around the country. During the commercial potato harvest, the payroll stretches to almost 1,000 people.
A relatively recent addition to the payroll is Ed's daughter Julia Zuckerman, who started working at the company as a teenager and studied agribusiness at Chico State. Now 24, Julia has concrete plans for her future role as a fourth-generation owner.
"It's important to me to maintain the ideals of my dad and my grandparents while also bringing in new technologies, new digital capabilities and new ideas that can further flourish the company," she says, later adding that she doesn't want her last name to be the only reason that employees respect her.
"I want to see their acceptance, gain their trust," she says. "I want to gain all the knowledge that everyone here has to offer."
—
Stay up to date on business in the Capital Region: Subscribe to the Comstock's newsletter today.