As the founder and CEO of Teneral Cellars, Jill Osur believes in doing well by doing good.
"I'm driven by altruism and wired as an entrepreneur," Osur says. "I grew up in a Jewish family and was taught Tikkun Olam, which is to repair the world and leave it better than you found it."
Yet three years ago, when the pandemic first hit, Osur, who was then president of the El Dorado County-based winery group GoldLine Brands, began to question how she was using her voice to be a part of the solutions she wanted to see in the world.
That desire to do more led Osur to launch the winery Teneral Cellars. With vineyards in Fair Play, El Dorado County, Teneral Cellars donates 10 percent of profits to organizations that support gender and racial justice, social change, and climate solutions.
Teneral Cellars also works to create opportunities for women in the wine industry. Each quarter, the winery creates a new collection of three varieties, with a portion of the proceeds benefiting nonprofits. Its Disrupt collection, the first release for 2022, donated to the Women of the Vine & Spirits to provide scholarships to women who want to pursue careers in the wine industry. In 2021, their first full year of business, Teneral Cellars donated $51,500 to nonprofits that promote gender and racial equity.
"Almost 70 percent of wine is purchased by women, yet only 10 percent of winemakers are female," Osur says. "While there are women who work in tasting rooms, there are very few women in leadership positions and even fewer women of color."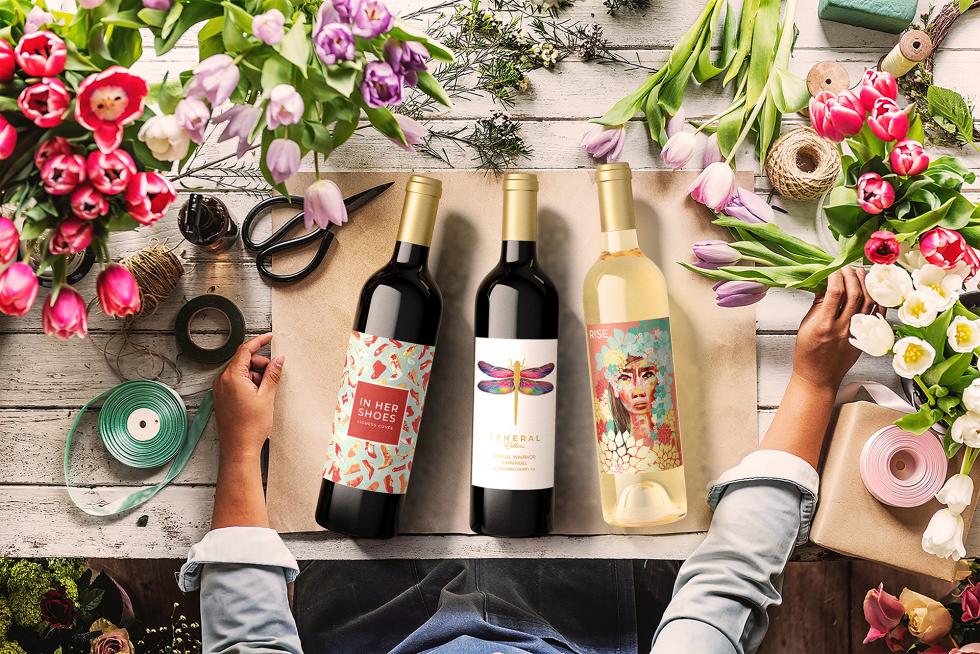 Osur also sees the wines themselves serving as catalysts for change.
"Each of our wine bottles features 'conversation starters' on the labels, designed to promote meaningful conversations," she says. "Our Ruthless Collection, inspired by the late Supreme Court Justice Ruth Bader Ginsburg, advocates for women's fundamental rights: reproductive rights, voting rights and teaching people to vote with their dollar."
The wine labels, all designed by women artists, ask questions including: "What is the most courageous thing you've ever done?" and "What impacts on women's lives are missing from the dialogue around women's rights and how can YOU make moves to mitigate those impacts?"
"I love how wine connects people and I hope our wines can inspire important conversations and build bridges rather than a divide," Osur says. "Teneral is when a dragonfly comes out of its cast, and our logo is a dragonfly and represents the transformation of equity and equality that I want to see in both the wine industry and the world."
Osur is proud that her business reflects the lessons she's mastered throughout her career. After graduating from UC Berkeley, Osur worked in political fundraising, then in marketing for the Special Olympics of Northern California and Nevada before getting into the wine industry, first in a consulting capacity and later joining a winery group. Osur is a member of the Women Presidents' Organization, a global organization for women business owners, and was a recipient of their Adrienne Hall Award for Breaking Down Barriers in 2021. Last year, Osur was the recipient of Leadership California's Legacy of Leadership — Corporate Leader Award and she serves as a member of the Governor's 2022 Entrepreneurship & Economic Mobility Force for California.
Osur is looking to expand Teneral Cellars this year by opening a full-production winery, with a tasting room where she can also hold wine experiences and wellness retreats. "Teneral Cellars brings the best of my personal and professional missions together, to elevate women and to inspire positive change in the world," she says.
–
Get all the stories in our annual salute to women in leadership delivered to your inbox: Subscribe to the Comstock's newsletter today.