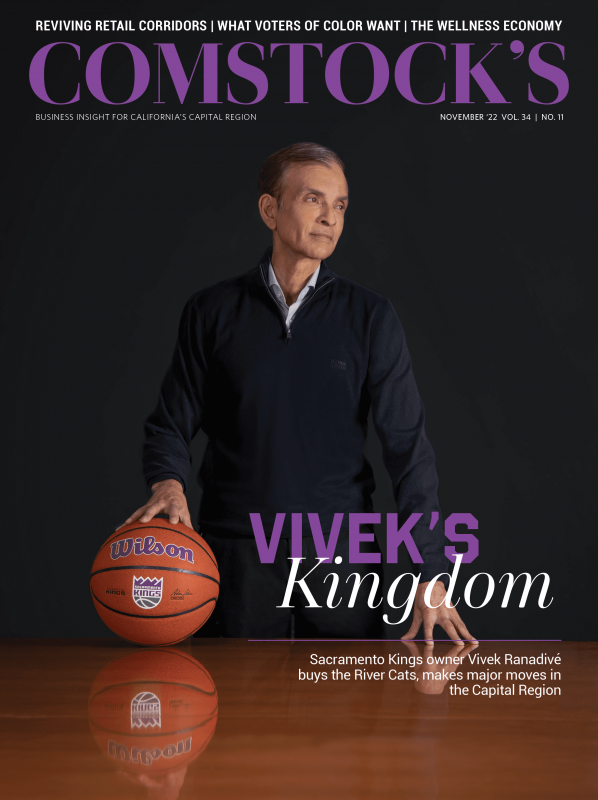 This story is part of our November 2022 print issue. To subscribe, click here.
A new building in the middle of a 120-acre olive tree orchard just off Interstate 5 in Lodi has reshaped a family-owned business that has been part of California's rich olive oil landscape for almost two decades.
The 4,000-square-foot winery, olive mill, retail and tasting facility gives the businesses operating under the Coldani family umbrella, including Calivirgin, Lodi Olive Oil and Calivines, a new location to showcase award-winning olive oil and a new wine line.
Being able to offer both wine and olive oil tastings at one location "gives people the best of both worlds," says Julie Coldani.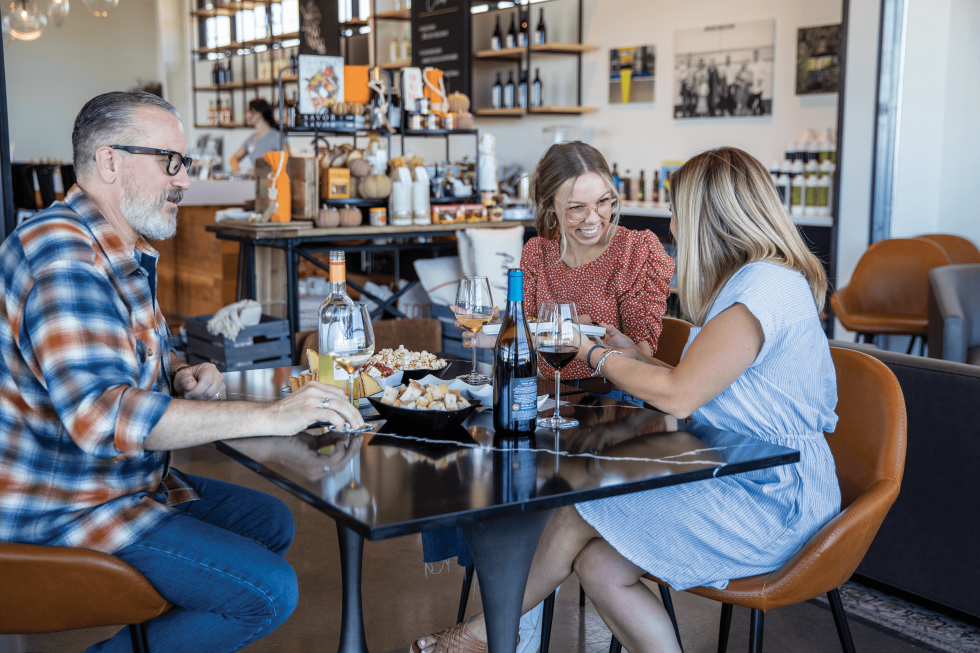 Coldani Olive Ranch was founded by Steve and Jeanne Coldani, who both still serve on the company's board of directors, in 2005. Other co-owners of the olive oil business and its offshoots who operate the day-to-day operations include their children, Michael Coldani and Gina Sans, and their children's spouses, Julie Coldani and Scott Sans. (Steve and Jeanne also have five grandchildren.) Even before olive oil entered the picture, the family had been farming in the San Joaquin Valley through four generations, growing a variety of row crops including alfalfa, tomatoes and corn, says Gina Sans.
When the olive ranch was planted, the family business became part of California's olive industry, which dates back to the Gold Rush era. The idea came from Michael Coldani's college class project, where students had to create a permanent crop, Sans says.
"Farming we knew very, very well, and we had done that for a very long time," Sans says. "It was really the retail element and direct-to-consumer element that was new to our family and our history."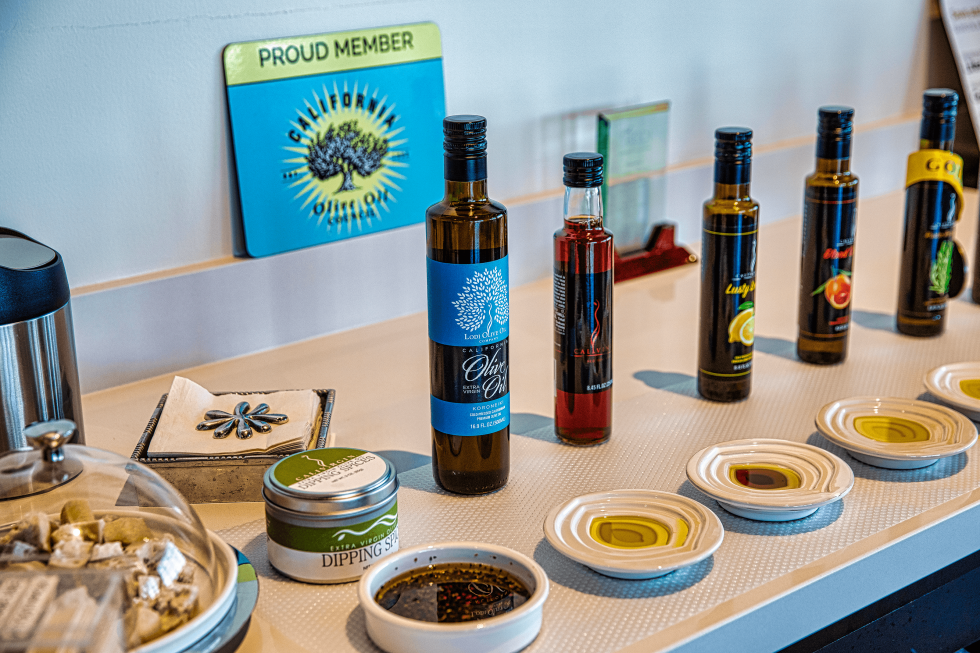 By 2007, after the first olive harvest, the two Coldani children and their spouses dove into making and selling olive oil, featuring bottled products and an olive oil tasting room. The business continued to expand, and a year ago, piggybacking on the construction of the new facility, it began offering wine through its Calivines label.
The spacious patio and other buildings are both kid and pet-friendly, Julie Coldani says, and are open seven days a week, offering regular events like Sunday afternoon live music. Customers can enjoy tastings and food pairings, purchase gift boxes, join various wine and olive oil clubs, and take several on-site classes.
"We started small and grew from there," says Coldani, noting that the original business plan was to just sell the olives and the oil. "And then one thing led to another and we built a brand and slowly our whole family stopped our day jobs and took this on as a challenge."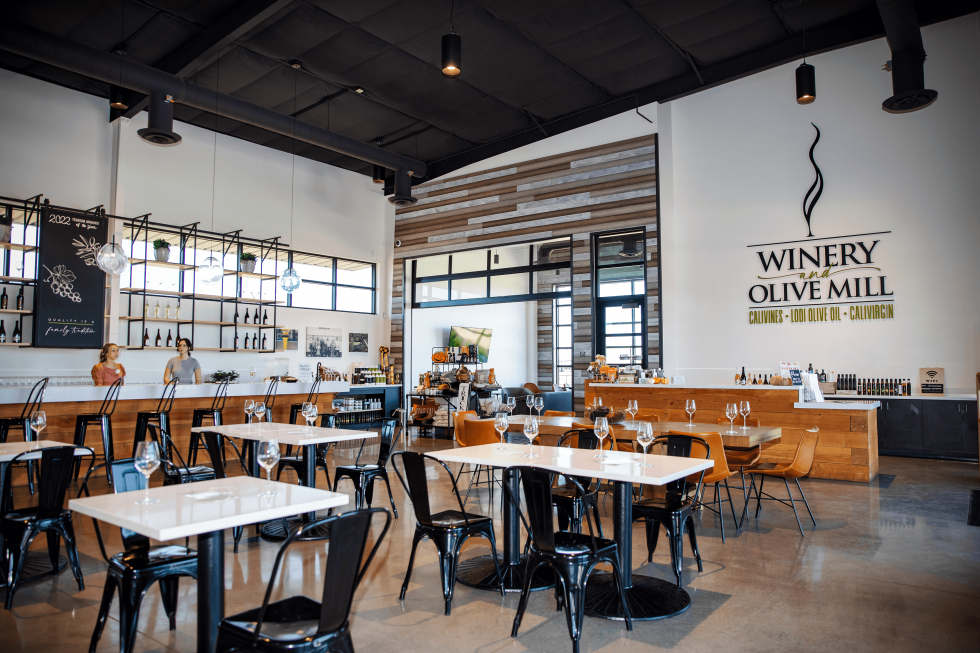 Most of the trees at the olive ranch are the Spanish variety arbequina, and about 5 percent are the Greek variety koroneiki. Sans says they produce from 15,000 to 20,000 gallons of olive oil a year, some of which goes to a number of restaurants in San Joaquin and Sacramento counties.
When the olive oil business began, it offered just one type of extra virgin olive oil, Sans says. That has changed, and it now has a wide variety of flavored olive oils. In 2021 Calivirgin's Serrano won the Best of Show — Flavored award in the annual San Joaquin Valley Olive Oil Competition at the Big Fresno Fair; it won the category again in 2022 for its habanero flavor.
"The difference between us and most producers is we crush our flavors with fresh produce, while a lot of companies use infusions," the process of extracting chemical compounds, Coldani says, noting the business is an active member of the California Olive Oil Council.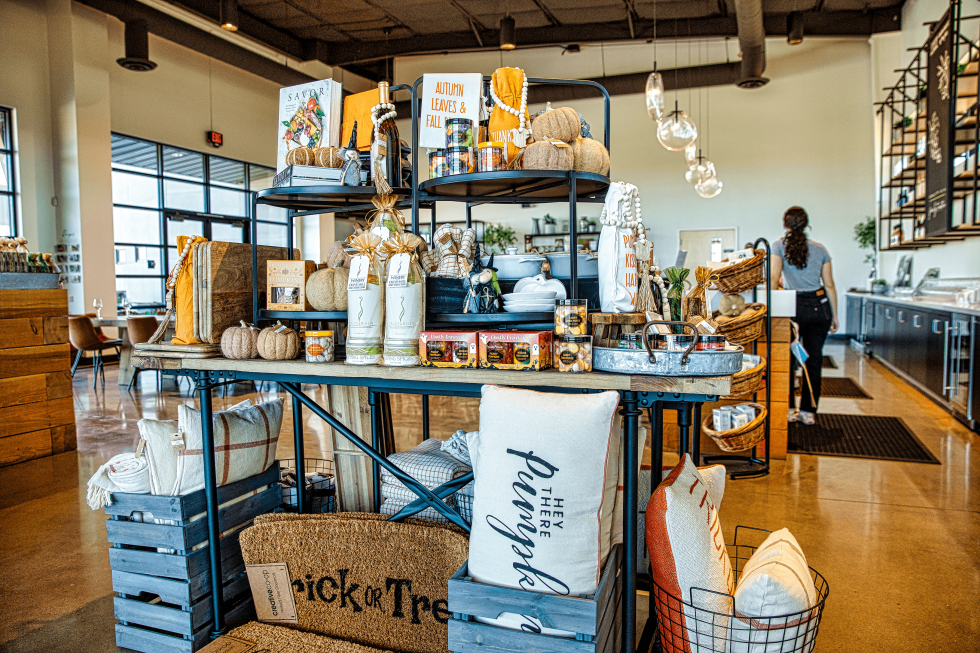 Each quarter, Calivirgin comes out with a new food menu and self-serve olive oil and wine tasting bar selections, Julie Coldani says, while keeping its most popular items available. Currently, those are the Koroneiki Extra Virgin varietal and two award winners, Hot Virgin Jalapeno and Rustic Rosemary.
Olive oil tastings come two ways: scheduled, seated tastings, called A Taste of Calivirgin, and the tasting bar, which features nine different olive oils, associated dipping sauces, and food bites.
"We make sure that what's on the bar is different than what you would get at the Taste of Calivirgin seating," Coldani says. "And it's always a combination of extra virgin olive oils, balsamics or a type of vinegar, and then our flavored olive oils. It's always a variety of all three of those."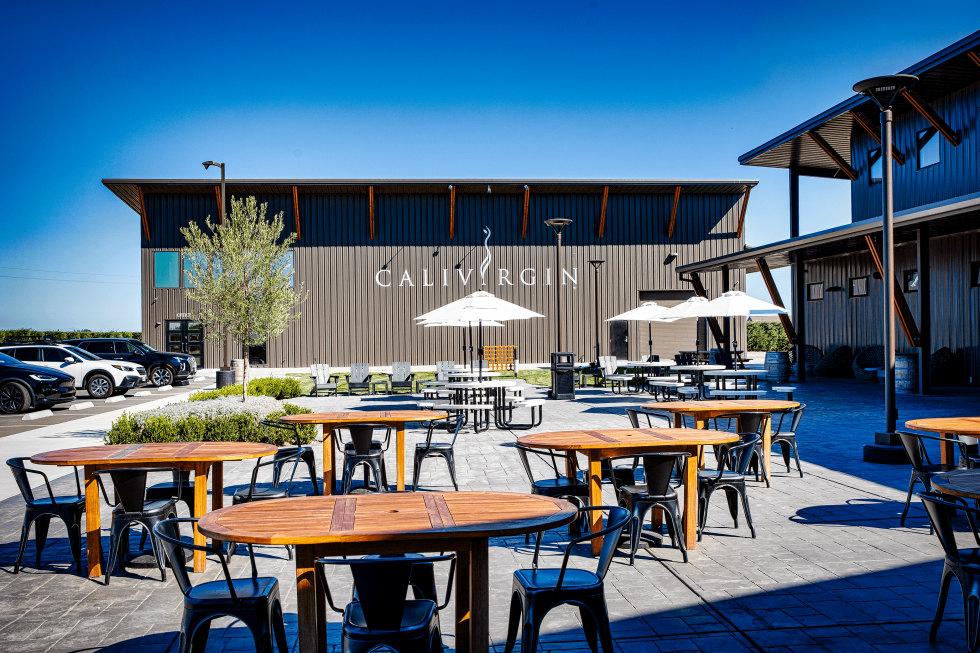 From its growing vineyards, the winery produces a number of red and white wines. It is designated a medium-sized winery, which allows production of up to 25,000 cases, Sans says. The winery fits into their business model perfectly, she notes.
"We really wanted the wine to be able to stand on the same level as the olive oil," Sans says. "We didn't want to open a winery where one product outshined the other. They go together perfectly. Hopefully when a customer comes in, we can find them something they'll like."
–
Stay up to date on business in the Capital Region: Subscribe to the Comstock's newsletter today.