Maria Kang has cultivated an award-winning physique and parlayed her passion for personal fitness into a nonprofit empowerment group. But for the Elk Grove mother of three, the path to both private and professional happiness first detoured through fear, depression, eating disorders and body dysmorphia. All this before a controversial post expanded her reach exponentially.
As a girl growing up in San Francisco, then later in Elk Grove, Kang, 39, wanted to find her purpose. She recalls at the age of 4 asking, "Why am I living? Why am I here?"
In Kang's younger years, she helped to raise her three siblings while supporting her mother, who suffered from obesity-related health challenges. Her mother's struggle fueled Kang's fitness drive — she worked out at home, running laps around the family's pool, turning stacked phone books into aerobic steps. While attending Laguna Creek High School in Elk Grove, Kang volunteered as an aerobics instructor; while at UC Davis, she became a personal trainer and later worked as a fitness manager at a gym in San Francisco.
Through high school and just beyond college, Kang also had a successful stint in the pageant world along with body competitions. "Because I kept winning, I kept competing," she says. She competed, "Mainly for opportunity to network, travel or receive prize money."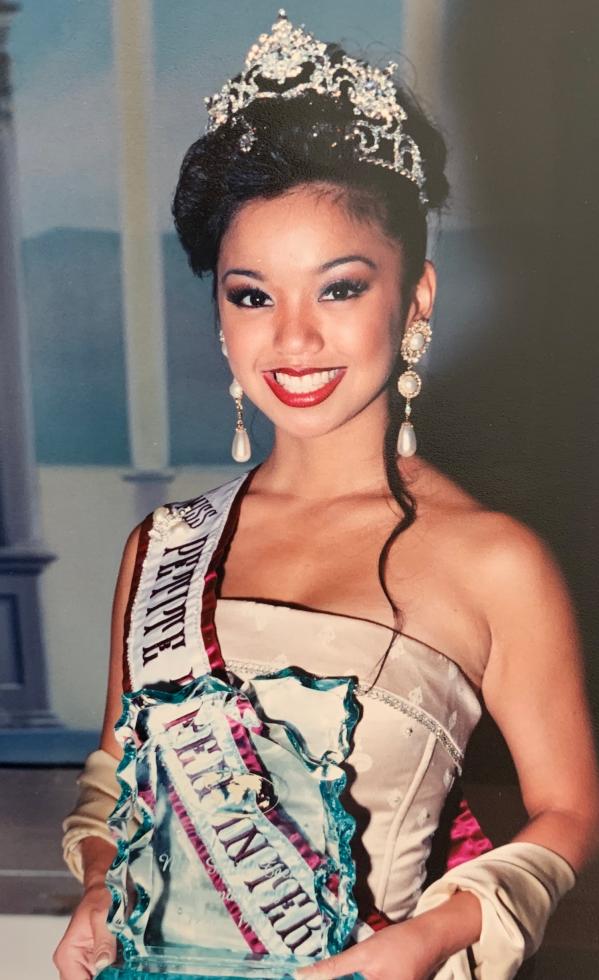 After winning Miss Philippines USA 2003, Kang was urged by her pageant director to undergo breast augmentation surgery. While still healing from the procedure, Kang competed in the Philippines. By August, she was Miss Bikini California 2003 and placed in the top five at Miss Bikini and Miss Model America Nationals in November.
Kang often binge ate after competitions because she was so strict with her intake leading up to the events. A few weeks after the Miss Model America Nationals in 2003, Kang binged, but this was the first time she purged. She acknowledges this as the start of her four-year battle with bulimia, body dysmorphia and depression.
Kang's struggle with the disorder helped her eventually cultivate self-worth, solidify her future vision and strengthen her resolve, she says. It also prepared her to stand her ground when, a decade later, in 2013, she would face global backlash for what she calls a "widely misunderstood" post.
Learning to Take Care of Her Body — and Herself
Breast implants may have been seen as a tool to boost success within the body-competition industry, but for Kang, they were a constant reminder that she had objectified herself for external gains. It was a painful truth — and the very medicine she needed to make a hard stop and pivot. "There is an unrealistic, unhealthy and extremely lean physique awarded within the fitness industry, hence the need for boob jobs as women lose their fatty breast tissue," Kang says. "Many competitors struggle with disordered eating and body dysmorphia."
The augmentation led to a realization for Kang: "We need to take care of (the body) because it houses the spirit." As she privately navigated her food struggles, she continued to work as a fitness manager and as a personal trainer in San Francisco, after graduating from UC Davis in 2002. Her mission to help one specific client, who Kang believed was battling undiagnosed anorexia, set her on the path to healing her own relationship with food.
"I took (the client) to group therapy for eating disorders, and I mentored her by educating her about nutrients and encouraging her to love her body," Kang says. "I speak about role modeling often, especially today, and understand the importance of doing better for yourself because you want to help those you love and care about to also do better. I had to eat well because I wanted her to eat well. I wanted to love my body because I wanted her to love her body. Healing happens when you lose yourself in the service of others."
How has a professional transition affected your life? Join the conversation: Email editorial@comstocksmag.com with your story or tweet us @comstocksmag.
When Kang and I sat down for this conversation in early July, she was exactly two weeks into recovering from having her breast implants removed due to ongoing numbness, swelling and pain.
In 2004, Kang felt ready to stretch herself professionally and took a gamble, leaving her job at the gym. "I photocopied anything written about me, wrote an inspiring cover letter about changing the world and mailed my portfolio directly to the CEOs of the biggest fitness companies at the time," she says. She received three call backs: The job she accepted was a project coordinator position with 24 Hour Fitness, an offer that came directly from the company's founder and CEO Mark Mastrov.
But she couldn't shake a deep feeling of unhappiness. Kang turned her pain, joy and questions into blog content, and soon developed an online community of other women going through similar challenges. She also found solace in work, overseeing 24 Hour Fitness' first set of circuit-training gyms called Fit-Lite and was responsible for opening six clubs in the Bay Area.
Her time in San Francisco was cut short when Kang's mother's health further declined, so she moved back to Sacramento in 2006 to help. Kang commuted to the Bay Area a couple times a week, and then quit her job at in 2007 and moved in with her parents. The same year, she founded her nonprofit, Fitness Without Borders, to provide fitness education and instill healthy habits primarily in underprivileged neighborhoods around the world.
As she nurtured her nonprofit in person and online, Kang came across "an intriguing comment from a handsome man." She followed the thread to his profile and discovered his blog and poetry. The two developed an online friendship that turned to love. Then came an unplanned pregnancy. "When I first discovered we were unexpectedly pregnant I had no income," she wrote on her blog. "I lived in my parent's home. I didn't have health insurance. And I wasn't married."
She began writing goals for herself — three-week, three-month and three-year goals — and they included becoming a great mother, successful business owner and influential fitness role model. Kang married the man she met online, David Casler, in 2010. A second unplanned pregnancy put financial strain on the couple, so when they saw an opportunity to expand her parents' elder-care home business, they went for it. (The couple now operates three facilities.)
As an entrepreneur, wife and mom, Kang knows intimately what it is to have a full plate. In 2012, when her boys were all under the age of 3, she drew inspiration from a viral fad where people posted inspirational photos of overcoming challenges with the words "What's Your Excuse?" She franchised that idea to create her own "fitspirational" meme series, including "What's Your Reason."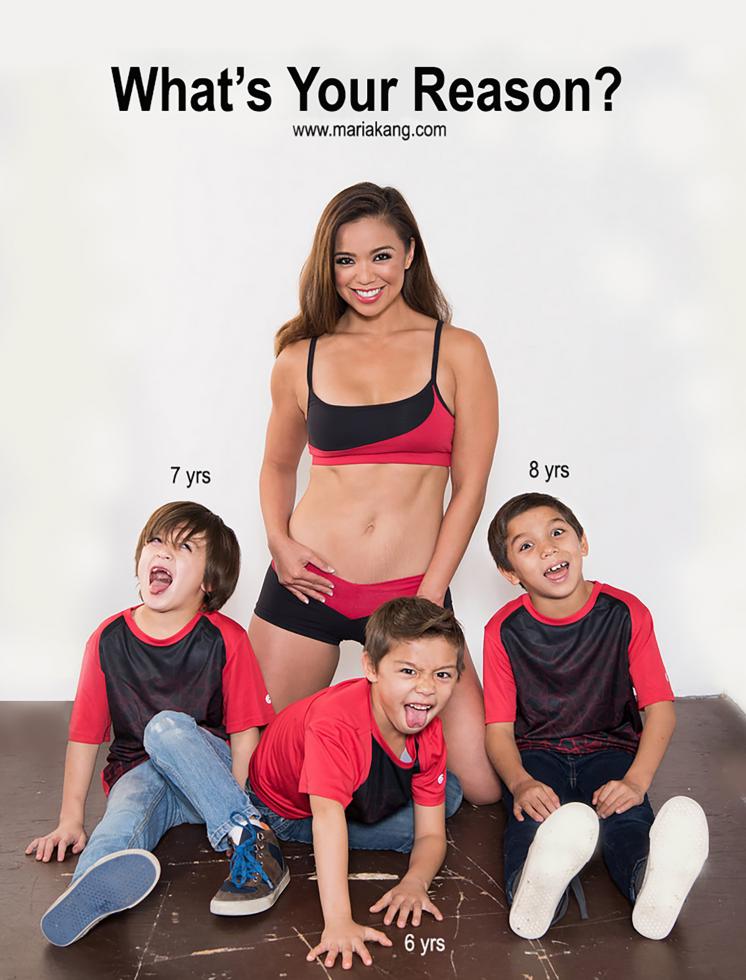 Kang posted a photo of herself in workout gear with her three little ninjas, as she calls them. "Everyone knows that mothers are one of the busiest people in the world!" She says she didn't intend for the post to be directed to mothers specifically, but to anyone who could use some inspiration.
She was surprised by the attention, "I don't think anyone expects to be on CNN when you post a photo on Facebook," Kang says. Public reaction was varied and widespread, "Some people found it very inspiring, others did not," Kang says. "They thought I was fat shaming. They thought I was bringing women's lib back 30 years, they thought I was telling people what's your excuse for not looking like me?"
Her intent was none of the sort: "The heart of what I'm always telling people, you are the owner of your life, the captain of your boat, the author of your book, you can direct whatever destiny you want — but No. 1 — you need to desire it. You can't be complacent with your life. And then you need to get uncomfortable."
Kang believed in her initial intent, which was never to shame anyone, nor send a message that people should look like her. She stood her ground. "I did a non-apology … 'People keep asking me for an apology. You know what? I'm not going to apologize,'" she says. "If you think that I'm the reason why you feel the way you do, then you're going to have many problems for the rest of your life."
That response ignited a social media firestorm. Overnight, Kang found herself dubbed the "No Excuse Mom" with media outlets everywhere clamoring to hear from her. "It was worldwide backlash. That's why I have international groups, they all know who I (am)." For that, she has her critics to thank. The irony of her international success is not lost on Kang: Although unintended, the same critics who helped her message go viral inadvertently opened the door for her to reach a global audience with her blog, nonprofit, public speaking and, later, her book.
Growing a No Excuse Mom Community
Kang's No Excuse Mom program was born in 2014 under the umbrella of her already existing nonprofit. Today, her volunteer-run community has more than 300 locations in 25 countries with nearly 70,000 members. The online forum is a place where Kang, her nonprofit leaders and community members share support, information and inspiration for those trying to raise a healthy family and be a healthy parent, she says.
There's also an "in real life" component, with 350 free workout groups offered around the world. "Our tagline is Health Starts at Home," Kang says. "As mothers, we are often in control of the budget, the meals and the cooking! We have a very big leadership role in our country's health."
Junette Caloroso says No Excuse Mom has helped her grow personally and professionally. "I initially started the Hayward chapter to make new mommy friends and lose the baby weight from my first born," says Caloroso. Additionally, she discovered a passion for empowering other moms to live healthy lives, and she says she learned the fundamentals of leadership, marketing, networking, business development and recruiting. Now she works as a recruiter for tech companies. "I now have a career that I love and (am) forever grateful for being a NEM," she says.
In 2015, Kang published her book, "The No More Excuses Diet." And in 2017, Kang began hosting retreats for NEM leaders in various locations around the world including Miami, Chicago, Paris, Prague and one in San Francisco this fall. Participants learn about team-building, develop camaraderie and explore how to better serve the members, who range from 200 to 4,000 women in each city, according to Kang.
Sharing her life so publicly with tens of thousands of No Excuse Mom devotees and haters alike, while fulfilling, has not been easy. At times, Kang says the experience has proven heavy and painful, adding stress to her marriage. However, she says it was a space she had unknowingly been preparing for her entire life.
"The fact that I was so solid in my foundation, it really stemmed from my experience of getting those implants, my experience of going through depression, starting my blog in 2005, navigating my vulnerability online and being open and fearful and strong-willed," Kang says. "If I didn't go through all of that, I wouldn't have been able to say, 'You know I don't care what you think — this is how I feel.'"
—
Get this and other stories delivered to your inbox weekly: Sign up for our free email newsletter by clicking or tapping here.
"Space and distance from TV news has welcomed perspective and clarity. I now see my unhappiness with work and life as a reflection of my internal misalignment. As I yearned for stability, I could not see the faultiness of my own personal foundation; something no job, no partner, no achievement could fix. This was soul work."