Agility matters for small businesses. That truism applies even more during the economic recession caused by the coronavirus pandemic: Just ask Roshaun Davis, co-owner with his wife, Maritza Davis, of Unseen Heroes, an events planning firm in Sacramento behind Gather: Oak Park and the Midtown Farmers Market.
The couple's company closed in mid-March after California Gov. Gavin Newsom imposed restrictions to slow the COVID-19 transmission that shut down big parts of the city's economy. Large gatherings, the bulk of Unseen Heroes' business, vanished. They also had to temporarily close their retail shop, Display: California, in the Oak Park neighborhood. The firm's business fate did not end there.
Then in July, the company lost its contract with Midtown Association to manage the Midtown Farmers Market in Sacramento. But rather than give up on their company (Maritza Davis has a full-time job as vice president of experiences and social responsibility with the Sacramento Kings), the couple pivoted to open the NeighborGood Market in central Elk Grove, a certified farmers market, in September. This business move reflected "a desire to help our local business community," Davis says. "The other (motivation) was to connect our larger community with healthy food."
Comstock's has reported on Unseen Heroes and its founders several times since the company's launch in 2012 ("Fresh Intervention," "'Tis the Season to Support Small Business," "What Did Le Diner en Blanc Really Bring to Sacramento?").
Unseen Heroes had cut its payroll from nine to three employees as it faced COVID-19 restrictions and reduced operating revenues during the pandemic as its way to cope with the economic fallout that has hammered small businesses across the country. According to research by Robert Fairlie, an economics professor at UC Santa Cruz, "3.3 million active business owners (or 22 percent)" closed their businesses between February and April, "the largest drop on record." By contrast, business activity fell 5 percent during the Great Recession, according to Fairlie. He found a small business bounce back from April numbers of 7 percent in May and in June, respectively.
Unseen Heroes had been running the Midtown Farmers Market since 2015, so it struck a blow to the firm when that ended over the summer. "We made the difficult decision to terminate this contract because they were not able to meet critical performance issues after multiple notices and discussions," said the Midtown Association in a statement to Comstock's.
Unseen Heroes has a different view. Davis says, "I am still not completely clear on their reasoning for canceling the contract, and, to be honest, I'm not focused on it anymore." As the managers of the farmers market, the company helped provide a financial lifeline to many vendors at the popular Midtown event, and helping to keep those vendors afloat after the July separation was another factor in launching NeighborGood Market, he says.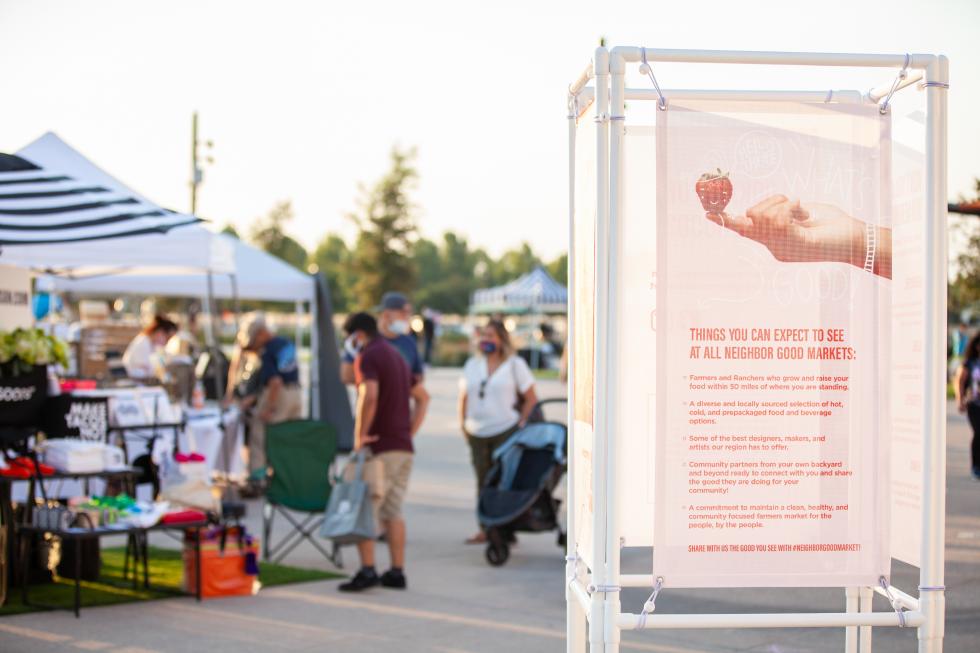 The new Elk Grove venture features 30-40 vendors. "We want to be mindful of spacing," Davis says. "The way that we are building the business out in phases will allow for 150 vendors in 2021."
Unseen Heroes saw potential for a farmers market in Elk Grove. "We had been in discussion with the City of Elk Grove for a year about the best concept to implement there," Davis says. "We don't do anything by the seat of our pants. NeighborGood Market was well-thought-out in advance."
Jodie Moreno, community events and projects coordinator for the City of Elk Grove, says, "We were looking to partner with Unseen Heroes because they were committed to highlighting the richness of agriculture and also the richness of culture that is abundant in our region. We felt they had the capacity to introduce a fun, fresh take on a market in Elk Grove that the community would want to visit to support small and microfarms and businesses."
Davis says the city and community have provided an outpouring of support on the new venture. The market is located in District56, a 56-acre city-owned gathering spot in central Elk Grove that in part features aquatics and senior centers.
"We also wanted to highlight our newest gathering spot, District 5," Moreno says, "and be able to host an essential market. Its central location in the heart of the city makes it an ideal location for a new market experience that is accessible from many Elk Grove neighborhoods. It was designed to accommodate markets and other types of events and activities to be enjoyed by the community. Shoppers can stroll along the avenue to purchase produce and other goods from vendors and enjoy a variety of public art."
Unseen Heroes has also received $100,000 from the City of Sacramento's Creative Economy Recovery Grants program funded with $89 million the city got from the federal Coronavirus Aid, Relief, and Economic Security Act. As for the company's future plans, Davis envisions expanding the NeighborGood Market concept into other areas in the region, including near Sacramento State, in Meadowview and West Sacramento. "We are stepping into that space from this point forward," he says.
–
Get all our web exclusives in your mailbox every week: Sign up for the Comstock's newsletter today!