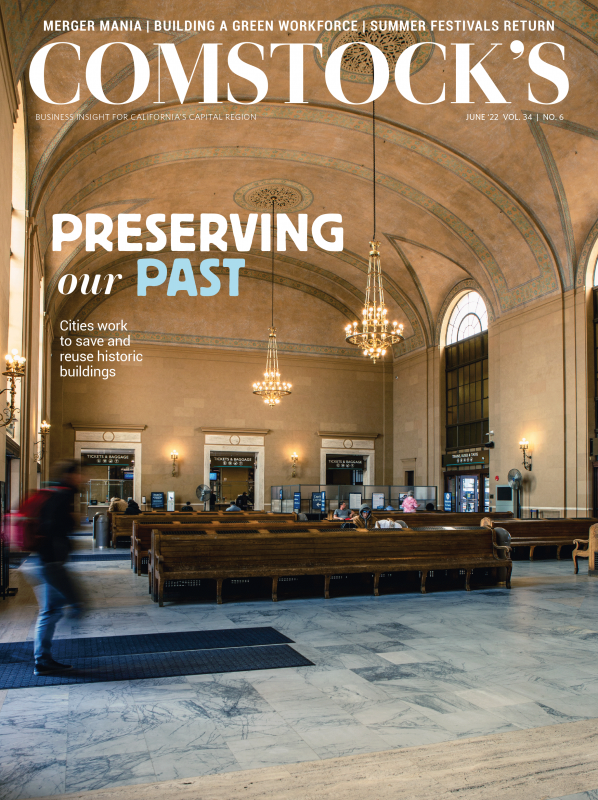 This story is part of our June 2022 print issue. To subscribe, click here.
The global pandemic took a big toll on parents. Quarantines put play dates on hold and limited child care options for many. June Care launched in August 2021 to create a support network for parents in need and hosts who could help.
Gretchen Salyer, CEO and founder of June Care, spent 15 years in the tech industry, then took time off shortly before COVID-19 to stay at home to care for her three daughters. She knew leaving her job was a privilege many friends, neighbors and family members couldn't afford.
"So many moms were feeling isolated and totally overwhelmed" during the pandemic, she says. She began exchanging child care services with other families, which she says "was normalizing despite so much turmoil happening around us."
The June Care team is made up of Salyer plus four other moms. They set up a test website with a survey to assess demand. The response, she says, was huge. By November 2021, the startup had raised about $3.5 million. The team created an online platform that connects parents who need child care with host parents who can provide it, in the model of Uber and Lyft.
After launching in the Bay Area, June Care set up headquarters for its growth team in Davis. Sacramento and Yolo counties are currently the company's largest markets, Salyer says.
The screening process aims to pair users with hosts that would be the best fit. The platform asks potential hosts a variety of parenting questions, such as different scenarios they may find themselves in: conflict over a toy or if someone misses their parents, Salyer says. June Care has about 3,000 families as of April 2022, split about evenly between hosts and users.
The hardest part? "Keeping up with demand," Salyer says. "We have to be careful because we want it to be a very personalized experience, but the thing that keeps us up at night is getting back to everyone and not letting any request fall through the cracks."
Mark Engstrom, an angel investor for June Care, understands the challenges of child care for young families today. His daughters told him about June Care and he reached out to Salyer, intrigued by the concept of tapping into the underutilized supply of care workers. "I wish we would've had this 30 years ago," says Engstrom, who has three children and two grandchildren.
He sees value in June Care's potential to build a strong community by connecting families with others nearby, especially for those who don't have relatives in the area. This was true for Jinei Shepherd, a June Care host who provides child care. In August, she moved from Dallas to Sacramento with her family. Without a support network, Shepherd struggled. She joined Fit4Mom, a workout group that allows parents to bring their children, and there she learned about June Care.
"I worked my whole life," says Shepherd, a former elementary music teacher. "To not have a source of income and having to depend on my husband for money was something that really bugged me."
With Shepherd being at home with the kids anyway, June Care looked like an appealing option to make money. She has been hosting since February. The job ticks a few boxes: it provides her income and helps build social skills for her child, whose speech had been delayed because of limited social interaction, she says. Shepherd would recommend it to anyone in her position, especially with the issues caused by the pandemic.
"My kid hasn't even seen a person in the first year of his life besides my husband and I," Shepherd says. "For him to get out there and interact with people, it was a bit challenging. For me to have a playmate all the time, it's been wonderful."
–
Stay up to date on business in the Capital Region: Subscribe to the Comstock's newsletter today.