Kind Bean Café and Ethiopian Cuisine
Address:
1547 Fulton Ave suite D
Sacramento, CA
Phone: (279) 345-0909
Website:
www.kindbeancafe.com
Kind Bean Café and Ethiopian Cuisine
Address:
1547 Fulton Ave suite D
Sacramento, CA
Phone: (279) 345-0909
Website:
www.kindbeancafe.com
The coffee ceremony at Kind Bean Cafe and Ethiopian Cuisine unfolds like a sacrament, each tool imbued with significance like objects on an altar. The beans, roasted and ground throughout the day, steep in a jebena, an ebony-colored earthenware vessel developed more than 800 years ago. When the coffee is ready, it is decanted into delicate cups with a design that recalls traditional textiles. Its aroma interweaves with that of the frankincense burning in a censer encrusted in cut stones, ornate enough to be carried by a wise man on his way to Bethlehem.
But if you prefer to take your coffee in a flat white with a side of avocado toast, you can also get that at the Arden Arcade cafe. Owner Kedija Adam and her business partners opened Kind Bean in 2019 as a coffee shop focusing on baked goods and espresso drinks. The business did well at first, but the pandemic led to a temporary closure and the departure of Adam's co-owners. In the meantime, Adam stuck to her longtime side-hustle selling injera, the naturally fermented teff flatbread that forms the foundation of every Ethiopian meal. When she reopened in April 2022, she decided to add those meals to the menu.
Adam's injera, buoyant and faintly tart, serves as both canvas and utensil for the Ethiopian dishes at Kind Bean. Tear off pieces from the edge to pinch up the viands arranged on top. When all have been consumed, the final bites should be the flatbread's sauce-saturated center, the flavors blending together as they will in memories.
"People come in to get coffee, and then they're like, 'Ooh, what's that smell?'" says manager Meron Gebremariam, who has known Adam for years and started working at the restaurant four months ago when she noticed she could use some help. (Adam declined to be interviewed.) "It's always nice to try something new and to introduce people to new tastes."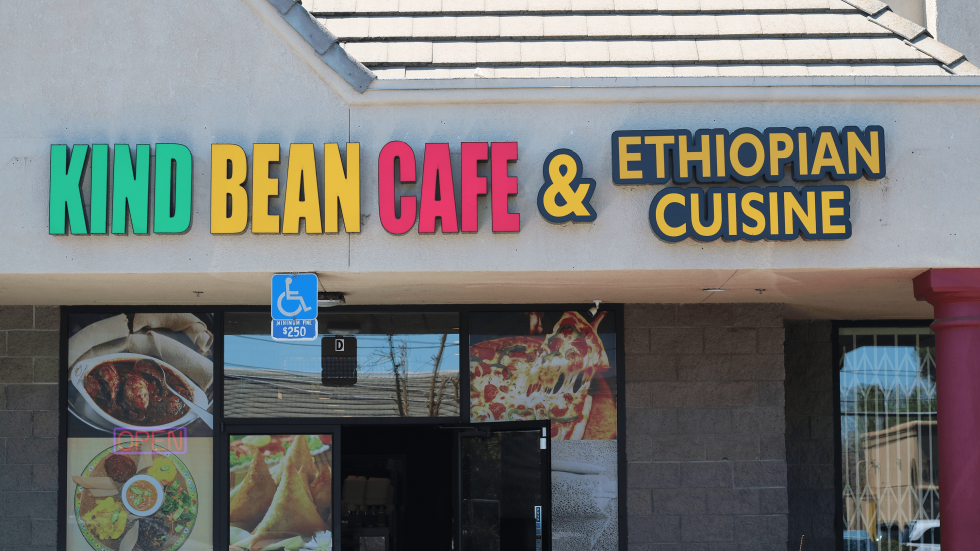 Those who eat meat should not skip the kitfo, though the menu undersells it as "like a burger, only it's raw." The beef is minced to order and glossed in gently heated niter kibbeh, a yolk-yellow clarified butter suspending a polyphony of herbs and spices. The result is tartare served body-warm, cardamom and chile crescendoing with each bite. Dampen the heat with a pinch of ayib, a house-made cheese somewhere between queso fresco and ricotta.
Ayib also accompanies the doro wot, a chicken stew sometimes called Ethiopia's national dish. Onions are the backbone of the sauce, cooked down so long they transubstantiate to dark caramel. Similar long-cooking techniques underpin the non-meat wots (stews) on the menu, part of a tradition of cooking without animal products in Ethiopia, where the majority Orthodox Christian population abstains from meat, eggs and dairy 180 days per year. (The restaurant's two cooks are Christian, but Adam is Muslim and Gebremariam is Jewish. "I really appreciate that dynamic of us still being able to work together and serve the community," Gebremariam says.)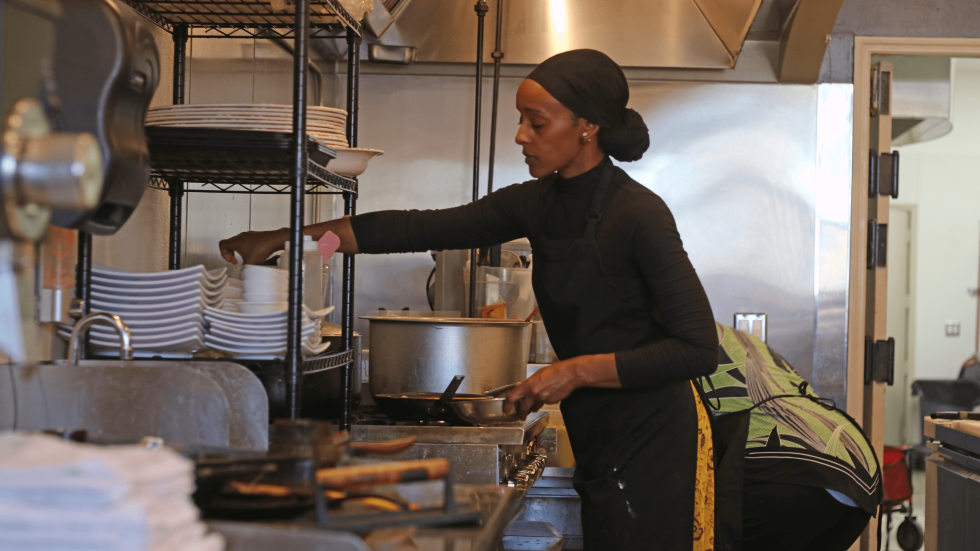 On a recent visit, Gebremariam and a cook were preparing one of these vegan meals, shiro wot (chickpea stew), in anticipation of regular customer Tim from the Jiffy Lube across the street. But when Tim arrived in his coveralls, he decided to order lentil samosas instead of his usual, throwing the kitchen a bit off kilter. Tim's lunch break ended before the samosas were done, so another customer had to run them to the Jiffy Lube for him.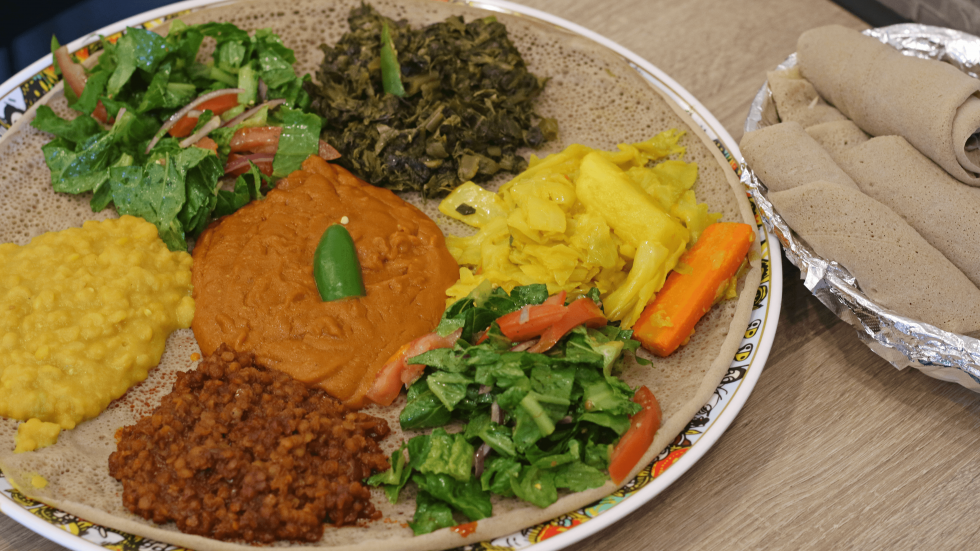 "I come to this spot because I don't eat meat and the vegetarian foods feel authentic here. They're flavorful and I know that I'll feel satisfied after I eat," says Tim, who identifies as African American and Native American. "Also, I want to connect more with my heritage, and food seems like the most accessible inroad."
Adam and Gebremariam hope to introduce more Sacramentans to Ethiopian culture and heritage, starting with the coffee. They're considering opening more branches in other neighborhoods, such as Natomas or Roseville, and serving more cakes and desserts to counterpoise the strong jebena brew. The coffee ceremony — though truncated from the traditional version, which may take hours — will remain a central part of the brand, Gebremariam says, just as it's a central part of Ethiopian life.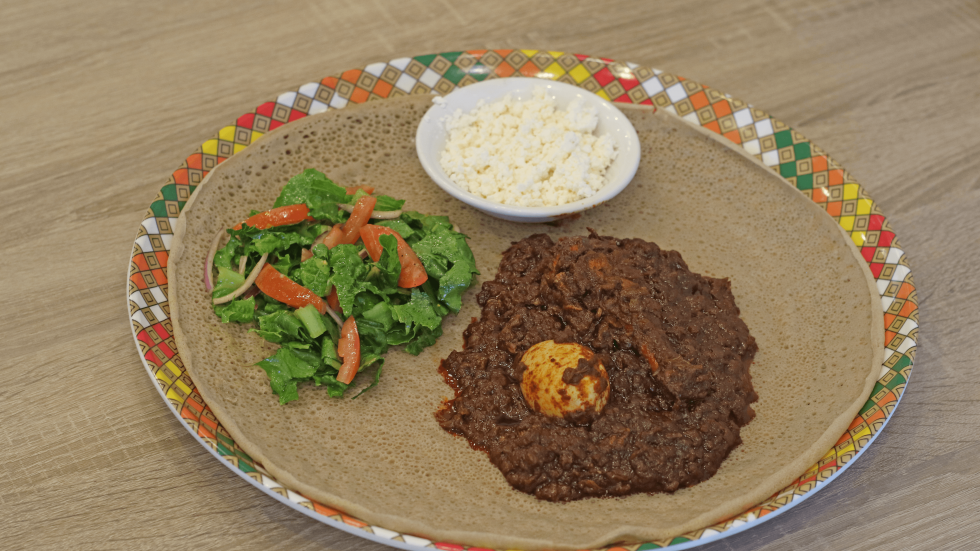 "That ceremony is pretty much an everyday thing for us, to celebrate us all coming back together after school or work," she says, describing memories of at-home evenings in Ethiopia. The oldest are served first from the jebena, and at the end each of the children gets a drop, mixed into cups of hot milk. The family shares platters of popcorn or bread and talks about the events of the day. When it's time to go to bed, the house is warm and scented with coffee and frankincense.
"We just want to give people a taste of that at the table, and maybe they can take that home with them," Gebremariam says.
–
Stay up to date on business in the Capital Region: Subscribe to the Comstock's newsletter today.