Every spring, students in the Cosumnes River College architecture program participate in a design competition, a requirement started by longtime architecture professor John Ellis — whose son Jason Ellis now runs the program — to broaden their education and real-world experience.
In 2009, CRC partnered with the U.S. Green Building Council's Sacramento chapter to participate in the Natural Talent Design Competition. Entrants were required to design a 36,000-square-foot building known as the Winn Center that would serve as the new building for multiple disciplines, including the architecture and construction management programs on campus.
Each design team included three students and partnered with a mentor architecture firm in Sacramento. The winning team of Nathan Dea, Alex Villalobos and Barry Gonsalves were partnered with Stantec. The student-led team incorporated several sustainable features into their design that ended up in the final built product.
"We envisioned a building that would breathe, so something that was naturally ventilated and had natural daylighting," Dea says. Those elements were designed around an open air central rotunda intended to draw in hot air from the spaces and pull it up and out. The final design of the Winn Center incorporates a similar feature: A circular entry element serves as the building's lobby and entrance to the campus and includes a closed rotunda element with a grand stair.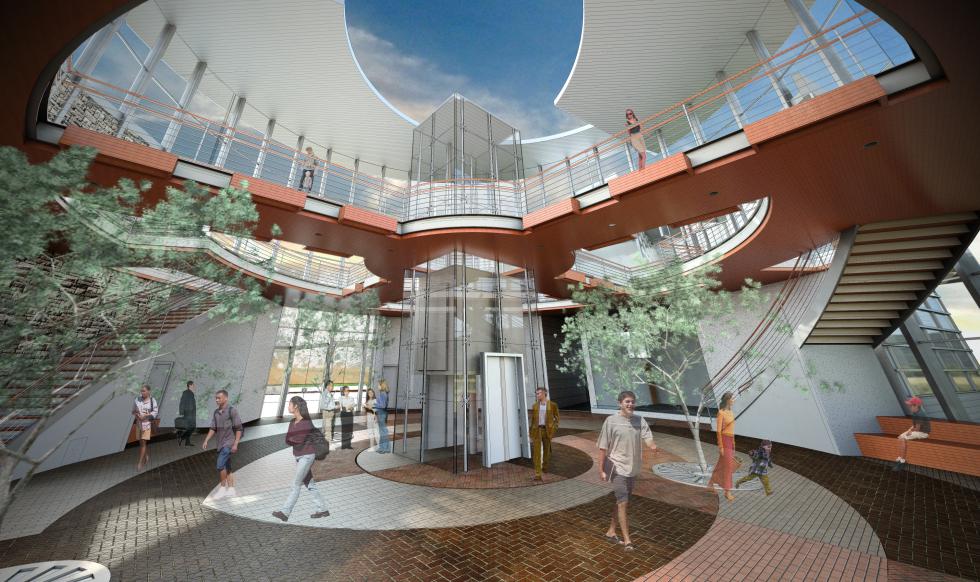 A Sacramento regional transit stop and parking structure have been added since the building was completed, something the students planned around. "We knew this was coming when we did the design competition, so we wanted to have a building that was a little different, something that was iconic and light and meant to be that main gateway element," Dea says.
Sacramento-based architecture firm Lionakis later hired Dea and Villalobos as interns. While there, they gave input on the Winn Center project during the initial request for proposal. Lionakis was selected to design the final project. After graduating with their undergraduate degrees, both Dea and Villalobos were hired by Lionakis, which allowed them to continue to work on the project.
"Working there was probably one of the most amazing experiences in my young professional career," Villalobos says. "When you are first working on design, you don't have that tangibility that every single line you draw on a piece of paper can become something. And to actually see that happen, to see some of your ideas take shape and become an actual built element, is awe inspiring and a great opportunity."
Villalobos now works with the California Department of General Services as an associate architect. Dea works for Stantec in its Irvine office. "It's ironic how it has come full circle," he says. Dea is a design coordinator for the firm and is working on education projects, including a UC Davis student housing project that is the largest of its kind in the country.