Art holds a place in the formation of humanity. It was a way for people to communicate and preserve culture for future generations long before the written word. Art has been used to capture the moments in society that have forever altered the course of history, and to translate complex emotions. Art has also been fundamental in the healing of communities.
According to a study conducted by the National Institute of Health, art, healing and health are correlated. Music has been used to treat anxiety. Drawing and painting have been used as forms of therapy, and as tools to express emotions when words do not suffice. But art is one of the most lacking components in the education system, and often one of the first programs to be cut. Enter the Neighbor Program. Artists and educators formed the grassroots organization as a community healing practice and built a school around the same premise.
The Neighbor Program was founded by Jordan McGowan, a career educator who has taught at high school and college levels, and Andreas Tillman Jr., a poet and rapper who goes by Dre-T and the creator of the Neighbor Program's art center Foreign Native. More than a community organization, school or group of artists making something together, The Neighbor Program acts as the proverbial village that helps raise its children. Designed to be a vision of the future, it's a place where people can come as they are and find community. It is a space built from the ground up out of the love — and wallets — of all involved. The Neighbor Program is a practice in healing through art, education, learning and action.
Comstock's sat down with McGowan and Tillman to talk about the healing that comes through their work in the community, the challenges they've faced when trying to build something outside the status quo, and how no matter the obstacles, they're never going to stop.
What is The Neighbor Program, for those who may not have heard of it before?
McGowan: The Neighbor Program is an Pan-Afrikan socialist organization modeled after the Black Panther Party and the 66 programs that they originally provided for their community. We currently operate 11 of those programs, from free groceries, hot meals service, community learning, a newspaper, a full time K-8 community school, holistic wellness and healing through ancestral knowledge, and a variety of other programs in Oak Park.
Tillman: The Neighbor Program is for the people, essentially carrying on the traditions of the BPP to make sure the people have what they need. From the grocery to the legal clinic to the health clinic to the school, The Neighbor Program is the answer to the call to build our own systems. It is a call to action to bring our people together.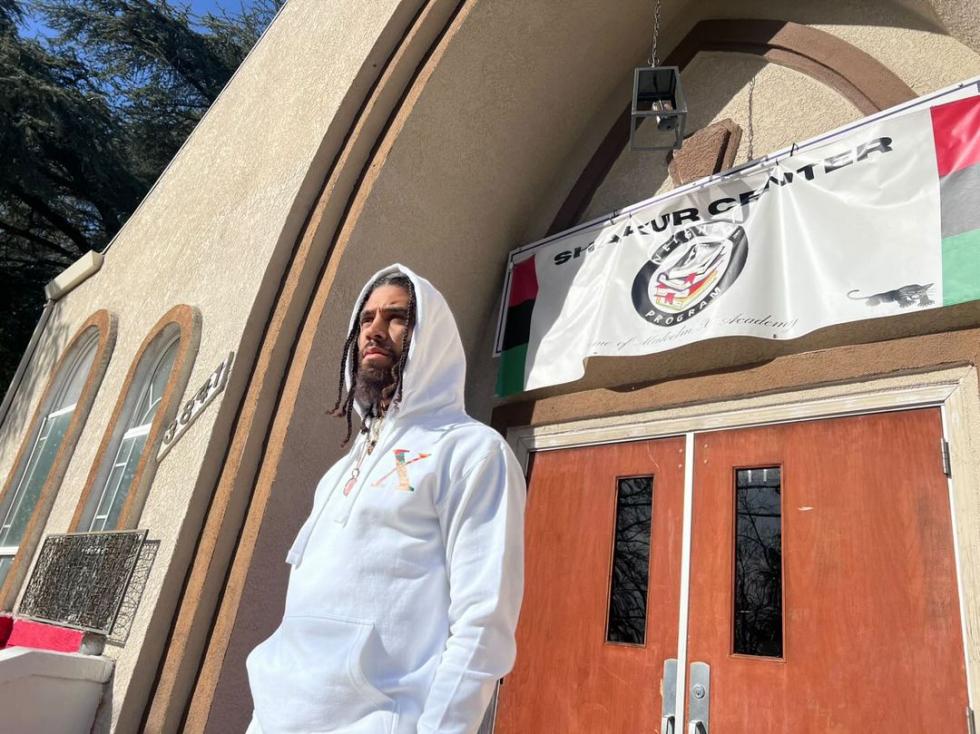 What were some of the challenges you faced as a Black man, artist and educator in Sacramento, and how did they help lead you to the decision to build your own center?
McGowan: Some of the challenges I faced stemmed from my politics and my beliefs in who I am as an African, and what that means. As an educator, I think I was pushed out of spaces because I definitely questioned the status quo. It's also what pushed me to realize that I had to build my own thing. I couldn't find anything that was built for me, or looked like me, or felt like me. … It's a similar process to what the Panthers had to deal with. When they formed in the 1960s they were almost immediately deemed a threat, despite the fact that what they were doing was providing services and aid to their community — something the United States government was refusing to do. They organized their people together under the guise of creating a better life, better education, a safer community. That's what we're trying to do, and somehow, people view that as a threat.
Tillman: It was looking back at the stories of my father and my grandmother. When they were raised in Oak Park it was a Black neighborhood; it was a community where everyone knew each other and everyone looked out for each other. My generation didn't really have that. With all the gentrification that took over, it got to the point where we were spread across every ZIP code. It got to the point where our voice collectively doesn't ever fall in unison because there wasn't really representation. It was important to make our own thing. To let spirit organize the community — we may not have a neighborhood to live in, but we can create our own safe haven.
What role does art play in both the revolution and healing of communities?
Tillman: Art is the fuel to keep us pushing past roadblocks. It helps us move mountains, and chip through dams. It gives us energy and inspiration, and it's the voice that shows us we are far stronger than we know and greater than we realize.
"The work that I specifically engage in, whether it's writing, or poetry, filmwork or music, it always centers around the tradition of storytelling and oral histories.

Jordan McGowan, co-founder, Neighbor Program
McGowan: Art 1,000 percent plays a role in the revolution. If you understand Du Bois saying that all art is propaganda, then we understand that art plays a vital role in either pushing us to a certain level of revolutionary consciousness, or convincing us that the status quo should be questioned. Africans have a strong history of art and culture, and that always has to be reflected. The work that I specifically engage in, whether it's writing, or poetry, filmwork or music, it always centers around the tradition of storytelling and oral histories. Being able to see yourself reflected in art, in poetry, in history — in places where our experiences and stories are not normally told — is healing. That's also my role here with the Neighbor Program, to infuse that work into the work the kids do.
Tillman: Furthermore, I would also say that not only as an artist but as a parent, I look to the words of Assata Shakur where she says "Revolution is love." Working with these kids, how we raise them and the collective village of our children, is revolutionary. It's healing. This is the form of revolution that brings life, and infuses life into the communities.
McGowan: I don't think people give credit to the work it takes to create a community, and then to have to maintain it. There's an art to organizing your people, there's an art to bringing your people together and making them feel safe, loved, and provided for. But it's something we will continue to do until we have no breath left.
The Neighbor Program is undergoing a fundraising period to ensure the sustainability of their work. To learn more about the program or support its work, visit the website.
–
Stay up to date on art and culture in the Capital Region: Follow @comstocksmag on Instagram!