Even if you've never heard of Roseville-based artist Nancy Sayavong, her art feels familiar. Her sculptural and two-dimensional work references the shapes and structures of the home — a place that, for many, has felt all but inescapable over the past two years.
Sayavong is fascinated with the contrast between the romantic ideal of the home and its lived reality. In a 2018 sculpture titled "Making It Work," three strips of pine molding form a suggestion of a door frame, fixed high on a wall as if floating. They hang above a chromogenic print of a similar door frame at a moment of trauma. Paper towel and ammonia cleaner lie on the shag carpet as if to clean up after something looming out of frame.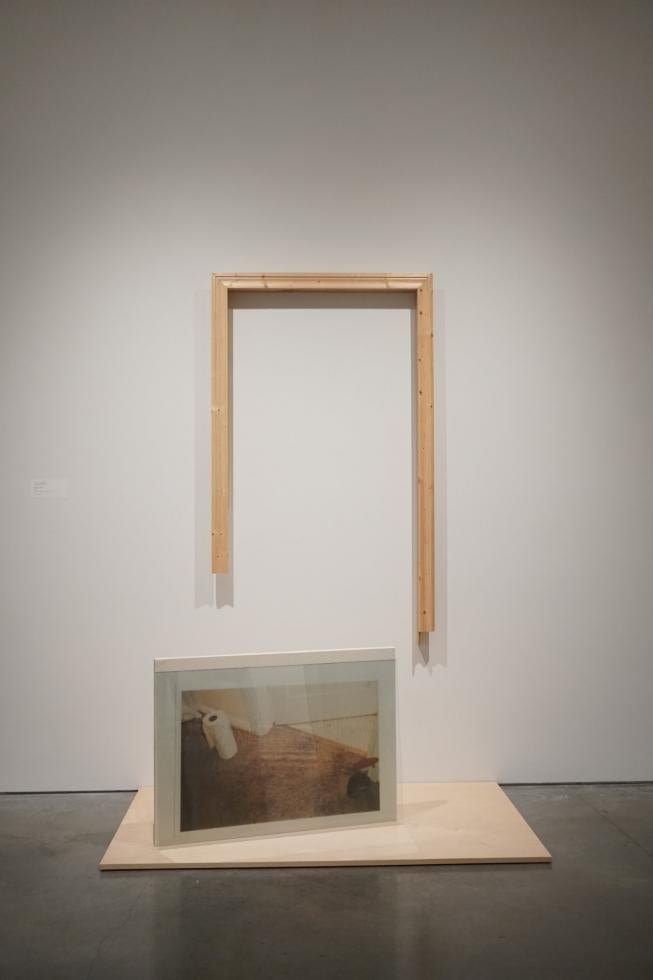 The theme carries to her non-sculptural work. For the project "Keyholder to a Million Dollar Home," which ran from 2016-2018, she convinced a property management company to donate a mixed lot of keys that correspond to real homes in unknown locations in the Bay Area. She mailed the keys to buyers around the country in slim yellow envelopes like those one might receive when moving into a new apartment. After signing and dating the envelope, the buyer becomes a "keyholder" to a Bay Area home, even if real ownership remains out of reach.
Other work makes phantasma of the details that may appear in the daydreams of aspiring homeowners: claw feet bereft of a bathtub, a foggy etching of Victorian crown molding in an Ikea frame; a Persian rug pattern burned into hardwood flooring.
Take a closer look at that flooring and you'll notice it's handmade from ash wood, expertly planed, tongued and grooved. It looks good enough to go in a real home, not just the semblance of one. This is no illusion: the artist is a trained woodworker and metal fabricator, and she uses her training both for art and remodeling jobs.
These are skills she picked up like side quests over a lifetime devoted to art. Sayavong grew up in Murfreesboro, Tennessee, home of Middle Tennessee State University, and snuck into survey art classes at the university in her teens. After finishing her BFA at the School of the Art Institute of Chicago, she moved to the Bay Area and earned an MFA at UC Berkeley, working at metal and wood shops along the way.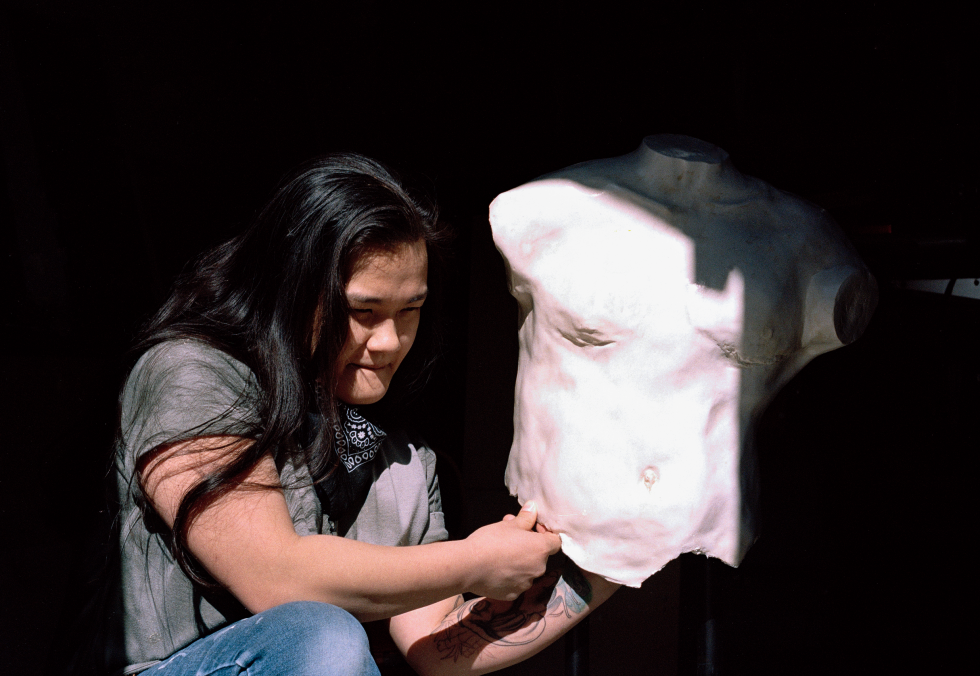 In 2020, she bought a fixer-upper house in Roseville with her husband and is renovating it mostly by herself, with help from plumbers and electricians. The couple's goal is to resell the house and use the funds to buy property closer to the Sacramento urban core where Sayavong can have a studio practice. In the meantime, she teaches university classes on an adjunct basis (though she's currently taking a break) and tutors other artists in her favorite medium at a woodshop on her property. She had an artist residency at Verge Center for the Arts last year and will have work on display at the Grow Our Souls exhibition at SOMArts in San Francisco starting April 30.
"When it comes to my own personal business and art practice, everything's all transferable and dovetails perfectly," she says. "Dovetails — that's a woodworking term."
You have a lot of both fine arts and trade skills in your toolbelt. How did you develop them?
In my undergrad in Chicago, I learned a bunch of things. I got in at first for painting and drawing, and then kind of got bored of it. Then I slowly got into sculpture, where I learned metalworking and metal fabrication and then in turn got into woodworking. They had a huge amount of facilities there, and great instructors and technicians there to teach me more transferable skills, like how do you make a deck? In the Midwest, it makes sense to know how to do your own thing. …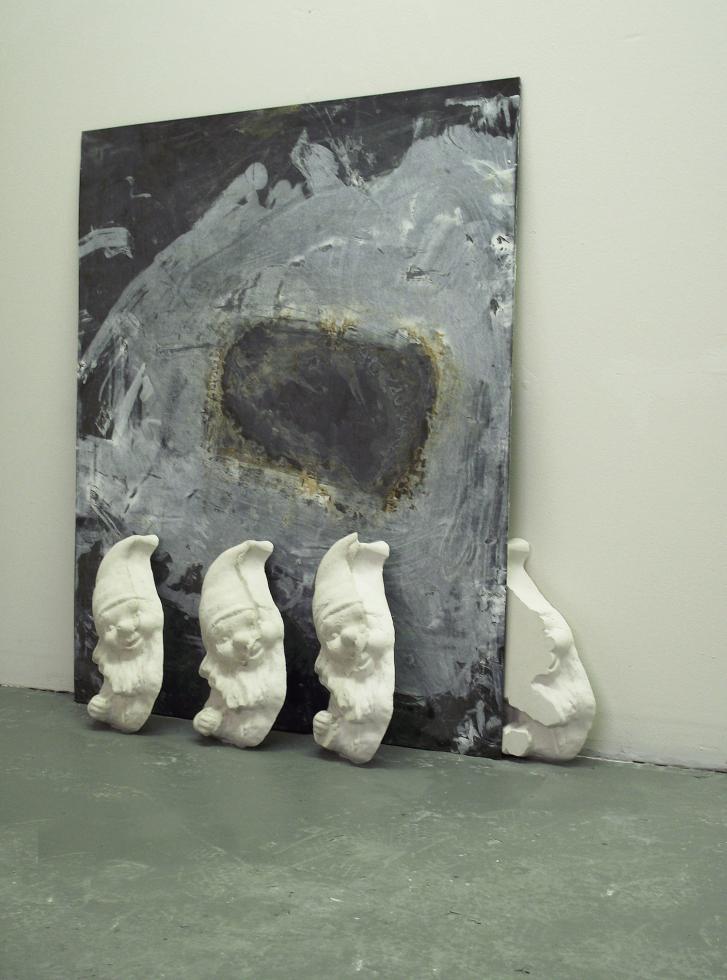 I stayed in Chicago for about five years, and then moved back to Tennessee and worked as a custom metal fabricator for — it's funny — for the Cheesecake Factory, and department stores like Nordstrom. The owner of the shop actually gave me a chance, being a woman and also a petite figure, a woman of color, to learn from him and his shop crew. … And then after that, I really missed working in some form in academia, so I got a job as a metal shop manager at an architecture school in San Francisco, and I worked there for a little bit over a year.
Why did you decide to move to California?
I had a huge 10-year plan situation before moving to California. I really either wanted to move to the East Coast or the West Coast due to funding for graduate school. While I was working at the metal shop in the architecture school, I wanted to be a professor long term, like 20 years after that initial idea. So after that, I got into UC Berkeley's MFA program, because it was fully funded, and there are amazing professors there as well, and resources. …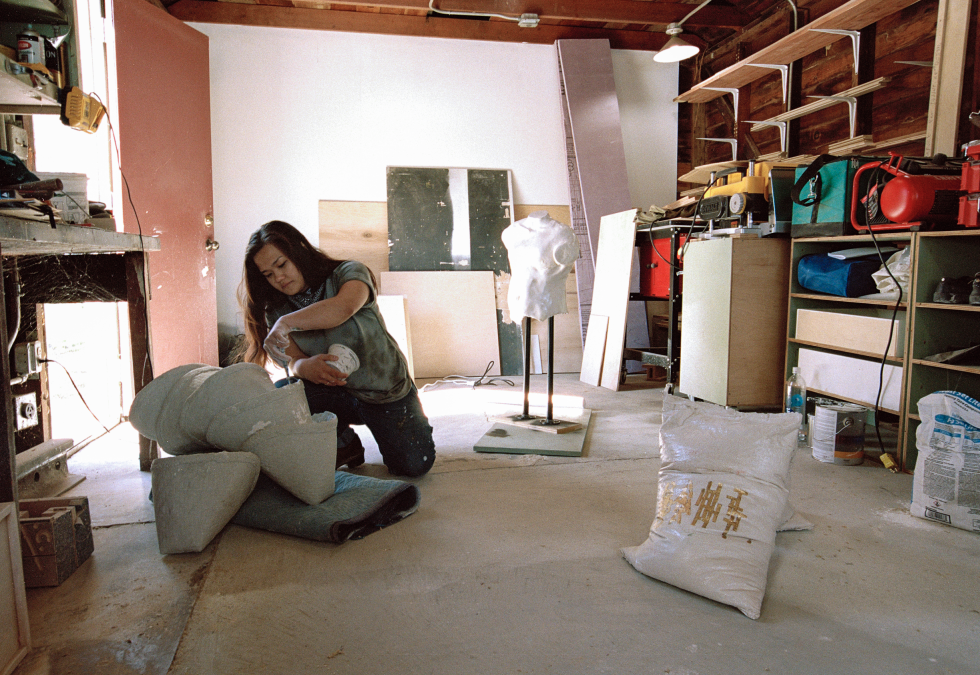 (Tuition is) free, but it's still Bay Area prices. I had to pay for rent and food, so I really needed to get another job while I was a student full time. I took on a full-time position as a custom cabinet maker for this company where we catered only to billionaires and to CEOs and kind of famous people that maybe are multimillionaires, but not at the Bs yet. And that was fun, because most of the projects did not have a budget, so I had an ample amount of time to learn the craft, learn from my mistakes and eat it a little bit.
Can you tell me about your art practice and what inspires you?
When it comes to my work life and experiences, it's transferable to my art experience and art practice. So the two kind of work together on their own. One pays the bills and the other helps me understand life a little bit better.
My work revolves around psychological spaces such as your house. The house is meant to be a safe space. When people come over, beforehand you clean, you make it crisp, and it looks visually like there's nothing happening behind the scenes. But when you're just living day by day, you see the nooks and crannies.
The house that we purchased was built in 1916, and the previous owner lived there since probably the '20s or '30s. The individual passed away, and his daughter was next of kin to figure out what to do with the property. So she gave us the property and instead of taking all of his things, she left the things that were his. Maybe they took a typewriter or something for an heirloom, but everything else. I learned about this particular individual through all of the National Geographics, all of the film slides that I've seen, notebooks, books. He was an Air Force pilot, a veteran, a science teacher. So there was a Tesla coil in the garage. He dabbled in electrical mechanics. And he took photos of his school kids for yearbooks, candid shots. Pretty amazing. …
So that's kind of like my practice, where my muse or my inspiration comes from. It comes from the spaces that I occupy.
How is your residential woodworking different from or similar to the woodworking you do for your art?
The difference is the production aspect of it. There's a kind of a completion with, say, a residential project, where it just either has to be done or look perfect. How I work is, I draw and write a cut list, and everything has to be in perfect dimensions, because if it's too big or too small, it's not going to work.
In my sculptural practice, I apply the same practice when it comes to drawing and writing down a cut list. But there's more flexibility to that; more happy accidents, like Bob Ross says. Happy accidents happen, and I'm okay with it. In residential, there's no such thing as happy accidents. I have to figure out how to fix it. …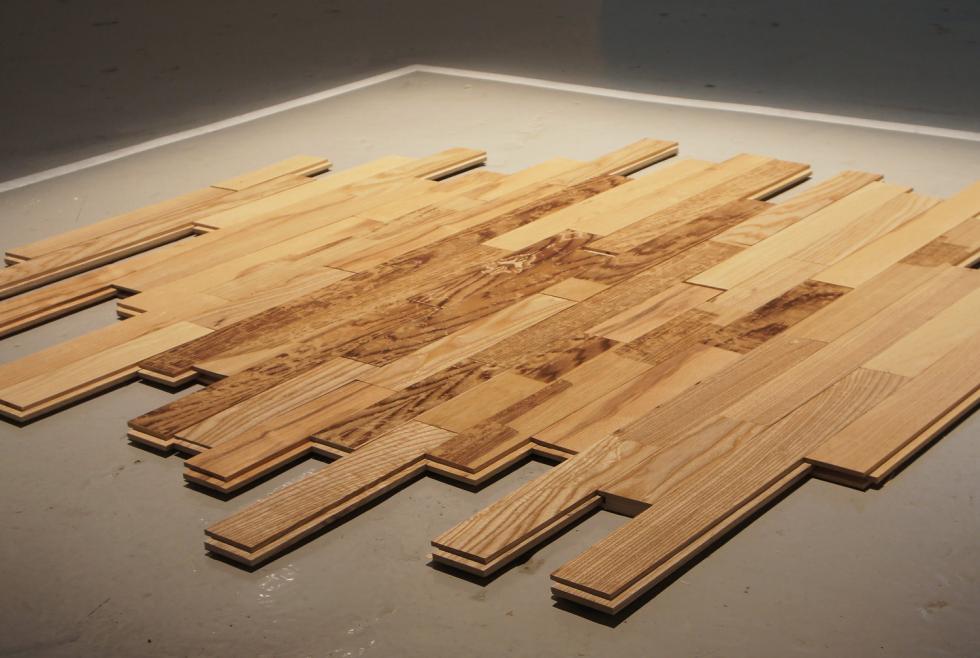 Say if there's like a crack in the wood, and I'm working on a project that represents a kind of socioeconomic brokenness; that crack looks amazing in the sculpture. But if there's a crack on a piece of granite, that's not acceptable in a house.
Your portfolio also includes film photography work. How did you get into that?
I've dabbled a bit with different mediums that fit my series or my thought process. I plan on moving somewhere, maybe when I retire or before then, like in France, where I cannot use my tools, or I can't really ship them and then use their electrical units. So because of that, I'll have limited resources, and therefore I'll probably do more 2D work and photography there. So it depends on my environment and the intent of the work.
Most of my 35 millimeter film photography, the little images of mundane viewpoints of these traumatic events, my intent was to kind of free shoot as a form of a memory of those moments. … And then for the other works that are photographic, that was more about limitation. I had an artist residency in Ireland where they had a fantastic darkroom, and it was just an opportunity for me to learn a little bit more about photography.
You've also done artist residencies in Israel and around California. What draws you to residencies?
Oh man, so many things. Mainly to vibe and meet new other artists from around the world, whether it's visual or writers. I went to Headlands and I met Amanda Petrusich, a journalist that writes about music at The New Yorker. The way she thinks about how to create the work, it's so fascinating. So the main thing I love about residencies is to get to know other artists and how they think and where they're coming from. And obviously, traveling is fantastic too. …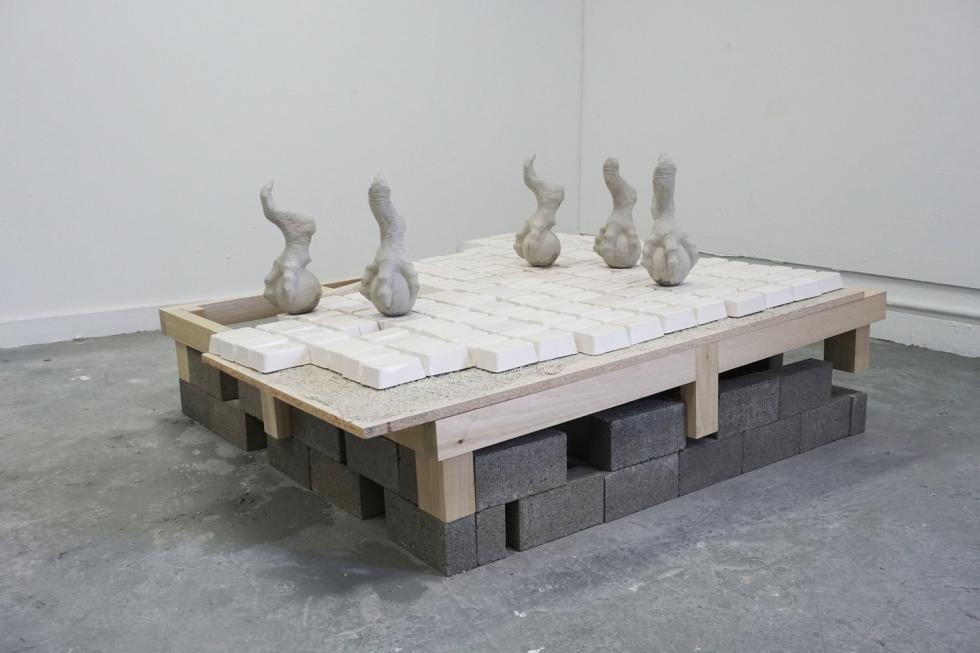 The residency I had at Verge gave me a big huge umbrella of knowledge of the Sacramento art scene. I met a lot of people, especially the Open Studios. It gave me, I guess, the comfortability to stay there and also to work without feeling that I have to make work that's popular or sellable. … At Verge, I started on a series of works revolving around the house that I'm remodeling, about Bob, the dude that passed away, and all of his belongings and his photography. I digitized some of his negatives, and I'm working with image transfers onto objects, like wood trim.
Speaking of the Sacramento art scene, how would you say it compares to other cities where you've lived and worked?
Compared to say, Chicago or San Francisco, those cities feel very small. Of course, Sacramento is small, but small as in competitive, like everyone wants the exact same thing. In Sacramento, from my experience, many artists are okay with doing whatever they want when it comes to where to show or what to do with their art. I mean, it's okay to sell your art. It's actually nice to sell your work here. And then being in Sacramento, it actually gives me a push into applying for other opportunities outside, because Sacramento is not like the New York art scene or L.A. art scene where people just go there. There's that push to figuring out how to expose yourself in different places. For instance, I actually have a show in Chicago, and I'm actually working on the works here, and we're going to ship it all the way over there in the fall.
Do you think you completed the 10-year plan you made before moving to California?
Yeah, I believe I did! There were some small pebbles in the road, but I've been very fortunate to be able to get through it. Because I know that education is very expensive, and moving is a risk. It's all about taking risks, so I went through that. My new plan of action is to keep on working at art, having a studio practice in the Sacramento area, and why not have another in another city or another country? I'm hoping to live in Europe if life happens like that.
Edited for length and clarity.
–
Stay up to date on art and culture in the Capital Region: Follow @comstocksmag on Instagram!