As he prepares to open a sports bar on K Street in early April, Tropics Ale House owner Pat Kashani sounds optimistic. "Things are looking up, with the vaccinations and the cases dropping and positivity rates coming down," Kashani says.
A year into the COVID-19 pandemic, which has led to about 30 million known cases and more than 540,000 deaths in the United States, many entrepreneurs, like Kashani, have persevered through the worst business climate in decades and now feel reason for hope, both for their companies and the world at large.
As of March 21, the Los Angeles Times reported that more than 14.5 million vaccine doses had been administered in the state. There have been signs of economic recovery as well, with Goldman Sachs projecting 8 percent U.S. economic growth for 2021 and unemployment falling from around 6 percent in February to 4 percent by year's end.
Comstock's has been following Tropics Ale House and several other businesses in Sacramento's central city for the past year, since the first shutdowns began. Here are where things stand now for each business.
Bars and Restaurants: Tropics Ale House
Kashani, who also owns three restaurants in Hawaii and opened Tropics Ale House at the corner of 20th and J streets in Midtown Sacramento in the fall of 2019, had been planning a fifth location (as part of the Tropics Restaurants group) before the pandemic happened.
Months ago, he and his partners decided to move forward on an All-American-themed sports bar and restaurant they're calling The ClubHouse in Downtown Commons on K Street. Renovations and other work have been done at a gradual pace, with Kashani targeting the first week of April for the opening, saying, "There really wasn't any reason to rush it."
He's also had other matters to attend to, with he and his wife moving to the Sacramento area from Hawaii last fall after the birth of their first child and Tropics Ale House struggling financially, like many restaurants. He says he hasn't turned a profit for the last year: "We've been pretty much the whole time teetering on the line of breaking even."
He has been able to keep most of his staff and is looking forward to warmer weather continuing. "I think this summer in general is going to be a really good summer for businesses and for people getting back out and spending money and having fun," Kashani says.
Fitness Centers: California Family Fitness
Bob Tribe says he had 41 years of going six days a week to work out at the downtown California Family Fitness at 10th and K streets or its previous location at 5th and J streets, when Gov. Gavin Newsom ordered the first shutdown in the state in March 2020.
Since then, Tribe has gone for long walks in local parks, hiked and worked out on an elliptical machine in his garage. He has sometimes ventured to an outdoor California Family Fitness location on Alhambra Boulevard, while waiting for the company's K Street location to reopen, though his age has made him somewhat reluctant.
Tribe, who is 77, is not taking chances with the pandemic. Plus he likes the large K Street location, which remains closed with downtown still largely devoid of office workers. "It's got a little bit of everything, and it's spacious so you don't really have to be up close to anyone," Tribe says.
California Family Fitness president and CEO Randy Karr says his company has 12 locations operating in some capacity and wants to get the remaining seven reopened by the end of the year. "Honestly, K Street's probably low on the totem pole because that area of Sacramento just really hasn't come back yet," Karr says.
So for Tribe, the wait continues. But he's voluntarily kept his dues up. "I sometimes hesitated because there'd be whole months I wouldn't use the gym," Tribe says. "But on the other hand, it's not that expensive and I knew I'd be coming back, one way or another, and I wouldn't get the good rate that I got initially."
Sports and Entertainment: Sacramento Kings
When the pandemic hit, it changed a lot of things, including the trajectory of Jahmi'us Ramsey's debut in the NBA. In a normal rookie season, Ramsey, who was selected by the Kings with the 43rd pick in last year's draft, would likely have played in the NBA Summer League. It's the kind of place where a prospect like Ramsey, a 19-year-old shooting guard who played one season at Texas Tech, could gain invaluable experience.
But there was no summer league last year and the usual June draft didn't happen until November. Ramsey has made the best of things, signing a three-year contract with two years guaranteed with the Kings in December, logging 17 minutes in five games with the team, and spending more time with the Agua Caliente Clippers of the NBA G League.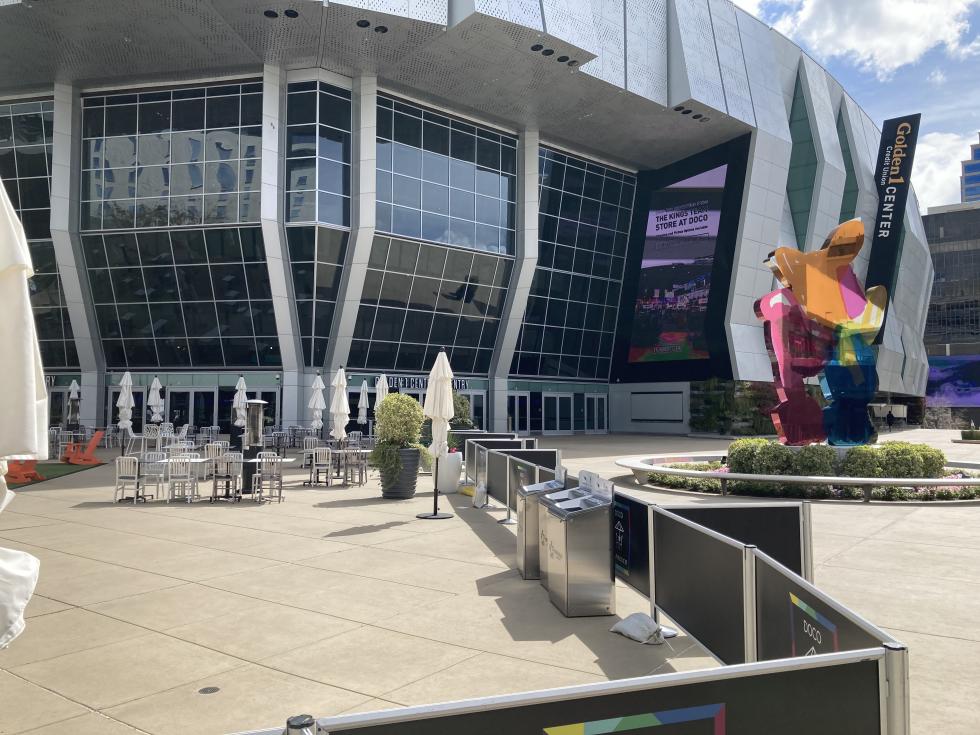 His agent, Tony Dutt, is relieved that the summer league is scheduled in Las Vegas in August. "They've adjusted accordingly but they're still not getting the amount of work these kids should be getting early on in their careers, but to no fault of anyone but the COVID," Dutt says. "But it's hopefully going to change this summer."
Kings officials didn't respond to an interview request through a team spokesperson, but the website Go Banking Rates estimates the organization is losing out on $7 million in revenue per home game with fans still not allowed indoors at sporting events in California.
All the same, Dutt says it's been positive working with the Kings during the pandemic. "Everybody's kind of working together to get through it," Dutt says. "Obviously, there's financial hardships on both sides. That's probably been more the harder part of the process, trying to get that all back in check."
Hospitality: The Citizen Hotel and Hyatt Regency
Recovery has been slow for local hoteliers, says Mike Testa, executive director of Visit Sacramento, an organization that promotes their interests. Occupancy rates for local hotels were around 85 percent pre-pandemic, but many are now lucky to crack 20 percent. It's well below the 40 percent occupancy hotels need to turn a profit.
Testa estimates the Citizen Hotel, whose general manager, David Shipman, didn't respond to a request for comment, is doing well, at least relatively speaking, with an occupancy in the 30 percent range. Still, Testa concedes that relative occupancy isn't the greatest measure. "It's like, 'I'm only bleeding a little bit,'" he says.
Scott VandenBerg knows the feeling. VandenBerg, general manager of the Hyatt Regency Sacramento, has seen about 50 percent of his business vanish because the state is not allowing indoor meetings, meals or other events at hotels. To address this, VandenBerg's hotel, in conjunction with Testa's organization and the California Hotel & Lodging Association, held a showcase March 8 and March 10 to offer ideas for how indoor events might be held safely in hotels.
"We feel it's kind of a forgotten business segment, but it's very important to our economy," VandenBerg says. "Because this is what brings in visitors to our region that spend money in our local restaurants, spend money shopping, rental cars, airfare, hotels. And we wanted to show the inequity of the guidelines as they sit right now."
VandenBerg is hopeful that the state, through the Governor's Office and California Department of Public Health, might produce revised guidelines before the end of March. Regardless, Testa says there's optimism for hoteliers with Newsom allowing outdoor sporting events and concerts to some degree. "Things are trending in the right direction, which is certainly positive," Testa says. "The challenge for hotels is how long will reopening take?"
–
Stay up to date on the effects of the coronavirus on people and businesses in the Capital Region: Sign up for the Comstock's newsletter today.