On a bleary Monday morning in Sacramento with the Dow Jones industrial average tanking, on its way to a 2,997 point drop and its worst day since 1987, Greater Sacramento Economic Council President and CEO Barry Broome offered advice that he knows won't be popular.
Small businesses regularly reach out to people like Broome, who heads the largest economic development group in the Sacramento region. "I've told everybody to close your business," Broome said. "If your business isn't online, close it, preserve your cash, try to provide a soft landing for your employees. Because you're going to need cash to reopen your business."
There's also no telling when life will get back to normal as the country deals with the coronavirus pandemic. With more and more people self-quarantining and avoiding unnecessary trips beyond home, businesses face challenges not seen since the Great Recession.
Here's how businesses in four sectors — restaurants, sports and entertainment, gyms, and hotels — are doing in the Sacramento area.
Bars and Restaurants: Tropics Ale House
When Steve Carrigan moved home to St. Louis from Hawaii, where he'd worked since 2006 for Tropics Ale House, he told his boss, Pat Kashani, "If you open one on the mainland, give me a call."
The call came when Pete's Restaurant & Brewhouse, a longtime fixture in Midtown Sacramento, opted to move from the corner of 20th and J streets to downtown. Kashani had married a woman from Sacramento and decided to open his first location in the U.S. in the former Pete's site.
Carrigan moved to Sacramento in March 2019, six months before Tropics Ale House opened. Business boomed, says Carrigan, who is the executive chef for Tropics, running the kitchen and popping up front as needed. "Our first couple months, we were busy," Carrigan said. "Packed."
Things are a bit different now. The normal slow season that sets in for restaurants sometime between Thanksgiving and the beginning of the year, that was expected, Carrigan said. But a slow Saturday afternoon during what should be March Madness, with college basketball games galore, that's maybe a tougher pill to swallow for Tropics, which is technically a sports bar, with 17 television screens, 31 drafts on-tap and a food menu with sit-down tables.
Still, despite the coronavirus, it's business as usual for Tropics. More or less. Carrigan said he's cut his food orders to suppliers 20-25 percent. He's still planning, he said as he sits at his bar, to order 20 pounds of corn beef and 10 pounds of cabbage for St. Patrick's Day.
"I think we're going to be fine for this little hiccup," Carrigan says. "And I think people are just kind of overreacting a little bit. But at the same time, maybe overreacting's not a bad thing."
The day after Carrigan spoke to Comstock's, California Gov. Gavin Newsom requested that bars, wineries and tap rooms temporarily close. At a subsequent news conference, Sacramento Mayor Darrell Steinberg mirrored the governor's words.
"What I'm saying is, please shut down your bars, period," Steinberg told Comstock's. "If there is some adjoining food service, try to convert that into home delivery and, or curbside pickup."
Reached again Monday afternoon, Carrigan said he'll comply with an order to close if it comes down. "It's a weird time," Carrigan said.
Sports and Entertainment: Sacramento Kings
Fans had just sat down at Golden 1 Center to take in a Kings-Pelicans game March 11 when the video screen flashed with news the game had been canceled.
It's surreally empty these days in Downtown Commons, around the arena, after the U.S. Centers for Disease Control recommended Sunday that no events with more than 50 people be held for at least eight weeks. The following day, President Donald Trump suggested limiting gatherings to no more than 10 people.
Michael, an employee of the Kings who asked not to use his last name sees the impact first-hand in the DOCO. "I talk to a lot of people and a lot of businesses are being affected," Michael says.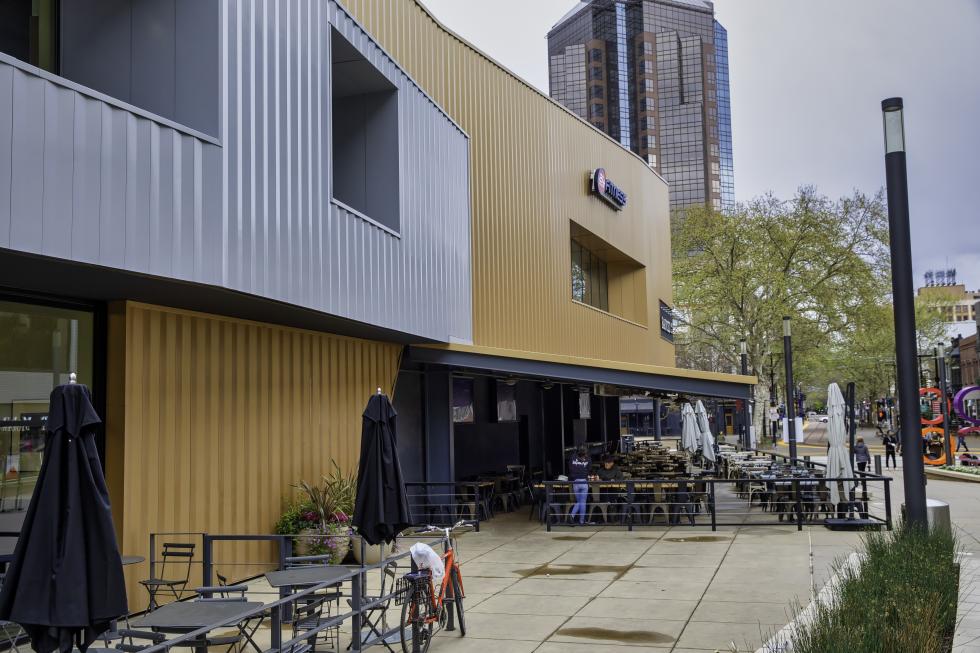 Michael Ault, executive director of the Downtown Sacramento Partnership sees it, too. "On game nights and when we do have events and activities at the Golden 1 Center, we see foot traffic up almost 60 percent over a normal business day," Ault said. "We hear restaurants, bars, and businesses that surround, that are within proximity of the Golden 1 Center say a Kings night and an event can add almost a day's worth of business to them."
The Kings, who had a franchise valuation by Forbes of $1.775 billion in February, have seen their financial fortunes soar in recent seasons and were jockeying for a playoff spot when the season was halted by the NBA.
In response to an interview request with a team executive, a spokesperson provided a statement noting that "all part-time, hourly Kings event team members will be compensated for the shifts they were previously scheduled to work in March at Golden 1 Center, including CIF, NCAA, concerts and home games."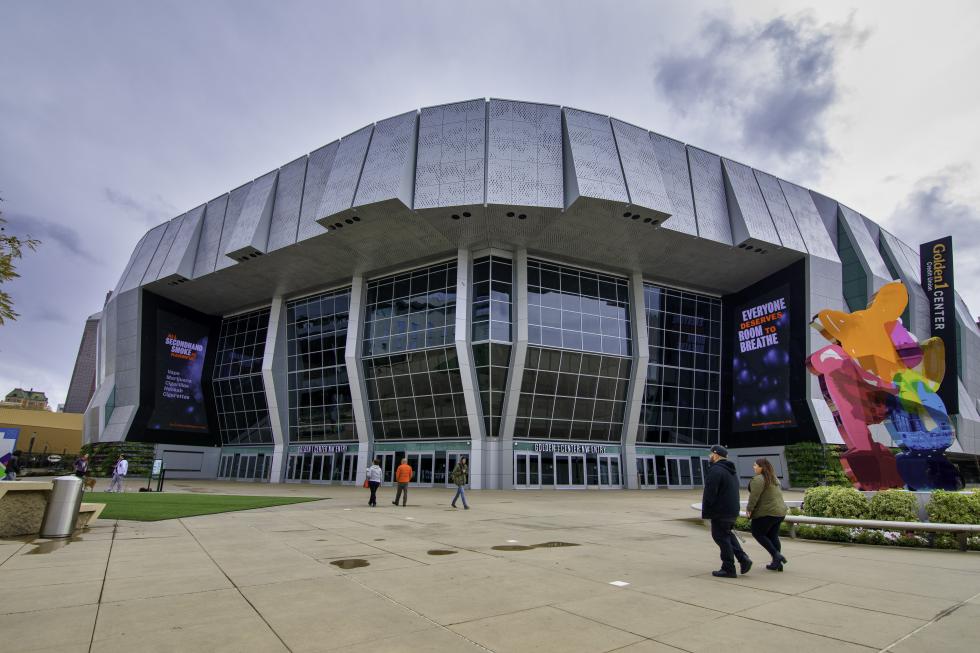 "The Kings are going to be in great shape," Broome says. "Golden 1 will not be, obviously, because you're not going to be able to have engagements probably there for the better part of six months, three to six months. The folks that are going to get hit are going to be the small businesses along K and J streets that really count on the foot traffic and the activity. Really, it's just going to be a correction and we're going to have to gut it out."
Gyms: California Family Fitness
Down K street from Golden 1 Center, on Monday at noon, California Family Fitness has just opened, later than usual because of the coronavirus. Usually, this would be the busy time of the day, an employee at the front counter says. Maybe eight or 10 people were lifting free weights or using weight machines. But this isn't what might typically be expected, with scrums of state workers trying to squeeze in workouts on their lunch breaks.
Meanwhile, hand sanitizer and a box of tissue paper sat on the front counter, beckoning to anyone who walks in.
Gyms and hotels are two of the many businesses that are in a weird limbo while new regulations seem to be unfolding by the day. "We have not yet gotten that kind of guidance on gyms or hotels," Steinberg said during Sunday's news conference. "That has come up quite a bit today. I think the current guidance on gyms is that if you use the gym, make sure you're distant from whoever you might be exercising next to and use all the sanitary precautions before you begin exercising. I think that's what remains for now."
A manager for the location said he can't talk without approval from the corporate offices for California Family Fitness, which operates 19 locations in the Sacramento region. But it's clear the manager's busy, taking multiple phone calls and dashing around the floor during the short time a reporter is in the building.
Hotels: Citizen Hotel
A few blocks away, on J Street, a business traveler from Southern California stood with a colleague at the valet stand outside the Citizen Hotel.
It was his second day in town, after he flew in from Los Angeles for transportation-related business at the State Capitol. Chris, who didn't want to give his last name, said he was enjoying his stay. He was taking precautions, of course, having noticed hand wipes and sanitizer at the front desk.
"Just talked to them at the front," Chris said. "And they said that (the) discussion of banning or limiting access to bars and restaurants is probably pretty good here because the only people that can eat in here are the guests that stay here. I think that's above and beyond. Contain what you've got."
The Citizen Hotel, which didn't respond to a request for comment for this story, is owned by Marriott — and that could work in its favor, Broome said.
"If you're a Marriott property or if you're a Hyatt … you're going to be in a different situation," Broome said. "You've got a big investor balance sheet. You've got institutional money behind you. But if you're not… . If you're a boutique hotel, you ought to be thinking instead of draining your cash to stay open when you're not going to have the legs to do it for three to six months, give your employees a little bit of a soft landing."
Cable news reported Monday afternoon that coronavirus cases have soared above 4,000 in the United States, with 80 confirmed deaths. "This is a public health crisis more than it is an economic crisis," Broome said. "People need to keep themselves safe."